Credit Sesame Review
No-frills DIY credit monitoring with a free basic plan
What We Like
Basic credit and identity monitoring: Credit Sesame does a decent job monitoring credit and criminal areas.
Multi-factor authentication: Touch ID ensured that only authorized users accessed our accounts.
Identity theft insurance: Even if you don't pay for a plan, you can be eligible for up to $1 million in reimbursement if your identity gets stolen.
What We Don't Like
Shaky privacy policy and jurisdiction: Based in the United States and keeping more of your information than the bare minimum, Credit Sesame isn't a good choice for the privacy-concerned.
Clunky sign up: The company's website didn't make signing up for ID protection easy.
Limited customer support: The only way to reach technical support with Credit Sesame is online via its FAQ section or a form, which is insufficient in our book.
Bottom Line
Not only did Credit Sesame give us monthly credit updates from all three bureaus, we also got identity theft insurance. If our identities were stolen, we could've gotten reimbursed for up to $1 million.
These days, identity theft is more prevalent than ever. 12.7% of people have had their personal information misused within the past five years,1 so it's important to make sure that our accounts are protected. But with so many avenues to steal peoples' identities (opening payday loans in our names, changing our mailing address with USPS, giving our names to the courts, and more), monitoring your identity can start to feel like a full-time job. That's why we're trying out the identity monitoring service from Credit Sesame. Primarily related to credit and financial services, Credit Sesame also provides identity monitoring and insurance, but is it enough to stay safe on and offline? Our experts find out.
Editor's Rating
Free basic credit monitoring tier
$50k insurance, $1 million w/paid plan
Do-it-yourself service approach
More Security.org Recommendations
Check out more of our favorite identity theft services.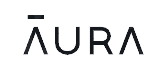 Credit Sesame Features
In terms of actual features, Credit Sesame kept it short and sweet, monitoring the basics of our credit history and identity. Here's what was included in our Platinum Protection subscription, the top-tier option:
Credit score and report monitoring: We got monthly updates from three credit bureaus, Experian, Transunion and Equifax, plus full credit reports.
Identity theft insurance: Under this plan, we were eligible for up to a million dollars in reimbursement if our identities were stolen, standard across the industry.
Live experts for credit report inaccuracies plus lost or stolen wallets: We never had to use this feature, thankfully, but if we found inaccuracies on our credit reports or had our wallets out of our possession for whatever reason, we had 24/7 support from real humans.
Dark web monitoring: The dark web is an area of the Internet where all users are anonymous and billions of stolen passwords are bought and sold. Credit Sesame scanned the dark web to make sure our information was safe.
Public records monitoring: Credit Sesame made sure that our names weren't being used in public records, and if they were, Credit Sesame would have alerted us immediately.
Payday loans monitoring: If someone tried to open a payday loan in our names, we'd have been alerted, saving us potentially thousands of dollars.
Sex offender monitoring: We want to stay out of sex offender registries, so Credit Sesame made sure that our names were rightfully excluded.
Change of address monitoring: Aura would have alerted us if someone aside from ourselves tried to change our address through USPS.
Social security number monitoring: Finally, Credit Sesame looked for our Social Security numbers with different aliases, names, and addresses to make sure no one was using our SSNs.
When it comes to financial accounts, however, Credit Sesame is definitely lacking. It didn't alert us if someone opened a new bank account in our name or took out a withdrawal above a certain number, so as far as financial monitoring, Credit Sesame didn't quite cut it. But it definitely covers the basics of credit and identity monitoring; it's just not the most comprehensive service available.
Credit Sesame Identity Monitoring Plans
| | Free | Advanced Credit | Pro Credit | Platinum Protection |
| --- | --- | --- | --- | --- |
| Number of Credit Bureaus Monitored | 1 | 3 | 3 | 3 |
| Frequency of Credit Score Updates from 1 Bureau | Monthly | Daily | Daily | Daily |
| Frequency of Credit Score Updates from 3 Bureau | No | Monthly | Monthly | Monthly |
| Frequency of Credit Report Updates from 3 Bureaus | No | Monthly | Monthly | Monthly |
| Number of Credit Bureaus Monitored with Alerts | 0 | 0 | 3 | 3 |
| Maximum Identity Theft Insurance Reimbursement | $1,000,000 | $1,000,000 | $1,000,000 | $1,000,000 |
| 24/7 Live Experts For Credit Report Inaccuracies | No | No | Yes | Yes |
| 24/7 Live Experts For Lost or Stolen Wallets | No | No | No | Yes |
| Dark Web Monitoring | No | No | No | Yes |
| Public Records Monitoring | No | No | No | Yes |
| Payday Loans Monitoring | No | No | No | Yes |
| Sex Offender Monitoring | No | No | No | Yes |
| Change of Address Monitoring | No | No | No | Yes |
| Social Security Number Monitoring | No | No | No | Yes |
| Monthly Price | $0.00 | $9.95 | $15.95 | $19.95 |
Credit Sesame has four plans to choose from: its free plan, which includes monthly credit updates from one bureau and identity theft insurance with a maximum reimbursement of $1 million with no actual identity monitoring included, plus three paid options. Paid plans range from $9.95 a month to 19.95 a month, with no deals for families or businesses. But to get any real identity monitoring services, only the Platinum Protection is sufficient; while the others will give daily and monthly updates on credit scores and reports as well as identity theft insurance up to a million dollars, only the top-tier plan actually monitors for potential signs of identity theft. To learn more, read our page on Credit Sesame's pricing options.
Is Credit Sesame Easy To Use?
To start using Credit Sesame, we selected the top-tier Platinum Protection plan and entered in some of our personal information, like our names, addresses, birthdays, emails, phone numbers, and the last four digits of our Social Security numbers. After verifying our identities with a few quick questions, we created passwords and entered our account. But, even though we had selected an identity monitoring plan, we weren't asked to enter any card information; rather, we were brought to a page all about our credit.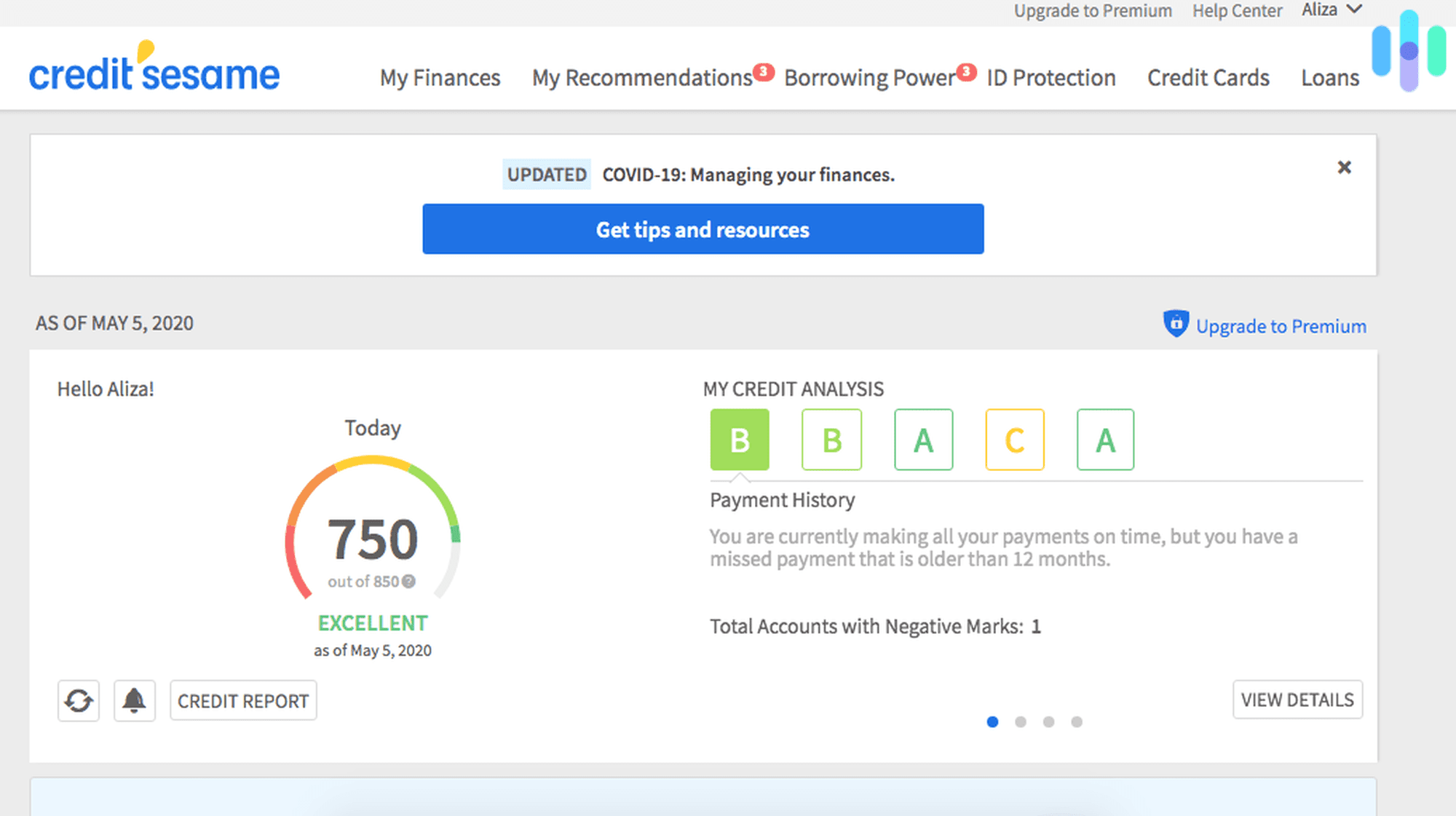 So in order to sign up, we had to click over to ID Protection again and select a plan. Strangely, Credit Sesame doesn't make it super easy to buy one of their paid plans, with a tiny button allowing us to upgrade.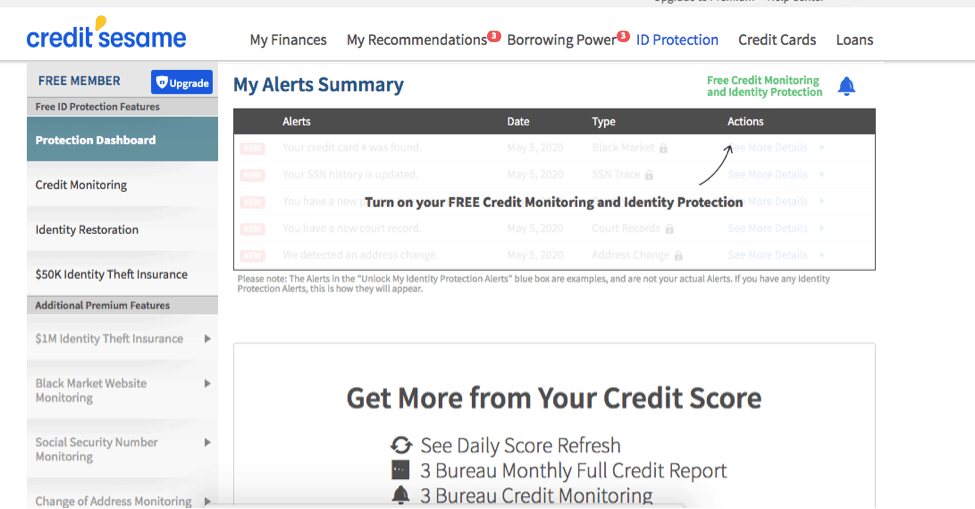 From there, we selected the same plan and finally entered our credit card information and clicked purchase. Then, we were prompted to enter in some more information for Credit Sesame to protect, namely our credit and debit cards, bank account and routing numbers, email addresses, phone numbers, driver's license numbers, passport ID numbers, and medical ID numbers. Finally, we were in the main dashboard.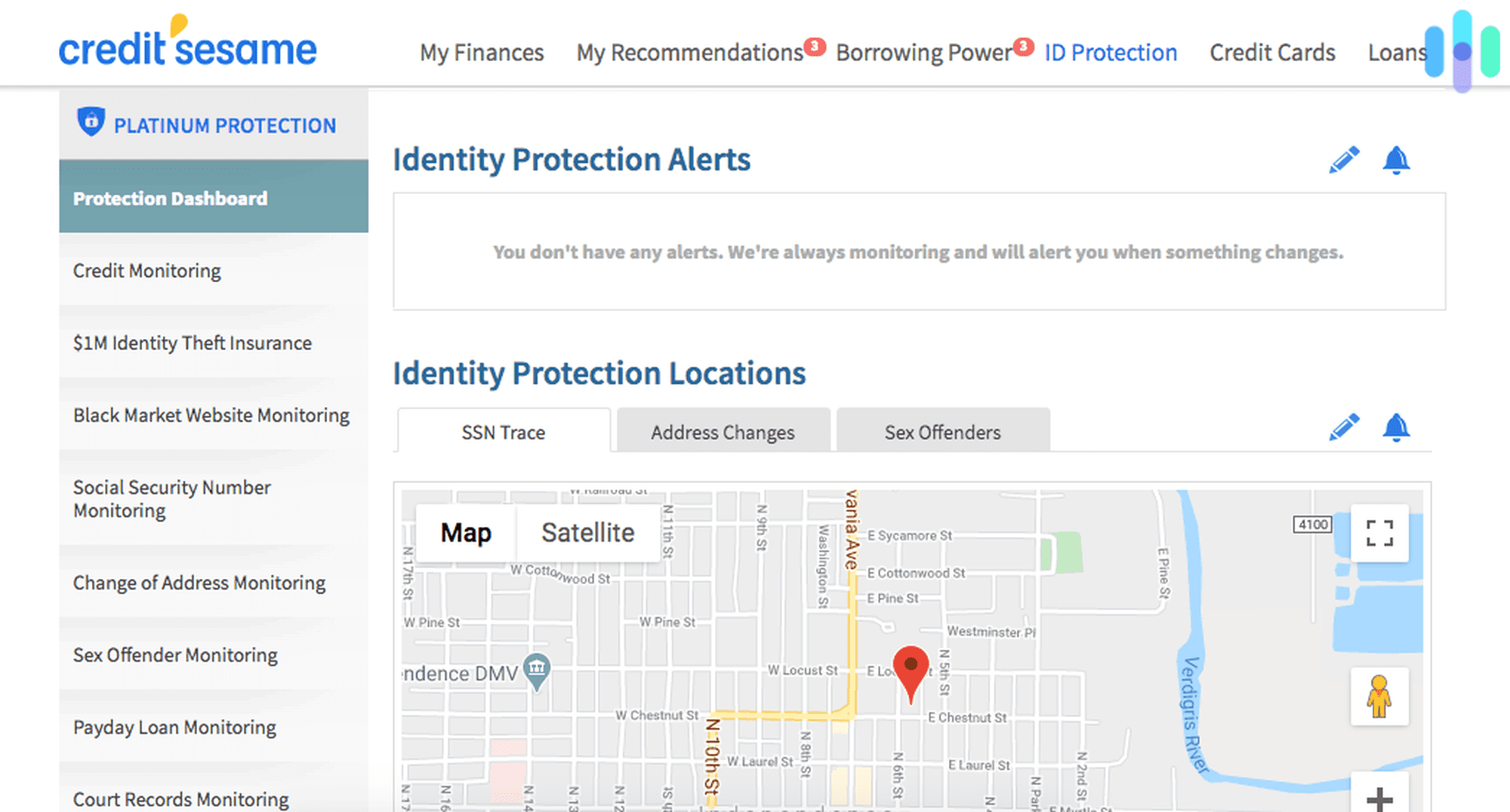 We'll admit that this website isn't the most user-friendly in the world. For example, under Identity Protection Locations, we got the exact same map for all three tabs, SSN Trace, Address Changes and Sex Offenders. In order to actually see this monitoring, we had to click over to the tab on the left-hand side. When we clicked on the Sex Offender Monitoring Tab, we were presented with the same map, but underneath it said that there were no notifications.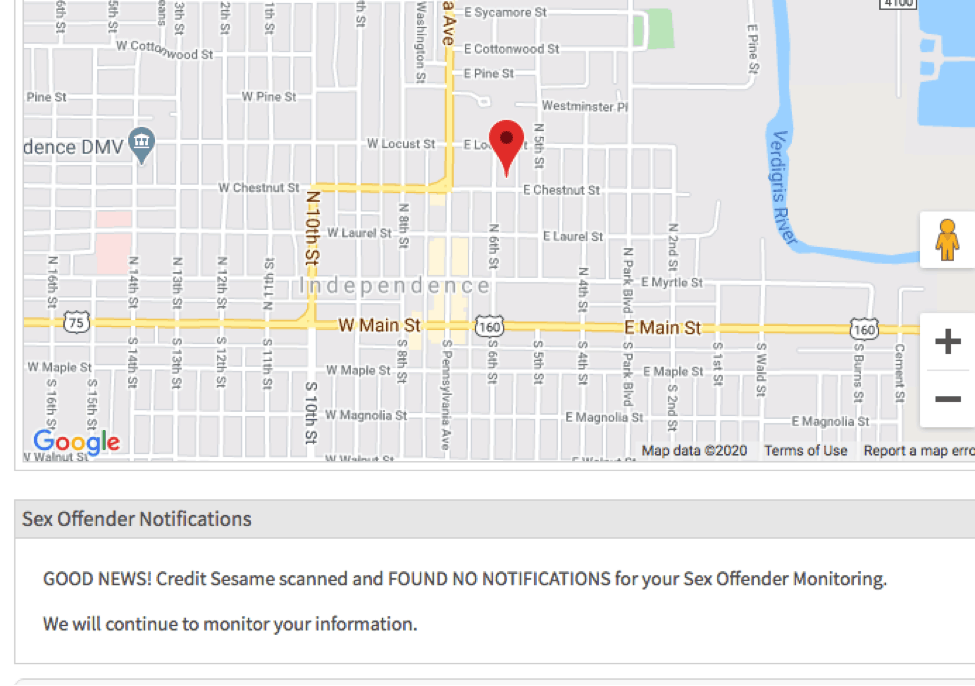 We expected there to be a map of the sex offenders in the area, especially considering we used Philadelphia as our starting point, but apparently Credit Sesame only notifies us if new sex offenders move into our neighborhood.
We also wanted to check in with our credit, but when we clicked on Credit Monitoring, we were brought to a page with credit card offers, not our actual scores and reports from all three bureaus.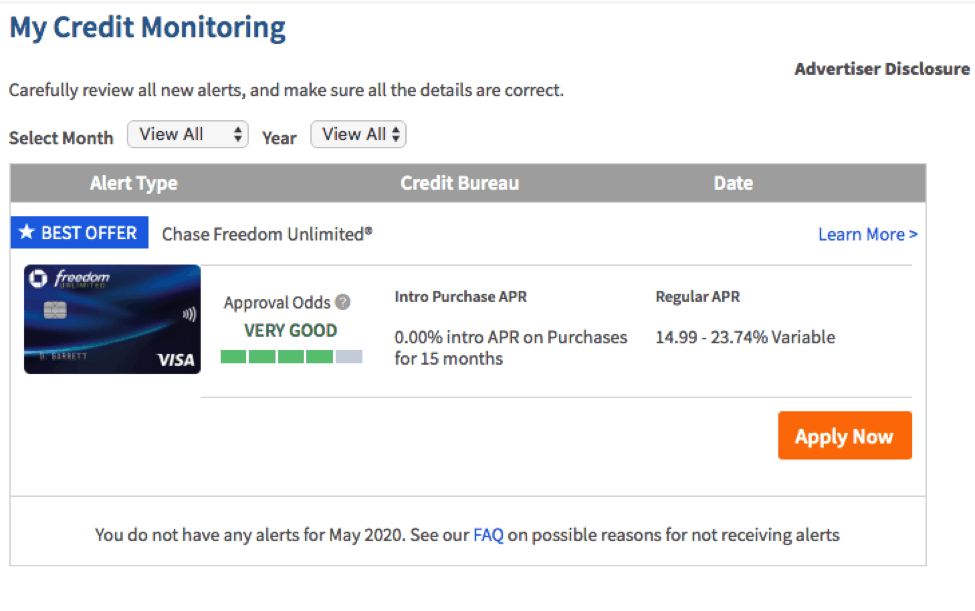 In order to actually see these scores and reports, we had to click "My Finances" on top and then "My Credit".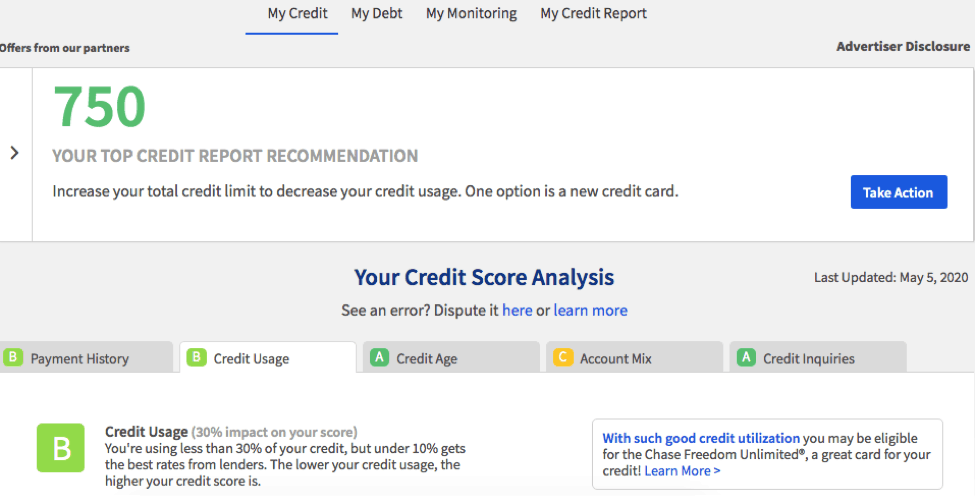 For Credit Sesame, identity monitoring is somewhat of a side hustle, with its main purpose being connecting people to credit cards and loans, and that was definitely clear in the setup process and dashboard. Overall, the user experience wasn't great, and it felt more like Credit Sesame wanted to make money off of us rather than protect us.
That's it for our user experience on the desktop site, but let's check it out on the go, as well.
The Credit Sesame App
Downloading the Credit Sesame app from the App store only took a few seconds. Once we logged in, we created a four-digit passcode for additional authentication. We also added Touch ID for multi-factor authentication. Finally, we were brought to our home page, which displayed our (very good) credit score prominently.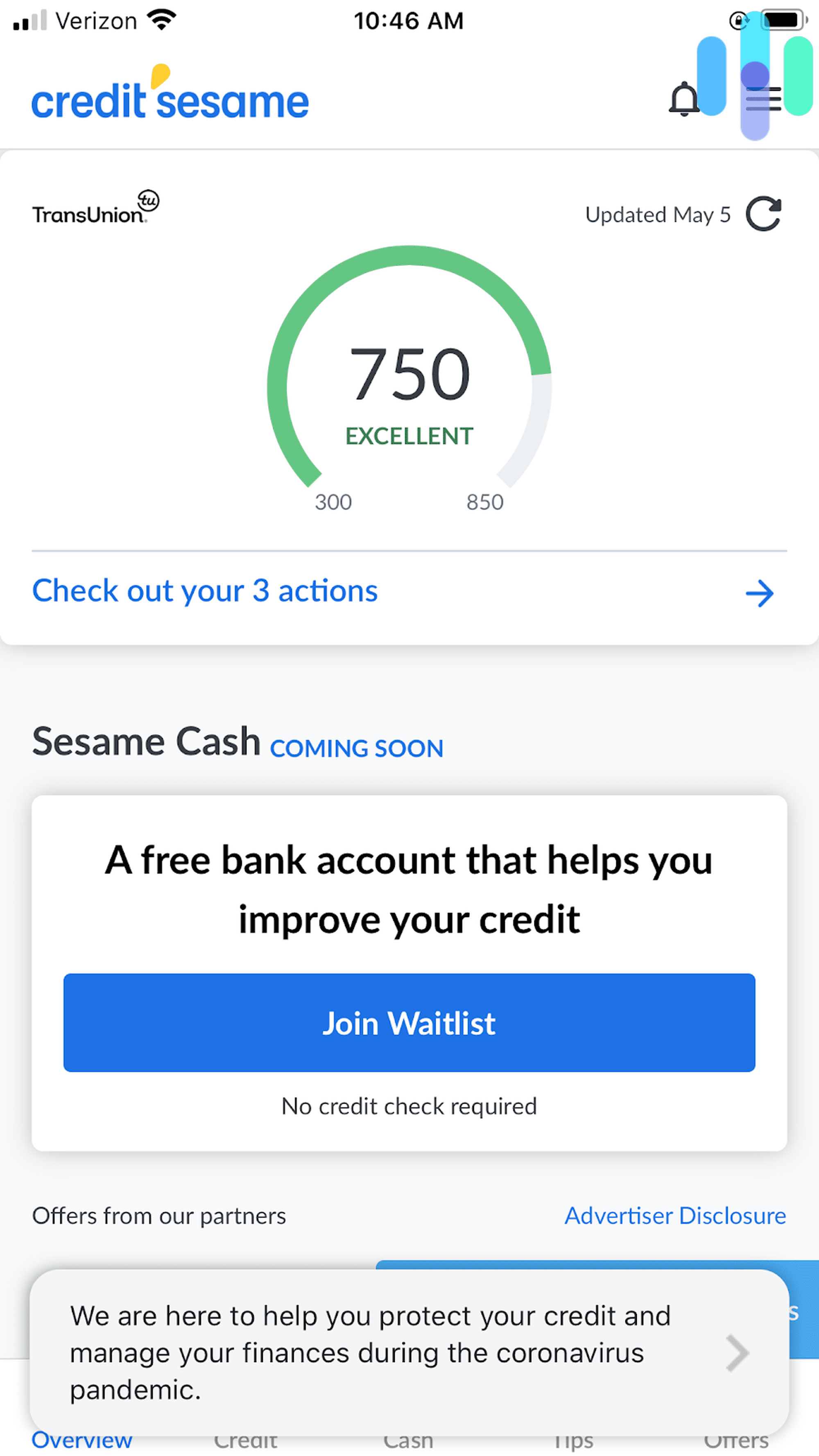 Much like the website, we also saw a bunch of credit card options.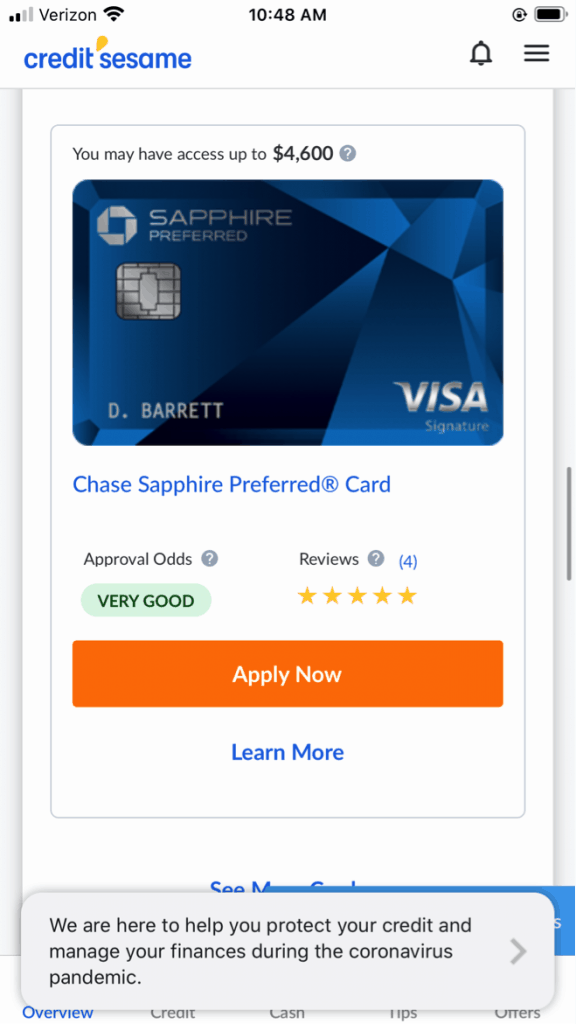 However, we had to click over to the Premium Dashboard to actually access the ID Protection portion of the app; like the website, the app is very credit-focused.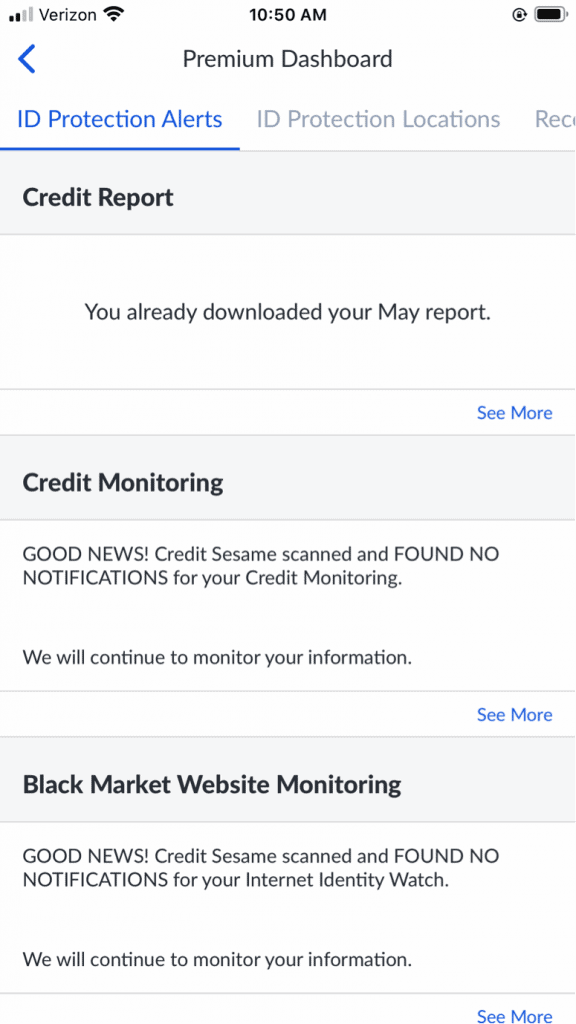 And whoever designed the ID Protection area clearly didn't put a lot of thought into it; it looked almost like a Word document, although we could easily find the information we received and get notifications from it.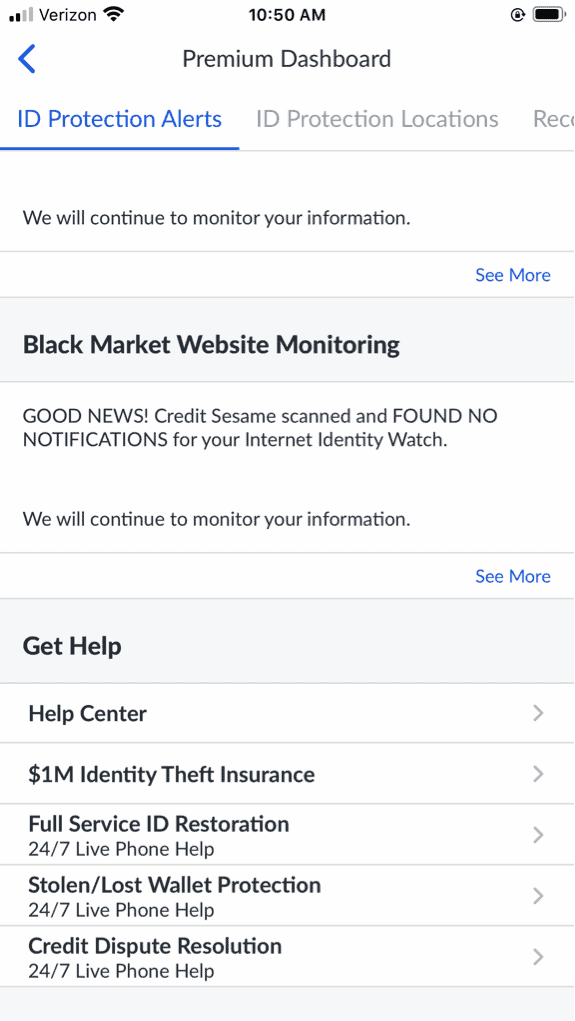 Even though it may be more focused on credit and less on identity monitoring, at the end of the day, the Credit Sesame app gets the job done. We got alerted if it found our information where it shouldn't be and could easily access our reports.
Better app experiences are out there in identity monitoring, but they're not always easy to find. Our review of LifeLock involved overcoming a mild learning curve, but the app turned out to be user-friendly and easy to navigate. Alternatively, some services focus on desktop-only experiences and don't offer a companion app. If a mobile app isn't a priority for you in identity monitoring, check out our review of ID Watchdog and our review of IdentityIQ.
Credit Sesame Customer Support
While researching Credit Sesame, we noticed that their pricing page didn't mention identity theft insurance, a standard feature for identity monitoring services. We turned to Credit Sesame's help center, which included FAQs, where we got this answer from an article the company posted three years ago.2
"Our free membership includes an identity theft insurance plan that offers up to $50,000 in coverage. Our various premium plans offer up to $1,000,000 in coverage."
That seemed to clear things up. However, minutes later, we saw on Credit Sesame's credit monitoring page that actually, even free users get $1,000,000 in identity theft coverage. So which is it? That's when we decided to contact support directly, and that's where things started to go downhill. The only way to contact support is to fill out a contact form or send a snail mail, neither of which offered instant support. There was no phone, live chat, or even email support.
Reluctantly, we filled out the contact form and asked our question. We got an email several days later informing us that Credit Sesame raised the insurance coverage to $1,000,000 for free users, so that's good news. The bad news is that it took us days to find out details like that, which live chat or phone support could've answered in seconds.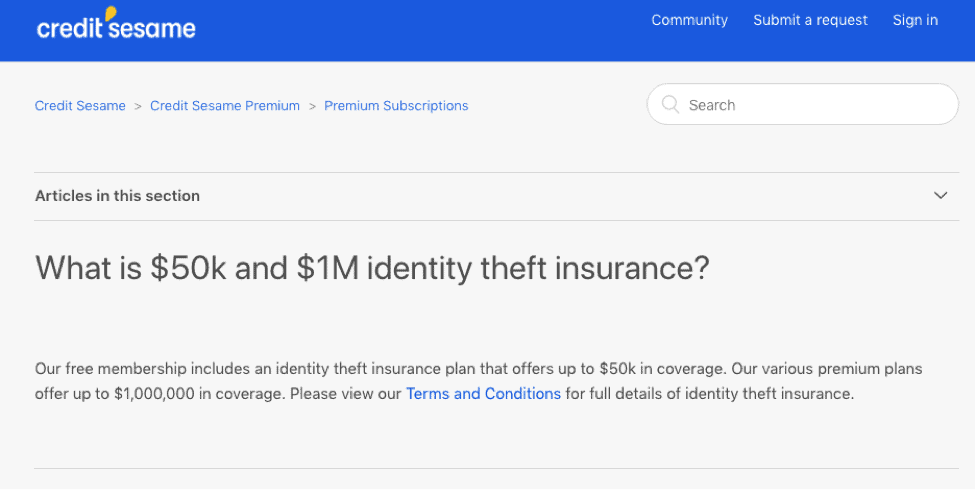 Getting in touch with someone at Credit Sesame might be a bit of a hassle, but not every service falters in this area. Using PrivacyGuard means you'll probably have a much better customer service experience, if our PrivacyGuard review is any indication. At the very least, you'll get a real, live human.
| | |
| --- | --- |
| FAQs | Yes |
| Knowledge base | Yes |
| Phone support | No |
| Live chat support | No |
| Email support | No |
| Support web form | Yes |
| Mailing address | Yes |
Hot Tip: If you're looking for support over the phone or live chat, Credit Sesame may not be the best option for you.
How Secure is Credit Sesame?
Based in San Francisco, California, Credit Sesame is subject to the international surveillance alliances Five Eyes, Nine Eyes, and 14 Eyes. What does that mean for us? Well, it means that the United States government could force the company to hand over our personal information, in extreme and extremely unlikely circumstances. So just what info of ours does Credit Sesame keep in the first place? To find out, we checked its privacy policy.3
Credit Sesame kept all the information we provided it with, like:
Names
Emails
Addresses
Phone numbers
Social Security numbers
Passport ID numbers
Medical ID numbers
Credit card and banking information
Usernames and passwords
Website transactions
Birthdays
Genders
Marital Status
Household and employment information
Income
And more, to name a few. Now, we chose which of these pieces of data we wanted to provide to Credit Sesame, but it also collected some information from us automatically:
IP address
Type of browser
"Browsing actions and patterns"
Pages we visited before and after Credit Sesame
Operating system.
This is certainly more information than totally necessary, but the good news is that it won't share this information with third parties for marketing purposes. Still, for those super-concerned about privacy, steer clear of Credit Sesame.
That's not to say that our information wasn't protected. Like we said, we were able to turn on Touch ID to access the Credit Sesame app, which made us the only people able to access it.
FYI: To ensure that you're the only person opening your Credit Sesame app, turn on Touch ID, which involves fingerprint or facial recognition.
Credit Sesame also encrypted all our information using AES-256,4 the military-grade standard, plus SSL, a Secure Socket Layer that uses a handshake method to authenticate us and make a secure connection.5 So even though Credit Sesame keeps a lot more information than we'd like, it does protect it well with solid encryption methods. And if you don't believe us, the company hasn't had any data breaches, which definitely made us feel much safer in their hands.
Is Credit Sesame Worthwhile?
Credit Sesame has its positives and negatives, but overall, it's not one of our top picks for an identity monitoring service. As we said, the company is much more focused on offering us credit cards than it is on protecting our identities. That being said, it does cover the basics of identity theft protection plus the industry standard for identity theft insurance.
Go with Credit Sesame if you're looking for…
Basic credit and identity monitoring: Credit Sesame does a decent job monitoring credit and criminal areas.
Multi-factor authentication: Touch ID ensured that only authorized users accessed our accounts.
Identity theft insurance: Even if you don't pay for a plan, you can be eligible for up to $1 million in reimbursements in case you become a victim of identity theft.
But avoid Credit Sesame if you don't want…
Shaky privacy policy and jurisdiction: Based in the United States and keeping more of your information than the bare minimum, Credit Sesame isn't a good choice for the privacy-concerned.
Clunky sign up: The company's website didn't make signing up for ID protection easy.
Credit card offers: Since Credit Sesame primarily deals with, well, credit, expect to be bombarded with offers every time you open its desktop site or mobile application.
Limited customer support: The only way to reach technical support with Credit Sesame is online via its FAQ section or a form, which is insufficient in our book.
If Credit Sesame doesn't sound like the right service for you, there are a ton of other options; a good place to start is our best identity theft protection page. However, while you're deciding, why not sign up for Credit Sesame's free plan? If your identity is stolen, you could get up to $1,000,000 in reimbursement, completely on the house, a feature we haven't seen with any other free services. See, everything has a silver lining!