Geeni Security Camera Review 2023: Affordable Security Cameras
Although it flies under the radar, Geeni offers a great selection of affordable security cameras.
What We Like
Affordability: All products except one cost less than $100. The cheapest Geeni camera sells for just $25.
Strong core features: All cameras come with at least 1080p HD resolution, night vision, two-way talk, and motion detection.
Computer vision for automatic tracking: Some Geeni cameras can detect and follow moving objects by panning mechanically.
What We Don't Like
Confusing options: A lot of the cameras offer the same features but in a different body, making it more difficult to compare and choose the right option.
No cloud backup: It's good that Geeni doesn't require monthly subscriptions, but we weren't thrilled that most cameras lack cloud backup.
Limited smart features: With the exception of automatic tracking and activity zones, Geeni doesn't offer smart features.
Bottom Line
Geeni is a strong brand if you're looking for affordable security cameras with good video quality and a strong set of core features, but don't expect its cameras to be as smart as higher-end options such as Google Nest and Arlo.
There are many things we all wish for, and better security for yourself and your family is probably high on your list. We're taking a closer look at a brand that aims to grant that wish using budget-friendly security cameras. Enter Geeni, the maker of some of the most affordable cameras you'll ever see.
It's not our first rodeo with affordable cameras. We've reviewed dozens of them. Some, such as the Wyze cameras we tested, turned out great, while others didn't. Let's see where the pieces fall for Geeni. In this review, we'll discuss Geeni's camera options, strongest features, and shortcomings to find out whether they're worth buying. Let's get started!
Editor's Rating
Budget-friendly cameras starting at $24.99
No monthly cloud subscriptions
Easy DIY installation with battery options
More Security.org Recommendations
Check out more of our favorite security cameras.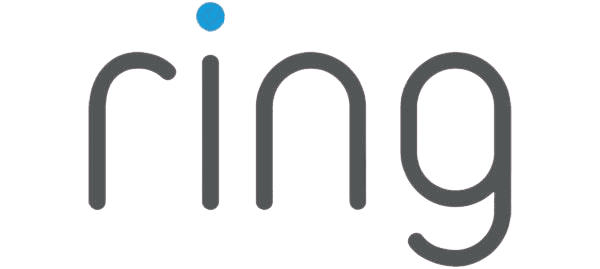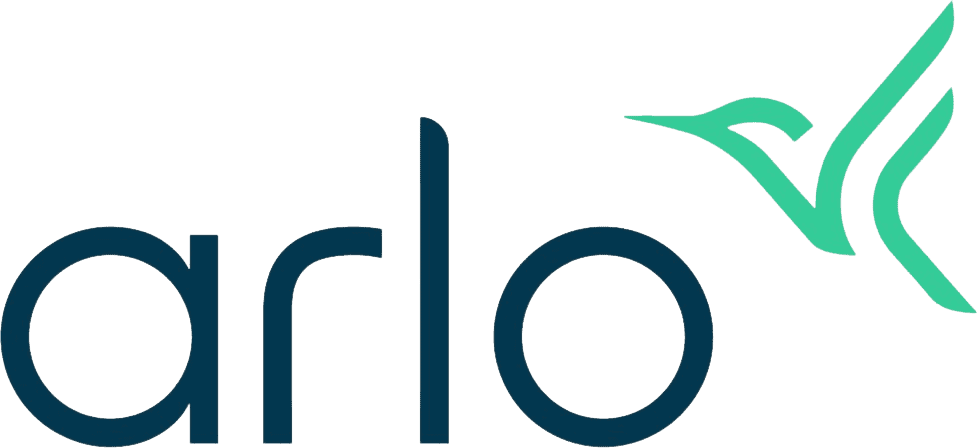 Geeni Security Camera Options
Geeni sells a mix of indoor and outdoor cameras, some of which have special features such as automatic motion tracking and built-in security lighting. All Geeni cameras except one cost less than $100, so it's immediately clear Geeni is a budget brand.
The cheapest option, at $24.99, is Geeni Glimpse, a 1080p HD indoor camera with a design reminiscent of the Yi Home camera. You can learn more about Yi Home in our Alder review, since it was the camera included when we tested Alder.
On the other end of the price spectrum is the iHome Insight, a $119.99 battery-powered indoor/outdoor security camera. It's weatherproof and rechargeable, and it has an impressive four-month battery life. It may not be as long-lasting as the two-year life of the Blink Outdoor camera we reviewed, but four months is solid for a battery-powered camera that doesn't require any hubs.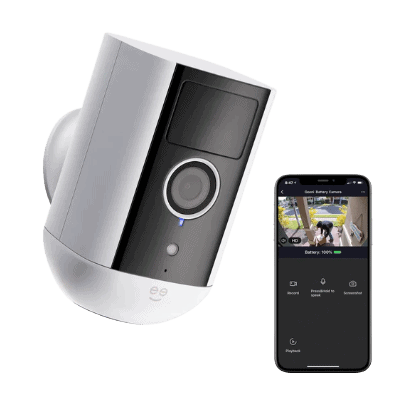 Between those two options are some intriguing cameras, including the iHome Roto, which is a pan-and-tilt outdoor camera that can track and follow movement (we don't see a lot of those!), and the Geeni Freebird, which has a form-factor eerily similar to the Ring Spotlight Cam Battery we tested. Here's the complete list:
| Geeni security cameras | Description | Price |
| --- | --- | --- |
| Geeni Glimpse | Plug-in indoor camera with basic features | $24.99 |
| Geeni Look | Plug-in indoor camera with flexible stem for easy installation | $34.99 |
| Geeni Scope | Pan-and-tilt indoor camera with motion tracking | $39.99 |
| Geeni Sentinel | Pan-and-tilt indoor camera with activity zones | $49.99 |
| Geeni Aware | Plug-in indoor camera with basic features | $59.99 (2-camera set) |
| iHome Insight | Plug-in indoor camera with cloud storage | $59.99 (2-camera set) |
| Geeni Hawk 3 | Basic Wi-Fi outdoor camera | $59.99 |
| iHome Roto Indoor | Pan-and-tilt indoor camera with motion tracking | $79.99 (2-camera set) |
| iHome Roto Outdoor | Pan-and-tilt outdoor camera with motion tracking | $79.99 |
| Geeni Doorpeek | Wired doorbell camera | $79.99 |
| Geeni Freebird | Battery-powered outdoor camera | $89.99 |
| Geeni Sentry | Outdoor camera equipped with floodlight | $89.99 |
| iHome Smart Battery Doorbell Camera | Battery-powered doorbell camera | $99.99 |
| iHome Insight | Battery-powered outdoor camera | $119.99 |
FYI: The iHome line uses a different app than the Geeni line. That's worth noting if you use Geeni smart home products. Geeni products and cameras work with the Geeni app, but not the iHome app.
How Geeni Cameras Are Similar: Necessary Features
Geeni security cameras vary vastly in design and where they're meant to be placed, but they all share a set of features. They have the same video quality, they all have night vision and two-way talk, and they all offer motion detection.
Video Quality
All Geeni security cameras have 1080p HD resolution. None are 4K, but 1080p is the industry standard and is a well-balanced resolution for security cameras. It has enough pixels to produce clear images day and night, but it uses way less bandwidth to livestream than 4K cameras. With good compression, streaming 1080p video requires only 3 Mbps of bandwidth, while streaming 4K video requires five times as much.1
You know who else offers 1080p HD cameras with no 4K options? Ring, one of the best security camera brands. A 4K camera may sound great on paper, but 1080p HD is still the king of security camera resolution.
Night Vision
Speaking of video quality, all Geeni cameras have some form of night vision. Most use infrared night vision, a type of illumination technology that uses invisible infrared light to light up the surrounding area. The result is clear but black-and-white footage.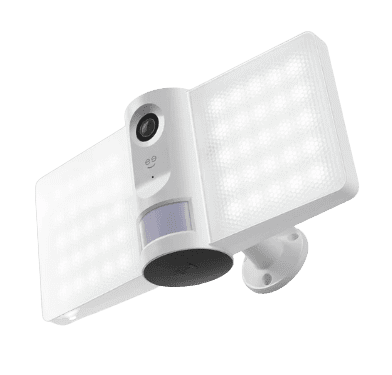 A few others use different technology: color night vision. The Geeni cameras with this tech use built-in smart lights to illuminate the area. It's less discreet because the light is visible, but that's exactly what some people want in their security cameras — particularly outdoor models. Numerous research shows well-lit properties with visible security cameras are less likely to experience crime.
Pro Tip: See our security camera guide for more details on the pros and cons of infrared night vision and color night vision.
Two-Way Audio
Geeni cameras also include two-way audio, which means recordings and livestreams include audio and you can speak with anyone in the vicinity while livestreaming. You can use two-way audio for anything from telling delivery people where to leave your packages to telling your dog to get off the couch.
Motion Detection
All Geeni cameras are equipped with motion sensors to detect movement and alert you. It's the most basic security feature Geeni offers. With motion detection, you'll be alerted when a family member arrives at home or an intruder breaks in.
Paired with the ability to stream live videos to your phone, Geeni's motion detection allows you to monitor your home anytime and from anywhere without having to sit in front of a screen 24/7.
How Geeni Cameras Differ: Special Features
Geeni cameras all offer the above core features, which is exactly what you can expect from security cameras that sell for around $30. The slightly more expensive Geeni cameras, though, have special features. Let's check them out.
Pan and Tilt
The Geeni Scope, Sentinel, and iHome Roto cameras (both indoor and outdoor versions) can pan and tilt, allowing for a wider view of the surroundings. You can control the pan-and-tilt action using the companion apps.
One thing to note about pan-and-tilt cameras is that they have a narrower field of view than those that don't pan and tilt. Most Geeni cameras have a viewing angle of about 130 degrees, but the pan-and-tilt versions have an angle of only about 110 degrees.
Geeni's pan-and-tilt cameras also lack the ability to look around on their own, a feature we saw and loved when we reviewed the Wyze Cam Pan. Unless you manually control them, they stick to just one angle.
FYI: The Wyze Cam Pan offers Pan Scan, with which you can set up to four stopping points and the camera will pan on its own at a set interval to give you a view of each point.
Automatic Motion Tracking
Some pan-and-tilt cameras from Geeni, however, offer automatic motion tracking. They are the Geeni Sentinel and the iHome Roto cameras.
Motion tracking uses computer intelligence to follow a moving object. If a person walks into frame, for example, the cameras will pan automatically to follow where the person goes.
It's a great feature, but it relies on the camera's ability to detect motion in the first place. With a narrower field of view, the pan-and-tilt cameras with automatic tracking must be placed in an optimal location with a complete view of the room to detect motion reliably.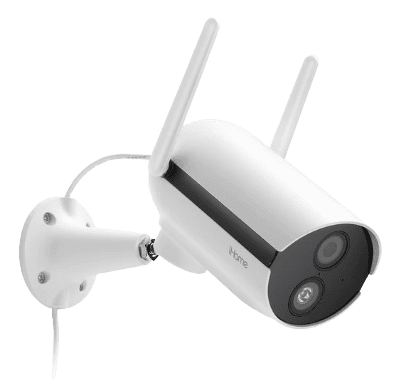 One camera that offers automatic tracking is the iHome Roto Outdoor, and automatic motion tracking is not something you often see in outdoor cameras.
Activity Zones
Another useful special feature that aims to reduce false alarms and improve motion alerts is activity zones. It lets you create a custom zone within the camera's view and limit motion detection to just that area, which means any movement from areas prone to false alarms will be ignored.
We often see activity zones offered by more expensive security cameras, such as the Google Nest Cam (battery) we reviewed, so we were surprised that some of the Geeni cameras have it. Even more impressive is that those cameras — the Geeni Sentinel and Geeni Scope — cost less than $50.
Both cameras with activity zones, however, are indoor cameras. None of the outdoor cameras have the feature, which would be more useful outdoors.
Security Lighting
The Geeni Sentry and Smart Floodlight Camera also have integrated lighting to provide color night vision. The integrated smart light is more than just for night vision though. It also serves as security lighting. The floodlight on the Geeni Sentry is motion-activated. It turns on when the camera detects motion to potentially deter would-be burglars and trespassers.
One downside of the Geeni Sentry is that it needs to be hardwired to an existing floodlight. Other than that, it's a good combination of smart light and security camera.
Are Geeni Cameras Easy to Install?
As a budget option, Geeni positions itself as a DIY option with easy-to-install hardware. Of course, the installation process differs from one camera to another, but Geeni offers three main installation options.
Plug-in: Plug-in cameras require a power source, ideally a wall outlet.
Battery: Battery-powered cameras are rechargeable, which means you can put them up anywhere within your Wi-Fi's reach. The battery life varies, but the iHome Insight model promises a four-month battery life.
Hardwired: The Geeni Sentry is Geeni's only hardwired option. It replaces an existing floodlight with a power rating between 100 and 240 volts.
Aside from powering the cameras, you'll need to connect them to the internet to be able to stream videos to your phone. All Geeni cameras connect to Wi-Fi, and none of them — not even the battery-powered ones — require a hub. That's an advantage over the Arlo wire-free cameras we looked at that often require a base station.
On the flip side, Geeni's security cameras support only 2.4 GHz Wi-Fi, so make sure to connect them to the 2.4 GHz band if you have dual-band Wi-Fi.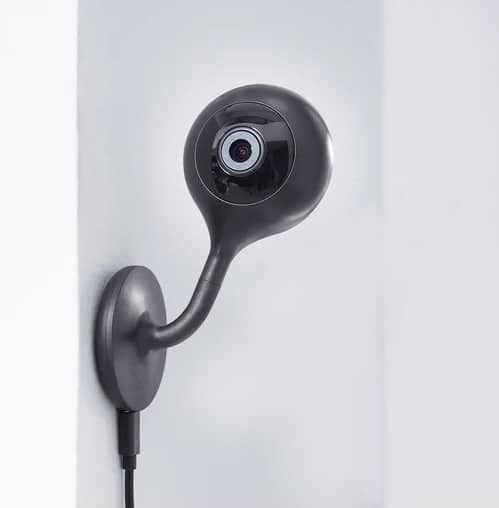 As for placement, Geeni made it easy to position its cameras. They have swivel bases, some of them have magnetic mounts, and one even has a flexible stem you can fold and twist as needed.
Overall, Geeni cameras are easy to install.
Pro Tip: Connecting too many devices to a single Wi-Fi band can cause crowding and affect your overall internet speed. If possible, connect your smartphones, smart TVs, and computers to the 5 GHz network to free up space for devices that support only the 2.4 GHz Wi-Fi band.
How About Video Storage?
Geeni is a budget brand not only in terms of hardware, but also in terms of video storage. Most security camera brands offer cloud subscriptions to store recordings in the cloud, but most Geeni cameras use only local recording. They have a slot for a microSD card (64 GB to 128 GB in most cases) where videos may be recorded for later viewing. You can also stream recorded videos to your phone if the cameras are connected to the internet.
One downside of local storage, though, is that your recordings are as good as gone if the camera is stolen or destroyed. That's why we recommend having cloud backup, but only a select few Geeni cameras have cloud backup (mostly from the iHome line).
Final Verdict: Is Geeni a Good Brand?
Geeni is a competitive brand in the crowded world of affordable security cameras. It has unique strengths, such as not requiring a cloud subscription to record videos and offering special features like motion tracking and built-in security lights. Getting those features from cameras that cost less than $100 is a good deal.
Geeni, however, isn't the best brand for affordable security cameras. Wyze takes that throne, because even though its cameras are priced similarly to Geeni's, Wyze offers considerably more and smarter features. Check out our page on the most affordable top-quality security cameras to learn more.
Geeni FAQs
Let's answer some of the most asked questions about Geeni.