Wyze Security Camera Review: Pan, Outdoor, and v3
What We Like
High-quality cameras for as little as $36
14 days worth of cloud storage for free
Smart sound that can recognize fire alarms
What We Don't Like
No support for Apple Homekit integration
Person detection costs extra
No professional monitoring option
Bottom Line
Wyze may be one of the most affordable camera companies on the market, but don't let that make you think it skimps on quality. With 1080p HD video, two-way audio, and awesome infrared night vision, the Wyze Cam, Wyze Cam Pan, and Wyze Cam Outdoor have the same features we expect from other smart security cameras, for a fraction of the cost.
Most startups say they're "disrupting" an industry, but Wyze actually is. With its incredibly affordable cameras costing as little as $36, we got the same great features as other smart security cameras we've reviewed, but at a fraction of the price.
For this review, we tested out the Wyze Cam, the Wyze Cam Pan, and the Wyze Cam Outdoor. Which one is right for you? Read on to find out, or watch our video reviews below.
Quick Price Comparison
| | |
| --- | --- |
| Wyze Cam | $36 |
| Wyze Cam Pan | $38 |
| Wyze Cam Outdoor | $60 |
Editor's Rating
Ultra-low price starting at only $36
Motion tagging and sound recognition
Integrates with Alexa and Google Assistant for voice control
How Wyze Fares Against the Competition
Wyze is one of the best-value cameras you can buy today. It delivers simple but reliable equipment and a frills-free DIY setup. That said, there are simply some things you won't get from cameras that tout their affordability, namely, advanced features and tech. If you don't want to skimp on features, check out the options below. We've personally tested these cameras, and they deliver features like facial recognition and the ability to give you a birds-eye view of your property.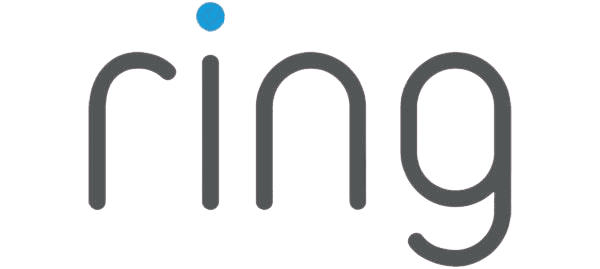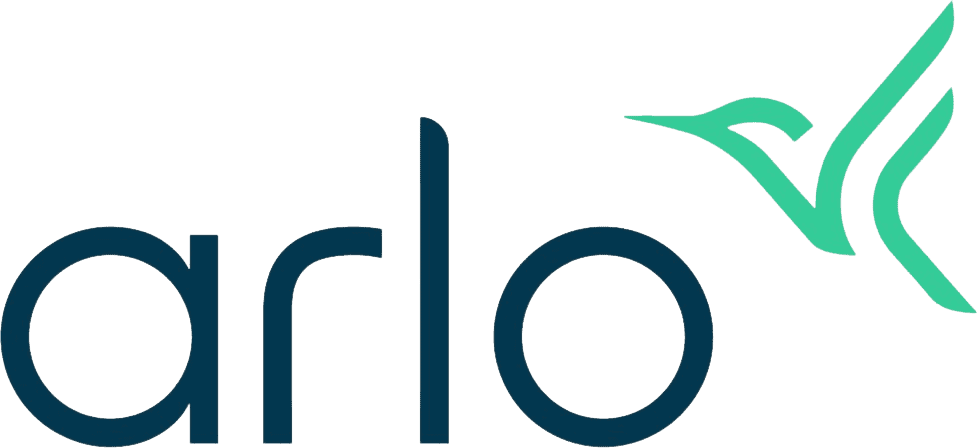 Three Affordable Cameras
| | Wyze Cam v3 | Wyze Cam Pan | Wyze Cam Outdoor |
| --- | --- | --- | --- |
| Price | $36 | $38 | $60 |
| Indoor/ outdoor | Both | Indoor | Outdoor |
| Video quality | 1080p HD | 1080p HD | 1080p HD |
| Number of times it can zoom in digitally | 8 | 8 | 8 |
| Field of view in degrees | 130 | 120 | 110 |
| Number of infrared LED sensors | 4 | 6 | 8 |
| Two-way audio? | Yes | Yes | Yes |
| Local storage? | Yes | Yes | Yes |
| Cloud storage? | Yes | Yes | Yes |
| Smart platform integrations | Alexa, IFTTT, Google Assistant | Alexa, IFTTT, Google Assistant | Alexa, IFTTT, Google Assistant |
| Artificial intelligence | Smart sound recognition for smoke/CO alarms, person detection with Cam Plus | Smart sound recognition for smoke/CO alarms, person detection with Cam Plus | Smart sound recognition for smoke/CO alarms, person detection with Cam Plus |
| Extras | Activity zones | Activity zones | Activity zones |
| Power | Plug-in | Plug-in | Battery |
As you can see from the above chart, the Wyze Cam, Wyze Cam Pan, and Wyze Cam Outdoor are pretty similar. The Pan costs just two dollars more, while the Outdoor is $24 more. We got a camera for all our needs and we did it without breaking the bank.
Similarities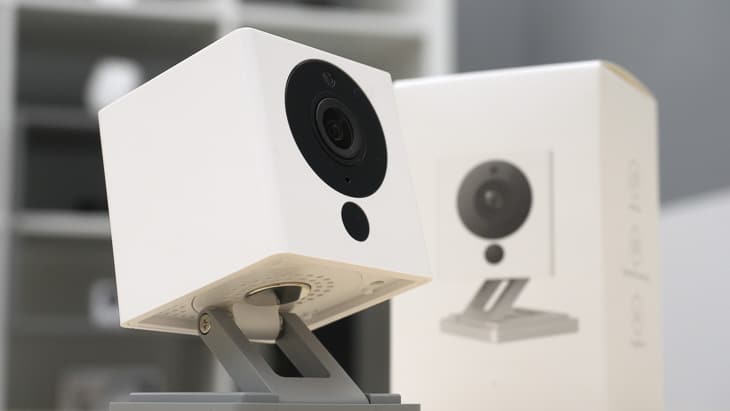 First, let's talk about what the cameras had in common when we tested them out.
Video quality: All three cameras had that 1080p HD video that we're looking for, which made us feel at home even when we were simply staring at the Wyze app. While there's no place like home, the footage from the Wyze cameras was pretty darn close.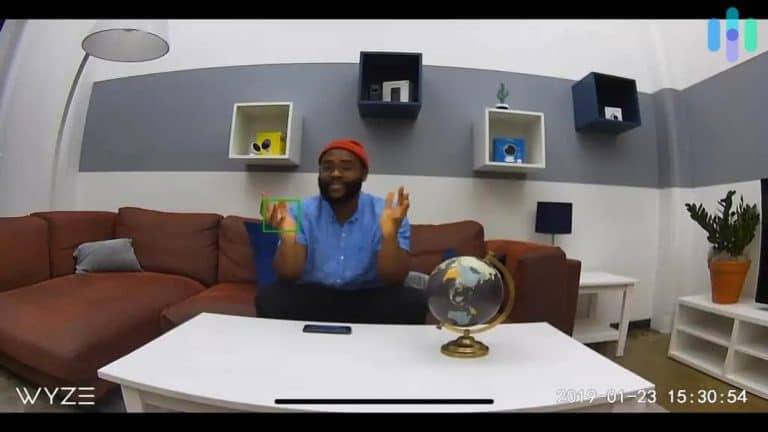 Zoom: When we wanted to zoom in on details while we were creeping from the Wyze app, we did so eight times with all the cameras. This really came in handy when we wanted to see what our families were watching on TV, especially when we discovered a family member continuing a show without us. Rats!
Two-way audio: When we wanted to call out this alleged family member, we did so right through the Wyze app thanks to the cameras' speakers and microphones. "You said you were going to wait for us to finish 30 Rock!" we screamed, causing our family member to jump in her seat. You know what they say about karma.
Storage: When we wanted to laugh about this footage of our family member jumping in her seat, the video was saved to cloud storage automatically, where it remained for 14 days. But since both cameras uploaded the footage to their micro-SD cards as well, we made sure to save these files on our computers so we could laugh at the video for years to come.

We love that Wyze gave us local and cloud storage for free; with Ring camera subscriptions, there's no local storage, and 60 days of cloud storage costs at least $3 a month or $30 a year. Not terrible prices, but you can't beat free.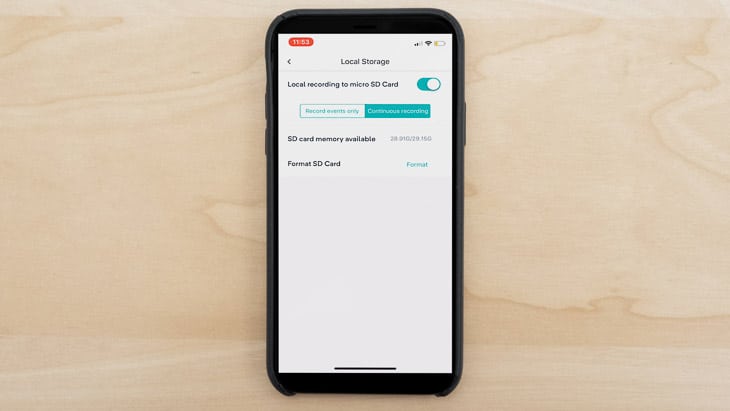 Smart platform integrations: We admit it: part of our affinity for smart home technology comes from the fact that we don't like to leave our beds unless we're practically forced to. That's why controlling our Wyze cameras with Alexa and Google Assistant was so much fun.

From having Alexa show our living room live stream on our Echo Show to telling Google Assistant to show us our front yard on the Nest Hub Max, controlling our cameras didn't require our hands or even our Wyze app.

On top of that, all three cameras worked with IFTTT, which allowed us to create some convenient automated actions. Since we have the Wyze Sense security sensors as well, we made sure that the sensors came on at the same time the cameras did, protecting our entire home with a click of one button.
Did You Know: Home automation means that you can have connected devices trigger one another, like having your doors lock when you arm your security system.
Smart sound recognition: It's a sad but true fact that 60 percent of deaths from home fires occur in homes with no smoke alarms or homes where the smoke alarms aren't working. In our house, we actually have old-fashioned smoke alarms, meaning they're local-only and not Wi-Fi-connected. So if a fire somehow starts when we're not there, will we lose everything?

Once we installed the Wyze cameras we didn't have to worry. That's because they could recognize the sound of our smoke alarms going off so we got notified through the Wyze app. We decided to test this out by lighting a candle near our smoke alarm. Within a few seconds, the alarm beeped and so did our phones, making us confident that we'd know asap of a fire emergency.

Person detection available: When we invested in a Cam Plus plan, we got person detection; the cost was either $1.99 per camera a month or $14.99. With Plus, clips went from just 12 seconds long to however long the motion was, and we didn't have to wait during a cooldown period. Learn more on our Wyze camera pricing page.
Activity zones: Sure, we want to be able to see our living room, our kitchen, and our garage from literally anywhere with internet access, but there are certain areas around our home where we don't want surveillance, like the powder room right off the kitchen.

Thankfully, both Wyze cameras let us create what the company calls "motion zones"; typically, we call them activity zones. In a nutshell, activity zones let us tell our cameras what areas to pay attention to and what areas to ignore, in this case, the powder room. As a bonus, we set our outdoor camera to ignore cars on the street so they sent us fewer false alerts.

Wyze app: Finally, we used our Wyze app with all three cameras to live stream footage, review cloud storage, speak through two-way audio, and set up smart platform integrations. It was cool to be able to do this all from one app, especially when we were setting up IFTTT triggers. Smart lights, meet our smart security cameras; we think you guys will become the best of friends.
Wyze Camera Video Reviews
They say a picture is worth a thousand words, so how many words is a video worth? Well, whatever that number is, double it because we've made two videos of the Wyze Cam and the Wyze Cam Pan, so you can see their day and night vision for yourself.
Wyze Cam Video Review
The Wyze Cam has nearly all of the features we've come to expect from a smart security camera with 1080p HD video, two-way audio, and infrared night vision. Check it out!
Wyze Cam Pan Video Review
The Wyze Cam Pan is basically the Wyze Cam with tilting and panning abilities, and it only costs about two dollars more. We loved seeing our entire living room by panning this camera around 360 degrees! See it for yourself.
Differences
While these cameras are quite similar, they aren't identical. Here are the reasons why.
Indoors vs. outdoors: The Wyze Cam Pan is strictly an indoor camera, so we set it up in the living room. The Outdoor Cam, on the other hand, is built to work in the great outdoors. It's rated IP65, which means it's dust-tight and capable of withstanding low-pressure water jets.

The newest version of the Wyze Cam, v3, is actually designed to deal with both environments. Like the Outdoor, it has a 65 IP rating, but the Cam is equally home in the climate-controlled space of our kitchen. Impressive.

Power: Both the Wyze Cam and the Wyze Cam Pan plug into outlets. Now, that could've been an issue if we hadn't placed our outlets conveniently. If that's a problem for you, check out our list of the best wireless cameras.

Luckily, we didn't have the same issue with the Outdoor Cam. It worked entirely off a battery, and we got a full six months out of that battery before we had to replace it.

Prices: The Wyze Cam costs only $36, about a fifth of the price of similarly-featured cameras like the Google Nest Cam Indoor. The Wyze Cam Pan adds another two dollars to the price, bringing it up to $38, still less than a third of the average indoor camera. In contrast, the Outdoor costs a bit more, $60.

Even so, that's still $40 less than Blink's outdoor camera, the XT2. Learn more about the average costs of security cameras, Blink camera pricing or Nest camera pricing.

Fields of view: Field of view meant how wide our cameras' scopes were. The Wyze Cam Outdoor had a field of view of 110 degrees, a bit narrow for our tastes. However, the Wyze Cam Pan added another 10 degrees, and the newest version of the Cam, v3, added yet another 10 degrees. With a full 130 degrees, we could see most of the living room.
Infrared night vision: All three cameras have clear infrared night vision, which let us see what was happening even when New York experienced a blackout. However, in addition to IR, the new Wyze Cam now comes with Starlight Sensors that provide a color night vision image in even the darkest conditions.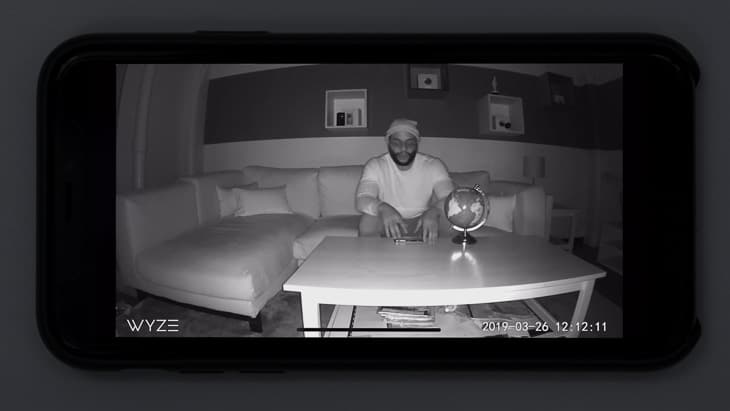 Pan: This one's so obvious that we saved it for last. Unlike the original Wyze Cam and the Outdoor Cam, we could pan the Wyze Cam Pan around 360 degrees from the Wyze app, which meant that we saw 100 percent of a room as opposed to just what was in the camera's field of view. We felt vaguely like the FBI as we rotated the camera, seeing not only our kitchen but also the window outside.
Installing the Wyze Cameras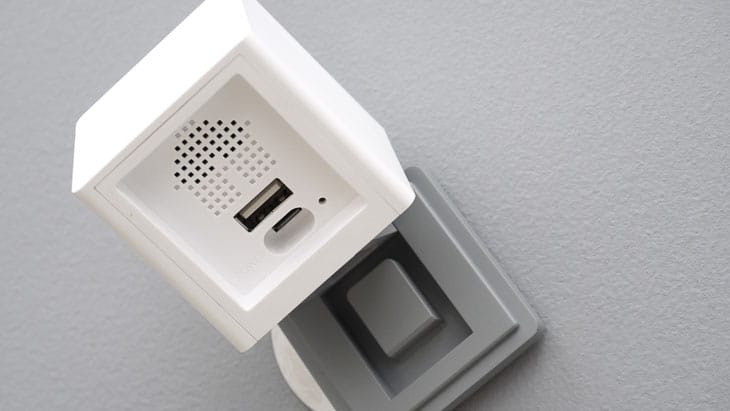 Part of why the Wyze cameras cost so little is the fact that we had to install them ourselves. But don't worry; you don't have to test out security cameras for a living to set up either camera. We did so in a few simple steps:
First, we downloaded the Wyze app and connected it to our Wi-Fi network, which for some reason we can never seem to remember the password of.
We made a new account including a username and password and clicked continue. Then the app told us step by step what to do.
We plugged the Cam and the Cam Pan cameras in using the USB cables and power adapters that came with them. The Outdoor Cam was ready to go as soon as we pulled the battery tab. Once we got the cameras running, their LED lights showed yellow, and once those lights started flashing, we knew the cameras were ready for setup.
From there we jumped back into the Wyze app and clicked on the plus sign to add a new device (or devices, we should say). Once we selected the cameras, we held the setup buttons on the back of the devices until we heard beeps; then, a robot voice said "Ready to connect".
We tapped next, added our Wi-Fi information into the app, scanned the cameras' QR codes, and tapped I Heard QR Code Scanned in the Wyze app. The app took it from there until it said: "Setup is completed".
From start to finish, it took us only about 10 minutes to set up each camera, so even if smart home technology is new to you, you won't run into any issues getting your Wyze cameras set up and running.
Also, be sure to check out the latest Wyze Cam v3 Spotlight Kit. Here's our latest video review of the innovative device.
Which One Should I Get?
Of these three cameras, we recommend the Wyze Cam. Not only is it the cheapest of the three, but we found the Starlight Sensor offered amazing images at night time.
The Cam Pan obviously pans and tilts, and that can be enormously useful if you need 360-degree coverage of a room. It's strictly an indoor camera, though. And while the Outdoor is made to work outside specifically, the new Wyze Cam v3 has the same IP rating, 65, and it costs $24 less.
You can save even more money off the Cam's low price if you get into some Wyze Cam Black Friday discounts. That makes the v3 all but unbeatable.
And, just to throw another outdoor security device into the mix, be sure to check out the new Wyze Doorbell Camera. It's called the Wyze Video Doorbell Pro, and we must say, it offers some great features at a reasonable price. Here's our video review of the device…