Nest Cam Battery Review 2023
Indoor, outdoor, and battery-powered? Count us in.
What We Like
Person and package detection included for free
Three hours of video storage included for free
Weather resistance
What We Don't Like
No optical zoom
Not completely dust-tight
Need to pay for more than three hours of cloud storage
Bottom Line
We appreciated this affordable and wireless option from Nest, which doesn't skimp on video and AI features.
Nest is one of the top security cameras brands. It offers smart security cameras backed by Google's AI analytics. As a result, Nest Cams deliver some of the most advanced smart features available, such as facial recognition.
That being said, Nest Cams have earned the reputation of being expensive. They've had successful but pricey security cameras before like the Nest Cam IQ Outdoor ($399), which although great, is a bit more expensive than most outdoor cameras. So when Nest announced and subsequently released the Nest Cam Battery for $179.99, we jumped on the opportunity to test out this affordable outdoor-ready Nest Cam. Read on for our take on the Nest Cam Battery.
What We Think Of The Nest Cam Battery
The Nest Cam Battery is one of Nest's better devices in terms of price and features, as it inherited the video quality and smart features of its pricier predecessors. That said, we wish the camera had optical zoom and more affordable cloud storage. We've tested the following brands that deliver those features and more: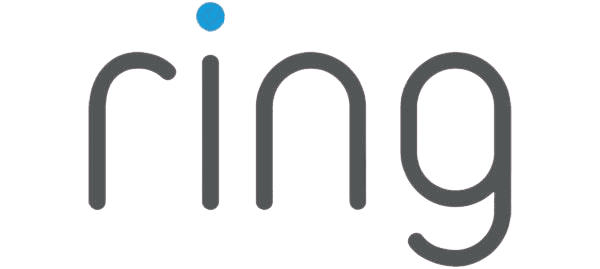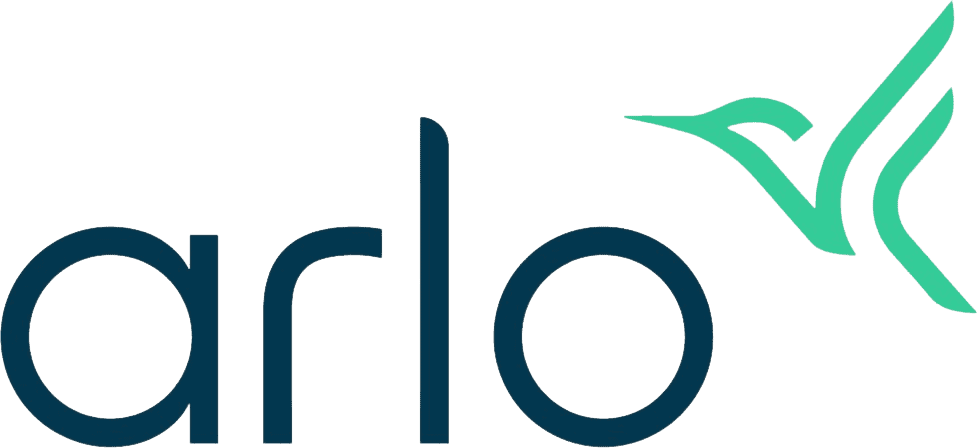 Editor's Rating
Person and package detection included for free
Three hours of video storage included for free
Weather resistance
What's Included
Let's start at the beginning with what was included in our box from Nest:
Nest Cam Battery
Magnetic base
Wall plate
Two wall anchors
Two wall screws
1-meter charge cable and power adapter
Quick-start guide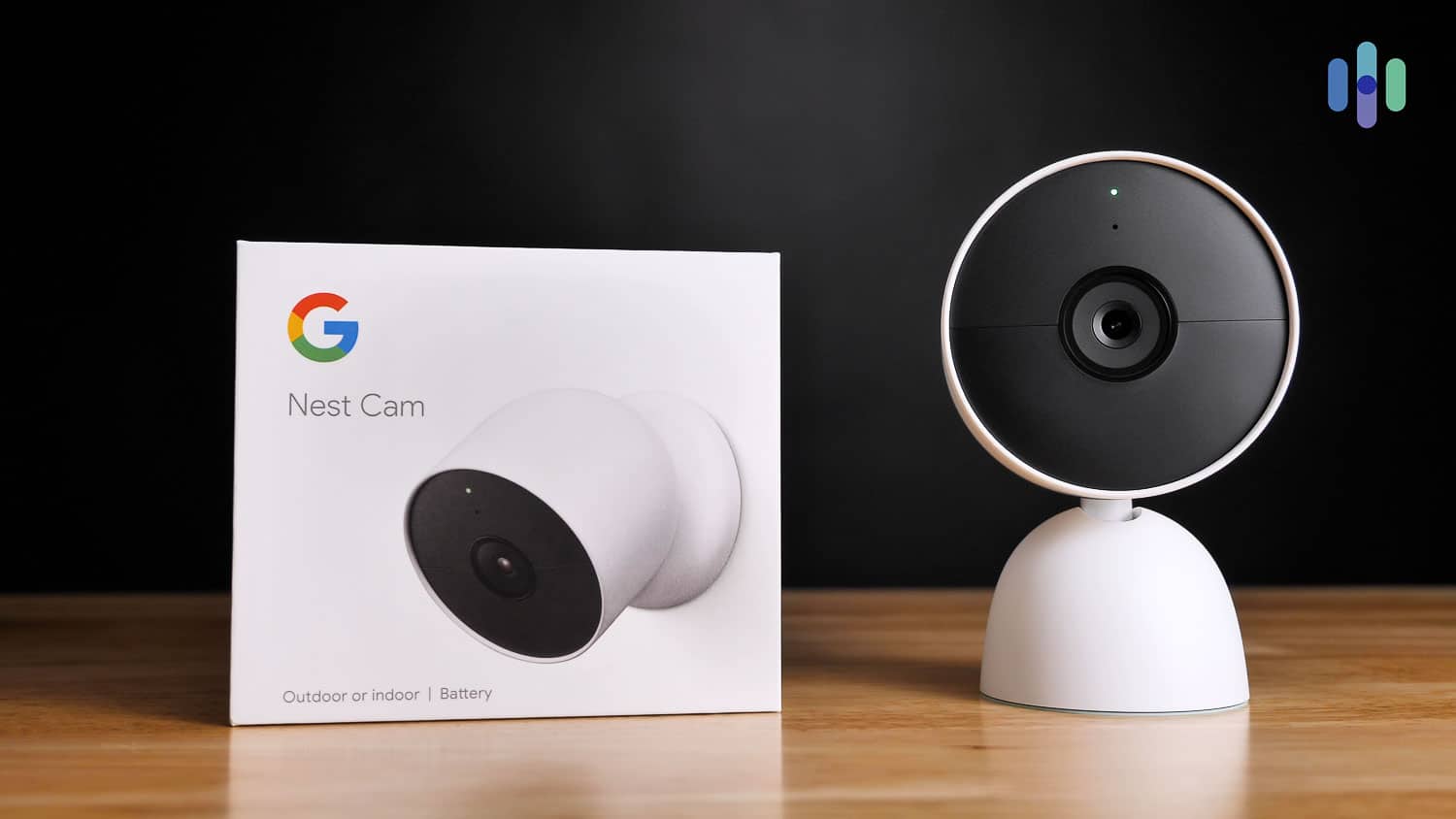 Installing the Nest Cam Battery
It's no secret that we've reviewed the Nest cameras in the past; if you don't believe us, check out our Nest Cam Indoor review, our Nest Cam Outdoor review, our Nest Cam IQ Indoor review, or our Nest Cam IQ Outdoor review. So naturally, we already had the Google Home app (the replacement of the Nest app) downloaded on our phones.
To add the latest Nest camera to the app, we scanned its QR code on the front and plugged it into power via magnetic cord to let it charge for about five hours. Then, we added the camera to our Wi-Fi network and voila! It showed up on our Google Home app.
But adding the Nest Cam Battery to the Google Home app was just the beginning. Next, we had to install our security camera outside. Using an extension cord, we installed the camera about 6 feet above the ground, screwing the wall plate into the side of our brownstone and then connecting the magnetic plate twists. Since everything is magnetic, the camera plopped on without much effort.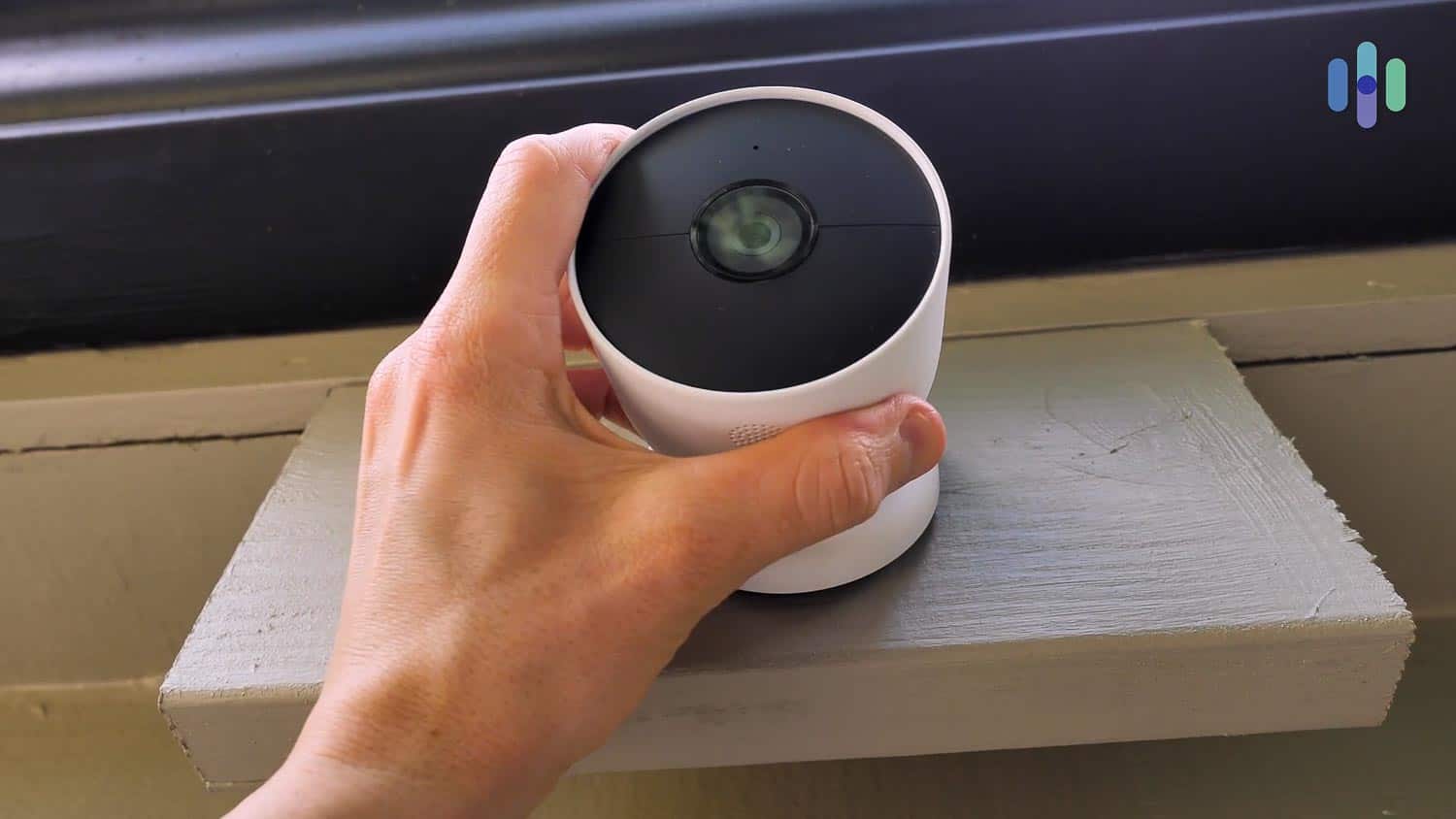 TIP: If you want professional rather than DIY installation, enter your ZIP code to find an installer from OnTech1. It will cost $99.99 to install the Nest Cam Battery if you don't have an OnTech membership already1.
Features and Performance
Once we installed the Nest Cam Battery outside, it was time to test it and see how well it worked. Since this is an indoor/outdoor camera, let's talk about durability first.
Durability
Working in temperatures from -4 to 104 degrees Fahrenheit, the Nest Cam Battery will function well for us throughout the year. However, we were a bit surprised that the IP rating is only 54, meaning it's not completely dust-tight or safe from high-pressure water jets. Most outdoor cameras have IP ratings of 65. Although this isn't the most durable outdoor camera we've ever tested, it should work in most weather conditions.
Power
The Nest Cam Battery is an outdoor wireless camera that comes with a rechargeable lithium-ion battery. However, if you prefer wired cameras over wireless, you can use weatherproof cables outside. We opted for wireless, as it made for a much easier installation process.
The disadvantage of wireless cameras is battery life, but the Nest Cam Battery works for a while before you need to recharge it.
| Level of activity | Months of battery life | Recorded events per day |
| --- | --- | --- |
| Busy | 1.5 | 20-25 |
| Typical | 3 | 9-12 |
| Quiet | 7 | 2-4 |
You can expect your battery to last for 1.5 to seven months, depending on the level of activity.
Video
The Nest Cam Battery has 1080p HD video, the industry standard for home security cameras. It also has a pretty wide 130-degree field of view.
The only area where the video disappointed us was the lack of optical zoom. We could only zoom in by pinching the Google Home live view screen six times. This isn't a dealbreaker, though, and we were happy with the video quality overall.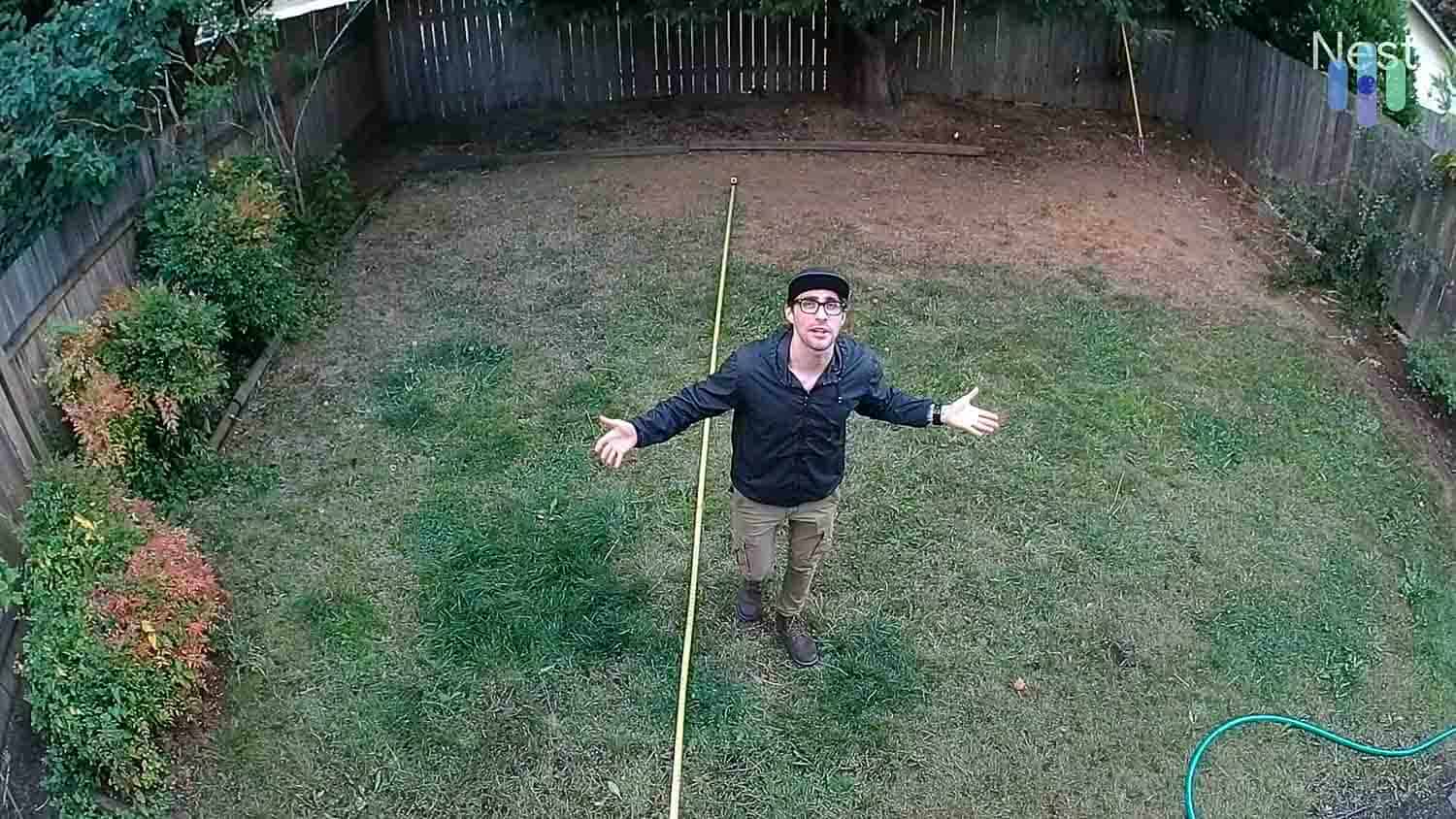 If you want even better video resolution, look for 4K cameras, as they have twice the pixels of 1080p HD. The Arlo Ultra is one camera that has 4K video resolution. Learn more in our Arlo Ultra review, but note that not all Arlo cameras have 4K resolution; the Arlo Pro 3, for example, has 1080p HD just like the Nest Cam Battery.
Audio
Another standard feature of the Nest Cam Battery is the two-way audio, made possible by a speaker and microphone. When our Amazon package arrived, we got an alert and opened the Google Home app, instructing the delivery person to leave the package in our vestibule. While he might have been a bit startled by our disembodied voices, the two-way audio did the trick, preventing package theft. Who said that security cameras can't deter crime?
Nest took things a step further, however, with noise cancellation. Since we live in Brooklyn on a fairly busy street, this helped our audio be clearer than ever. We haven't seen noise cancellation on too many other security cameras, save for the Ring security cameras, so kudos to Nest on kicking it up a notch.
Night Vision
Six infrared LED sensors allowed 20 feet of illumination, and as you can see in our video and photo above, the night vision was crystal clear. However, infrared sensors only create black-and-white footage; if you want color night vision, you'll need a camera with a bright white light, like the Ring Spotlight Cam Battery.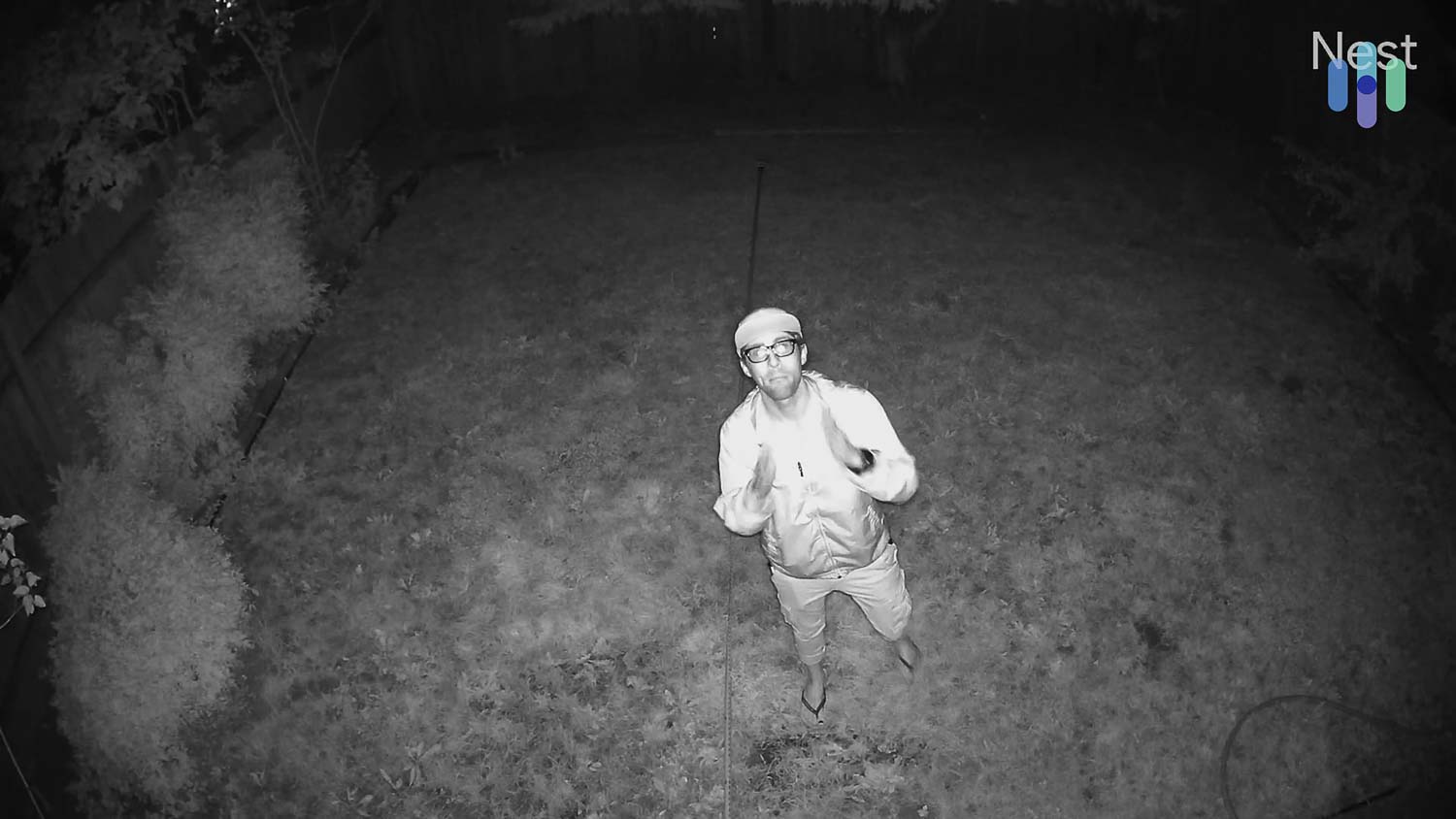 NOTE: Nest is coming out with a $279.99 floodlight camera, but as of September 2021, it's not available, even for preorder.
Storage
As is typical of Nest camera pricing, we got three hours of cloud storage with the Nest Cam Battery. But before the Nest Cam Battery, the storage was only of still images; now, it's full video clips, clearly an upgrade. And if we wanted 30 or 60 days of cloud storage, we could've paid extra to subscribe to Nest Aware, which we've detailed below.
One thing that wasn't typical was the camera's local storage. Say our Wi-Fi went down, which happens on a monthly basis. The camera would've recorded up to an hour of footage, which we could view once our internet came back. While the Nest Cam Battery certainly isn't a camera that works without Wi-Fi completely, at least it has a backup plan for when the internet just isn't connecting.
Artificial Intelligence
Unlike many of its predecessors, the Nest Cam Battery comes with alerts for people, packages, animals, and vehicles. Again, since we live on a busy street with constant traffic, we turned off alerts for vehicles and animals so that we only got alerts when people and packages came by. This was a lot better than getting notified of all movement, as that would've meant constant interruptions.
Now, we wanted to test absolutely everything available with the Nest Cam Battery, so we signed up for Nest Aware Plus to get Familiar Faces alerts. These are pretty self-explanatory, but we'll explain them anyway: With the Familiar Faces feature, we got to name our friends and family so that the notifications got even more specific. Our Nest Mini even announced who was at the door, which felt like having a butler (a virtual butler, that is).
Motion Zones
Sometimes called activity zones, motion zones let us tell the Nest Cam Battery which areas to monitor and which areas to ignore. We drew a line around our front yard so that it only notified us of people and packages on our property. This setting worked well, cutting down the number of unnecessary notifications we received.
Smart Home
When it came to voice assistants, we had more success commanding our Nest Cam Battery with Google Assistant than with Alexa. That's not a huge shock, as Google owns Nest.
| Commands for the Nest Cam Battery | Alexa | Google Assistant |
| --- | --- | --- |
| Show camera footage | Yes | Yes |
| Hide camera footage | Yes | Yes |
| Turn camera on | No | Yes |
| Turn camera off | No | Yes |
| Ask about the camera's status | No | Yes |
Our camera also worked with a ton of other third-party IoT products (smart home devices), from Schlage smart locks to Philips Hue smart lights. We had our devices trigger one another, like having our Swann cameras turn on at the same time as our Nest cameras. With Nest, there's really no limit to the home automation possibilities.
Nest Cam Battery Video Review
There's no better way to see if the Nest Cam Battery is for you than to watch our review on YouTube. We'll show you how well the camera worked at day and at night.
Watch as we unbox and set up Nest's latest wireless camera.
Nest Aware
At this point, you're probably wondering how much the home security camera costs. On its own, the Nest Cam Battery costs $179.99, although there are packages available if you need a security system for a large home.
| Number of Nest Cam Batteries | Price | Savings |
| --- | --- | --- |
| 1 | $179.99 | $0 |
| 2 | $329.99 | $29.99 |
| 4 | $596 | $123.96 |
If you'd like, the costs could stop there. However, you can also pay more for a Nest Aware account, which we recommend.
| Plans | No subscription | Nest Aware subscription | Nest Aware Plus subscription |
| --- | --- | --- | --- |
| 24/7 video history (in days) | 0 | 0 | 10 |
| Carbon monoxide alerts | No | Yes | Yes |
| Event video history length | 3 hours | 30 days | 60 days |
| e911 button | No | Yes | Yes |
| Familiar Faces alerts | No | Yes | Yes |
| Glass-breaking alerts | No | Yes | Yes |
| Package detection | Yes | Yes | Yes |
| Person detection | Yes | Yes | Yes |
| Pet detection | Yes | Yes | Yes |
| Smoke alarm alerts | No | Yes | Yes |
| Vehicle detection | Yes | Yes | Yes |
| Monthly cost | $0 | $6 | $12 |
| Annual cost | $0 | $60 | $120 |
| Savings with annual plan | N/A | $12 | $24 |
Nest Aware adds on more cloud storage, an e911 button to reach emergency services quickly, Familiar Faces alerts, and more. If you're OK paying monthly or yearly, Nest Aware is an affordable way to move your Nest Cam Battery to the next level. If you want to save money on Nest cameras, check out Nest camera Prime Day deals and Nest camera Black Friday deals to unlock discounts.
The Google Home App
RIP to the Nest app and long live the Google Home app. This was where we set up the camera, got person and package notifications, talked through two-way audio, set up Familiar Faces, and linked our camera to other IoT devices. There's a Google Home app for both iPhones and Androids, although the iOS app has higher ratings. We didn't have any troubles using the Google Home app to control our camera, and you shouldn't either.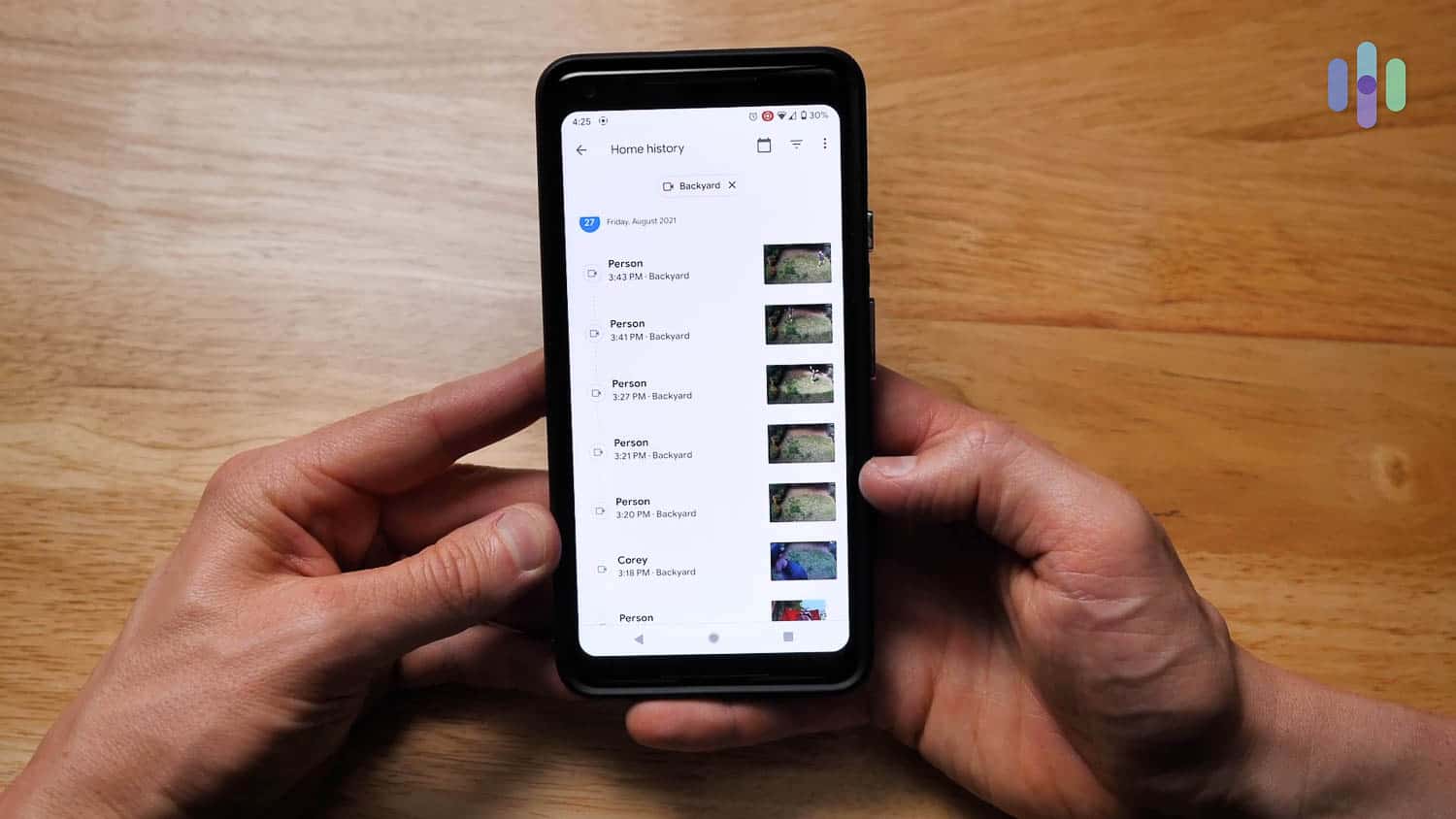 Find out if Nest can protect your home like other security systems
We tested Nest and compared it side-by-side with other brands to give you the full picture.
Summary
The Nest Cam Battery is definitely a worthwhile investment, especially if you already have other Nest cameras, Nest doorbells, or the (discontinued) Nest Secure security system. At $179.99, the Nest Cam Battery is slightly cheaper than average, as outdoor cameras usually cost around $200. Of course, no camera is right for every home, so we've explained who we think it would be good for.
To explore other options, read our list of the best home security cameras.