Atlas VPN vs. NordVPN
Find out which of these powerhouse VPNs came out on top


A two-year plan costs just $3.49 per month.
Each plan comes with a 30-day money-back guarantee.
Students can receive a 15-percent discount for a two-year plan.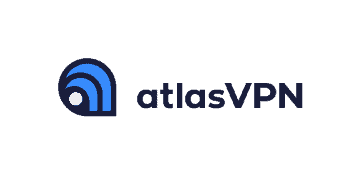 Affordable subscription options
Split tunneling available
Access to streaming services, including Netflix
We test plenty of VPNs and write a ton of these comparison pages. We want you to make the best decision about which VPN to purchase, and often, that decision comes down to a choice between two or three strong options.
This comparison is a bit tricky, though.
It turns out that NordVPN actually owns Atlas VPN. Now, you might be asking, what's the point of a comparison page between these two if one owns the other? And it's true, NordVPN does require Atlas VPN to live up to its standards, particularly when it comes to security. As a result, these two VPNs do have a good deal in common.
But there are plenty of differences between them as well. Ultimately, Atlas VPN remains a separate company and does things its own way. Is its outside-the-box thinking enough to make it a better investment than NordVPN? Let's find out.
Some Key Similarities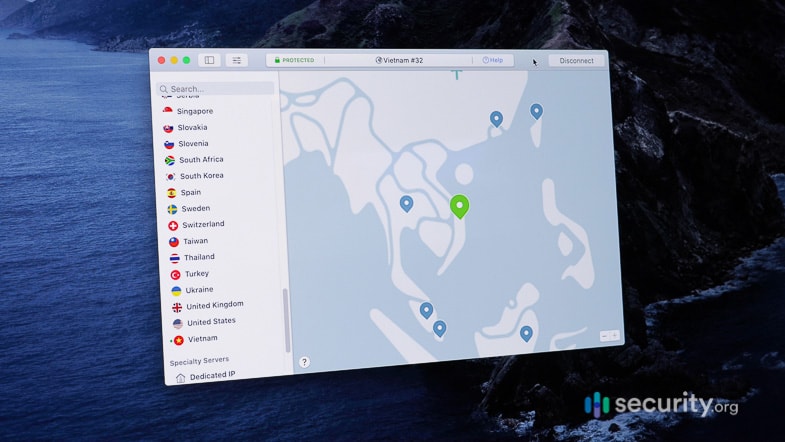 NordVPN, which owns Atlas VPN, holds Atlas to some high standards when it comes to security. That's to your advantage. As we note in our NordVPN review, NordVPN is among the most secure VPNs on the market. Any VPN that has to measure up to its expectations is bound to be trustworthy. Here's what that means in concrete terms:
AES-256: Both Atlas VPN and NordVPN use AES-256 encryption. It's been estimated that a hacker would need several billion years to crack AES-256 using a brute-force attack. In other words, you can be pretty sure that no one's going to gain access to your personal data or be able to track your online browsing, at least through a direct assault on either of these VPNs.
Privacy policy: Of course, all the encryption in the world doesn't matter if your VPN stores your personal data and is willing to turn that data over to anyone who might ask for it. Luckily, both of these companies operate using a No Logs privacy policy. Now, that phrase is something of a misnomer. All VPNs keep some information about their customers, if only just to keep the VPN operating. No Logs means the VPN collects no information that can be used to track your online activities. Neither of these companies stores your IP addresses, timestamps, or browsing histories. Even if the government shows up with a subpoena, they'll get nothing from these two, as there's nothing to get.
Multihop: NordVPN and Atlas VPN both take advantage of a relatively new VPN technology known as multihop. Any time you engage multihop, these VPNs route your internet connection through at least two separate servers. Each server provides its own AES-256 encryption, and double the encryption means double the protection.
Kill switch: Finally, even if all these other security measures fail, you're still protected by these two VPNs' kill switches. A kill switch shuts down your internet activity any time you lose your VPN connection. As a result, no one can see what you're up to online, even accidentally.
Did You Know: In a brute-force attack, a hacker uses a computer program to try every possible password until it finds one that works.
As you can read in our Atlas VPN analysis, Atlas shares a number of other features with NordVPN beyond security.
Split tunneling: We spend part of most days working at the local coffee shop. Our boss doesn't mind as long as we use a VPN when we're transferring files to the office. The thing is, if we run our Spotify playlists through the VPN too — and we can't work without Spotify — it slows the connection down to a crawl. Split tunneling from Atlas VPN and NordVPN helps a ton. It lets us route our sensitive online activities through the VPN, while routing our other online activities through the coffee shop's Wi-Fi.
Torrenting: Torrenting is a handy way to get access to unlicensed software, but it definitely raises the risk that someone might track or hack you. It's no surprise, then, that people who torrent prefer to use a VPN. However, you'll need a VPN with servers that are configured for P2P sharing. Both Atlas VPN and NordVPN fit the bill.
Some Key Differences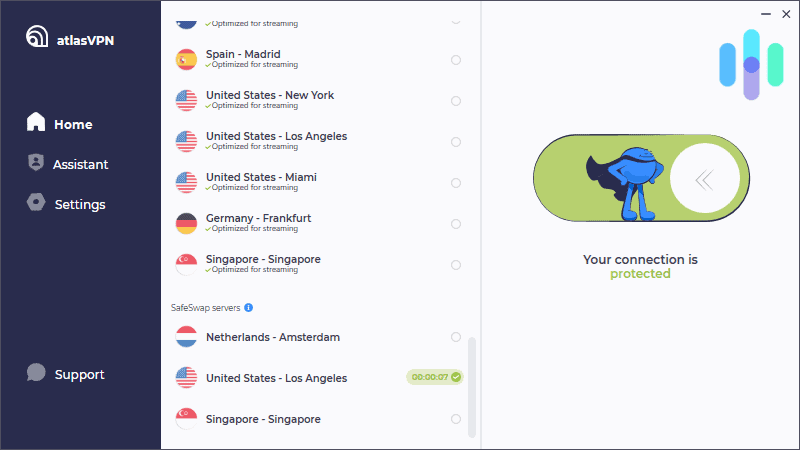 Despite many similarities, these two VPNs aren't the same. What are the most important differences?
Protocols: A VPN is an encrypted tunnel to the internet, but encryption alone isn't enough to secure your online connection. You need a protocol to control how the various types and levels of encryption get deployed. In other words, next to the encryption itself, a VPN's protocol is the most essential aspect of its operation. Atlas VPN offers WireGuard, an up-and-coming protocol that has developed a reputation for both speed and security. In fact, NordVPN offers WireGuard as well. But NordVPN gives you a choice: you can use WireGuard, or you can use the gold standard in protocols, OpenVPN. OpenVPN isn't as fast as WireGuard, but it's been around longer and has been subjected to more testing. We like having that option.
Servers: The more servers a VPN maintains, the more likely you are to find one with low traffic. The more locations those servers are in, the more likely you are to find one near where you are. Both factors influence VPN speed. Atlas VPN has over 1,000 servers in around 50 different countries. That's pretty good. NordVPN has over 5,500 servers in more than 60 different countries. That's better.
Camouflage mode: NordVPN offers what it calls obfuscated servers. These servers not only conceal your IP address, but they also conceal the fact that you're using a VPN at all. Here's why that matters: many streaming services these days will block you if they think you're using a VPN. Camouflage mode prevents that. As a result, NordVPN provides flawless connections to all the best streaming services, including Netflix, Hulu, and Disney Plus. That explains why it's at the top of our list of best VPNs for streaming. While we were able to connect to streaming services through Atlas, those connections were spotty because Atlas doesn't offer camouflage mode.
MultiHop Plus: Here's a category in which Atlas VPN comes out on top. NordVPN offers multihop, as we mentioned before. So does Atlas VPN. But Atlas offers something called MultiHop Plus. What's the Plus all about? First, it optimizes your hopping, so you'll always get the fastest speeds and the lowest latency. Second, it randomly rotates your servers, making it even harder for hackers to follow your movements.
Rotating IP addresses: Atlas also employs rotating IP addresses for the same reason. If your IP address changes at regular intervals, no one can associate your address with any particular online activity.
Unlimited simultaneous connections: Finally, Atlas also offers an unlimited number of simultaneous connections. That means you can install the software on as many devices as you want and use the VPN on all of them at the same time. NordVPN limits users to six simultaneous connections.
FYI: WireGuard and OpenVPN are both open-source software, so the online community has had a chance to test them. However, OpenVPN has been around since 2001, while WireGuard was introduced in 2015.
Pricing
Now, you may have noticed there's not a lot of difference between these two VPNs. Both provide solid security. Both come with some excellent bonus features. And, while they differ from one another, each offers some excellent features that the other VPN doesn't offer.
Perhaps price is the difference.
Right away, we should point out that Atlas VPN offers a free version. In fact, Atlas VPN began life as freemium software and has only recently begun offering paid subscriptions. And that free version is pretty darned good. It provides access to three servers with no speed limits, and data is capped at a very generous 5 GB per day. Plus, there are no ads, and Atlas never collects information related to your online activities. With all of those features, it's no wonder that Atlas VPN ranks high on our list of best free VPNs. NordVPN doesn't offer a free version of its service.
Here's the thing, though: a data limit is a data limit — even a 5 GB data limit. So, how does Atlas VPN's paid service compare price-wise with NordVPN's?
Price-Per-Month Comparison
| VPNs | 1-month subscription | Annual subscription | 2-year subscription | 3-year subscription |
| --- | --- | --- | --- | --- |
| NordVPN | $12.99 | $4.99 | $3.79 | n/a |
| Atlas VPN | $11.99 | $4.08 | n/a | $1.83 |
As it turns out, Atlas stacks up pretty well against NordVPN. Atlas doesn't offer a two-year subscription, but other than that, Atlas actually bests NordVPN in every price category. And that $1.83 per month price you get when you sign up for three years of Atlas is about as good a price as you'll find anywhere.
Of course, NordVPN's prices certainly aren't outrageous, even by comparison. The question, then, is whether the features NordVPN offers are worth a dollar or so more per month.
Recap
If you're looking for an easy way to conceptualize the differences between these two, you might think of Atlas VPN as NordVPN's more experimental sibling. That is, Atlas VPN takes a few more chances than NordVPN. Those chances don't exactly undermine Atlas's security, but let's just say that if you want the very best security in the business, that's still NordVPN. And NordVPN has better streaming options going for it.
The bottom line is that we have to give the edge to NordVPN in this battle. But with these two, you're probably going to have to make a personal choice. Both provide solid security, both offer great features, and both come with reasonable price tags.
Sign up for NordVPN if you want:
The added security of the OpenVPN protocol
Better access to streaming content
A two-year subscription
Sign up for Atlas VPN if you want:
Unlimited simultaneous connections
Rotating IP addresses
Multihop with randomly rotating servers
Frequently Asked Questions
Before we go, we thought we'd take a little time to answer some of your most frequently asked questions about the differences between Atlas VPN and NordVPN.