Atlas VPN Review
An affordable VPN that allows unlimited simultaneous connections
What We Like
Unlimited simultaneous connections
Unique SafeSwap feature that provides rotating IP addresses
Blocks third-party trackers, ads, and pop-ups
What We Don't Like
Doesn't support OpenVPN
Relatively new compared to other VPNs we tested
Only 35 locations and 750 servers
Bottom Line
Want an affordable VPN? Atlas VPN is exactly that. While it leaves a few things to be desired — more server locations, for starters — it's a great-value VPN with lots of useful features.
Protecting our privacy is a huge responsibility, but one that we shouldn't carry upon our shoulders on our own. That's why we have VPNs. On our quest to find one of the best VPNs among the ever-growing number of options, we tested yet another service. This time, we're taking you through the features, performance, privacy policy, and more with Atlas VPN. Is it as powerful as its namesake in Greek mythology? Let's find out.
Atlas VPN in a Nutshell
| | |
| --- | --- |
| Number of servers | 750 |
| Server locations | 37 |
| VPN protocol | WireGuard and IKEv2 |
| Encryption | 256-bit AES |
| Price range | $1.39 – $9.99 per month |
Editor's Rating
Affordable subscription options
Split tunneling available
Access to streaming services, including Netflix
About Atlas VPN
Established in 2019, Atlas VPN is relatively new compared to other VPNs we've tested, but even with just over two years of experience under its belt, it's managed to gain traction and attract over six million users. That's an impressive feat, and partly a result of Atlas being a freemium VPN when it started. A freemium VPN is a free VPN that can accommodate the needs of average users. As you can probably imagine, a lot of people want something like that.
FYI: If you like freemium VPNs, we've tested quite a few that pass our rigid standards in terms of privacy, features, and performance. You can learn more about them in our guide to the best free VPNs.
Eventually, Atlas added paid subscriptions, which enabled users to upgrade from a freemium VPN to a truly premium VPN. But don't worry, the free Atlas VPN is still there and it's still every bit as useful.
Another milestone under Atlas' belt is its acquisition by Nord Security.1 Yes, THAT Nord Security that owns NordVPN from our NordVPN review. Atlas still operates independently, but as a part of Nord Security it must adhere to the company's policies regarding transparency and trustworthiness. That includes submitting its privacy policy to third-party audits every now and then. If you read our NordVPN privacy report, you'll find out why NordVPN is one of the VPNs we trust the most, and now, Atlas has to strive to gain the same level of trustworthiness.
Atlas VPN Feature Breakdown
Now that our meet-and-greet with Atlas is over, let's get into the weeds of what it offers. Having tested dozens of VPNs, we've noticed that Atlas VPN offers a feature set similar to what some of the best VPNs offer. Let's take a look.
Network Kill Switch
VPNs rely on servers, and as we all know, servers go down at times. That can be problematic if it happens to a VPN server you're connected to. Why, you ask? When you lose connection to a VPN server, the encrypted tunnel breaks down, which exposes your internet traffic. If you're in the middle of doing something you want to keep private, like torrenting, for example, you could get in trouble with your internet service provider (ISP) or even the government if you're downloading copyrighted materials.
Reminder: Illegal activities, like downloading copyrighted content, remain illegal even if you're using a VPN. Always stay on the safe side of the law.
A network kill switch will prevent that from happening. The moment you lose connection to a server, Atlas VPN blocks your internet connection instantly. That means all your online activities will stop and nothing will leak out to your ISP. You can restore your internet connection by reconnecting to the disconnected server or choosing a different server.
Simultaneous Connections
A recent study found that 97 percent of Americans own smartphones, about 75 percent own laptops or PCs, and roughly 50 percent own tablets.2 From that data, we can conclude that a huge portion of the population — all of us at Security.org included — owns two or more devices.
Multi-device users need VPNs that can connect multiple devices at once, and Atlas is one of those VPNs. In fact, it's one of the best in that area because it offers unlimited simultaneous connections. We tested this firsthand when our team pooled together all our devices and connected them all to Atlas using the same account login. True to its words, Atlas connected all our devices.
FYI: Even some of the best VPNs in our book have limits on simultaneous connections. When we reviewed ExpressVPN, we dinged its rating a bit due to its limit of five connections at a time.
Split Tunneling
Split tunneling is another mainstay feature of the best VPNs. As the name suggests, it allows you to split your VPN tunnels into two — an encrypted tunnel that bypasses your ISP's monitoring and an unencrypted tunnel that your ISP can see. This can be useful in certain situations. For instance, when we connected to a U.K. server on our Windows PC, the weather report on the taskbar began showing us the weather in Brisbane. Guess who wore a trench coat to work in sunny 70 degree weather? Needless to say, we started routing our weather app through the unencrypted tunnel.
Other use-cases for split tunneling include:
Accessing online banking accounts that block VPN IP addresses
Boosting the speed of data-intensive apps
Using location-dependent services that rely on IP addresses to determine your location
Searching establishments near you
Streaming
VPNs are useful not just for protecting our privacy, but for unblocking content. In 2018, over half of VPN users said that their main motivator for using VPNs is to unlock better entertainment.3 And why not? With just a click of a button, your VPN can give you access to Netflix libraries all over the world.
Not all VPNs work with Netflix and other streaming platforms, though. The streaming industry is fighting to block VPN IP addresses from accessing their content, mainly because of licensing restrictions. However, the best VPNs for streaming can get around those roadblocks, and when we tested Atlas, it did give us access to Netflix libraries of other countries.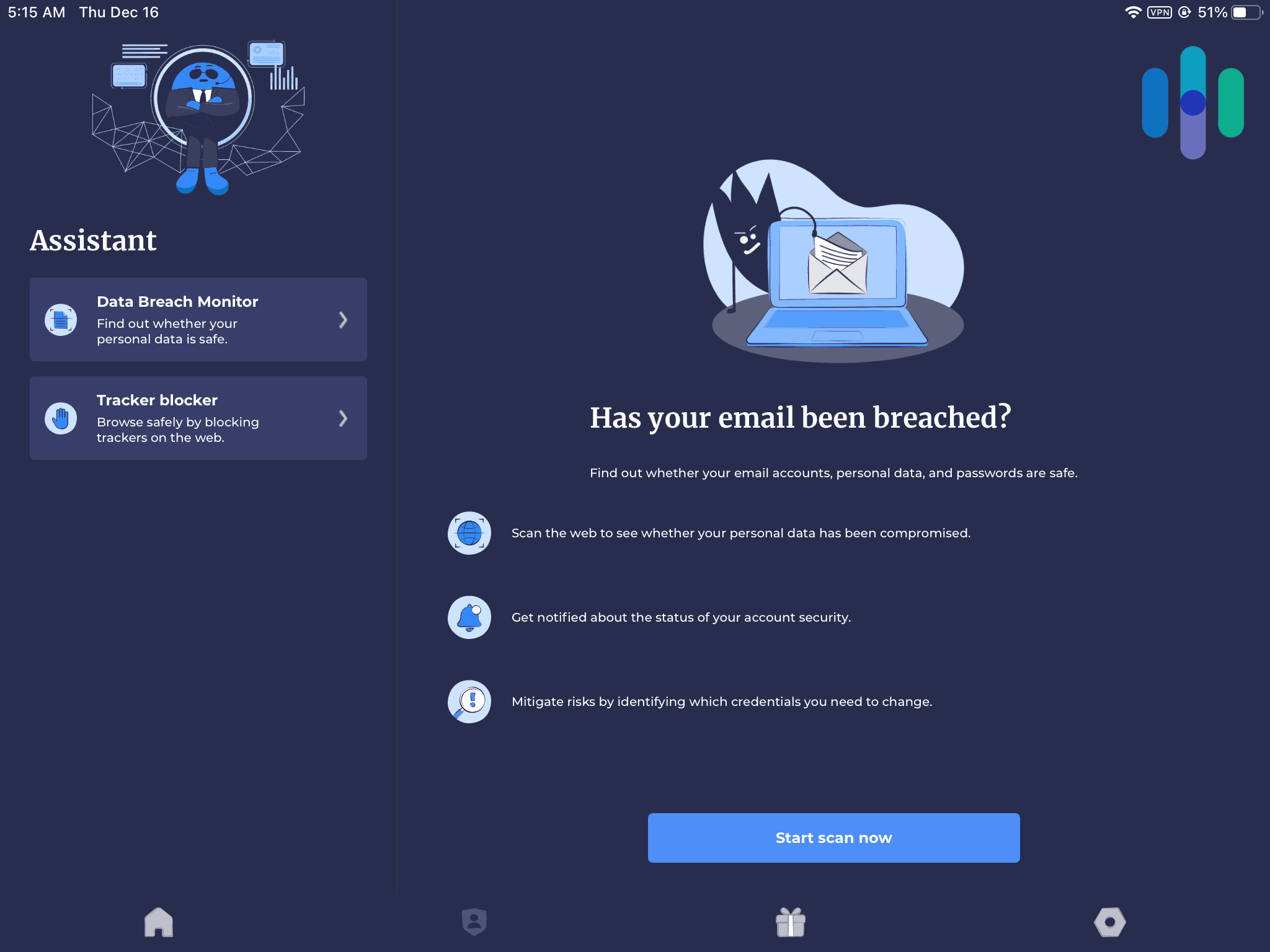 Necessary Extras
All the features we've discussed thus far are common in the VPN world, but Atlas VPN also gave us features that are not as common. While these features are just extras, we found them useful, necessary even, so we began asking ourselves why they're not more common. Check them out below.
Tracker Blocker: The Tracker Blocker feature, available for desktops and mobile devices, prevented third-party trackers injected into websites from tracking our activity throughout the web. It even blocked most ads and pop-ups, which by the way, sometimes contain malware and spyware.
SafeSwap: SafeSwap is an enhanced VPN feature that doesn't only change your IP address, but gives you rotating IP addresses. This makes it a lot harder for anyone to track your online activities. Atlas has three SafeSwap servers currently, and each server holds a pool of different IP addresses. When you connect to a SafeSwap server, it gives you a new IP address at certain intervals without you having to disconnect to the server.
Data Breach Monitor: This feature isn't common with VPNs, but it is with identity protection services. As the name implies, Data Breach Monitor monitors for data breaches occurring worldwide, and if it sees any breach involving your email address, Atlas will alert you.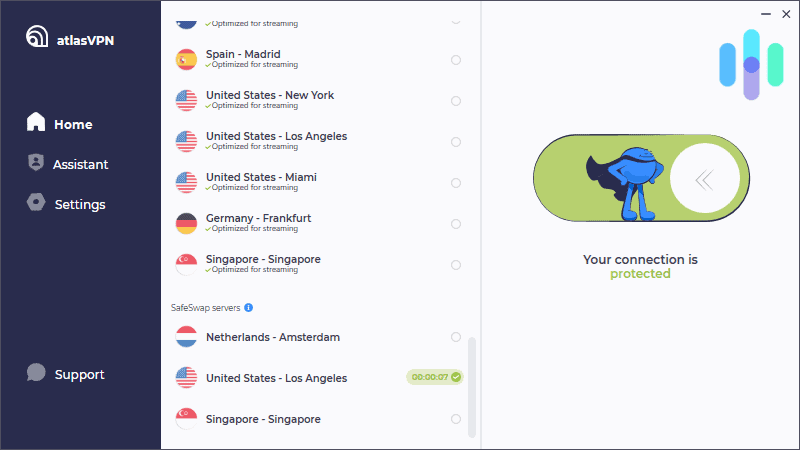 Encryption
We promised to give you everything you need to know about Atlas, and that includes encryption and VPN protocols. However, if you're not so keen on tech talk, feel free to skip to the next section that talks about the Atlas free VPN.
First, let's talk about the difference between encryption and VPN protocols. The encryption protocol is what VPNs use to encrypt data packets that contain your internet traffic, whereas the VPN protocol is the process the VPN follows when routing traffic.
Think of it like this: The vehicle you ride on to work is like the encryption protocol, it gets you from point A to point B safely. You want your car to be as secure as possible, so that even if you get into an accident, you'll remain safe inside. In the same manner, you'll want the gold-standard encryption protocol to keep your data safe, even if, let's say, someone manages to steal it. That gold-standard is 256-bit AES, and it's exactly what Atlas VPN uses. Even if your data ends up in the wrong hands, it'll be so scrambled that the fraudster won't know what to do with it.
VPN Protocol
Following the same analogy, the VPN protocol can be likened to the route you take. Open highways will take you to your destination quickly, but if someone's following you, highways don't give you much cover. On the other hand, back roads will let you evade stalkers much easier, but taking back roads will add a few minutes to your travel time.
Unlike with encryption protocols, wherein you just want to be as secure as possible, with VPN protocols, you have to find the perfect balance between security and speed. Currently, the most balanced VPN protocol we've used is OpenVPN, but it's not what Atlas uses. Atlas opted for a newer, OpenVPN-alternative called WireGuard.
WireGuard has a leg up on OpenVPN in some areas. For instance, if implemented correctly, it can be twice as fast as OpenVPN. At the same time, it uses five times less overhead data, which is the amount of data usage VPN protocols add to your normal usage. That being said, OpenVPN is better than WireGuard at bypassing censorship, like the Great Firewall of China, and at ensuring the privacy of users. So overall, we still prefer OpenVPN, but WireGuard works, too!
What Atlas Free VPN Gets You
All the features we just discussed are available to Atlas premium users, but you'll get a lot of features from its free VPN, too! Let's compare Atlas freemium versus Atlas premium.
| Features | Atlas freemium | Atlas premium |
| --- | --- | --- |
| Network kill switch | Yes | Yes |
| Simultaneous connections | Unlimited | Unlimited |
| Split tunneling | No | Yes |
| Server locations | 3 | 37 |
| Tracker Blocker | Yes | Yes |
| SafeSwap | No | Yes |
| Streaming optimized | No | Yes |
| Unlimited speeds | Yes | Yes |
| Monthly data limit | 10 GB | Unlimited |
How Atlas VPN Handles Privacy
By now, you could probably guess how we feel about Atlas VPN's features; they're solid and we're glad Atlas didn't skimp on providing useful extras. However, features mean nothing if your VPN company doesn't treat your privacy well.
When you use a VPN, instead of your ISP getting access to your browsing data, it's your VPN provider that gets access. After all, they're the one that encrypts and, ultimately, decrypts your internet traffic. Can we trust Atlas with our data?
Like we've said, Atlas is now part of Nord Security's portfolio, and we trust Nord Security. However, Atlas has yet to update its privacy policy. The last update was in May 2021. Nord announced the acquisition in October 2021. So let's take a look at how Atlas handles its users' privacy according to its latest policies.
First things first: Atlas is a no-logs VPN. That means that when you use Atlas, it doesn't collect and store information that can identify you, including:
Your real IP address
The websites you visit
What you view or do online via the VPN
All good things and we applaud Atlas for it.
Digging deeper into Atlas VPN's privacy policy, we found other things that we liked. For instance, Atlas is candid about what types of data it collects and why it collects it. One thing it logs when you use its VPN is basic analytics (device type, operating system, language, time zone, etc.), which it uses to improve its services.
Here's another thing: The most personal data it collects when you sign up for a premium plan is your email address, whereas most VPNs also require your name and physical address. We proved this to be true when we got a subscription. All we had to provide was our email address and, of course, payment information.
The icing on the cake is that if you opt to use the free VPN, it won't require you to provide any personal information at all. Just download the app and you're good to go!
Overall, Atlas seems to be a trustworthy VPN.
Subscriptions
There are three things we know our readers want to find out about a VPN they're considering: its features, its privacy policy, and its price. Having just discussed the first two, let's get to the third one — Atlas VPN pricing.
No matter which premium plan you choose, you'll get the same features. Really, the only difference between the plans is their durations. Of course, like with most VPNs, the longer your plan's duration, the more you'll save. With its $1.39 per month rate for the three-year plan, Atlas is on par with some of the cheapest VPNs we've tested.
Atlas VPN Pricing
| Plans | Monthly rate | Total billed amount | Savings (compared to the monthly plan) |
| --- | --- | --- | --- |
| 1-month | $9.99 | $9.99 | 0% |
| 1-year | $2.49 | $29.89 | 75% |
| 3-year | $1.39 | $49.99 | 86% |
Testing Atlas VPN
We've pretty much covered everything there is to know about Atlas, so let's get to the highlight of this review: our personal, firsthand experience with the VPN.
Atlas VPN Speeds
Our performance test on Atlas consisted of two parts – speed and security. We measured its speed by comparing our network's normal download speed, upload speed, and latency to our network performance while connected to Atlas.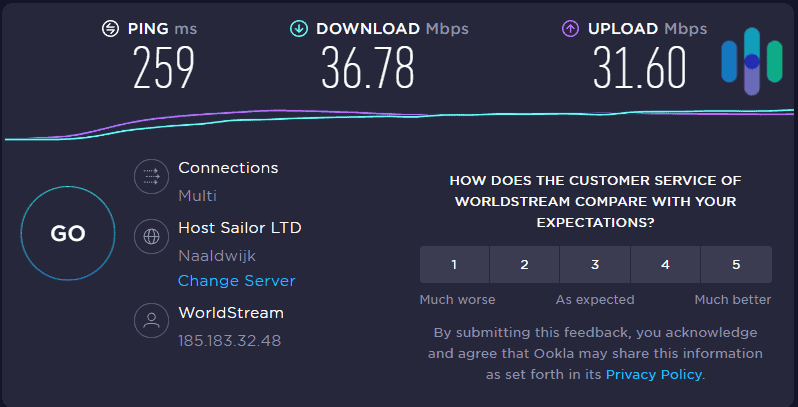 On Windows, these were the results:
| Speed tests | Without Atlas | With Atlas freemium | With Atlas premium |
| --- | --- | --- | --- |
| Download speed (in Mbps) | 48 | 38 | 37 |
| Upload speed (in Mbps) | 35 | 31 | 32 |
| Latency (in ms) | 3 | 248 | 259 |
And these were the results on our iPad:
| Speed tests | Without Atlas | With Atlas freemium | With Atlas premium |
| --- | --- | --- | --- |
| Download speed (in Mbps) | 59 | 47 | 33 |
| Upload speed (in Mbps) | 26 | 18 | 28 |
| Latency (in ms) | 3 | 246 | 194 |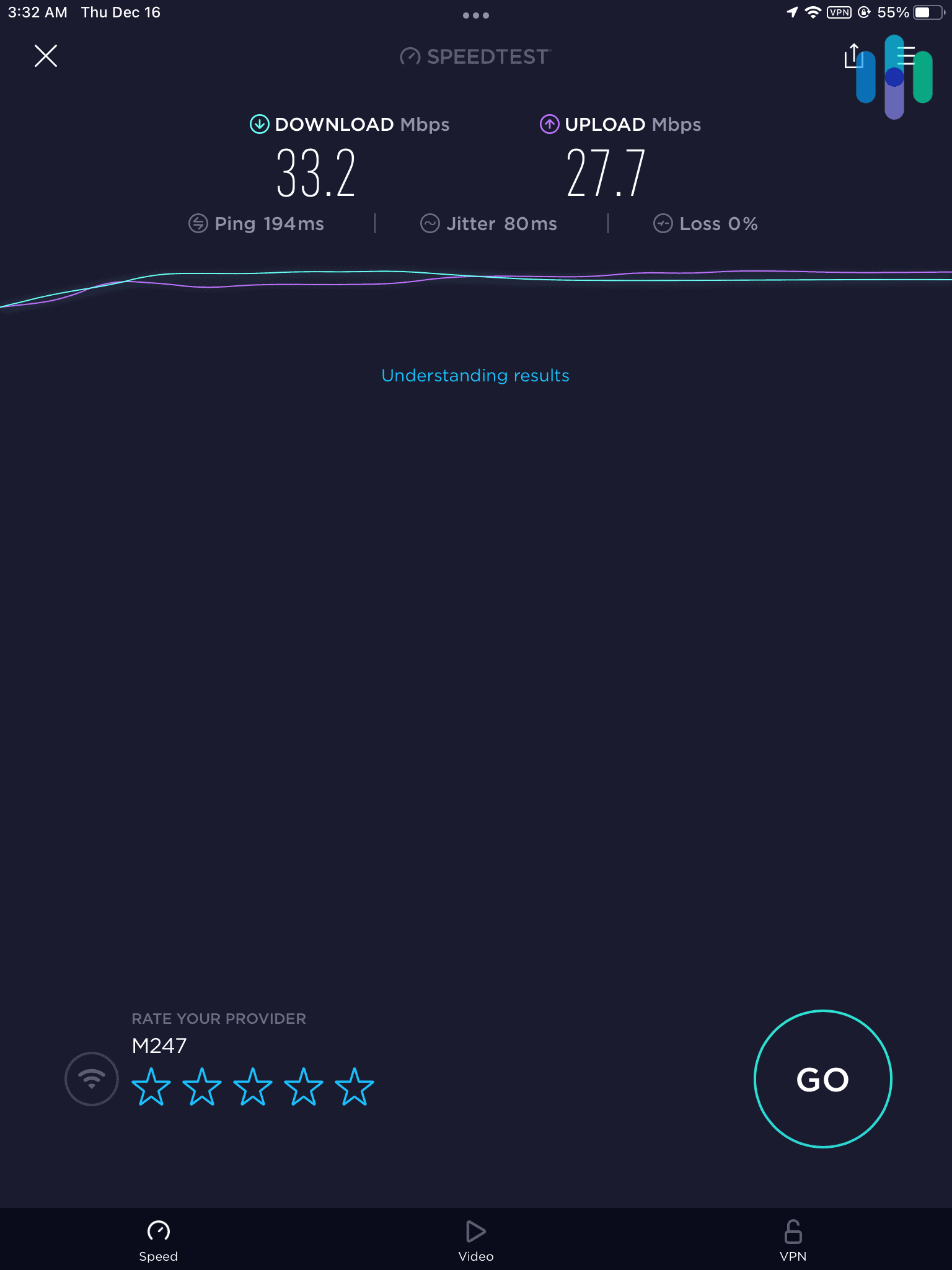 Did you notice a pattern there? Atlas download and upload speeds, both with the free and premium versions, held up well with our normal network speeds. However, the latency spiked pretty high. While that meant that we couldn't play our online games smoothly with Atlas, we're happy to report that due to the good upload and download speed readings, we were still able to use our internet like we normally do.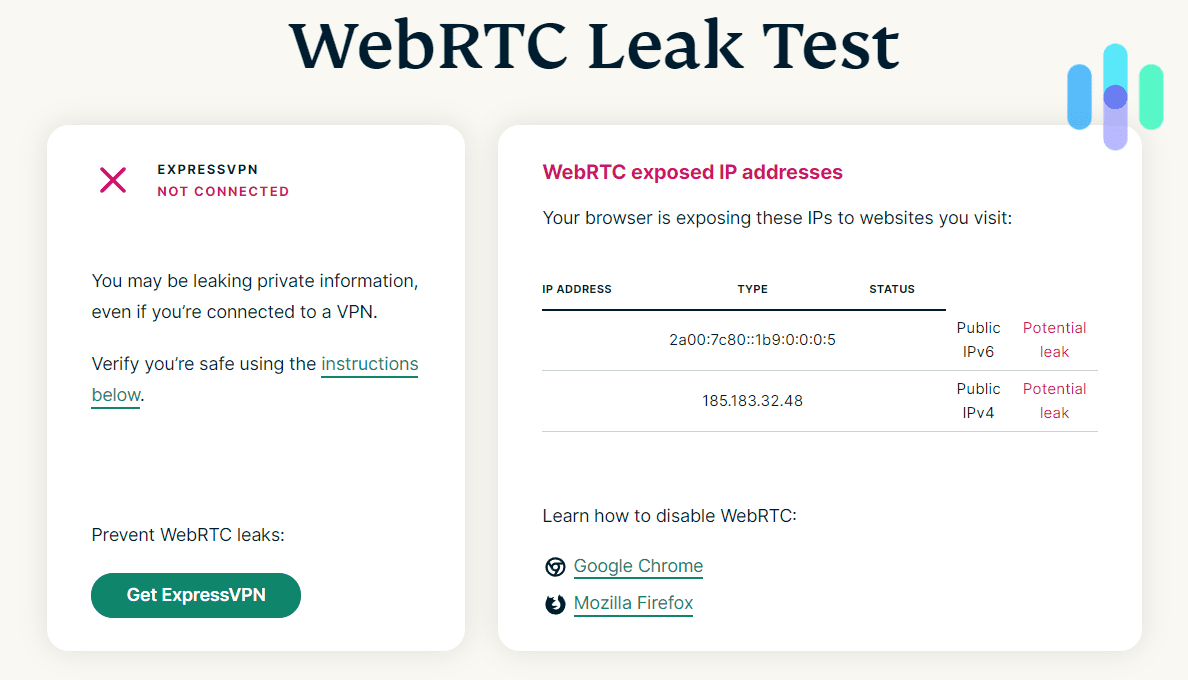 Atlas VPN Leak Tests
To test Atlas' security, we performed IP address leak tests using different online tools. We tested Atlas for DNS leaks as well as WebRTC leaks.
For both tests, we want the results to show the IP address that Atlas gave us. If it showed our real IP address, that would have indicated that there's a leak. Fortunately, there were no leaks.
If you're wondering why we tested for those types of leaks, it's because they're the most common types of leaks ignored by VPNs. But what exactly are they?
DNS leak: This is a type of IP address leak that enables third parties to see a VPN user's real IP address by exploiting vulnerabilities in the DNS querying process.
WebRTC leak: Another type of IP address leak, WebRTC leaks enable third-party actors to use the WebRTC function of browsers to detect the IP address of a user.
With Atlas preventing both types of leaks happening, you can rest assured that your privacy is intact.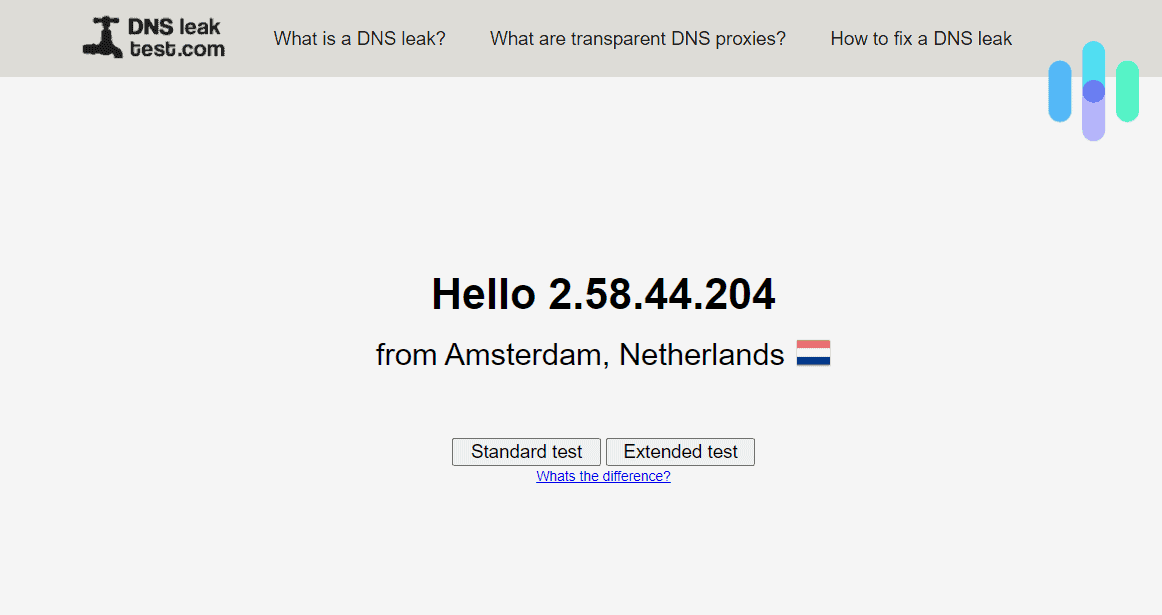 Atlas VPN Apps
The Atlas apps played an important role in our day-to-day usage of Atlas VPN. We used them to connect to Atlas whenever we needed some privacy, tinkered the settings, and used the extra features (Tracker Blocker, SafeSwap, etc.) we mentioned above.
Atlas apps are available for Windows, Mac, iOS, and Android devices. We liked the design, for the most part, because it's clean and organized. On the right-hand side of the desktop app is the toggle that connected and disconnected us to the VPN. In the mid-section is a list of all available VPN locations. Finally, the left-most panel contains account and VPN settings. If we were to mention one flaw, it's that both the desktop and mobile apps don't show the IP address of the server you're connected to. You have to search your device's settings or go to a website that detects IP addresses to find out your VPN IP address, which is just a minor inconvenience.
Atlas VPN Customer Support
Lastly, let's talk about Atlas' customer support. This is the part that really disappointed us, because Atlas doesn't offer instant support. While it has a help center that covers a wide variety of topics — from getting started with the apps to billing — if you can't find what you're looking for in there, your only other option is email support. Obviously, we would have preferred if Atlas had live chat support or even phone support as we really hate waiting for days to get responses to our email queries.
Recap
And that's it, our hands-on review of Atlas is over. We sure threw a lot of information your way, so allow us to leave you with a short bottom line: Whether you're looking for a free VPN or an affordable premium VPN, Atlas may be a solid option. Feature-wise, it has almost everything we're looking for in a VPN. Couple that with its solid privacy policy, well-designed app, and fast performance, and you have yourself a VPN that's worth a closer look. We just hope Atlas VPN irons out their customer service kinks in the future.
FAQs
We don't want to leave any stone unturned, so let's get to some frequently asked questions about Atlas VPN.