TunnelBear VPN Pricing & Plan Cost
Kill switch protects web activity if VPN cuts out
AES-256 encryption hides web traffic and IP addresses
Dynamic IP addresses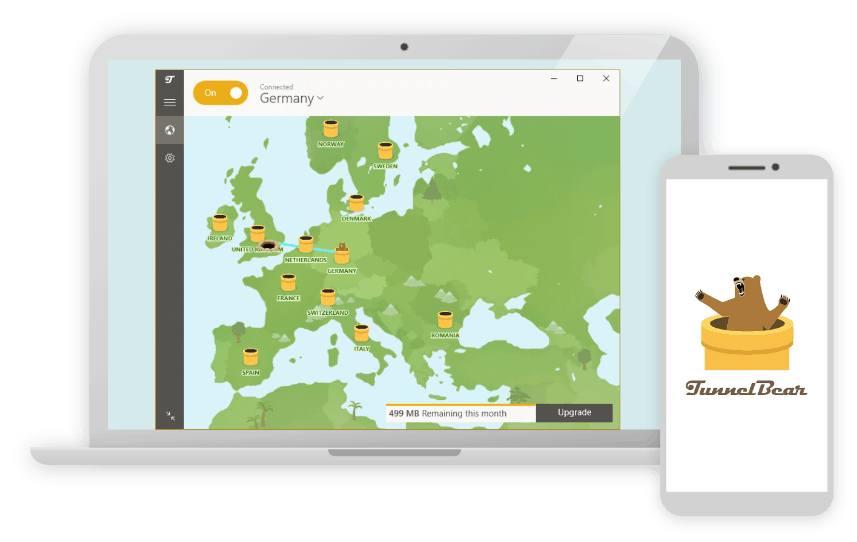 All of our content is written by humans, not robots.
Learn More
By

&

Pricing and Subscriptions
When it came to TunnelBear's subscription options, we had three to choose from overall, two of which are designed for individuals, and one of which is designed for teams, most likely as part of a business. Since we wanted to test out TunnelBear for personal use, we went with the unlimited plan so we wouldn't have that cap on data usage, but the free option didn't hurt, either.
Plan costs
| TunnelBear plans | Monthly cost |
| --- | --- |
| Free | $0.00 |
| Unlimited | $3.33 |
| Teams | $5.75/user |
Free Subscription
TunnelBear is one of the best free VPNs that we've tested, despite its limitations; the plan only allows for 500 MB of data, so it's a good way to test it out before buying the VPN. The free plan has the same amount of devices you can use with the VPN, which is five. The only other difference from the paid plan, aside from the data limit, is customer support; with our paid subscription, our customer support requests were answered first. Otherwise, the services are exactly the same!
Did You Know: TunnelBear's free subscription has a lifetime limit of 500 MB of data, which translates to 21 hours of surfing the web or watching five episodes of TV on your phone.1
For Businesses
TunnelBear also offers a subscription, Teams, which would work well for commercial use, so long as your business has two or more users. Again, the business plan has unlimited data and five connected devices per user, but it also throws in a dedicated account manager and puts all the billing and management in one convenient location.
The business plan costs $5.75 per user per month, a little more than the personal plan, which costs $3.33 monthly. However, what you're really paying for is convenience; the convenience of the account manager if you have any questions, plus the convenience of not having to keep track of multiple VPN accounts.
Price-wise, TunnelBear falls way below the industry average, with personal subscriptions costing $0 to $3.33 a month. They don't have discounted yearly plans, but with prices this low, they don't seem necessary; plus, we loved the flexibility of the month to month subscription. On top of that, TunnelBear lets teams try out its service for seven days, completely free. No complaints here!
Discounts
TunnelBear's prices are already low, but there are a couple of ways to make them even lower if you're a student or part of a non-profit organization that protects the Internet from censorship. Let's go into detail.
Students
If you're in school and part of the Student Beans network,2 which is free, you can get 70 percent off a two-year subscription of TunnelBear, which wouldn't put a cap on data. We couldn't see exactly what this pricing would be, as we're not in school and thus can't sign up for Student Beans, but given TunnelBear's already affordable prices, we're sure this is a great day for students who don't want to pay full price for a VPN.
Non-profits Against Internet Censorship
There are a lot of reasons why someone would download a VPN like TunnelBear in the first place, as we learned in our annual VPN usage research; in fact, eight percent of VPN users work in journalism, research, whistleblowing, or activism and want to hide their activities from their Internet Service Providers. In addition, nine percent of people want to bypass restrictions, whether they're from a college, school or office, while another nine percent want to bypass government web censorship specifically. In sum, VPNs are a tool to fight against Internet censorship of any kind, and that's really important to TunnelBear's mission.
Note: Countries like China, Indonesia, Iran, Saudi Arabia, Syria, the United Arab Emirates and Yemen censor online political content,3 so VPNs are a great way to bypass these filters and access the entire Internet in these countries.
If you're part of an organization that helps journalists or human rights activists fight Internet censorship, you can get your team free annual subscriptions to TunnelBear. Organizations like the Open Technology Fund, Internews and AccessNow are part of this program, and TunnelBear is always looking for new NGO partners.
More Security.org Recommendations
Check out more of our favorite VPNs.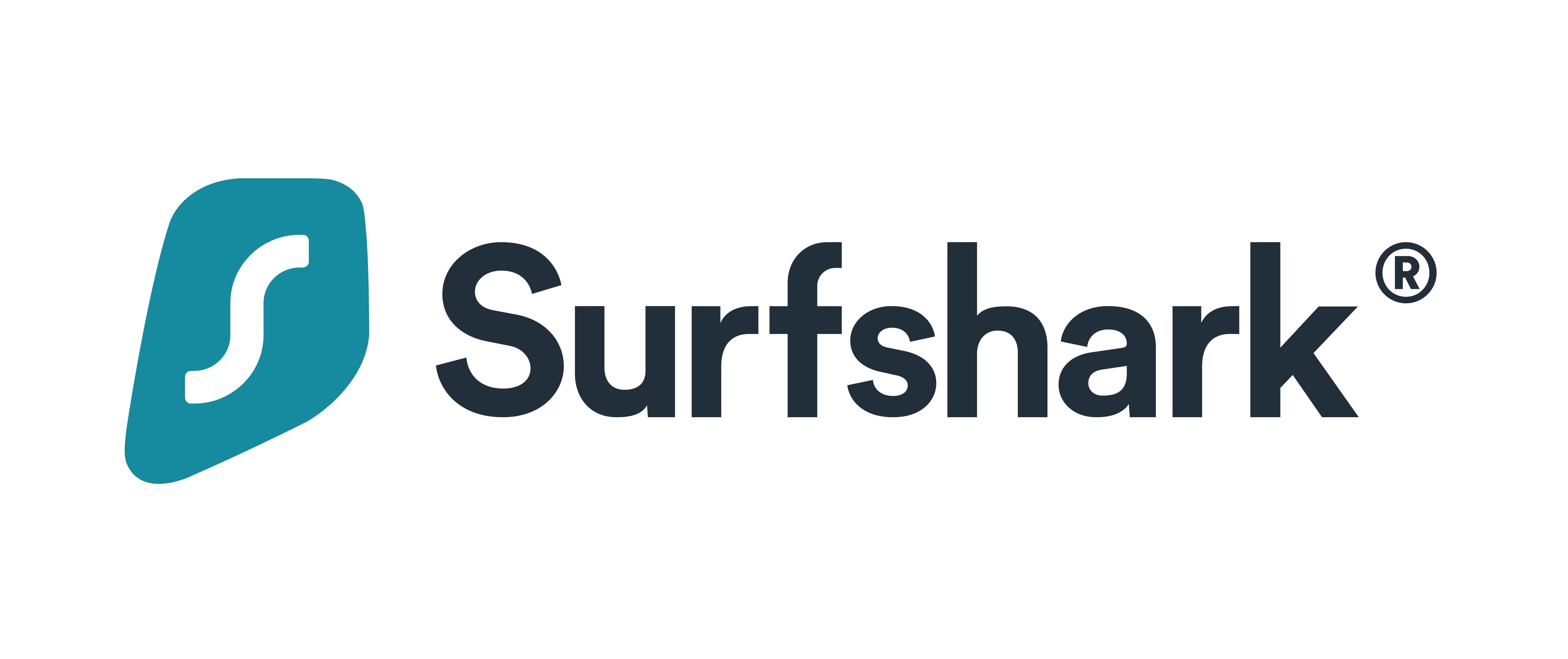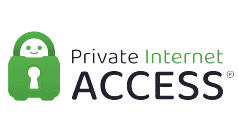 What We Liked
Pricing aside, we really liked TunnelBear after we tested it out for several reasons:
Kill switch: The WiFi at our office can be spotty, but when it went out one morning, TunnelBear made sure our web browsers did too, keeping our traffic safe and protected.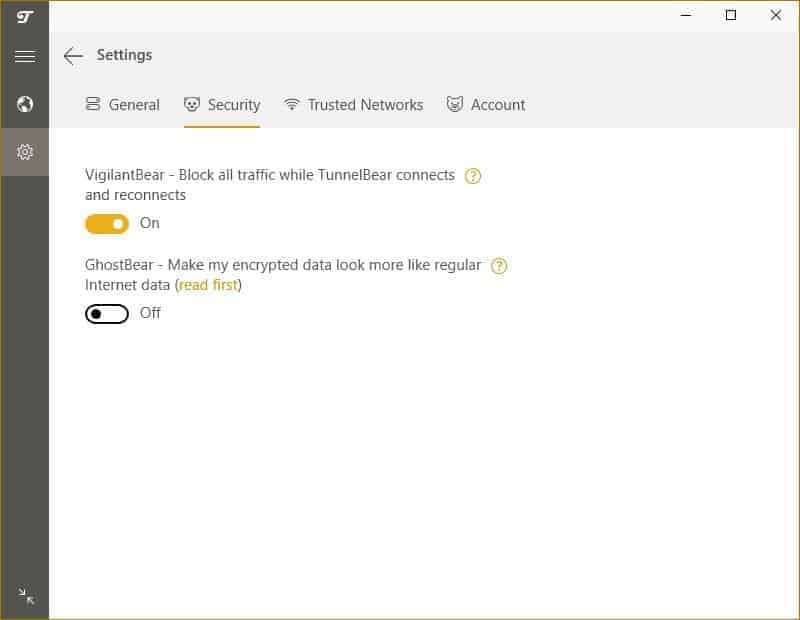 Torrenting: Even with TunnelBear firmly turned on, we torrent TVs and movies without worrying about getting in trouble (not that we were doing anything illegal, of course).
Strong encryption: We felt safe knowing that our web traffic was encrypted with military-grade, 256-bit encryption.
Dynamic IP addresses: Every time we connected to TunnelBear, we got a new IP address. That's like a new disguise every time we walked out of the house, making us harder to be tracked.
Free option: Although there's a 500 MB data limit, TunnelBear's free option is a risk-free trial that we had fun taking advantage of.
Fair pricing: Even the paid subscription option didn't do much damage to our wallets at only $3.33 a month.
Flexible contracts: TunnelBear didn't make us commit to longer than a month, which is good for us as we're commitment-phobes when it comes to technology.
Unlimited data: The paid plan let us use as much data as we wanted while connected to TunnelBear, leaving us free to stream, surf, and shop online without worrying about a limit.
Unlimited server switches: We also jumped on as many servers as we liked, which came in handy when we were traveling in the Philippines and Poland.
More Digital Security from TunnelBear
TunnelBear doesn't stop with their VPN. They also have two other services available, a password manager and a tracking blocker. While we didn't test either out for ourselves, we provided some basic information about these services below.
RememBear
We're huge fans of the Internet, but what we're not huge fans of is remembering tens of usernames and passwords. However, if we used the same password for each account, that wouldn't be great for our digital security, which is why we love password managers. Password managers store all of our usernames and passwords in an encrypted vault; they make sure all of our passwords are long, complicated, and unique to each account, and they generate new passwords for us when we need them.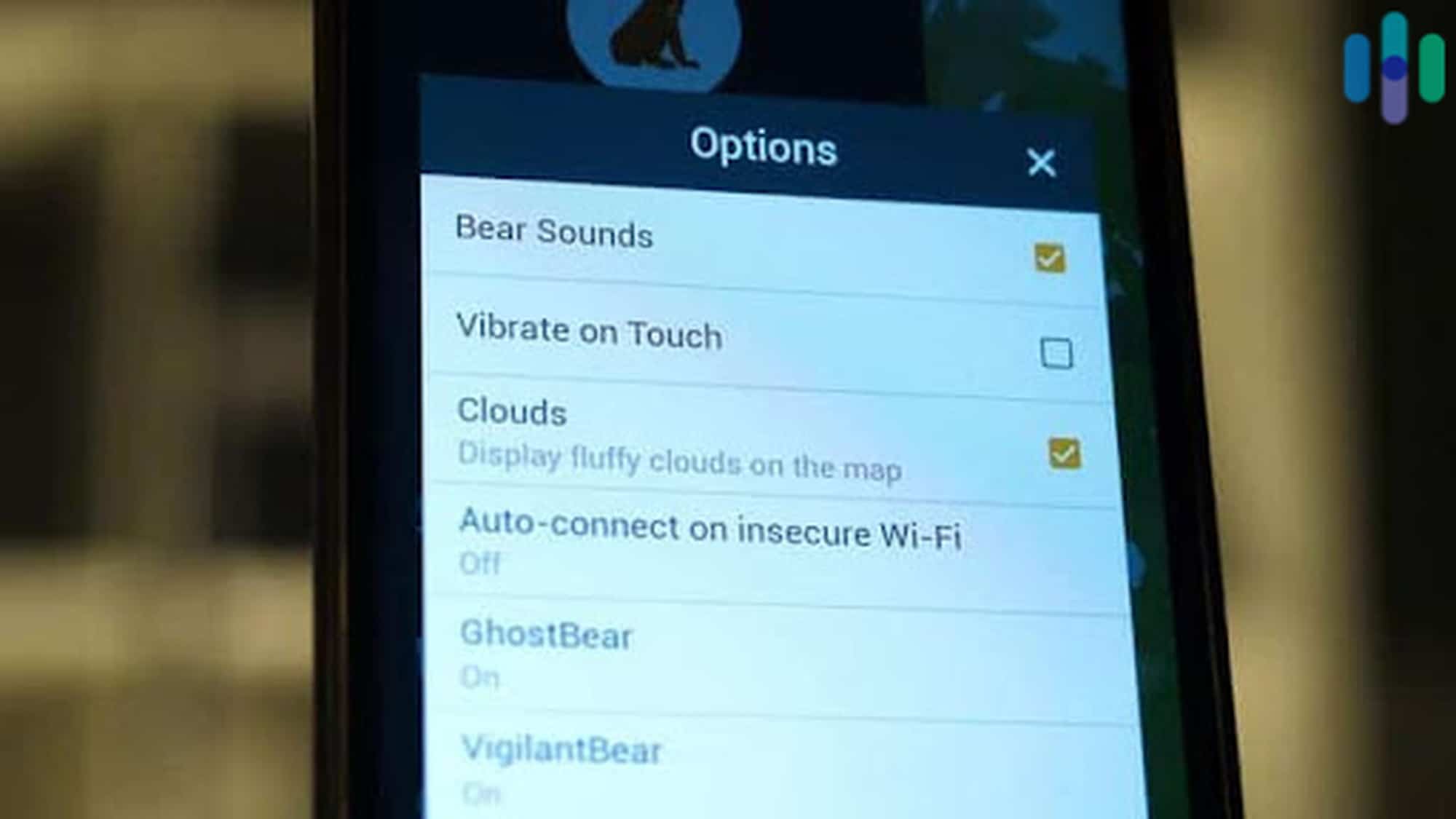 TunnelBear's take on the password manager is called RememBear. With RememBear, instead of entering passwords, we could either use a passcode sent to our mobile device or use face and fingerprint ID on our iPhones, which made accessing accounts worlds easier. RememBear is available on Androids, iOS devices, Windows and Mac computers; there are also browser extensions for Chrome and Firefox, while RememBear is installed automatically on the Mac Safari app. RememBear comes with a free, 30-day trial. After that, you'll need to pay for a one or two year plan, but prices are pretty reasonable.
| Term Length in Years | Monthly Cost | Total Amount Billed | Savings |
| --- | --- | --- | --- |
| 1 | $3 | $36 | $0 |
| 2 | $2.50 | $60 | $12 |
While we wish they offered a monthly plan, these prices are super low compared to other password managers on the market.
TunnelBear Chrome Blocker
TunnelBear also offers a free Chrome extension that blocks ad tracking and cookies. While the browsing isn't anonymous, as our Internet Service Provider could still see the websites we visited and our private IP address, the blocker may be good for someone who wants a bit more privacy without downloading a whole VPN. Hey, privacy is a spectrum!
Need Help?
Let's face it: we all need help sometimes, whether that's with a love interest or with connecting to a VPN. If it's the latter, TunnelBear can help. Their website features a help section with a bunch of articles on setting up your account, paying for it, and troubleshooting issues. If those articles aren't enough, you can contact support by logging into your account and emailing support directly. Another option is to use the live chat on their website, although you will be talking to a Bot from ZenDesk, which isn't ideal. TunnelBear doesn't offer a phone line, but sadly this is the case for most modern VPN companies.

TunnelBear: Behind the Scenes
Co-founders Daniel Kaldor and Ryan Duchok started TunnelBear in 2011; seven years later, the software giant McAfee purchased it. At that time, the VPN company had over 22 million customers all around the world. Two years later, TunnelBear is still based in Toronto, Canada, with servers in 22 countries.
Don't get us wrong; we love Toronto (and we're huge Drake fans to boot). But because Canada's part of the Five Eyes international surveillance alliances, we wish it was based somewhere else. Part of the membership means that TunnelBear could be forced to hand over customer data to the federal government. Although the company doesn't log our web traffic or IP addresses when we connect to their service, they do log certain account data such as:
Email address
Twitter (optional)
Payment expiration date
Operating system version
App version
Whether or not we were active each month
Total data used each month
Device type
IP address at the time of payment (which could be on the same device as we signed up for TunnelBear on).
This is definitely a bit more data than absolutely necessary, as the bare minimum would be our payment information and email. So if you want to be as private as possible, TunnelBear's Toronto headquarters and logging policy may remove it from being a contender.
Payment Methods Accepted
To pay for TunnelBear, we used a Mastercard, although they also accept:
Mastercard
Visa
American Express
Bitcoin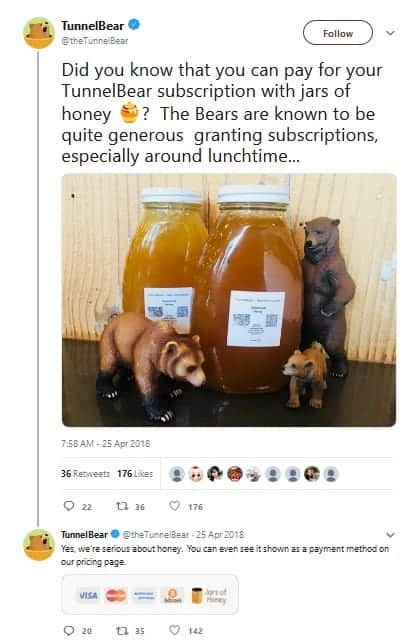 Which Devices Can I Use With TunnelBear?
TunnelBear has apps for iPhones, iPads, Macs, Androids, and Windows devices. They also have browser extensions for Opera, Firefox and Chrome. But if you have a Linux device or want to encrypt your web traffic directly from your router, TunnelBear may not be the best VPN for you.
Cancelling TunnelBear
When it comes to cancelling TunnelBear, the company is a bit less sweet than honey, which makes sense given their free and monthly options. Basically, once we paid for TunnelBear, we couldn't go back and cancel it for a refund; however, it would keep the payment from recurring.
See how TunnelBear measures up in the industry
For a closer look at how TunnelBear performs, we compared it with other popular VPNs.
Conclusion
TunnelBear's pricing is right, from totally free to only $5.95 per user a month with business plans and $3.33 a month with personal plans. To learn more, read our TunnelBear review, where we go deep into our testing process and in the ins and outs of the VPN app.