Brinks Home Security Systems
Brinks Packaging and Pricing
150+ years in security industry
Wireless systems with 24/7 monitoring
Advanced home automation features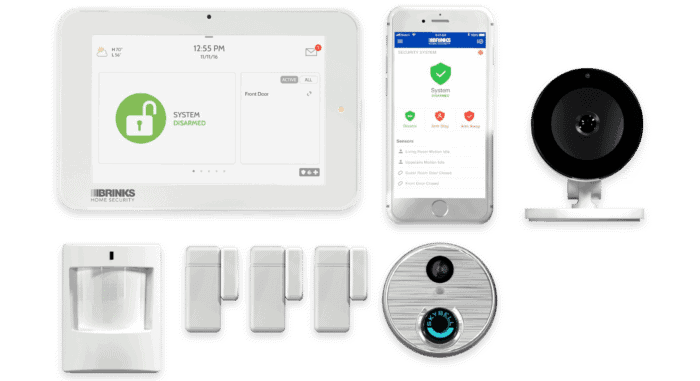 All of our content is written by humans, not robots.
Learn More
By

&

Last Updated
Jun 27, 2023
Meet Brinks, a security company that serves over a million customers, making it one of the largest home security providers in the country. Brinks is a more traditional company than some recent disrupters we've seen; they offer DIY or professional installation and a few package options for different homes and budgets. We know that the average loss from a home invasion is $2,4161, so getting a home security system is definitely a smart thing to do, financially, if not for safety alone, but is Brinks worth it? Read on to find out.
Pricing
| Brinks packages | Price |
| --- | --- |
| Smart Security Essential | $360 |
| Smart Security Complete | $519 |
| Smart Security Ultimate | $799 |
The Best of Brinks
Before we throw a bunch of numbers into your face, here are our experts' favorite things about the Brinks home security system:
DIY or professional installation: Whether you do it yourself with over-the-phone support or Brinks installs it for free, you shouldn't get too stressed about installing your Brinks security system.
Integrations with Alexa and Google Assistant: With Alarm.com, you can control your Brinks devices hands-free.
24/7 professional monitoring and cellular backup: All Brinks systems come with 24/7 protection even in a power outage, thanks to the system's cellular backup and the alarm panel's 24-hour battery backup.
User-friendly app: The Alarm.com app works well on iPhones and Androids alike.
Residential and business security: Brinks fortifies homes and businesses alike. But if you run a company, see our roundup of the best business security systems.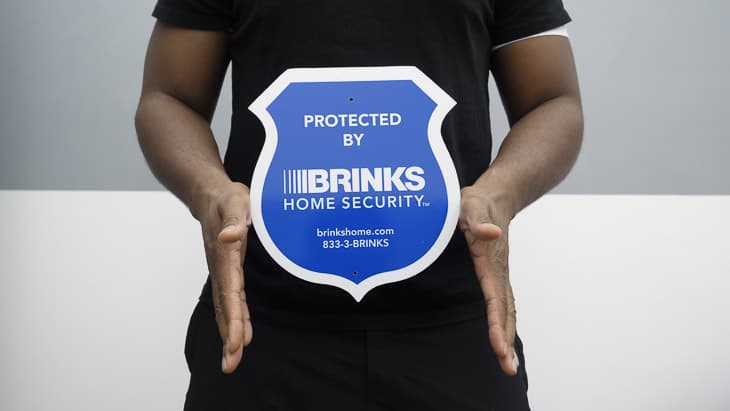 Is Brinks Any Good?
It's clear that Brinks is a strong home security option, but based on our testing, their customer service needs improvement. Brinks isn't as transparent with regards to pricing as our top picks. Long-term contracts and expensive monitoring also make us hesitant to give Brinks 5 stars. In any case, you might consider how Brinks compares to ADT, or see other highly-rated options below: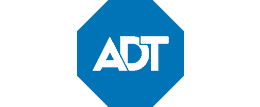 Pricing for Brinks
With Brinks, the first thing you'll do is select a package, which dictates your capabilities as well as your system components and monthly fees. Prices are not listed on Brinks' website. You'll need to give them a call to find out how much a security system will cost you exactly, but having tested Brinks, we can give you a ballpark range of about $200 to $1,100 for the equipment. Monitoring is separate, which will cost you about $39 per month.
Features and Pricing Rundown
| Features | Smart Security Essential | Smart Security Complete | Smart Security Ultimate |
| --- | --- | --- | --- |
| 24/7 Professional Monitoring | Yes | Yes | Yes |
| Cellular Backup | Yes | Yes | Yes |
| Tamper Protection | Yes | Yes | Yes |
| Smartphone Control | Yes | Yes | Yes |
| Home Automation | Yes | Yes | Yes |
| Google Assistant and Alexa Integration | Yes | Yes | Yes |
| LiveVoice Assist | Yes | Yes | Yes |
| Live Video Streaming | No | Yes | Yes |
| Cloud Video Storage | No | Yes | Yes |
| Free Professional Installation | No | No | Yes |
| Components | IQ 2.0 Control Panel, Motion Sensor, 2 Door Sensors, Yard Sign and Stickers | IQ 2.0 Control panel, 2 Motion Sensors, Indoor Camera, Door Sensors, Yard Sign and Stickers | Brinks Home Control Panel, Skybell Slim Line Video Doorbell, 2 Motion Sensors, 3 Door Sensors, Outdoor Camera, Yard Sign, Stickers |
| Total Cost of Equipment | $360 | $519 | $799 |
| Monthly Monitoring Service Fee | $39.99 | $44.99 | $49.99 |
Let's talk a bit more about exactly what the above terms mean:
24/7 professional monitoring: This means that in addition to receiving mobile notifications if any of your alarms go off, a team of people will also be notified and can verify the emergency, contacting the proper services if you're not responsive. All Brinks systems come with 24/7 professional monitoring, so there's no way to get out of paying monthly fees.
Cellular backup: Cellular backup ensures that your Brinks security system will stay on even if the power goes off so you can continue to use your app and connect with the monitoring center.
Tamper protection: If someone tries to mess with the control panel, the monitoring team will be alerted immediately.
Smartphone control: With any package, you'll be able to control your security system remotely through the Alarm.com app.
Home automation: We were able to trigger our Brinks system with some third-party products, such as having the lights dim when the security system is armed (more on smart home integrations later).
Google Assistant and Alexa integration: Again, we'll touch on this more in the next section, but we could use Google Assistant and Alexa to command our Brinks devices completely hands-free.
LiveVoice Assist: In the event of an emergency, users can speak to the monitoring team through the Home Touch Control Panel rather than having to make a phone call, making for faster help.
Live Video Streaming: Only the Smart Security Ultimate plan gives you the ability to see your footage anywhere from the Alarm.com app.
Cloud Video Storage: You'll store security camera footage triggered by motion events on Alarm.com's cloud, 1,000 clips to be exact.
Free Professional Installation: Again, only the top-tier plan gives you free professional installation, a rarity in the home security market.
Now, if you purchased the Smart Security Ultimate package, you'll pay nothing upfront. That's right, the big 0. Instead, you'll pay $31 monthly for your equipment. This is a great option if you want really great home security for a small monthly fee.
FYI: Don't want to pay anything upfront? Buy the Home Security Ultimate Package and pay monthly instead.
Equipment Pricing Overview for Brinks
| Component | Price |
| --- | --- |
| Yard sign and stickers | $14.99 |
| Door sensor | $40.00 |
| Keychain Remote | $40.00 |
| Garage Door Tilt Sensor | $48.00 |
| IQ Flood Detector | $56.00 |
| Motion sensor | $80.00 |
| IQ Smoke Detector | $80.00 |
| FireFighter | $80.00 |
| IQ Carbon Monoxide Detector | $80.00 |
| Glass Break Detector | $80.00 |
| SkyBell Slim Line Video Doorbell | $159.00 |
| Indoor camera | $160.00 |
| Alarm.com Z-Wave Thermostat | $160.00 |
| Kwikset 888 Smartcode Deadbolt | $200.00 |
| Outdoor camera | $240.00 |
| Kwikset SmartCode Leverlock | $240.00 |
| Smart Video Doorbell | $240.00 |
| Indoor Camera with Two-Way Voice | $240.00 |
Once you've selected your package, Brinks offers some add-on equipment including cameras, more security devices, environmental monitors, and other home automation products.
Smart Home Integrations
| Alexa Brinks commands | Google Assistant Brinks commands (Alarm.com) |
| --- | --- |
| Arm and disarm system | Arm system |
| Control connected devices | Control connected devices |
| Ask if system is armed | Ask if system is armed |
Brinks works with Google Assistant2 and Alexa, so we were excited to see how we could control our security system with our voice assistant. However, Brinks doesn't technically have its own Google Assistant action or skill; rather you'll use the Alarm.com action or skill to control your Brinks devices, which is really extensive. Using our voices alone, we could have Google Assistant or Alexa arm our system and control smart lights, thermostats, locks and garage door controllers. We could also ask if our security system was armed, which is good because we tend to have a short attention span at times. Now, whether you have an Echo Show display, Fire TV, a Nest Hub or Chromecast, you'll be able to livestream footage or view video storage on your screen, although you can't command it to happen with your voice only. Brinks even works with Apple TV!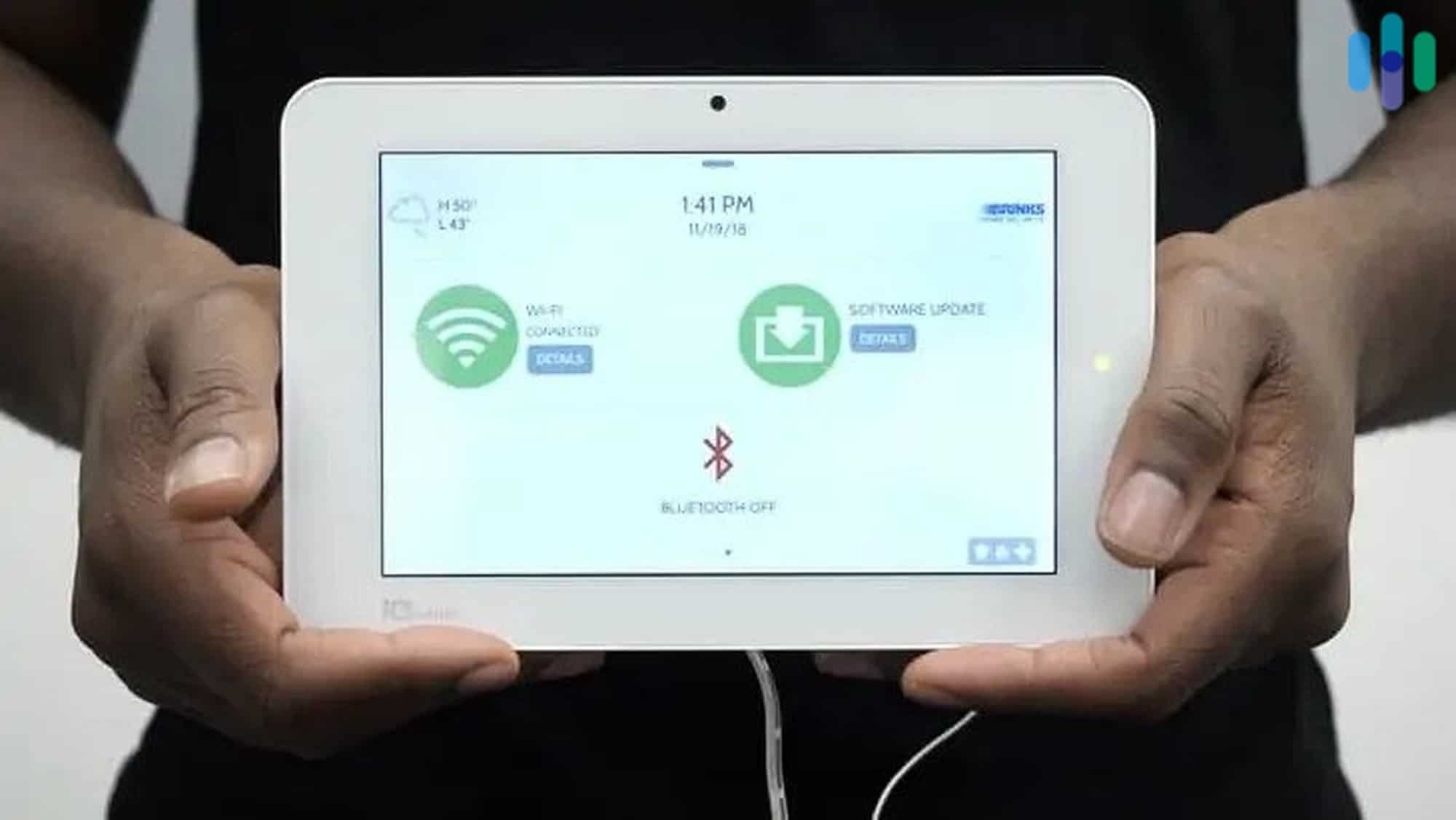 With Alexa only, we were also able to disarm our security system and run scenes, collections of connected devices that can be controlled at once. Although the Alexa skill is a bit more comprehensive than the Google Assistant, we were satisfied with how Brinks works with both voice assistants.
Tip: TIP: If you want to be able to disarm your system with your voice, use Alexa instead of Google Assistant.
Now, if you're new to the smart home game, you may not be aware of what exactly these smart devices do. Brinks has a few home automation products that integrate perfectly with their system, such as:
GE Z-Wave Light and Appliance Module or GE Z-Wave Wall Receptacle (XT-compatible): Basically, these devices work with Z-Wave smart lighting and appliances, allowing you to automate actions from your Brinks devices to your Z-wave third-party devices.
GE Z-Wave In-Wall Dimmer: Dim the lights by a specific percentage using your voice, as long as your smart bulbs are Z-Wave.
Smart Switch: Got any existing lamp you'd like to make "smart"? Just plug it in using the Smart Switch and you'll be able to turn it off and on using Google Assistant.
GE Z-Wave Outdoor Module: If you have any smart lighting or appliances outside that you'd like to integrate into your smart home ecosystem, this is the device to do it.
Although Brinks doesn't sell many connected devices aside from home security systems and cameras and some environmental monitors, they do work with devices that will help integrate other IoT3 devices and regular old products. Overall, we're satisfied with how Brinks works with the smart home, particularly its Google and Amazon integrations.
Comparisons
It's fairest to compare Brinks to the more traditional security companies out there like ADT. While ADT charges anywhere from $40 to $60 a month for monitoring (read more about ADT's pricing), Brinks charges a flat $39.99 to $49.99 a month, making it slightly more affordable in some cases. Of course, there are newer companies like Cove that charge a low $17.99 a month for professional monitoring with cellular and battery backup, so if you're looking for the lowest rates around, know that you have other options. You can learn more about Cove's plans, packages, and features in our Cove review.  However, these newer companies don't have the time-earned reputation that Brinks has, so that's something to keep in mind as well.
When it comes to equipment, Brinks' pricing is average if not a tad more than the industry standard. For example, their indoor camera costs $160, about $60 more than the average, although the outdoor camera and video doorbell are definitely at average price points. But with packages ranging from a couple of hundred dollars to just over a thousand dollars, Brinks gives you a lot of flexibility.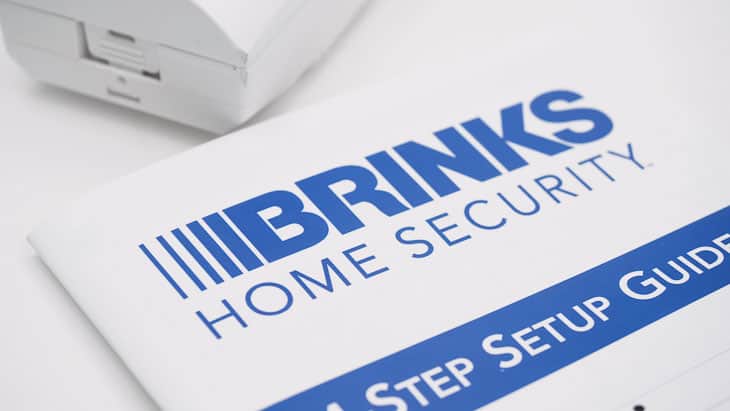 Recap/ Overall Value
Ultimately, Brinks shows a ton of value when it comes to smart home security. From the quality of their devices to their smart platform integrations to their affordable packages, Brinks has something for everybody. Although they may not have the lowest monthly fees, with over 160 years in business4, Brinks has a reputation newer security companies can only dream of, and it's no surprise why they've been in business for so long. However, it might not be the best choice if you're on a super-tight budget or if you want to avoid a long-term contract. For most homeowners, though, Brinks gives you a good chance to lock in a rate for years to come but if you are still looking head over to our best home security system page to see details on our top picks.
FAQs
Brinks has greatly increased in popularity in the past few years, but people still have a lot of questions. We're here with answers.