Nest Secure vs Ring Alarm
Nest Secure, which has been discontinued by Nest, and Ring Alarm are two of the most popular security systems today, but which one is better for your home?

Best App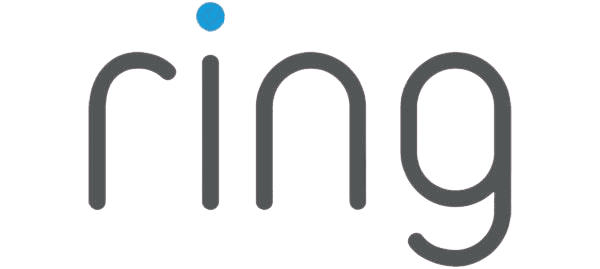 Professional monitoring for $20 per month
No contract required
Amazon-owned company
Easiest Installation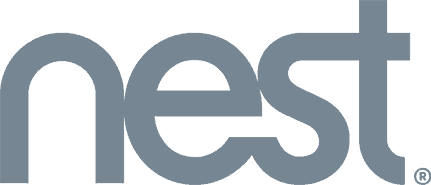 No longer sold by Nest
Google Home automation features
A range of no-contract plans
These days, Google and Amazon seem to have a hand in everything, which extends to home security. In 2014, Google purchased Nest for over three billion dollars. Founded by former Apple engineers, Nest started off with a smart thermostat and has since expanded to home security cameras, home security systems, and many other smart home connected devices. However, as of 2020, Nest Secure has been discontinued, but we tested it out while it was still available.
What's the only company that can compete with Google? Amazon, of course! Before Amazon purchased it, Ring got its beginnings on Shark Tank. After walking out with no offer, they rebranded and received five million dollars of additional sales. Clearly, Nest and Ring are giants of the newer security companies, but which has the better security system?
In this review, I'll talk about the Nest Secure and Ring Alarm security systems: their similarities, differences, components, professional monitoring, customer support, and mobile apps. Then I'll help you make your buying decision so we can get your home safe ASAP. Strap in, because our comparison of Nest Secure and Ring starts now!
Key Similarities of Nest Secure Vs. Ring Alarm
Before I get into the review, I want to talk about how Nest Secure and Ring are similar. After all, they're both newer security companies owned by tech giants; they must have something in common!
Minimalist systems: both the Ring and the Nest Secure systems include only five components each.
Professional monitoring not required: Neither company requires that you sign up for 24/7 professional monitoring.
Flexible contract options: Both companies offer a month-to-month contract if you do choose to get professional monitoring.
DIY installation: whether you get the Nest Secure or the Ring Alarm security system, you'll install it yourself.
Both systems have flexibility, which I love, but if you're looking for a system that professionals install, you might want to check out our review of the Vivint security system. But I digress.
Key Differences of Nest Secure Vs. Ring Alarm
The systems' differences are ultimately what is going to determine your buying decision. Here's a quick preview:
Monitoring in-house: While Nest outsources its professional monitoring to Brinks, Ring offers monitoring in-house.
Customer support: Ring has better customer support than Nest.
Mobile apps: The Ring— Always Home app has higher customer ratings than the Nest app.
Okay, now we're ready to see what each system actually entails.
System Components of Nest Secure Vs. Ring Alarm
| Feature | Nest Secure | Ring |
| --- | --- | --- |
| Base Station | Yes | Yes |
| Motion Sensor | Yes | Yes |
| Key Fobs | Yes | No |
| Keypad | No | Yes |
| Contact Sensor | No | Yes |
| Range Extender | No | Yes |
Both the Nest Secure and the Ring Alarm security systems I purchased include a base station, called "Nest Guard" under Nest, and motion detectors, called "Nest Detector Sensors" under Nest. The Nest Secure system also includes two Nest Tags, which are basically key fobs that allow you to arm or disarm your security system.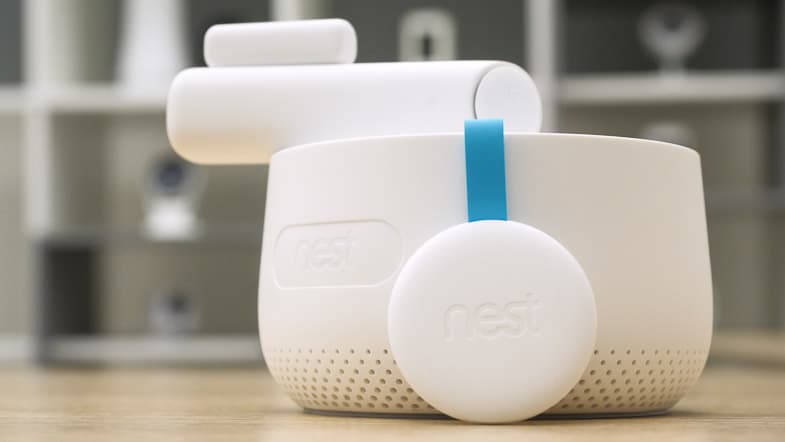 The Ring Alarm security system also gives you a keypad, contact sensor, and range extender.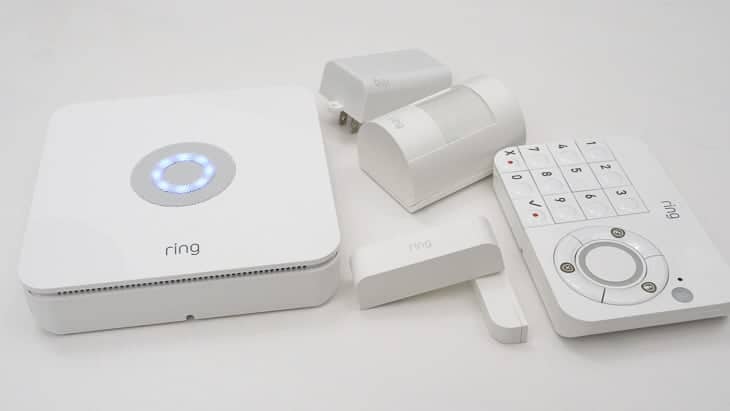 Keep in mind that Ring has great options like the Ring Stick Up Cam Wired if you'd like a security camera with your system. If you're leaning towards Nest, check out our review of the Nest Cam Indoor.
Installing Nest Secure Vs. Ring Alarm
Since both systems have DIY installation, it's important that they're not too complicated to set up. Let's talk about my experiences.
Installing Ring Alarm
Installing Ring took a bit longer than I thought it would. This could be for a couple of reasons— maybe my network connection was slow, or maybe because I was trying to sync up multiple things at once.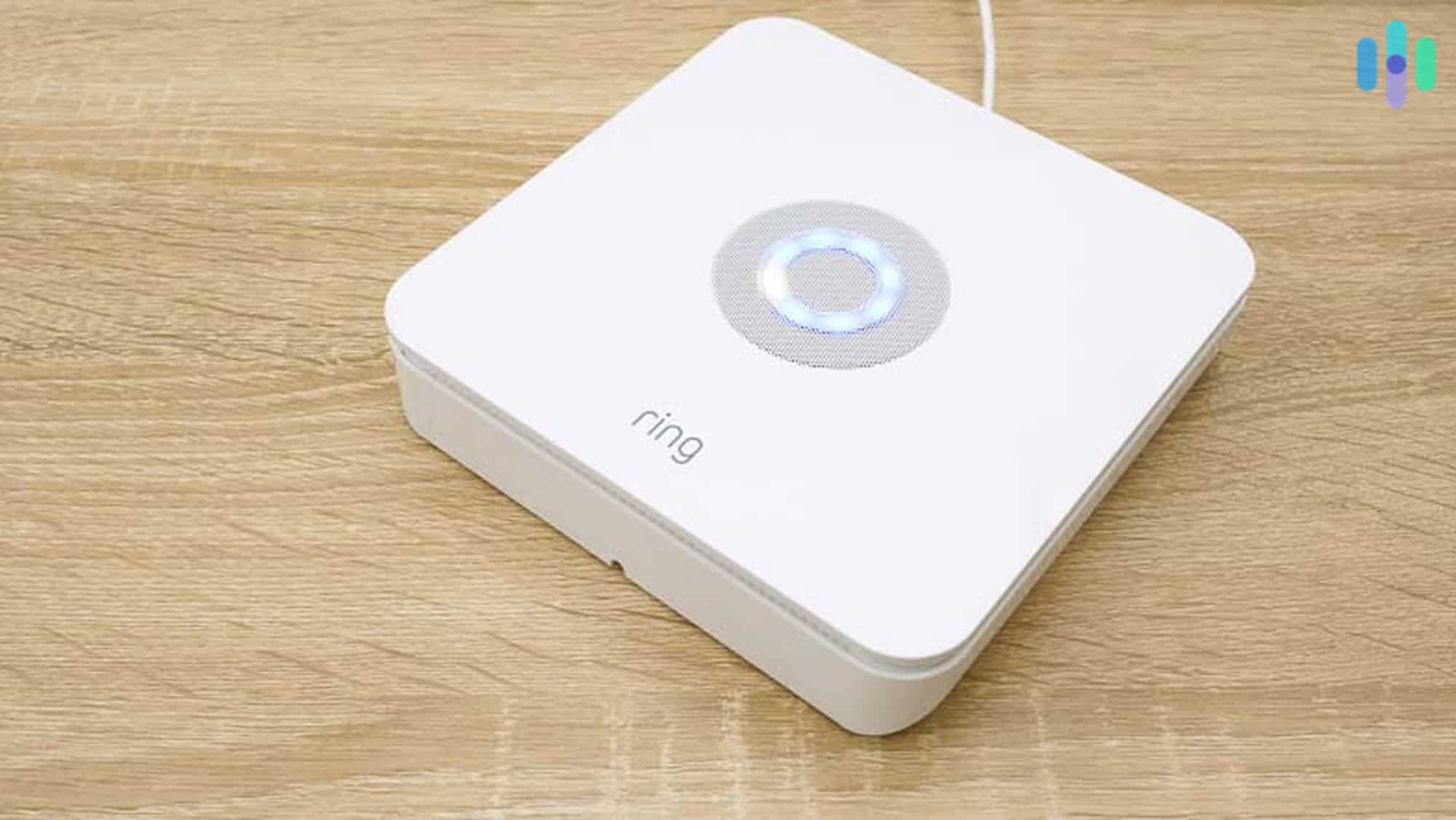 Basically, I had to plug in my base station and connect to Wi-Fi, although there's also an ethernet cable if you prefer. Next, I had to sync up my keypad, contact sensors, motion sensor, and range extender one at a time. The contact sensors and motion sensor were all peel-and-stick, which was easy. My advice? Just follow the installation video tutorials in the app. You'll be a lot happier than I was when setting up this system!
>> Learn More: See our full Ring Alarm Review
Installing Nest Secure
So, installing the Nest Guard couldn't be easier. You start by setting up the Nest Guard, the system's base station that will connect all of its components. Once you plug it in, the Nest Guard lights up all pretty, and the Guard literally tells you to look to your Nest app. From there, you scan the Guard's QR code and set up your passwords, as well as any passwords or access for friends and families.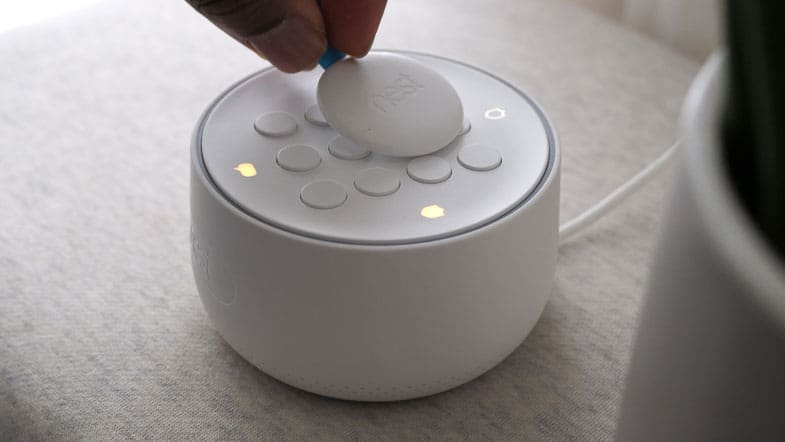 Setting up the Detect Sensors and the Nest Tags works exactly the same way. All you have to do is scan the QR codes and follow the step-by-step instructions on the Nest app. Praise!
>> Learn More: See our full Nest Secure Review
Top System for Installation
Nest Secure has easier installation than Ring, although the two are pretty neck-in-neck if you don't try to sync up multiple things at once with Ring. One point to Nest Secure!
Professional Monitoring with Nest Secure Vs. Ring Alarm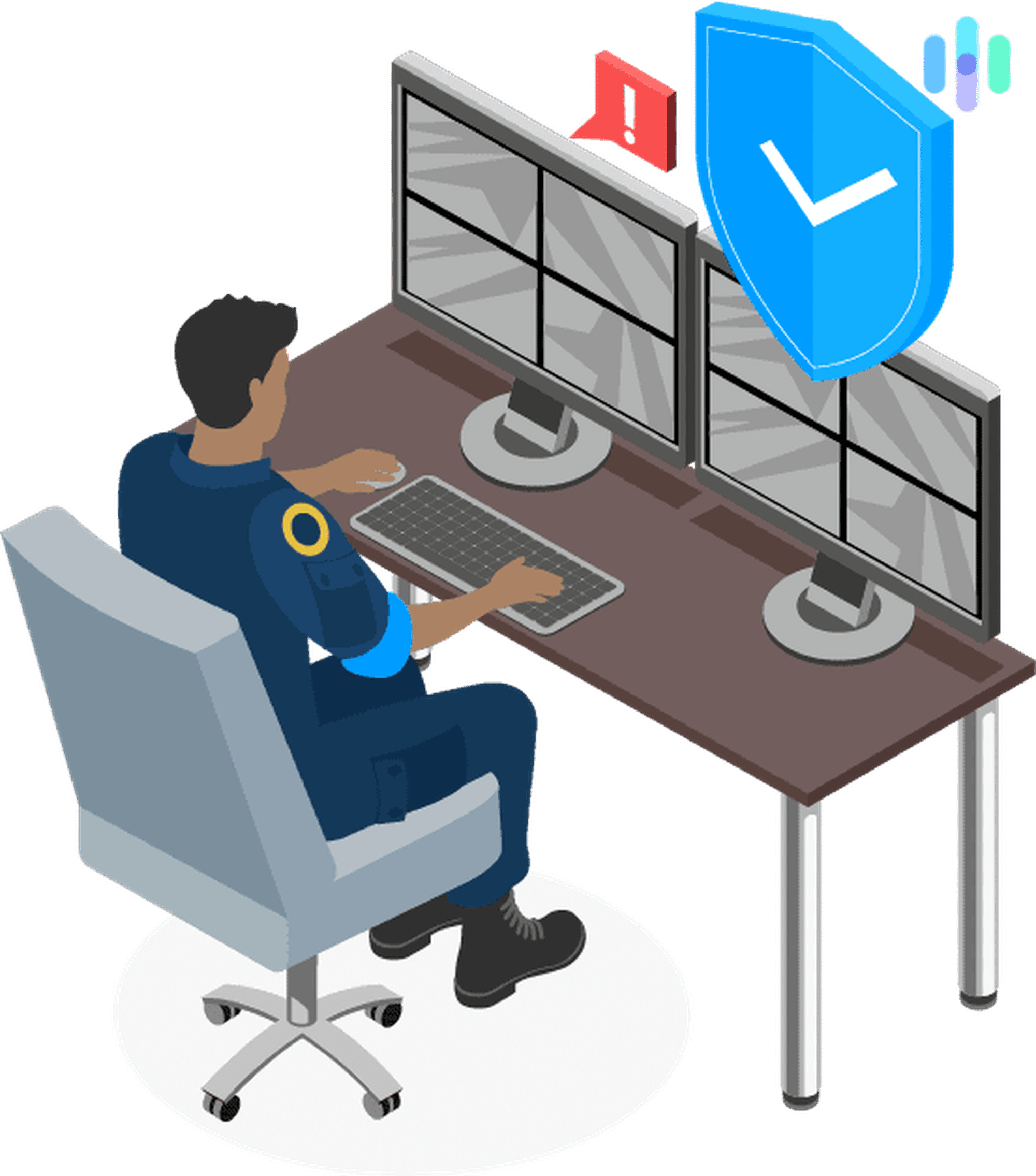 Both Nest Secure and Ring give you the flexibility to decide whether or not you want 24/7 professional monitoring. You can self-monitor your system through your mobile app if you'd like. However, you'll have to depend on yourself for your home's security completely, and god knows that you're not just sitting at home eating bonbons all day (and if you are, bless you). How can you ensure that your home is protected even when you're preoccupied?
Professional monitoring means that a team of people will be monitoring your home's security 24/7. It doesn't matter if you're in the kitchen, at your office, or flying over the Atlantic— if something goes wrong, the team will check it out for you. From there, they can contact police, medical services, or the fire department if necessary. Let's talk about your professional monitoring options with Nest Secure and Ring.
Nest Secure and Ring Alarm Monitoring Options
Ring – Monitoring/Storage in One Plan
| | Free Ring Plan | Ring Protect Basic Plan | Ring Protect Plus Plan |
| --- | --- | --- | --- |
| Coverage | N/A | 1 Ring Doorbell/Security Camera | All Ring devices at 1 address |
| Warranty | 1 Year | 1 Year | Extended Warranty |
| Length of Cloud Storage (in days) | N/A | Yes | Yes |
| Review, Share & Save Videos | N/A | Yes | Yes |
| Professional Monitoring | N/A | N/A | Yes |
| Exclusive Discounts | N/A | N/A | 10% off Ring Products |
| Contract Terms | N/A | None, cancel anytime | None, cancel anytime |
| Monthly Price | $0 | $3 | $10 |
| Annual Price | $0 | $30 | $100 |
| Annual Savings | $0 | $3 | $20 |
Nest Secure System
Professional Monitoring/Cellular Backup Plan
Cloud Storage Plans
Free Nest Plan
Month-to-month Nest Plan through Brinks
3-year Nest Plan through Brinks
Nest Aware
Nest Aware Plus
Coverage
All Nest products at 1 address
All Nest products at 1 address
All Nest products at 1 address
All Nest products at 1 address
All Nest products at 1 address
Warranty
2 Year Limited
2 Year Limited
2 Year Limited
N/A
N/A
Length of Cloud Storage (in days)
Depends on Nest Aware Plan
Depends on Nest Aware Plan
Depends on Nest Aware Plan
30
60
Review, Share, & Save Videos
Yes
Yes
Yes
N/A
N/A
Professional Monitoring
N/A
Yes
Yes
N/A
N/A
Exclusive Discounts
N/A
N/A
N/A
N/A
N/A
Contract Terms
N/A
Month to Month
3 Year
Monthly or Yearly
Monthly or Yearly
Monthly Price
$0
$29
$19
$6
$12
Annual Price
$0
$348
$228
$60
$120
Annual Savings
$0
$0
$120
$12
$24
WINNER: RING
If you want professional monitoring through Ring, you will have to choose their most expensive plan, Protect Plus. But don't worry— it's only $10 a month or $100 a year, which is extremely reasonable. The plan also comes with an extended warranty, 60 days of cloud storage, given you add a security camera, of course, plus a 10% discount off of any Ring products.
>> Learn More: Ring Alarm Pricing Page
Nest doesn't have its own professional monitoring services in-house, so it outsources monitoring to Brinks. The plans available are exactly the same except for their contract length, which I'll get to below. All Nest Secure products come with a two-year limited warranty, but your cloud storage will depend on your Nest Aware package, given you added a camera to your system. Let me explain.
Nest cameras don't come with any local storage and cloud storage is only available for three hours. They offer 30 or 60 days for lower prices than previously, but overall, Ring's monitoring and storage is cheaper.
>> Learn More: Nest Secure Pricing Page
Nest Secure and Ring Contracts
Ring does not have any term-length contracts. Instead, you can cancel at any time without a fee. Brinks, filling in for Nest, offers a month-to-month or three-year option. As you can see, if you sign up for the longer option, the monthly rate is lower.
Nest Secure and Ring Moving Policies
As both the Nest Secure and the Ring security systems are self-installed, if you're moving, you can just take your system with you— no additional fees are required.
Top System for Monitoring
Due to its affordability and flexibility, I'm giving the medal to Ring for professional monitoring. The one advantage Nest Secure has is that users can review, share, and save videos for free, while Ring customers would have to pay $3 a month or $30 a year. Still, the numbers don't lie— Ring's prices are where it's at.
Nest Secure Vs. Ring Alarm Customer Support
| | Nest Secure | Ring |
| --- | --- | --- |
| Features | Support articles, FAQ's, community message board, live chat, phone, Twitter, email | Online FAQ's, Phone |
| Amazon Rating | N/A | 4.5 |
| BBB Overall Rating | D- | A+ |
| BBB Customer Rating | 1.5 Stars | 1.5 Stars |
| Google Rating | 4.3 | 3.8 |
| Winner | No | Yes |
No one likes to ask for directions, least of all me. If you just give me some more time I can figure it out on my own, I'll insist after hours of struggling. But sometimes you have to bite the bullet and call customer support. And when that day comes, I want to make sure that I'm dealing with a supportive support system.
Both Ring and Nest Secure feature customer support through the phone and online help centers. However, nest takes it a step further with live chat and Twitter options. Clearly, Nest is marketing towards the millennial crowd, who cringe at the sound of a human voice. Just kidding— partially.
Although both Nest and Ring have decent Google ratings, they also share poor Better Business Bureau customer ratings. Neither company received more than two stars from BBB customers, which is a bit concerning. All of the Nest BBB customer reviews that mentioned customer support were negative, with many complaining of uninformed agents and long hold times. The same went for Ring.
On a more positive note, I was glad to see that the Ring Alarm system has a 4.5 rating on Amazon as well as an A+ overall rating from the BBB compared to the Nest's D-. One customer was particularly happy with the service he received,
"The customer service reps were very knowledgeable and could walk me through my problem and fixed it on the spot. Hold times were less than 1 minute. I always got a follow-up email from the rep after the call with links to usable content as well the ability to respond via the email to re-engage with the same rep,"
wrote Keith Philips in a five-star Amazon review.
Top System for Customer Support
This was a tough call, as neither Nest or Ring kills it when it comes to customer support. However, I'm going to have to give Ring the prize due to its superior Better Business Bureau overall rating and its awesome Amazon rating. Still, I'm disappointed that Nest and Ring customers had mostly negative things to say about their respective customer support systems. Oh well!
The Nest and Ring Apps
Whether you choose self or professional monitoring, you'll monitor and adjust your security system through your mobile app. Let's look into each app and see what it does and what customers think of it.
The Nest App
The Nest app is where you'll arm and disarm your security system, view event history, livestream footage, receive notifications, and send email invitations to guests.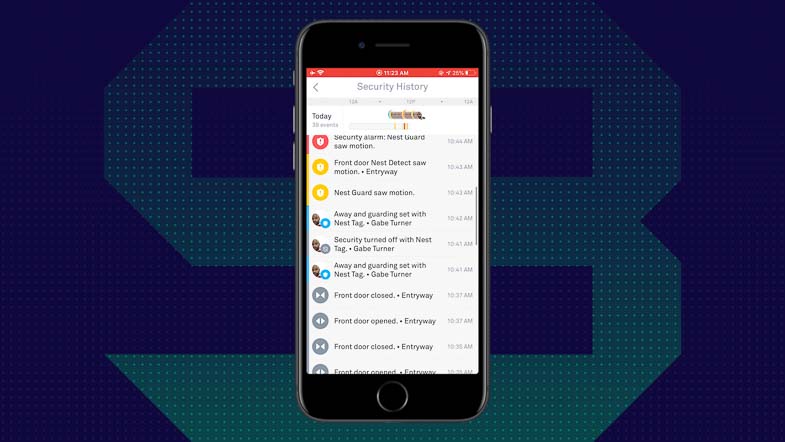 While it received a pretty good rating of 3.8 from the Google Play store, iPhone users only gave it a 2.1! It makes sense that the Nest app works better on Google, as Google owns Nest, but I'm surprised that they have such a low rating on the Apple store. Hey, iPhone users are people too!
The Ring— Always Home App
Ring's app allows you to livestream footage, control any connected devices, receive notifications, and check out your neighborhood's crime and safety alerts.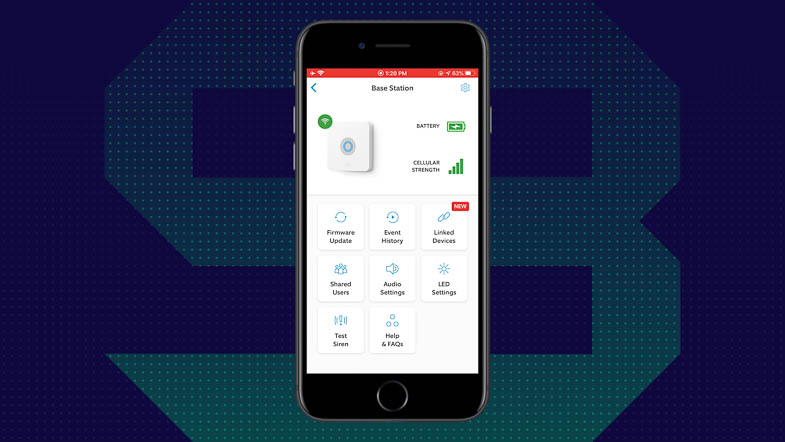 The Ring app was much more consistent than the Nest app, with 3.3 ratings from both iPhone and Android users. While it's not a fantastic rating, at least it's not below average.
Top System App
This was a close one. While Ring had decent but consistent ratings, Nest had good Google Play ratings and pretty dismal Apple ratings. Overall, Ring's app was higher rated, so they win the crown again for their mobile app! But don't cry, Nest Secure— it was definitely a close call.
Recap of Nest Secure Vs. Ring Alarm
Congratulations on making it to the end of the review! No more dilly-dallying— it's decision time.
Overall, I have to recommend the Ring Alarm security system over Nest Secure. It is $160 less and has more affordable professional monitoring options, superior customer support, and a higher-rated mobile app.
However, that's just my opinion. You might still be on the fence, so I can break it down for you.
Nest Secure vs Ring Alarm FAQs