How Do Window Alarm Sensors Work?
Learn how to protect your home from window break-ins.
All of our content is written by humans, not robots.
Learn More
Besides your front door, ground-floor windows are the easiest way for someone to break in; they're also the best place for you to beef up security. You'll want to do that with window sensors, also called contact sensors.
Window sensors are simple magnet mechanisms that send up alerts if one of your windows is opened while your security system is armed. Today, all of the best home security systems will come with window and door sensors to make sure your home will be secure. Typically, they're wireless, easy to install, and useful for a variety of purposes beyond home security. Here's everything you need to know about how these little gadgets work.
How To Best Utilize Window Sensors
To paraphrase the popular quote, "It takes a village to protect a home." While window sensors are necessary, you need to surround it with reliable security sensors and cameras. That means your window sensors must come from trustworthy home security brands, like these ones that received the highest praises from our expert testing team.
How Do Window Sensors Work?
Sensors are composed of two parts that line up to form a circuit. One part is a magnet and the other is an alarm transmitter. When the window opens, it separates the magnetic contact between the two sections, which trips an electrical circuit called a reed switch. This sends a signal to your alarm keypad or home security app that someone has opened the window.
Did You Know: Most burglars come in through the front door, back door, or ground-floor windows. It's a good idea to have sensors covering those key spots.
How Are Window Sensors Different From Door Sensors?
Window and door sensors work in the same way. In fact, many security providers make a single entry sensor model for both windows and doors; others sell slightly different models for each. Either way, both window and door sensors are magnetic devices that monitor whether an entryway is open or closed; window sensors can tell when a window, specifically, is closed or opened.
Window Sensor Anatomy
Most window sensors are wireless and run on long-lasting batteries. They communicate with control panels via transmitters. The benefit of wireless sensors is quick and easy DIY installation.
Some professionally installed systems still use wired sensors, which the company will set up for you by running wires inside your walls and connecting them back to the main alarm control panel. Learn more about DIY vs. professionally installed security systems.
Though size and look vary from one company to another, most modern sensors are sleek and inconspicuous. Some companies even offer multiple designs for different placements and aesthetics.
For example, abode offers three different door/window sensor models:
Mini door/window sensors: These have an exceptionally slim profile that makes them almost disappear into the walls.
Recessed door/window sensors: These are installed inside the door or window frame with a drill. It's simple to do yourself, and the result is a nearly invisible sensor.
Slim strip sensors: These work best on sliding doors and casement windows. The two pieces of the slim strip sensor connect face-to-face and are ultra-discreet. They're only visible when the window is open.
What To Look For in a Window Sensor
Window sensors are pretty straightforward devices, but there are some variations to consider. Here are some features to look for when choosing your system:
Price: Window sensor prices range from around $15 to $35 apiece, with averages around $25. Of all alarm system components, window sensors are among the least expensive, so variations in price won't make a huge difference in your overall security bill.
Appearance: Size and style vary. Some window sensors, like those from Frontpoint, are sleek and inconspicuous. Others may be a bit bulky or have a brand logo on them, giving you a less streamlined look.
Smartphone controls: If you sign up for a security plan that includes smartphone controls, you'll be able to monitor your window sensors remotely from wherever you are in the world. If someone opens a window while your system is armed, you'll get a push notification.
Smart home automation: If your system includes smart home automation, you'll be able to sync it with other smart home devices. For example, you could set your smart lights to turn on whenever your windows open. That'll shine a light on crime!
Installing a Window Sensor
You'll be surprised by how simple it is to install window sensors. It doesn't require any technical skills. First, though, here are a couple of tips on which windows could use protection.
Where To Place Window Sensors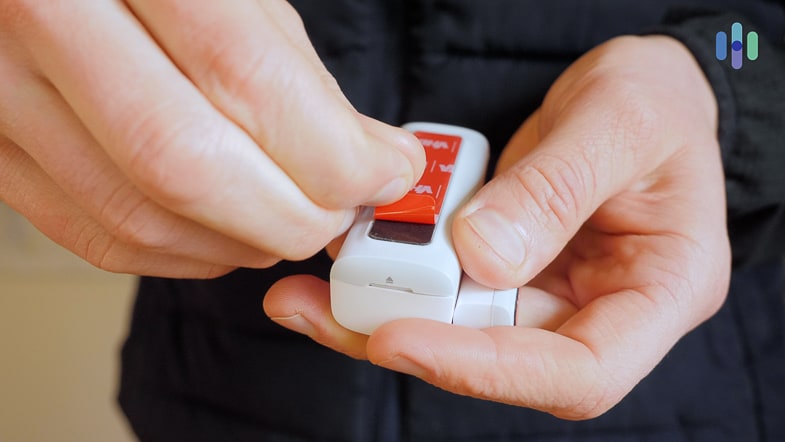 How To Mount Window Sensors
Once you've identified the windows you want to protect, it's time to start mounting those sensors. Here's a step-by-step guide:
Clean the wall or window area where you'll be installing sensors. Otherwise, the adhesive might not stick properly.
Use the included adhesive strip (or screws) to stick the alarm transmitter on the window frame and the magnet on the window pane within one inch of each other. Depending on your window, you may need to swap the position of these pieces for the best fit.
If needed, you can mount either piece at a 90-degree angle, as long as they're less than one inch apart. Be sure your placement doesn't get in the way of the window opening or closing.
Activate the sensors according to the instructions that came with your system. For example, you may be asked to pull a strip on the back of the sensor to activate it.
Test your window sensors to be sure they work. To do so, open a window while the system is armed. This should trigger the alarm, which you can then immediately cancel via the app.
Maintaining Window Sensors
There's very little involved in maintaining window sensors. Here are a couple of tips:
Check the batteries once every six months. However, most modern systems will alert you when the batteries are low so you'll never forget to replace them.
If you use adhesive strips to mount your sensors, check intermittently to be sure your sensors are still secure, especially when there are changes in humidity. If a sensor falls off, it'll trigger a false alarm.
Additional Uses for Window Sensors
You can use contact sensors for lots of other purposes besides preventing home invasions, such as these:
Monitoring the behavior of rebellious teens: If they try to slip out of the bedroom window, the contact sensor will trigger the alarm.
Preventing children or the elderly from wandering: You'll get an instant alert if the person you're caring for opens the sliding glass door.
Securing medicine cabinets, jewelry boxes, and other valuables: Place a sensor on the medicine cabinet to make sure unwanted hands don't get into it.
Smart home automation: Have your smart thermostat adjust if your windows are open to save energy and reduce your cooling costs. If you're new to home automation, check out our guide to how home automation

works

.

2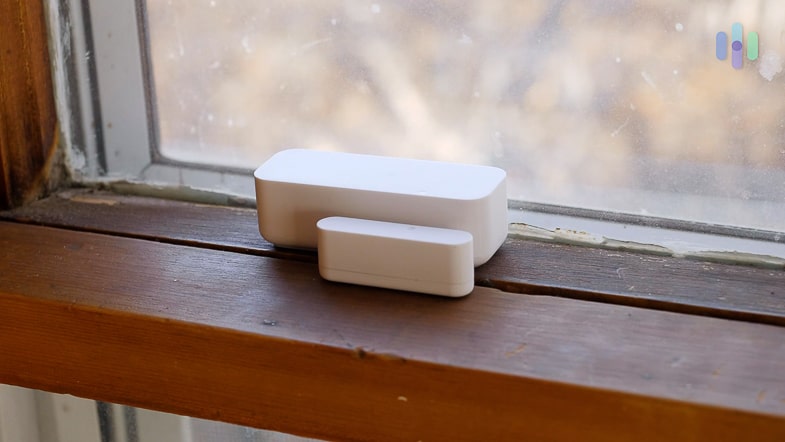 Other Types of Contact Sensors
These are some other types of contact sensors apart from window sensors:
Door sensors: As we mentioned, although they're interchangeable sometimes, some companies make separate contact sensors specifically for doors.
Garage and gate sensors: Some contact sensors are designed specifically to protect garages or gates. Learn more about smart garage doors and garage security systems. Although most people overlook their garage's security, contact sensors are a great way to prevent car break-ins.
Why You Need Home Security
You're reading a page about how window alarm sensors work, so you probably already suspect that you need home security, but you may not know all the ways it can help you. Here are a few reasons why home security deters crime:
Protection of family and property: The most obvious and important reason to get a home security system is to protect your home and family. Get home burglary statistics and more in our guide to why you need a home security system, or read more home security tips.
Reduced home insurance premiums: Many home insurance providers offer discounts for homeowners with security systems installed. Be sure to find out what your insurance company can do for you. If you work from home, you could also get a home security system tax deduction, in some cases.
Smart home automation: A smart home security system can give you control of all your smart devices from one central platform. This includes your alarm system, your smart lights, and any other compatible equipment, like home security cameras and video doorbells.
Recap
Window sensors are affordable, easy to install, and helpful for various uses outside of home security. These simple magnet devices will alert you if someone opens your medicine cabinet or if your child tries to sneak out at night. With remote control, window sensors become even more useful, giving you the ability to control your whole household from your smartphone.
FAQs
Here are answers to some of the most common questions about window sensors.