Identity Guard Free Trial Options
Is There Such A Thing As A Free Lunch?
Identity theft protection powered by IBM® Watson™ AI
Impressive $1 million in identity theft insurance
Multiple service levels, from basic to advanced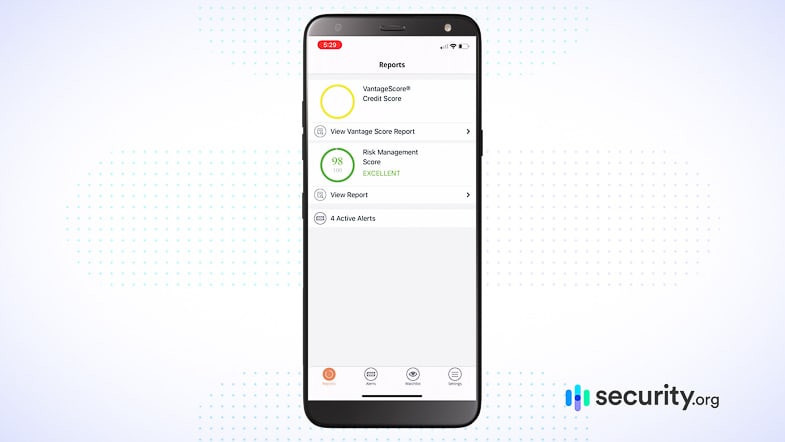 All of our content is written by humans, not robots.
Learn More
By

&

Think about how much information you give your computer and phone. We're on it almost 24/7, with accounts for our banking, jobs, personal hobbies, and anything else you can think of, and that includes a ton of personal information. But protecting your identity spans out of the online world, as there are many ways your identity can be stolen in the real world, from bank account takeovers to changes of address through the good old United States Postal Service. But since 17% of Americans change addresses every year,1 what are you supposed to do, read through thousands of records looking for your credentials? Fortunately, Identity Guard makes monitoring your identity and credit easy with alerts sent straight to your phone.
Does Identity Guard Offer A Free Trial?
Currently, Identity Guard does not offer a free trial. However, if you sign up for an annual plan, you can be refunded if you cancel 30 days after purchasing. While this isn't technically a free trial, as you will be charged, it is a way to test out Identity Guard and get your money back if you don't like it, although you may need to wait a few business days (or weeks) for the refunded amount to reflect on your account. Annual plans are also available at rates 17% lower than the monthly plans.
Tip: While Identity Guard doesn't offer a free trial, you can either sign up for an annual plan and cancel within 30 days to get a refund, or try a monthly plan and cancel within 30 days to avoid another charge.
In contrast, we recommend signing up for a monthly trial. The most affordable option is only $8.99 a month, and if you cancel within that 30-day period, you won't be charged for the next month. So while Identity Guard lacks free trials at the moment, at least their monthly plans are affordable, running from $8.99 to $29.99 a month. But if you want to keep your subscription going, just don't cancel it and it'll renew automatically or upgrade to a yearly plan to save as much as 17-percent.
Identity Guard Plan Breakdown
| | Value | Total | Ultra |
| --- | --- | --- | --- |
| Identity Theft Insurance with $1 Million Maximum Reimbursement | Yes | Yes | Yes |
| Customer Support Based in U.S | Yes | Yes | Yes |
| Risk Management Report | Yes | Yes | Yes |
| Data Breach Notifications | Yes | Yes | Yes |
| Dark Web Monitoring | Yes | Yes | Yes |
| High Risk Transaction Monitoring | Yes | Yes | Yes |
| Safe Browsing Tool | Yes | Yes | Yes |
| Bank Account Monitoring | No | Yes | Yes |
| Monthly Credit Score from 1 Bureau | No | Yes | Yes |
| Credit Monitoring from 3 Bureaus | No | Yes | Yes |
| White Glove Resolution Concierge | No | No | Yes |
| Social Media Insights Report | No | No | Yes |
| Bank Account Monitoring | No | No | Yes |
| Credit and Debit Card Monitoring | No | No | Yes |
| 401k and Investment Account Monitoring | No | No | Yes |
| Criminal and Sex Offense Monitoring | No | No | Yes |
| USPS Address Change Monitoring | No | No | Yes |
| Home Title Monitoring | No | No | Yes |
| Annual Credit Report from 3 Bureaus | No | No | Yes |
| Monthly Individual Price | $8.99 | $19.99 | $29.99 |
| Monthly Family Price | $14.99 | $29.99 | $39.99 |
| Yearly Individual Price | $90 | $200 | $300 |
| Yearly Family Price | $150 | $300 | $400 |
FYI: Note that plans for families cover all of the adults and kids in one household under a single subscription, so this will be much cheaper than buying individual subscriptions for everyone at home.
Identity monitoring services can go all the way up to about $50 a month (looking at you, myFICO!), so Identity Guard's pricing certainly falls within the industry average. While we wish they had a free trial like LifeLock, at least you won't spend a ton of money testing out Identity Guard. Plus, we already did the testing for you in our Identity Guard review, so make sure to read that before putting your credit card down.
Does Identity Guard Have Refunds?
Whether or not you can get your subscription refunded depends on whether it's monthly or annual. If it's monthly, you won't be able to get your money back; however, if it's annual, you can get your money back if you cancel within 30 days of purchase.2 And if you bought your subscription during a special offer like a money-back guarantee, you simply have to cancel before that time period ends, typically within 30 days of purchase, to avoid being charged.
How Much Does Identity Guard Cost?
Identity Guard's plans range from $8.99 to $29.99 a month or $90 to $300 a year for individuals or $14.99 to $39.99 a month or $150 to $400 for families, which covers all of the adults and kids in a single household. Dive deeper into Identity Guard on their pricing page. Or, if Identity Guard doesn't seem right for you, check out the best identity monitoring services of the year, tried and tested by our safety experts.
In terms of their pricing, Identity Guard is definitely in the middle of the road. We've seen the lowest monthly fees come from Zander Insurance, with plans starting at just $6.75, while some plans, like the top-tier option from myFICO, costs $49.95 a month. Of course, these services differ greatly when it comes to features, so you pay for what you get. Which brings us to our next point…
How Does Identity Guard Protect My Identity?
Now that we've gone deep into pricing, let's talk about what you're actually paying for when you sign up for Identity Guard. Now, we got the Ultra plan as we wanted to try out all the features available. Here's what was included:
Credit Monitoring
Why is it important to monitor your credit, you may ask? Well, your credit score is what banks use to make decisions about loans, from mortgages to cars. That's why it's shocking that 19 million people in the United States have stale or insufficient credit histories, while another 26 million have no credit history whatsoever.3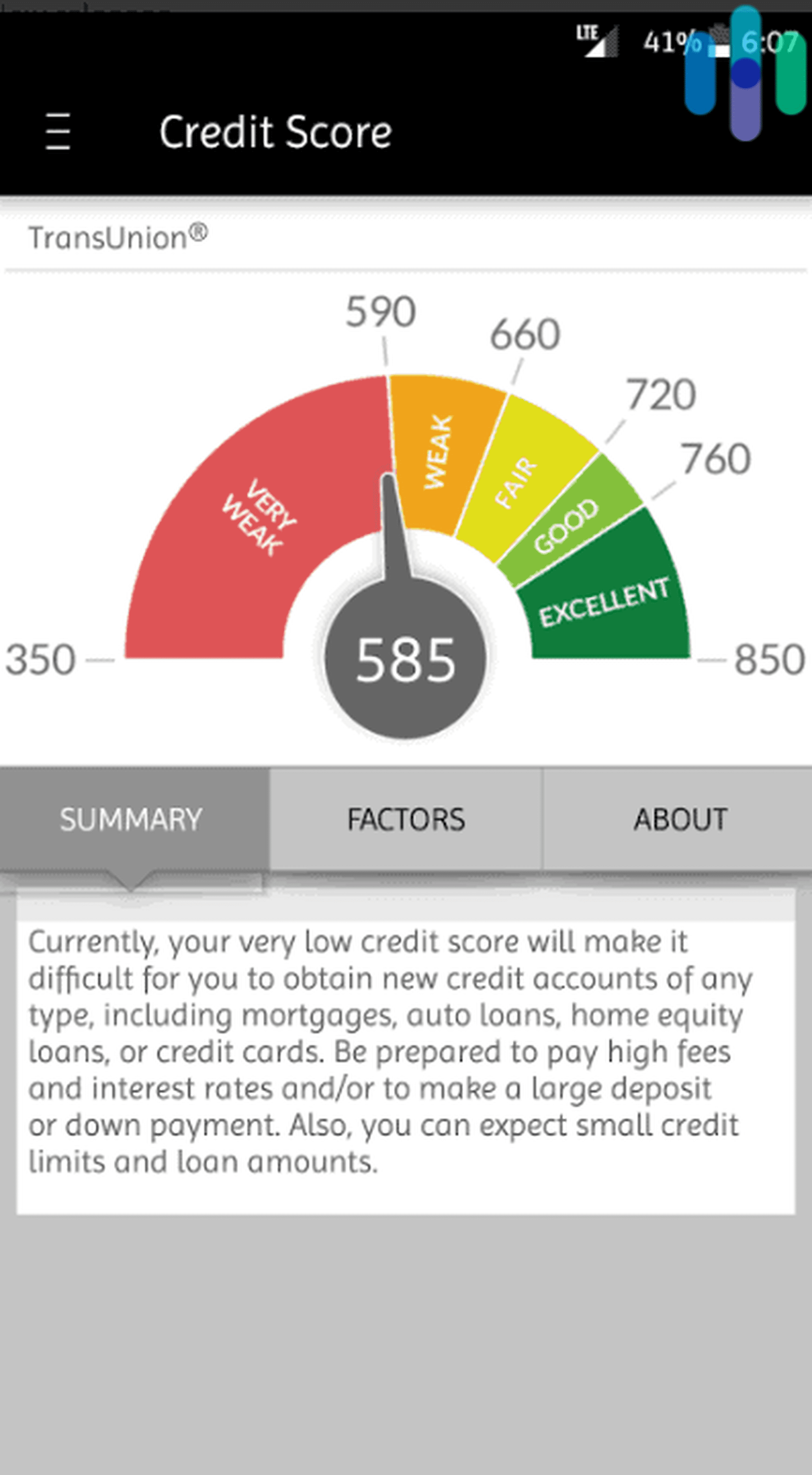 Especially if you're looking to get a loan, knowing your credit score is essential. While you get check-in repeatedly at the three credit bureaus mentioned above, Identity Guard does the job for you. Identity Guard gave us monthly credit scores and reports from the three main credit-reporting bureaus in the United States, namely Experian, Transunion and Equifax. It was nice to be alerted of any changes, and we were happy to see that our credit scores were very healthy. But that's not all that Identity Guard did for us.
Identity Monitoring
Aside from credit monitoring, Identity Guard also monitored our finances, alerting us if anyone took over our bank accounts, filed a tax return with our credentials, or opened savings or checking accounts in our names. They also monitored the dark web, making sure that our information wasn't being bought or sold. Finally, if anyone made an address change request to the United States Postal Service using our name, Identity Guard would give us the heads up as soon as they detected it. As unlikely as this is, we need to make sure that we're the only people getting our mail, so in this way, address monitoring can be crucial. Plus, we loved how Identity Guard summed it all up in their risk management report, which gave us a score between 1 and 100 to show how at-risk we were to identity fraud. With Identity Guard on our side, we got a 98!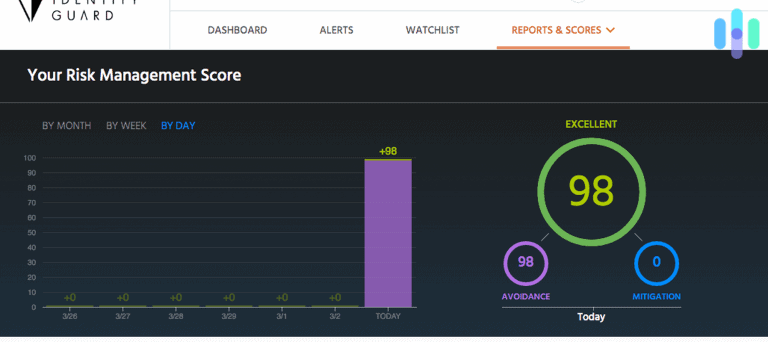 Digital Security
Identity Guard is unique in that it provides some cybersecurity tools not normally included with an identity monitoring service. For example, they offered anti-phishing software as both a browser extension and a mobile application, safe browsing tools that protected against flash, ads, data mining, and tracking, plus software that analyzed our Facebook account to assess our images online. Typically, identity theft protection doesn't include so many digital security features, so that's a plus in Identity Guard's book.
Identity Theft Insurance
That being said, like any other identity theft protection service, Identity Guard can't completely guarantee that our identities wouldn't be stolen. So in order to protect us if they were, we got identity theft insurance. Just the same way homeowners or car insurance works, if our identities were stolen, we'd be reimbursed for the losses for up to a million dollars. This is way more than we even have in the bank, so we felt confident that even if our identities were stolen, we could get all of our money back.
Setting Up Identity Guard
Signing up for Identity Guard for yourself, your spouse or your family only takes a few minutes, although it'll take longer the more people there are in your family. For our individual account, we first selected the plan we wanted, which was the Ultra plan, then created usernames and passwords.
From there, we filled out some essential information for Identity Guard to monitor (which included our Social Security numbers, names, addresses, and birthdays), plus our payment information. Next, to verify our identities, we answered a few multiple-choice questions and some threat questions and voíla! We were in the Identity Guard dashboard.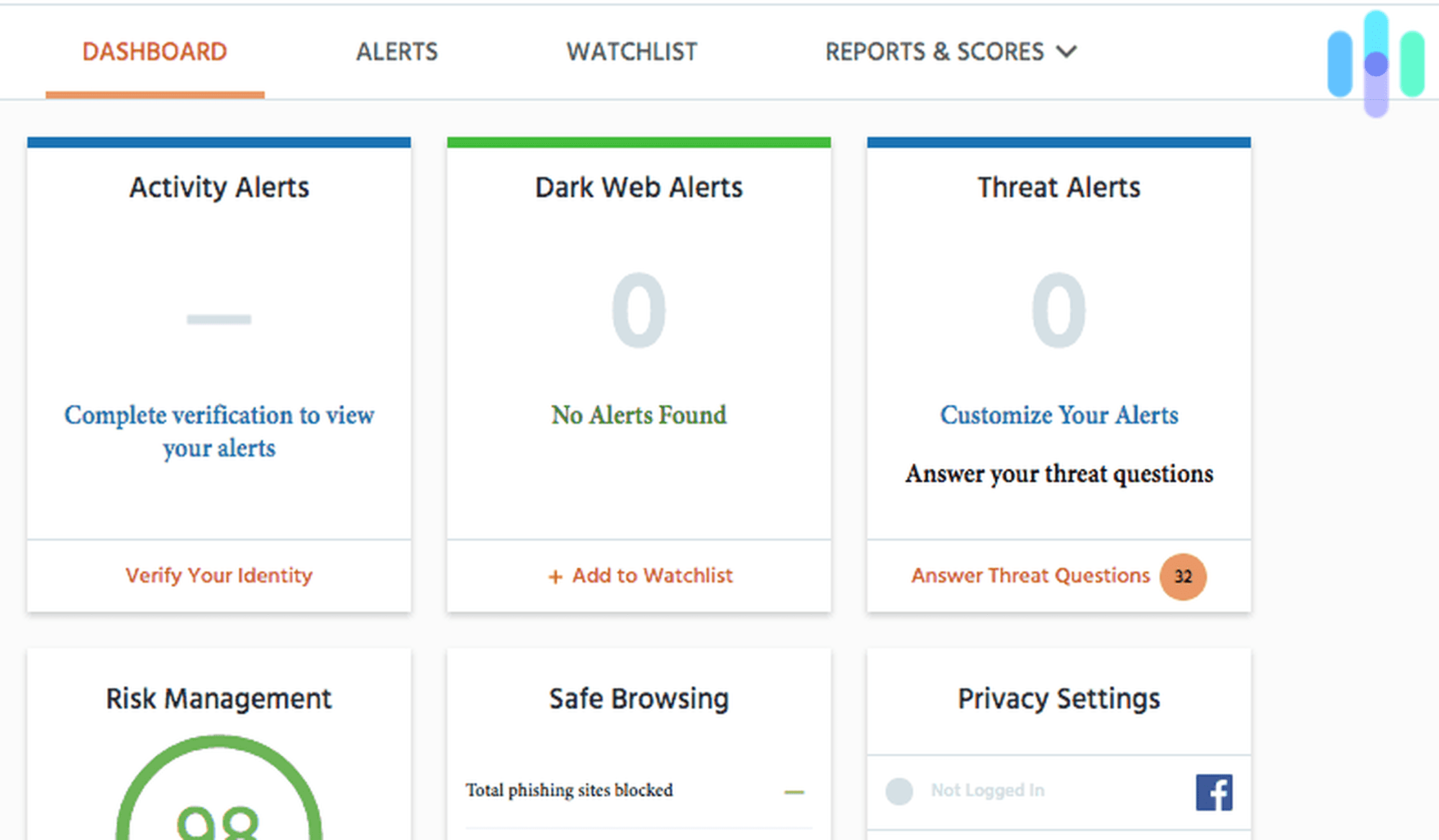 From there, it's up to you how much information you want to give Identity Guard. The more you give, the more they can monitor, but some concerned with privacy may want to stick to the basics. Keep in mind that according to their privacy policy, Identity Guard might share this information with third parties. However, that won't be for advertising or marketing purposes, which is good to know. Another thing to note is that your information will be encrypted using 128-bit encryption. While we're happy that the information is encrypted in the first place, we wish they used the current industry standard of 256-bit encryption.
Final Thoughts
Identity Guard is a trustworthy credit and identity monitoring service with some additional digital security features to boot. Although they don't provide the most comprehensive identity monitoring on the market, they cover the basics, with credit monitoring from all three bureaus plus dark web scans, address change alerts, and more. In terms of pricing, Identity Guard is reasonable, with the big negative being their encryption methods and privacy policy. But for most people, your information (and your identity) is safe and sound with Identity Guard.