Best Outdoor Security Systems of 2023
Protect your outdoor space with these tried and tested home security systems, built for outdoor use.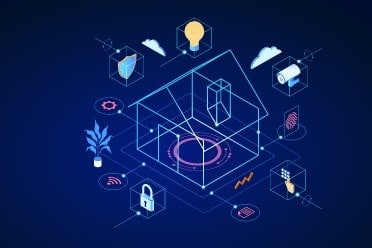 10,000+ research hours
60+ systems tested
150+ simulated break-ins
40 systems reviewed
6 systems recommended
The best outdoor security systems discourage criminals before they reach doors and windows. In days of yore, a moat loaded with eels did the trick! Today a Wi-Fi network loaded with outdoor security cameras is more practical. Wi-Fi cameras are easy to monitor with your smartphone, and with paid service, they can send alerts to emergency dispatchers. Built-in speakers on the cameras let you tell trespassers that they're being recorded.
Monthly costs
| Best outdoor security systems | Monthly cost of professional monitoring with outdoor cameras |
| --- | --- |
| ADT | $60 or less |
| SimpliSafe | $27.99 or less |
| Vivint | $60 or less |
| Cove | $27.99 |
| Frontpoint | $49.99 |
| Ring | $10 |
Types of Outdoor Security Cameras
The main types of outdoor security cameras are doorbell cameras and standard weatherproof video cameras.
Doorbell video cameras – For easy installation a doorbell camera uses battery power or an older doorbell's wiring. With motion detection and night vision, it lets you keep an eye on your homefront via your smartphone or desktop computer. Most doorbell cameras have two-way audio for talking with visitors.
Standard outdoor security cameras – With plug-in and cordless styles, these outdoor security cameras can guard the full perimeter of your property. Common features are infrared night vision, motion detection, and two-way audio.
Each company below has both types of cameras, plus they sell indoor cameras and full home security systems with entry sensors, indoor motion sensors, and advanced features. Each system has a Z-Wave radio chip, giving you countless add-on possibilities such as remote control door locks, remote control lights, and wireless smoke alarms. Systems also have cellular chips, which you can activate as back-up to your home Wi-Fi network. All the companies support voice commands too; with Amazon Alexa or Google Assistant, you can gain hands-free control over your wireless cameras and other smart home equipment.
Two security companies here, ADT and Vivint, always send a professional to handle camera installation. The others, Cove, Frontpoint, and Ring, generally leave the setup to the customer.
Best Outdoor Security Systems in 2023
Detailed List of the Best Outdoor Security Systems
Outdoor Security System Methodology
When selecting an outdoor security camera with a system, here are some things to look out for:
Video: I prefer cameras with 1080p HD video display and fields of view of 120 degrees or higher, plus the ability to zoom in optically to capture details.
Audio: Your outdoor camera should come with a microphone and speaker enabling two-way audio, which allows you to communicate remotely with whoever your camera's pointing at.
Night Vision: It should also have LED sensors for infrared night vision, which I prefer over color night vision from a bright white light as it's much less conspicuous.
Storage: I look for cameras with both cloud and local storage, ideally for free. It's important to store your footage in two ways in case one of them fails.
Smart platform integrations: If you already have Alexa, Google Assistant, Siri, or Microsoft Cortana in your home, then you'll want an outdoor security camera system that works with your voice assistant, allowing for hands-free commands.
Artificial intelligence: Ideally, your outdoor camera should have person detection so you get alerted only when it detects a person and not movement from other objects like cars, trees, or leaves flying around. This will create smarter, more specific notifications that matter more, as you don't want to be bombarded with useless notifications daily.
Durability: Be sure to check the camera for its IP rating and temperature range. IP ratings are a two-digit number that tell you how susceptible a camera is to solids and liquids. It should be 65 or higher. The temperature range, of course, will depend on where you live, but make sure to pick a camera that fits into your climate.
| IP Ratings | Solids | Liquids |
| --- | --- | --- |
| 0 | Not Protected | None |
| 1 | A large body surface like the back of a hand, but no intentional contact with a body part | Dripping water falling vertically |
| 2 | Fingers of similar objects | Dripping water falling from 15-degree tilt |
| 3 | Tools, thick wires, etc. | Spraying water |
| 4 | Most wires, screws, etc | Splashing water |
| 5 | Dust protected | Water jets 6.3mm and below |
| 6 | Dust tight | Powerful water jets 12.5mm and below |
| 7 | N/A | Immersion up to 1m |
| 8 | N/A | Immersion over 1m |
Easy installation: Of course, you should pick a camera and system that's easy to install, whether it's plug-in or battery-operated. Sensors, on the other hand, tend to be peel-and-stick which makes for an easy DIY installation. If you want professional installation instead of DIY, Vivint is your best bet.
Other security components: Aside from your outdoor camera, you may want a larger system with motion, entry, and glass break sensors, panic buttons, keyring remotes, key fobs, base stations, and more. Be sure to check out each individual security system review before purchasing, as there are many customizable packages available!
Monitoring: You may want to pay an extra monthly or yearly fee for 24/7 professional monitoring, which has a team of people available to call emergency services for you if necessary at all times.
Backup: In case the power in your neighborhood goes down, you'll want a system with some form of power backup, be it cellular, landline, or even battery.
App: Depending on whether you have an iPhone or Android, be sure to check out customer reviews at the Apple or Google Play stores, respectively, as updates can greatly change the app's overall rating. With a smart security system, a user-friendly app is a necessity, allowing you easy remote control and notifications.
FAQs About Outdoor Security Systems
What are the best outdoor security cameras?

The best outdoor security cameras are from brands like ADT, SimpliSafe, Cove, Vivint, Frontpoint, and Ring. Some of these brands, though, stand out not because of their security camera tech, but because of the level of outdoor and indoor protection they provide. Remember, outdoor cameras are merely components of a whole home security system, so you should look at the big picture rather than focusing on one camera alone.

Is there a security camera that works without Wi-Fi?

Yes, the Wyze Cam works without Wi-Fi, but to use it outdoors you'll need to buy a protective cover.

What is the best PoE security camera system?

The best PoE security camera system is from Lorex.