Best Security Cameras With No Subscription
Yes, you can get high-quality home security with no monthly subscription.
5,000+ research hours
100+ cameras tested
250+ simulated break-ins
50+ devices reviewed
4 cameras recommended
Not everyone wants or needs a full-service security system with 24/7 professional monitoring. Some of us prefer the do-it-yourself approach. Among other advantages, DIY systems are free to operate once you've invested in the equipment. Of course, free is no good if your system doesn't protect your home. Have no fear, though. We have a list of some great home security cameras that come with no subscription strings attached.
Recording Options
| Lorex | DVR/NVR or micro SD card |
| --- | --- |
| Wyze | Cloud or micro SD card |
| Blink | USB |
| Ring | None |
Best No Monthly Fee Security Cameras
Comparison of the Best Home Security Cameras Without Subscriptions
| System | Lorex | Ring | Blink Camera | Wyze Cam |
| --- | --- | --- | --- | --- |
| Ranking | 1st | 2nd | 3rd | 4th |
| Ratings | 9.6/10 | 9.5/10 | 8.4/10 | 8.3/10 |
| Push notifications | Yes | Yes | Yes | Yes |
| Live video feeds | Yes | Yes | Yes | Yes |
| Free recording options | DVR/NVR, micro SD | None | USB | Micro SD, cloud |
| Smart platform integration | Alexa and Google Assistant | Alexa and Google Assistant | Alexa | Alexa and Google Assistant |
| Read Review | Lorex Review | Ring Review | Blink Camera Review | Wyze Cam Review |
A Detailed Look at the Best No Subscription Security Cameras
Methodology
We take our jobs seriously, and we never put together a list like this one without thoroughly researching every home security camera we can get our hands on. We compare equipment based on a number of important measures, such as video quality, durability, storage options, price, ease of installation, smart home integration, and bonus features. Of course, beyond all of that, every camera on this list had to work without any subscription fees whatsoever.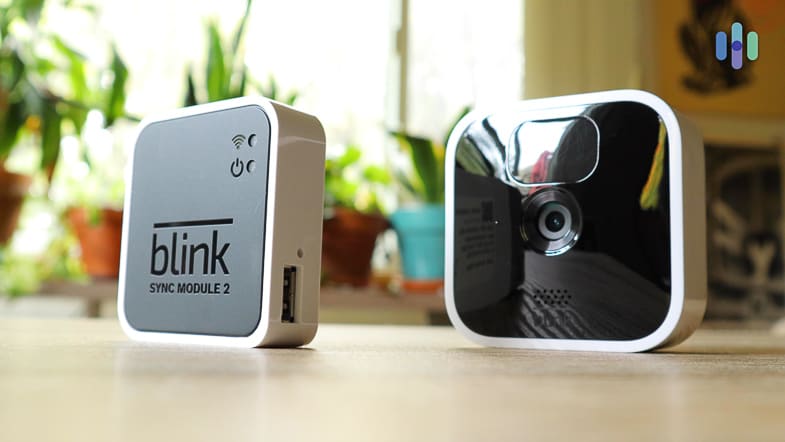 Want to know more about how we choose cameras? Check out our complete guide to home security cameras.
Video Quality
Video quality, of course, isn't about any one single element of a camera. Rather, it's made up of several interactive features:
Image resolution: Video quality starts with resolution. We expect the cameras we choose to have a minimum resolution of 1080p. Many of the cameras on this list, though, have 4K resolution.
Field of view: Field of view is important because it dictates just how much of your home your camera can monitor at one time. We look for cameras with at least a 120-degree field of view.
Night vision: Finally, we also expect cameras to have clear night vision so they can protect us just as well after the sun goes down. LED infrared is great. Color night vision is even better.
Durability
We want all the cameras we recommend to be durable. Durability is especially important when it comes to outdoor cameras, though. IP ratings offer an important measure of durability. These tell us how well cameras resist dust and water. We like an IP rating of 65 since that means the camera is dust-tight and can repel low-level water jets.
In addition to the IP rating, many home security cameras also come with detailed information about the temperatures in which they can operate. We generally look for cameras that can work at temperatures between negative 10 degrees and 110 degrees Fahrenheit. Obviously, you may need a wider range than that depending on where you live.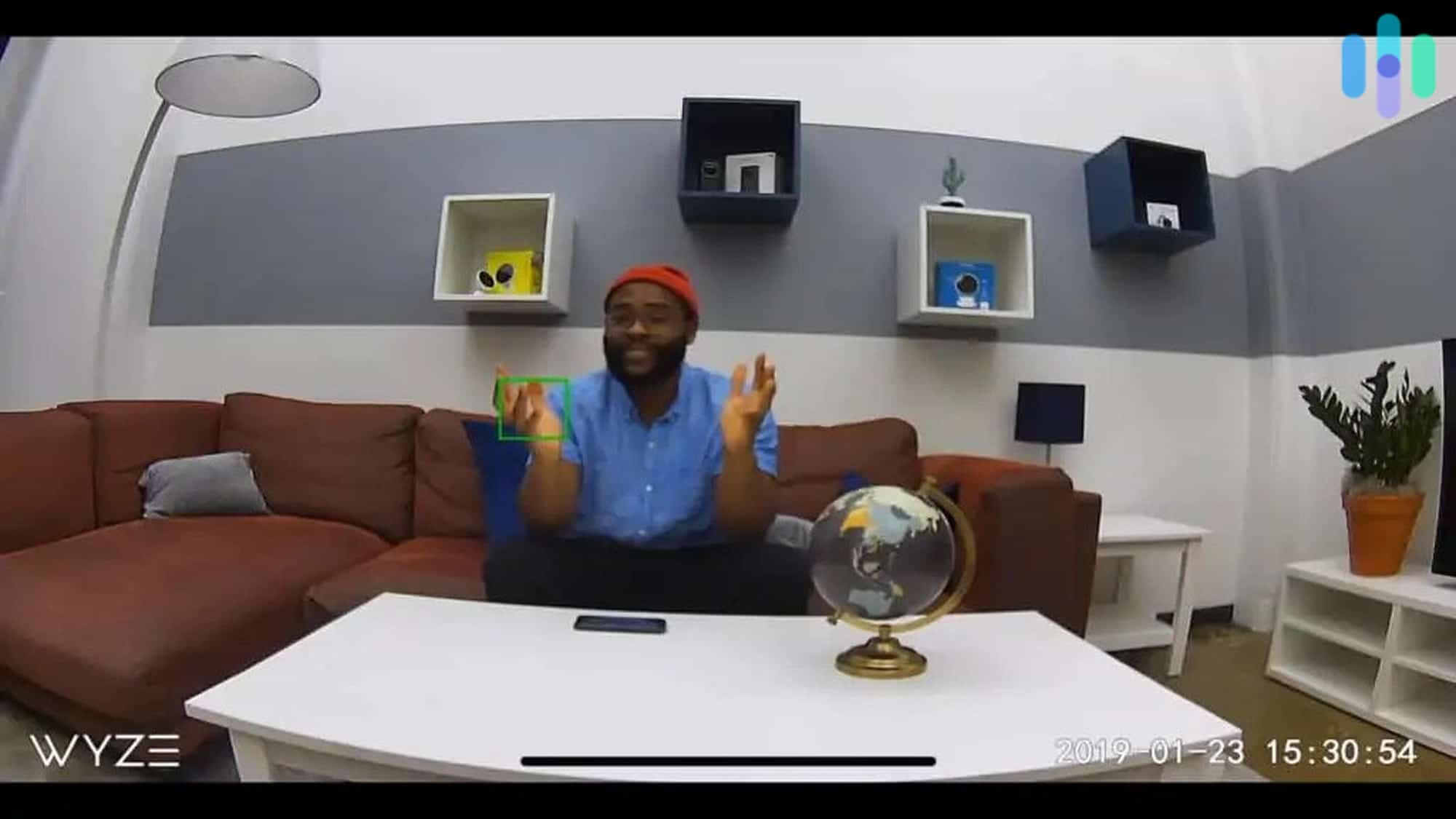 Storage Options
Because this is a list of security cameras requiring no subscription, we paid special attention to each product's storage options. While you can monitor a home security system without the ability to record video, it's not easy. All but one of the cameras on this list include local storage capabilities. These range from DVR/NVR recorders to microSD card slots to USB ports. One system, Wyze, even offers 14 days of free cloud storage.
Price
Price always matters. After all, this is a list of cameras that require no subscription, so obviously you're looking for a system that will save you a little money. No system is worth the money, even a free system, if it doesn't do the job it's supposed to do. That's why the measure we like to use instead of price is value. Price plays an important role in determining value, but so do other elements, like video quality, durability, and bonus features. We don't mind paying a few dollars extra, for example, for a system that can distinguish between people and animals, since that cuts down on the number of false alerts we get.
Easy of Installation
All of the cameras on this page feature full DIY installation. We don't mind DIY, as long as we can actually do it ourselves. We're handy with a screwdriver, but don't ask us to do anything fancier than screw a mount onto the wall. We look for products that are truly DIY and that can be installed in under an hour.
Bonus Features
Finally, we pay attention to all the bonus features a camera offers. Does it, for instance, let us set up activity zones so we get alerts when someone's at our door, but not when cars go by on the street? Can it tell the difference between people and animals? Does it include facial recognition? Again, which extra matters most to you will depend on your situation, but we want to make sure you know all the options before you invest.
Recap
Typically, we recommend signing up for full-service 24/7 professional monitoring any time you install security cameras. We get it: Sometimes you just need to save a little money. You asked for a list of the best security cameras with no subscriptions, and we delivered.
The fact is, there are some great DIY home security cameras out there. It isn't so much about finding good cameras as it is about finding the ones with the features you really need. Are you looking for tons of choices and state-of-the-art equipment? Or are you looking for easy installation? Do you prefer cameras that mesh with your existing smart home? Which kinds of storage options do you prefer? The bottom line is, if you're looking for no-subscription security, you'll find what you need somewhere on this list.
FAQs
We're all looking for more these days, right? Well, we've got more answers. Take a look below for some of our responses to your most frequently asked questions about the best no-subscription security cameras.