Best VPNs for Windows
Our experts tested out dozens of VPNs to find which ones worked best on Windows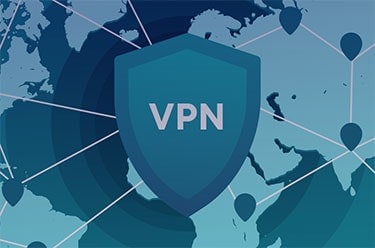 A few years ago when we met up in a coffee shop on a Sunday to get a little work done, we sat down, connected to the Internet on our computers, and realized that we had no idea how secure the connection would be. While Mac computers enjoy built-in security and have a reputation of having more safeguards against viruses, Windows computers don't enjoy that luxury. That's why when we use our Windows Vivobooks on the go, it's essential to connect to a VPN to protect our browsing history and allow access to sites that are geographically blocked. It's true that even with all of the selection of VPNs out there, they're not one size fits all. That's why we took the time to find the best VPN for every Windows user and price point.
Guide to The Best VPNs for Windows
| | |
| --- | --- |
| Minimum OS requirements | Windows 7 |
| Minimum monthly costs | $0-$8.32 |
| Money-back guarantee | 3-30 days |
| Contract length | 1-36 months |
Best VPNs for Windows in 2023
We take Internet security incredibly seriously. Even though VPNs don't keep you entirely anonymous when searching online,1 because sites may be able to use any identifying information you directly share with them to track you, like your email address, they're crucial for a robust personal digital security portfolio. That's why we put each VPN through a rigorous testing process on macOS and Windows to connect each service to its best use case. For us, speed and security are the names of the game, because if your VPN isn't fast and it doesn't keep your browsing secure, then what's the point?
Although the product itself is the most important determining factor of our recommendations, we also take the company that delivers it into account. We try to ask the important questions, like, what government regulations are the company bound by, and did they have any recent security breaches? With all of this information, we're happy to say that ExpressVPN is the best VPN for Windows users.
Did You Know: Online retailers like Amazon provide different goods depending on what country you are in! So if you're traveling abroad but need to place an order, if you use a VPN server in your home country, you'll be able to access all of your usual items.
The Best VPNs for Windows Compared
| System | NordVPN | Surfshark | Private Internet Access VPN | ExpressVPN | IPVanish | Windscribe VPN |
| --- | --- | --- | --- | --- | --- | --- |
| Ranking | 1st | 2nd | 3rd | 4th | 5th | 6th |
| Ratings | 9.7/10 | 9.5/10 | 9.4/10 | 9.1/10 | 9.3/10 | 8.7/10 |
| Minimum Monthly Cost | $3.99 | $2.49 | $2.19 | $8.32 | $3.99 | Free |
| Money-Back Guarantee (in days) | 30 | 30 | 7 | 30 | 7 | 3 |
| Contract Length (in months) | 1 - 24 | 1 - 24 | 1 - 24 | 1 - 12 | 1 - 12 | 1 - 12 |
| Split Tunneling | Yes | Yes | Yes | Yes | Yes | Yes |
| Netflix | Yes | Yes | No | Yes | Yes | US & UK Only |
| Torrenting | Yes | Yes | Yes | Yes | Yes | Yes |
| IP Addresses | Dynamic, shared or dedicated | Dynamic, static | Dynamic | Dynamic | Dynamic | Static, shared |
| Five Eyes, Nine Eyes and 14 Eyes Member | No | Yes | Yes | No | No | Yes |
| Read Review | NordVPN Review | Surfshark Review | Private Internet Access VPN Review | ExpressVPN Review | IPVanish Review | Windscribe VPN Review |
FYI: If protecting yourself on your computer is the goal, some of the biggest risks come from connecting to public networks from your mobile device! Make sure that any VPN you select has a highly-rated mobile option.
A Deep Dive on the Best VPNs for Windows
Methodology
Below we've run down the metrics we use to evaluate each individual VPN. That way, everyone will be able to understand exactly what we were looking for in a VPN and why our ratings landed where they did. We begin our testing process with a deep dive on each VPN's features, looking specifically for things like how well our IP addresses are masked, if the VPN has 256-bit AES (Advanced Encryption Standard), whether or not the VPN is logging our data, and more. If the VPN checks the standard boxes that we believe that every VPN should, we then run it through our speed and security tests.
Speed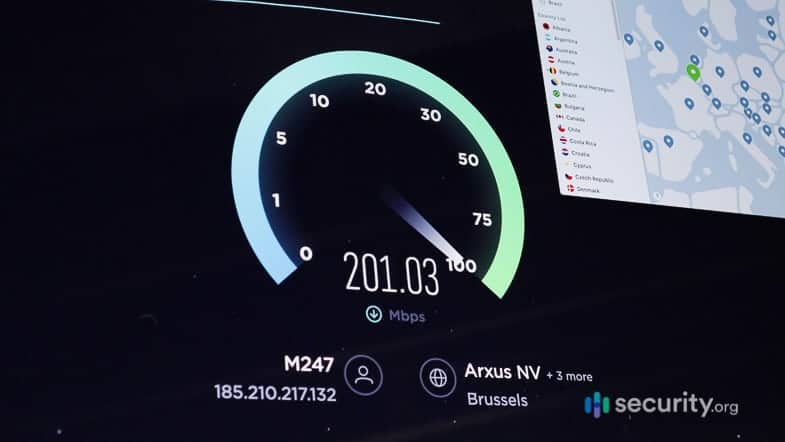 Our first step is always testing the speed of each VPN. We test all of our VPNs on the private Optimum network at our office in Brooklyn. We use our Internet speed without any VPN activated to serve as the control, and we only connect one device at a time before testing. We test all of our VPNs on two different machines and operating systems to make sure we cover more of our readers. For these tests specifically, we used a Macbook Air and a Windows Vivobook on the website SpeedTest.net. On Speedtest.net, we tested each VPN's download speed, upload speed, and ping (latency). First, we performed the tests with the VPN, and then immediately without. Download and upload speeds are measured in Mbps or megabits per second while latency is simply measured in milliseconds. After we record the speeds of each, we identify the differences in terms of a percentage as Macs and Windows computers have naturally different connection speeds.
We understand that there are a lot of factors that impact a speed test: the operating system, device type, and even distance to the server, but we need to make sure that the speed tests have no more than a 40 percent difference in any of our categories with the VPN turned on and off.
Security
The key feature and reason to use a VPN is to protect web traffic, specifically, to protect our web search history and IP addresses. In a nutshell, we needed to know that our private IP addresses weren't being leaked with the VPN on. IP addresses are typically leaked due to a default feature of most browsers (Chrome, Edge, and Opera) called WebRTC, which allows browsers to communicate directly with each other.

We test for DNS leaks through DNSLeakTest.com. We compare the IP addresses of our computer to the IP addresses provided on the website and use that to determine if there was a DNS leak while using the VPN or not. We then test for WebRTC leaks by leveraging a tool on ExpressVPN's website. Similarly, we use a tactic where we look at the local and Public IPv4 IP addresses to discover any potential WebRTC leaks.
Next, we concentrate on the company's privacy jurisdiction and data logging policies. Geographically speaking, it matters a lot where the company is headquartered. Their location determines what international surveillance alliances they are a part of. These alliances are called Five Eyes, Nine Eyes, and 14 Eyes and compel companies to hand over customer data to the government if there was a legal reason to do so. In a perfect world, the VPN company would not be based in a country subjected to these agreements, but if they are, we prefer that they keep only essential data from their customers. Ideally, companies would only retain account information like names, emails, and payment info. There's really no reason why a VPN provider should retain any additional information related to users' web history or private IP address; that defeats the point of having a VPN in the first place!
Our reviews also dive into each VPN's encryption methods and Internet protocols to be sure that they meet industry standards. The gold standard is VPNs with AES-256 encryption and OpenVPN, the most secure encryption methods out there.
Finally, we check to see if the company offers unique or completely anonymous IP addresses to decrease the likelihood of any potential tracking. If a VPN provider offers dynamic IP addresses, they will essentially shuffle the IP address deck each time we log in. This makes it extremely difficult to track our Internet history, which we prefer. The opposite of that is a static IP address, meaning the IP addresses don't change and are thus less desirable. Another integral feature which we always make sure to check on is a kill switch, which will close out Internet browsers if the VPN fails.
Torrenting and Netflix
A huge benefit of getting a VPN is using it to stream, watch, or otherwise access media like movies and television. That's why we pay close attention to VPNs that allow access to torrenting and Netflix. However, the Netflix portion proves to be a little more challenging as Netflix is constantly updating their code to block VPNs, so we can't guarantee that it will always work.
Split Tunneling and Multi-Hop Encryption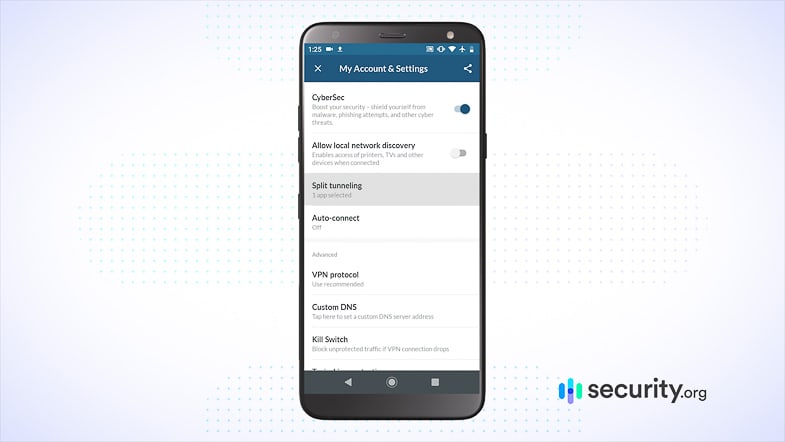 Another key aspect of VPN specs is split tunneling. This capability allows us to use both the VPN and a public network simultaneously. Lower bandwidth creates faster browsing and streaming speeds. It's even better if the VPN is double or multi-hop, as the software encrypts data multiple times through multiple servers.
Subscriptions
At the end of the day, the cost can make or break a purchasing decision. That's why we give our readers straightforward cost information while leveraging our expertise in digital security to decide whether or not the price is reasonable or worthwhile. Some VPNs are very cost-effective, costing under $1 a month with long-term commitments, while others can be as pricey as $15 per month. We're especially receptive to companies with high levels of flexibility in their pricing packages, like a month-to-month price point, or a longer-term subscription for a cheaper monthly rate. It's even better if the VPN has a free trial period or a money-back guarantee. Finally, we run through and explicitly spell out what a subscription actually entails from the number of server switchers to the number of devices we can run on the service at once.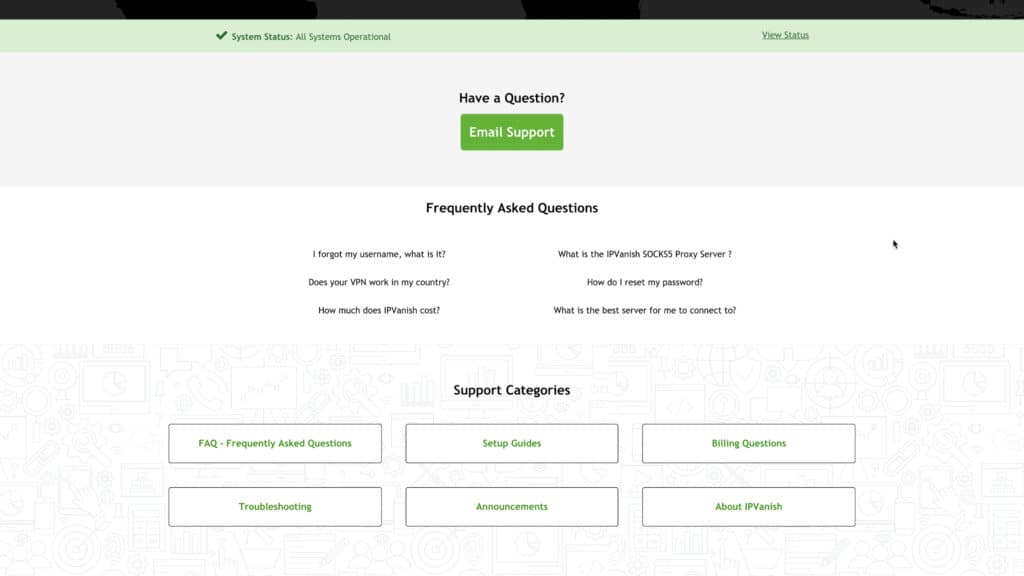 Customer Support
Nothing is more frustrating than a fantastic product with suboptimal customer support should something go wrong. That's why we test the capabilities of each VPN company's support system to ensure that they are easy to contact. Typically, VPN providers offer a live chat feature as well as an online help center or FAQ section. If they do offer a phone line (how retro), we view it as a huge plus. Not many VPN companies spring for that sort of support.
App
Last but certainly not least, we review the mobile apps for both iPhones and Androids, taking into consideration our user experience as well as the app store ratings. An app store rating below three stars disqualifies an app from being recommended to our readers. For the best VPNs for Windows, we took into account the Windows apps, as well.