Best VPNs for Windows
We personally tested over a dozen VPNs to find the ones that work best for Windows PCs and laptops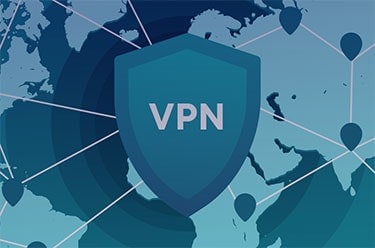 2,500+ research hours
50+ VPNs reviewed
300 speed tests
6 experts consulted
5 VPNs recommended
Hunched over in front of your laptop, you go to your bank's website to check your balance. Before you type in your secure password, you look around to see if anyone's watching. All clear. That's all there is to cybersecurity, right? Well, of course not. Data that is sent via the internet is not at all private in most cases.
That is especially concerning if you think about all the information we provide through online channels – passwords, personally identifiable information (PII), payment card details, and so on. That's why we need a virtual private network or VPN, which is software that creates an encrypted tunnel so you have a secure and private connection to the internet.
We recommend using a VPN on all gadgets – smartphones, tablets, computers, and even gaming consoles – but here, we're focusing on Windows computers. Given their versatility, Windows computers are used for many purposes, from entertainment to work. As such, you have to make sure you're using the best VPNs for your Windows devices. What are these VPNs and why are they the best? Read on as we break them down for you one by one.
The Best Windows VPNs in 2023 Ranked
What Makes a Good Windows VPN?
Before we unpack each option, let's first discuss the things you should look for in a VPN for all operating systems, but especially Windows.
To give you adequate privacy, a VPN will need both a flawless encryption and VPN protocol. These two should come hand-in-hand, as encryption will take care of scrambling your online data, while the VPN protocol ensures the data gets to its destination in a secure and speedy manner.
All VPNs we tested offer 256-bit AES encryption, which we found to be the gold standard for secure VPNs and the same encryption the U.S. military uses for cryptography. If it's good enough for a secretive government1, it's good enough for us. VPN protocols, however, vary from one VPN to another. We did a more technical deep-dive about these factors in our VPN encryption guide and VPN protocol guide, so give those a read if you want to learn more.
Encryption and protocol form a solid foundation for a good VPN, but a vast server network is also crucial for a Windows VPN. VPNs use servers as waypoints for your traffic before it gets to the internet. The main task of VPN servers is to keep your real IP address hidden by making it appear as though the traffic is coming from their IP address instead of yours.
In a typical VPN connection, you'll connect to only one server; however, we recommend choosing a VPN with multiple servers (at least 1,000) in different countries (at least 40). Remember that IP addresses are tied to the user's location, so if you use a VPN, your location will appear to change to reflect where the VPN server is located. This is helpful for getting around geo-restrictions, such as accessing another country's Netflix library or visiting websites blocked in your country.
With those three, you'll have yourself a solid Windows VPN, but the best VPNs offer a little more than that. They have extra features that, depending on how you use the VPN, will make your data more private, your connection more secure, or your user-experience smoother to match the versatility of Windows devices. To give you examples, here are some of the extra features we saw from the best VPNs:
Kill switch
Split tunneling
Malware, ad, and tracker blocking
Virtual LAN
Multi-hop
Don't worry, we'll explain those features in greater detail as we reveal which VPNs have them. For now, know that every single one of our top picks have at least one of those features.
Speaking of our top-pick VPNs for Windows, let's learn more about them in this side-by-side comparison. After that, we'll do a deep-dive analysis of why they are the best Windows VPNs.
The Best VPNs for Windows Compared
System

NordVPN

Surfshark

Private Internet Access VPN

ExpressVPN

IPVanish

Ranking

1st
2nd
3rd
4th
5th

Ratings

9.7/10
9.5/10
9.4/10
9.1/10
9.3/10

Encryption

256-bit AES
256-bit AES
128-bit to 256-bit AES
256-bit AES
256-bit AES

VPN protocol

OpenVPN
NordLynx (WireGuard)

OpenVPN
Lightway (proprietary)
IKEv2
IPSec

No. of servers

5800+
3200+
14,000+
3000+
2000+

No. of server locations

60 countries
100 countries
84 countries
94 countries
75 cities

Extra features

Multi-hop
Kill switch
Split-tunneling
Meshnet
Threat Protection

Multi-hop
Kill switch
Split tunneling
CleanWeb
Camouflage Mode
NoBorders Mode

Multi-hop via proxy
Kill switch
Advanced split tunneling
PIA MACE
Obfuscation

Kill switch
Split tunneling
Obfuscation
Threat Manager

Kill switch
Split tunneling
OpenVPN Scramble
LAN Blocking

Average download speed*

222 Mbps
218 Mbps
226 Mbps
204 Mbps
239 Mbps

Average upload speed*

205 Mbps
202 Mbps
216 Mbps
198 Mbps
227 Mbps

Microsoft Store app

No
Yes
No
No
No

Downloadable Windows app

Yes
Yes
Yes
Yes
Yes

Best average monthly price

$3.79
$2.39
$2.03
$8.32
$2.99

Read Review

NordVPN Review
Surfshark Review
Private Internet Access VPN Review
ExpressVPN Review
IPVanish Review
* While connected to a 250 Mbps fiber-optic internet connection
Deep-Dive Into The Best Windows VPNs
How To Choose a Windows VPN: Our Methodology
That's about it: The best Windows VPNs, depending on what you're looking for, are NordVPN, Surfshark, Private Internet Access, ExpressVPN, and IPVanish. You're probably wondering how exactly we came to this conclusion.
For over half a decade now, we've kept a list of the best VPNs in the market. We update this list at least once a year, and since we already have a stringent protocol for choosing and testing the VPNs we include in the list, it was a good place for us to start.
After firing up our Windows laptops and PCs, we re-tested each of the 13 best VPNs with a specific focus on finding which ones work best on Windows. We paid close attention to the user-experience, the Windows app interface, the features available to Windows users, and performance on Windows.
From there, we figured out which VPN is best for which uses on Windows:
NordVPN: Best for office and work use
Surfshark: Best for changing Windows IP address location
Private Internet Access: Best for multitasking
ExpressVPN: Best user-experience
IPVanish: Best speeds
Setting Up a VPN on Windows 10 and 11
Now that you know our top picks, and you probably even have favorites now, let's talk about using a VPN on Windows, starting with setting up the VPN.
There are two common methods of installing a VPN on Windows.
The first one is by downloading the VPN's app from the Microsoft Store, the app repository for Windows PCs. This is the more straightforward route, but not all VPNs have apps in the Microsoft Store. Among our five top picks, Surfshark was the only one that had a native app.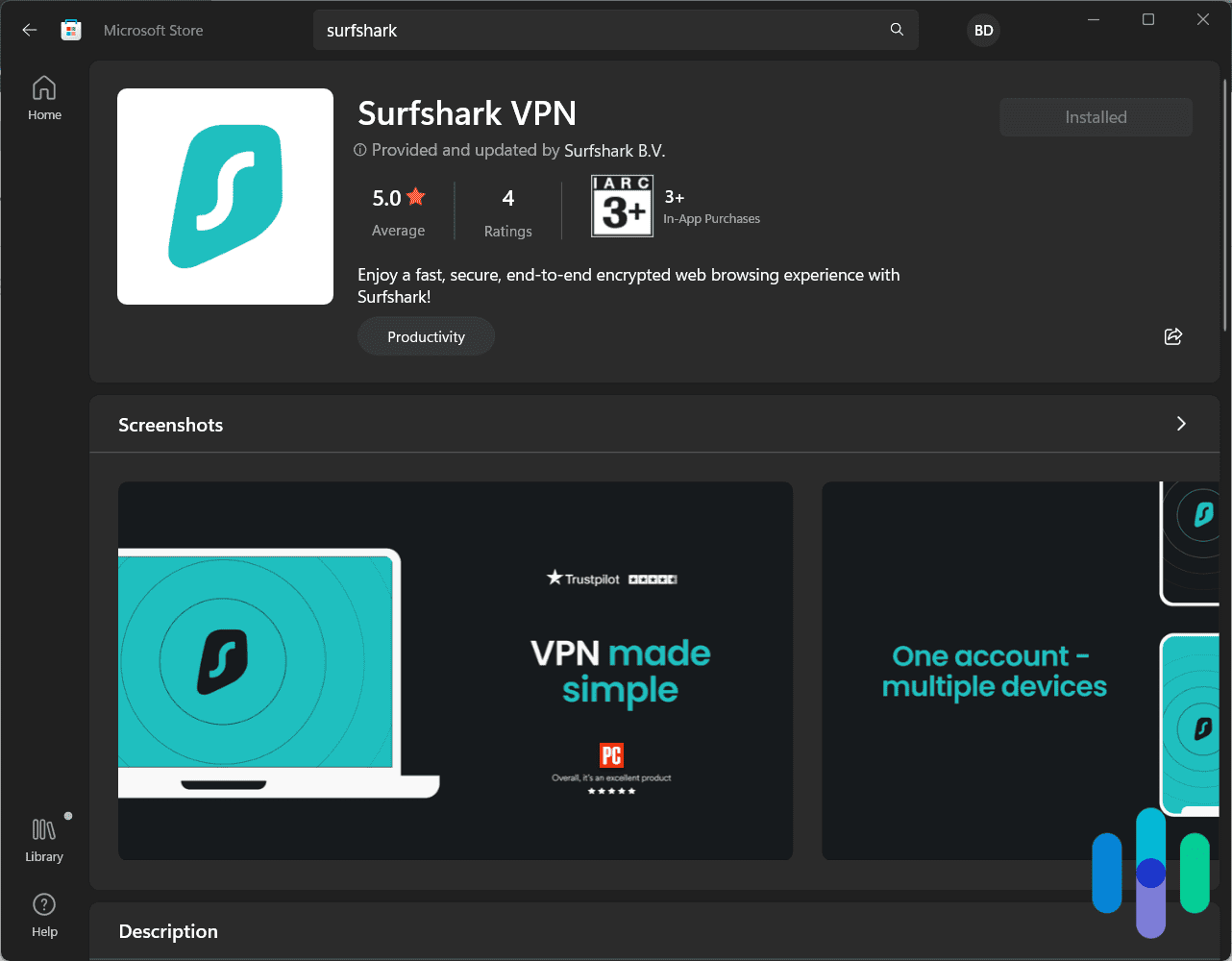 If you can't find your VPNs app on the Microsoft Store, another option is to download directly from the VPN's website. Now, make sure you're downloading from the official website – there are lots of software download sites, some of which package malware into the downloads, so stay away from those.
Next, just follow these simple steps.
Go to your PC's Downloads folder.
Click the VPN's application (.exe) file.
When prompted by your PC, allow the file to make changes to your device.
Wait for the installation wizard to finish.
Log in to the VPN app and start using.
Now you have a working VPN. Just look for the connect button – this is sometimes a button with the "IO" power symbol, a toggle switch, or a plain button with the word "connect." Whatever the case, connecting a VPN is as easy as finding the right button or switch.
Do VPNs Work on Older Windows Versions?
We tested the best VPNs for Windows on Windows 10 and 11 PCs, but most VPN apps also work on older versions of Windows.
NordVPN and Surfshark's apps work on Windows 7 and newer versions. The ExpressVPN app, too, plus Windows XP users can set up ExpressVPN manually on their devices using the Windows VPN setup. Lastly, IPVanish and Private Internet Access' latest apps are supported only on Windows 10 and 11, but both have a legacy app that works on versions as old as XP.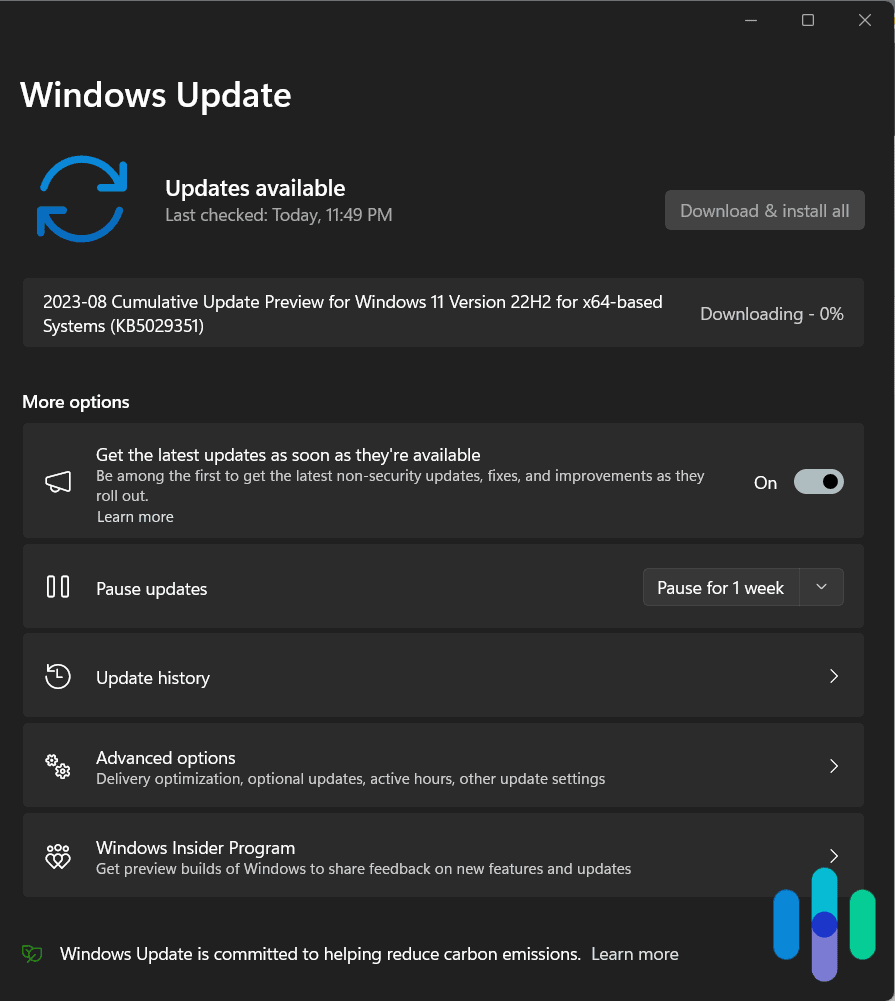 If you're using an older version of Windows, however, the best thing to do for your cybersecurity is to upgrade to a newer version. Microsoft has officially pulled the plug on Windows XP in 20146 and Windows 7 and 8.1 in January 20237, which means these versions no longer receive security upgrades. If your Windows machine is compatible, we recommend upgrading to Windows 10 and 11 to continue receiving patches, upgrades, and updates.
Common Windows VPN Problems and How to Fix Them
Even if you have an up-to-date version of Windows, though, you may still encounter problems while using a VPN. Unfortunately, these issues are common – more common in Windows VPN apps than macOS VPNs, iOS VPNs, or Android VPNs, in our experience.
Don't fret; they are likely going to be easy to fix. Here are some of the most common VPN issues you might encounter and how to fix them.
Issue: Failed installation
Ways to fix:
Restart your computer.
Disable your network's firewall or antivirus software.
Install the latest Windows update.
Check if an older version of the app is already installed. Uninstall it.
Check that you downloaded the right installer for your Windows version.
Issue: Not connecting
Ways to fix:
Restart your PC and refresh your Wi-Fi or Ethernet connection (unplug, then replug).
Turn off your network firewall.
Update your PC's network drivers.
Check that your internet connection is working. If yes, try a different network.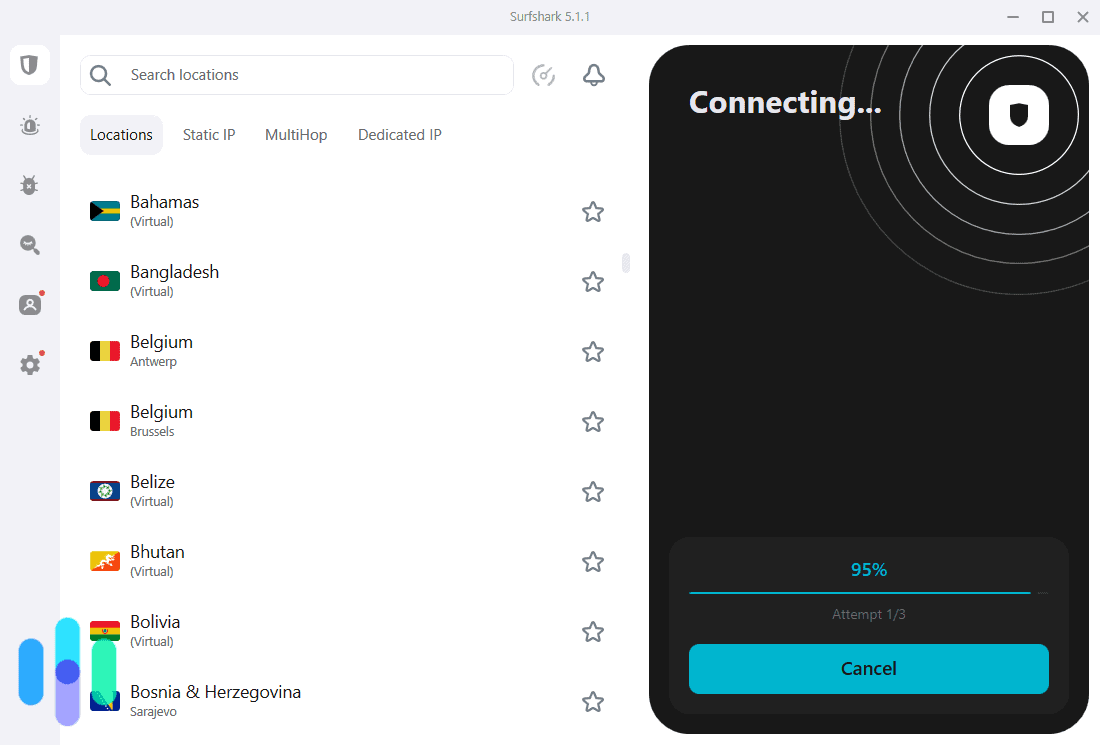 Issue: Slow connection; connected but not loading any pages
Ways to fix:
Disconnect and restart the VPN app.
Try a different server.
Disconnect the VPN and test your internet speed. If no page is loading still, your internet connection might be the problem. Restart your router or contact your internet provider.
Issue: Websites still detecting your real location, IP address
Ways to fix:
Disconnect the VPN and try again with a different server.
Clear your browser's cache.
If the issue happens often, try a different VPN.
Conclusion
Since the 1990s, Windows has been one of the most reliable and widely-used desktop operating systems. It is a versatile operating system that is only getting better with time.
As much as we love Windows, though, keeping the system secure takes a lot of effort. Microsoft has recently beefed up Windows with Windows Security and Microsoft Defender, but those are not enough. Thankfully, with a good Windows VPN, you can keep your PC safe from external attacks and your online traffic private from prying eyes.