What We Like
Won't log your IP address or web activity
Netflix and torrenting access
Dynamic IP addresses
What We Don't Like
Based in London, United Kingdom, meaning it falls under the jurisdiction of Five Eyes, Nine Eyes, and 14 Eyes
No kill switch on iOS app
Split tunneling on Android only
Bottom Line
When you have HMA connected, your IP address and web traffic won't be logged so you can remain truly anonymous online.
In an Internet full of literally hundreds of VPN companies, HMA stands out for its name alone. While the name certainly gave us a chuckle, we were initially a bit skeptical of this company, which is one of the lesser-known players in the game. Does their VPN actually hide web traffic, and can we trust the company itself? We tested out HMA and are here to share our findings with you.
Streaming Access with HMA
| | |
| --- | --- |
| Netflix | Yes |
| Hulu | Yes |
| Prime Video | Yes |
| HBOMax | Yes |
| BBC iPlayer | Yes |
Editor's Rating
Over 1,100 servers in more than 290 locations around the world
Netflix access
Works with Android, iOS, MacOS, Windows, and Linux devices plus routers, Apple TV and Android TV
How HMA Measures Up to the Competition
HMA's great in certain contexts — it's good for streaming, and its pricing is really affordable — but its lack of split tunneling and the fact that it's based in a Five-Eyes country are significant drawbacks for us. If you're shopping around for the right VPN solution for you, check out these three before you make your final choice: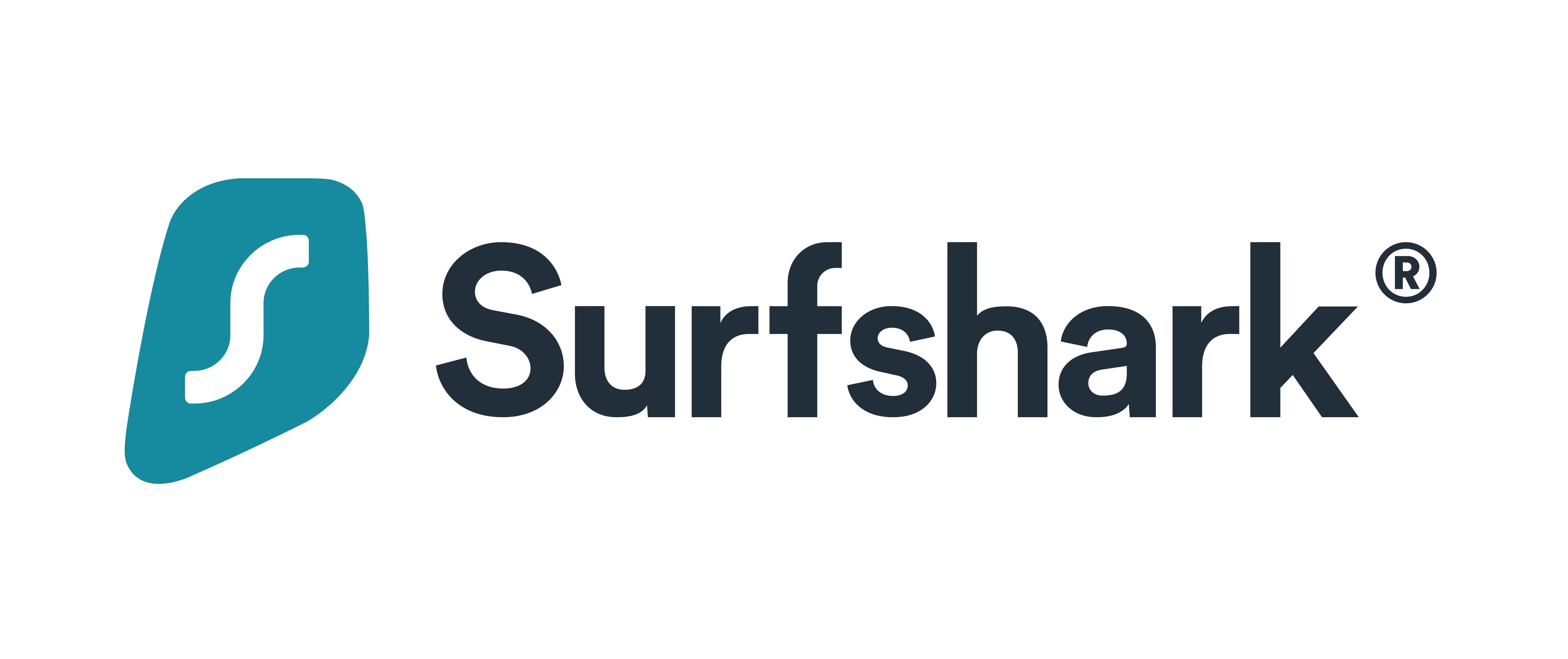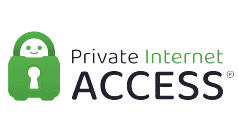 HMA Features
Let's start with the VPN itself in terms of features. As you might remember if you read our VPN guide, there are a number of factors that we look for in a VPN, from its privacy jurisdiction to its encryption methods. We tested HMA for all these factors and more below.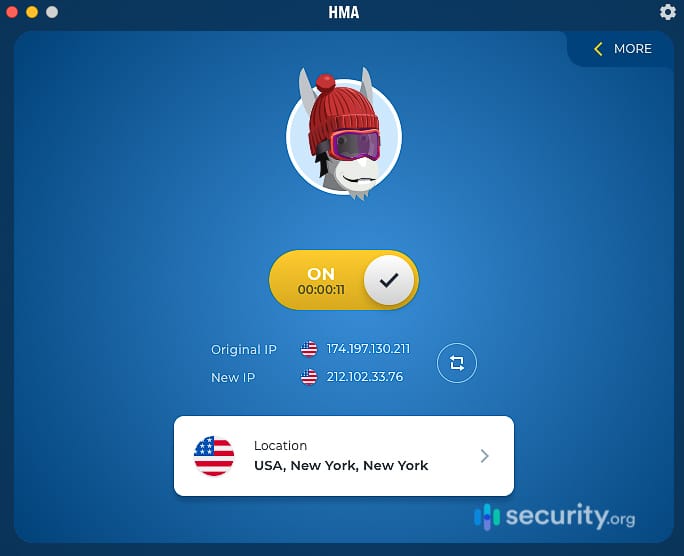 Servers
| Country | Numbers and locations of HMA servers |
| --- | --- |
| Australia | 2 in Sydney, 10 in Melbourne |
| France | 5 in Marseille, 48 in Paris |
| Germany | 14 in Berlin, 10 in Frankfurt |
| Netherlands | 7 in Amsterdam |
| Spain | 8 in Barcelona, 8 in Madrid |
| Japan | 3 in Tokyo |
| Korea | 10 in Seoul |
| Hong Kong | X |
| Mexico | 6, Mexico City |
| Singapore | 9 |
| United Arab Emirates | 2 in Dubai |
HMA has over 1,100 servers in more than 290 locations around the world, which includes over 190 countries. For us, that meant connecting to a local, New York server, but we had a lot to choose from if we wanted to watch Netflix in a foreign country while still remaining at home.
Privacy Jurisdiction
Not great news: HMA is based in the United Kingdom, specifically London, which means that, under certain circumstances, the U.K federal government could force them to hand over customer data. That's because the U.K is a member of the international surveillance alliances Five Eyes, Nine Eyes and 14 Eyes. We much prefer VPNs based in countries that are non-members to these alliances, so this is a pretty big drawback of HMA right upfront. However, if privacy isn't a main concern of yours, it may not matter.
Logging Policy
The next area we look for in terms of privacy is, what else, the VPN's privacy policy. Now, HMA has both a VPN app as well as a browser extension that works on Chrome and Firefox, and the data-logging policies are different for both. If you used the app like us, then HMA didn't keep your original IP address, DNS queries, web activity, the exact amount of data you transferred, and the exact timestamps of connections.
They did, however, keep the days we connected to their VPN, and the amount of data we used while connected, rounded; this information is deleted after 35 days. HMA also kept stuff like crash reports for two years as well as our account data like our usernames, emails, and payment information. This is all well and good, although we don't see they need to keep any information about the days we connected or the amount of data we used, even if it's not exact.
The browser extension, however, was another story, and not a fairy tale by any means. If you use the HMA VPN Proxy Unblocker, that browser extension that we mentioned before, they will keep your originating IP address, domain names, and the timestamps of your requests for 30 days. This is a huge issue; IP addresses and domain names are the main things that a VPN should never log. Although they're only kept for 30 days, this is 30 days too long, in our opinion. The verdict? If you do end up using HMA, use the app as opposed to the browser extension.
More VPN Reviews: HMA not sounding like what you need? Be sure to learn about other VPNs we have reviewed, including Norton, SurfShark, and Hotspot Shield.
Encryption
Some better news? HMA encrypts all user data using AES-256, which is the standard we've come to inspect from VPNs. So while we aren't thrilled with the amount of data HMA kept, at least they encrypted it properly.
IP Addresses
We opted to get new IP addresses every 10 minutes we were connected to HMA, making us nearly impossible to track online. However, for the less paranoid, you can change IP addresses once a day to keep hackers guessing. We prefer dynamic over static IP addresses, so this was one feather in HMA's cap.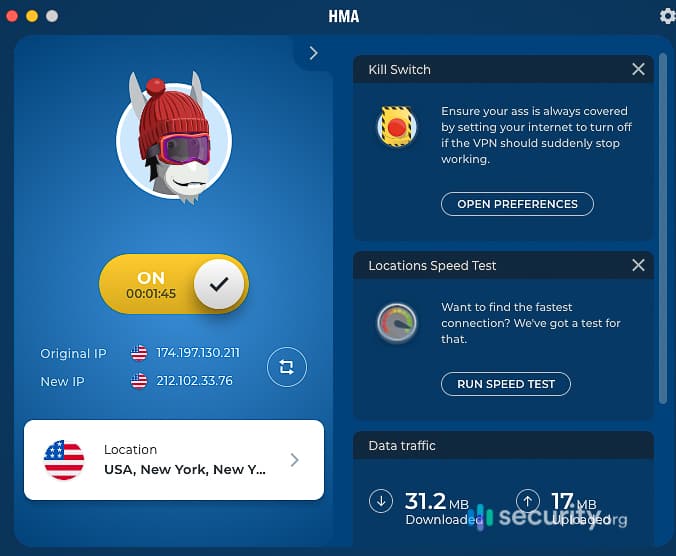 Kill Switch
Don't worry; kill switches are not nearly as violent as they sound. Basically, when it comes to VPNs, kill switches are the Plan B that swoops in if the VPN fails. They shut down all web traffic so your Internet Service Provider can't see your activity. Kill switches are standard across all of our best VPNs but much to our dismay, they are only available on HMA on Windows, Mac and Android devices. That was fine for us partially, but our iOS app didn't have a kill switch, and neither would the apps for Linux devices, routers, or Apple TV, so we'd only recommend HMA if you want to connect devices by Mac, Android or Windows.
Tip: For the most protection, have your kill switch turn on automatically every time you connect to HMA on a Windows, Android or Mac device.
Streaming
Not only could we watch Netflix while connected to HMA, but we also streamed from a bunch of other services, from watching football (or soccer, if you're Americans) on English Premier League to binging Fleabag on Amazon Prime Video. HMA also works with Cricket, the BBC iPlayer and Bundesliga, making it a top choice for streaming, especially if you're a sports fan.
Torrenting
On top of all our streaming services, we also torrent a ton of movies and TV shows with HMA (legally, of course).
Split Tunneling
One time, while connected to HMA in a crowded coffee shop, we remembered that we needed a file from a private server at work. However, the contents of the file were pretty sensitive, so we wanted the coverage of HMA. Split tunneling let us access both the private server and the public server of the coffee shop simultaneously. However, it only worked on Android devices, so it wasn't super fun to read this complicated document on our tiny Android phone. We wish HMA provided split tunneling across all compatible devices, but if you have an Android, that may be satisfactory.
Testing HMA
That wraps it up for HMA's features, but we wanted to get even more information about how well HMA works in terms of speed and security. Cue the tests.
Speed
First of all, let us just tell you to take these speed tests with a grain of salt. Sure, we measured the speeds with and without HMA connected to establish a baseline, and we made sure that we were on our private Wi-Fi network so that we wouldn't be affected by other people's traffic. However, a number of factors determine speed, everything from the distance to the server to the make of our device.1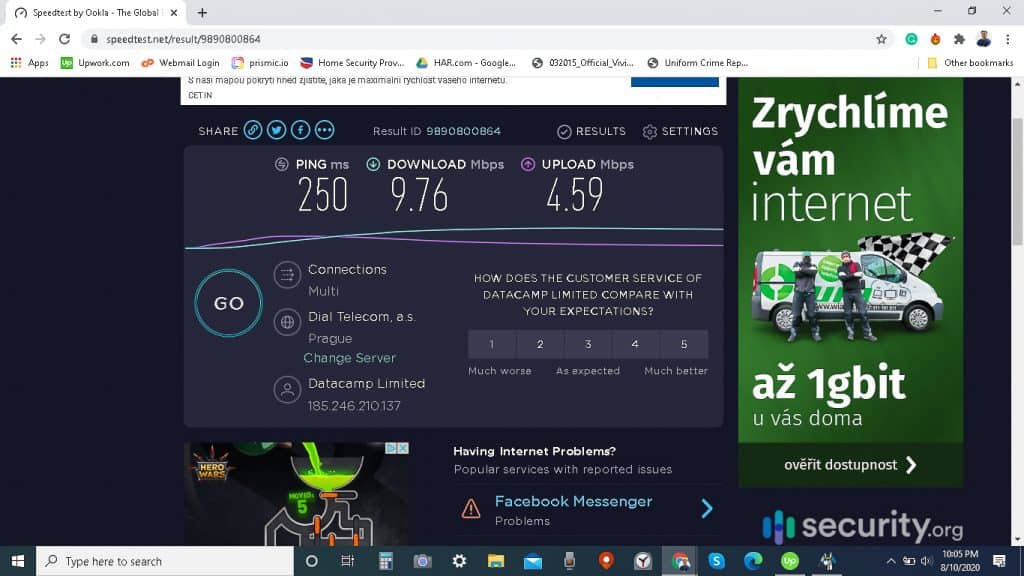 That being said, we tested out HMA from a Macbook Pro in Brooklyn, New York, and from a Windows 10 Acer Aspire 5 in the Philippines. In general, HMA was much faster on the Mac than on the Windows computer, which Apple fans will be glad to hear. Sadly, we saw some pretty significant slowdowns when we tried to connect on the Acer. Our latency, for example, increased by 4900 percent, which may be a new record.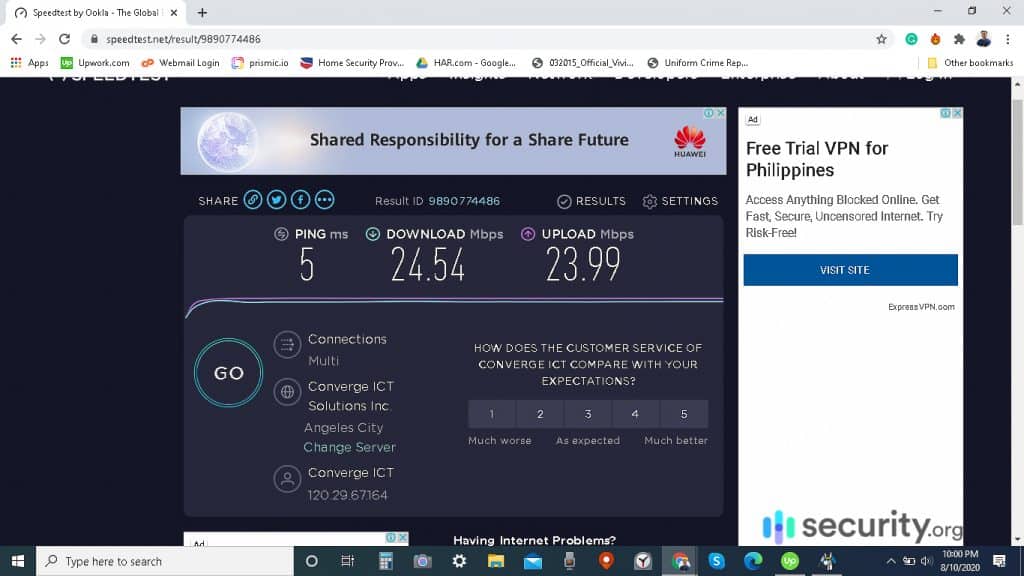 | | Macbook Pro High Sierra Version 10.13.6 | Acer Aspire 5 (Windows 10) |
| --- | --- | --- |
| Ping without VPN (in ms) | 31 | 5 |
| Ping with VPN (in ms) | 59 | 250 |
| Ping Difference (avg-32%) | 90% | 4900% |
| Macbook Download Speed without VPN (in mbps) | 26.71 | 24.54 |
| Download Speed with VPN (in mbps) | 14.61 | 9.76 |
| Download Difference | -45% | 60% |
| Upload Speed without VPN (in mbps) | 22.64 | 23.99 |
| Upload Speed with VPN (in mbps) | 5.39 | 4.59 |
| Upload Difference | -76% | 80% |
In sum, Windows users may want to steer clear of HMA, especially if you're gaming or streaming (if it's the former, check out our review of the best VPNs for gaming for some great options).
FYI: You can test your VPN's speed yourself on SpeedTest.net,2 a free website that'll show you download speed, upload speed and latency, otherwise known as ping.
Security
But no matter whether we used Macs or Windows, when HMA was connected, we had no DNS or WebRTC leaks whatsoever. DNS, for those who may not know, stands for Domain Name Server, and it means the thing that turns the address we type in to get to a website, like Etsy.com, with the site's actual IP address, in essence, our web activity.
We also checked for WebRTC leaks; WebRTC is the technology that allows browsers to communicate directly with each other. Its main advantage is that it uses less bandwidth and therefore creates faster speeds, especially on video chats, file transfers or streaming of any kind. However, the big drawback is that for WebRTC to work, the devices need to know each other's private IP address, something that we definitely don't want to get out. Chrome, Opera, Firefox and Microsoft Edge all default to WebRTC, which is why we were happy to find no WebRTC leaks either. Although we only did these tests on the app as opposed to the browser extension, it was clear that HMA really was hiding our web traffic and IP address, so again, opt for the app for the most privacy.
How Much Does HMA Cost?
HMA has a few plans available: a one-week trial, and paid subscriptions for one, two, or three years for five or 10 connections. You can learn more about that in our HMA pricing page, but as for us, we went with a one-year plan. Here are your options, as of now.
| Term length | 7 days | 1 year | 2 years | 3 years |
| --- | --- | --- | --- | --- |
| Monthly cost for 5 connections | $0.00 | $4.99 | n/a | $2.99 |
| Total amount billed for 5 connections | $0.00 | $59.88 | n/a | $107.64 |
| Monthly cost for 10 connections | $0.00 | $7.99 | $6.99 | $5.99 |
| Total amount billed for 10 connections | $0.00 | $95.88 | $167.76 | $215.64 |
HMA: The Bottom Line
While we hate to be negative, HMA was disappointing in a lot of ways. We weren't thrilled that they were based in the U.K and kept IP addresses and web traffic in their browser extension. Plus, the kill switch wasn't available on all devices, nor was split tunneling. While we appreciated the streaming and torrenting aspects of HMA, it's probably not the best VPN choice for most people.
We'd only recommend HMA as an app; steer very clear of the browser extension. It's also better for people who aren't super concerned with privacy and have either a Windows, Mac or Android device to take advantage of the kill switch. The best person for HMA is someone with an Android who wants split tunneling, a kill switch and Netflix access. If that's you, take advantage of HMA's low prices, among the lowest in the industry. If HMA doesn't sound like it's right for you, check out our ExpressVPN review or NordVPN review, two options that we liked much better overall.
Frequently Asked Questions
With a name like HMA, we get a ton of questions about this quirky VPN service.