Speedify VPN Review 2023: Can It Speed Up Your Internet?
With channel bonding, Speedify VPN promises to improve your internet connection while offering conventional VPN features.
What We Like
Highest level of encryption: Speedify, like the top VPNs we've reviewed, uses 256-bit AES encryption to scramble incoming and outgoing data packets.
Free version: The free version encrypts up to 2 GB of data per month (10 GB for some countries) and gives access to all of Speedify's network optimization features.
Channel bonding: With channel bonding, Speedify can use two internet connections to improve your VPN connection's speed and reliability.
What We Don't Like
Pricey: At $14.99 per month for the monthly plan, Speedify is pricier than even the best VPNs we've tested.
No kill switch on free plan: Despite it being a critical VPN feature, users of the free Speedify VPN don't get access to a kill switch feature.
Small server network: Available in only 35 countries, Speedify doesn't have a very large server network.
Bottom Line
Speedify is a decent VPN option with all the necessary security features, but its strongest selling point is its network optimization capabilities. It delivers a great VPN experience without compromising security and privacy.
Improved internet speeds don't usually come to mind first when thinking of VPNs. Typically, unless your ISP is throttling your IP address, using a VPN slows down your internet connection. However, there is one VPN that claims to enhance your internet speed and reliability if you connect to its virtual private network: Speedify VPN.
In this review, we're taking a close look at Speedify VPN to see if its claims hold up, and also whether or not it's a reliable and secure VPN option. We will also examine its features, pricing, and subscription plans, particularly, its free options and premium options and how they compare.
What Exactly Is Speedify VPN?
First and foremost, Speedify is a virtual private network that offers conventional VPN features and functionalities. It encrypts data packets to keep your browsing activity private, and it hides your traffic by creating a private tunnel just between you and the internet. By doing so, it also hides your real IP address from websites and apps you use as well as from your internet provider and others that might be tracking you.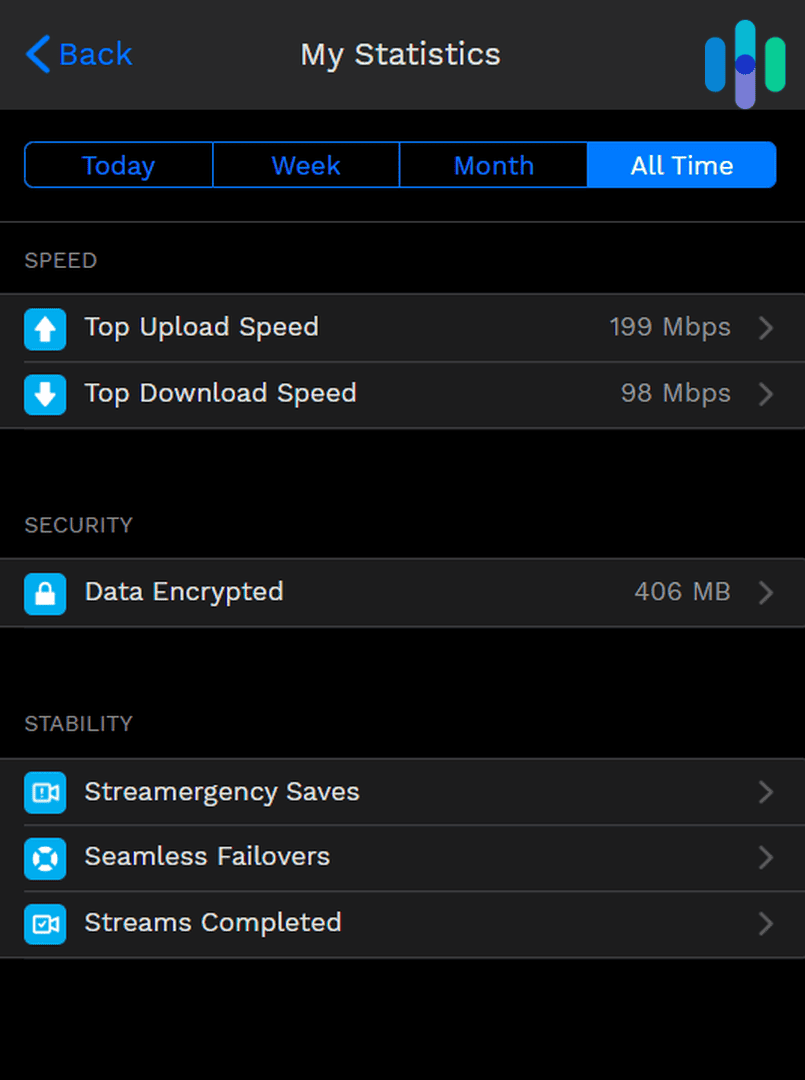 Secondarily, though, Speedify VPN is a piece of software that aims to improve your internet connection's speed and reliability. For one, it offers channel bonding, which lets you use two internet connections (e.g., Wi-Fi and cellular data) simultaneously to improve your bandwidth, potentially resulting in better speeds. It also uses channel bonding to improve stability. If one internet connection drops, like if you step outside your Wi-Fi range, for instance, it seamlessly switches over to an active connection without dropping whatever you're doing online at the time.
Speedify VPN has to be one of the most interesting VPN concepts we've seen, so we got a subscription to see if it performs as well as it claims. Does it?
More Security.org Recommendations
Check out more of our favorite VPNs.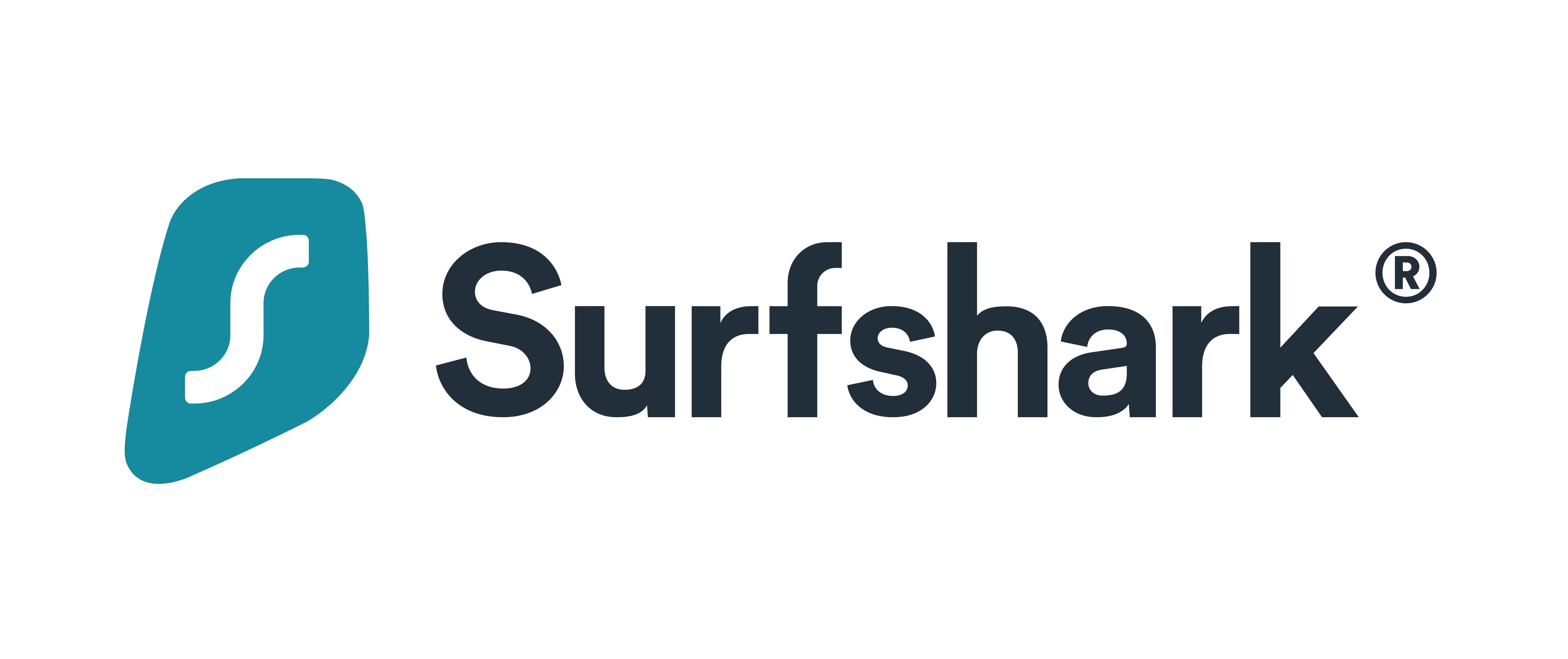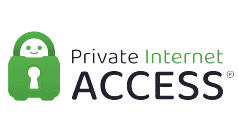 Testing Speedify VPN's Features
Being a VPN primarily, we tested Speedify's VPN features first, namely, whether it has a kill switch and split tunneling, what encryption standards it uses, and how it routes traffic through its encrypted tunnels, also known as its VPN protocol.
Does Speedify Have a Kill Switch?
A kill switch, in VPN terms, is a fail-safe feature that kills your internet connection if the VPN connection drops unexpectedly. This prevents your device from sending anything over the internet without protection from a VPN.
Speedify does have a kill switch, but it's turned off by default. Moreover, it is reserved for premium users only. So, if you plan on using the free version, you will not have access to this feature.
Pro Tip: The VPN kill switch is a critical feature that any VPN user should use. If you're looking for a free VPN with a kill switch, check out our list of the best free VPNs.
Does Speedify Offer Split Tunneling?
Usually, split tunneling lets you select apps or websites that can bypass the VPN tunnel. That means even if you're connected to a VPN, traffic from selected apps and sites will not go through encryption and private network tunneling. Split tunneling is useful for apps that block VPN traffic, such as banking apps and some streaming services.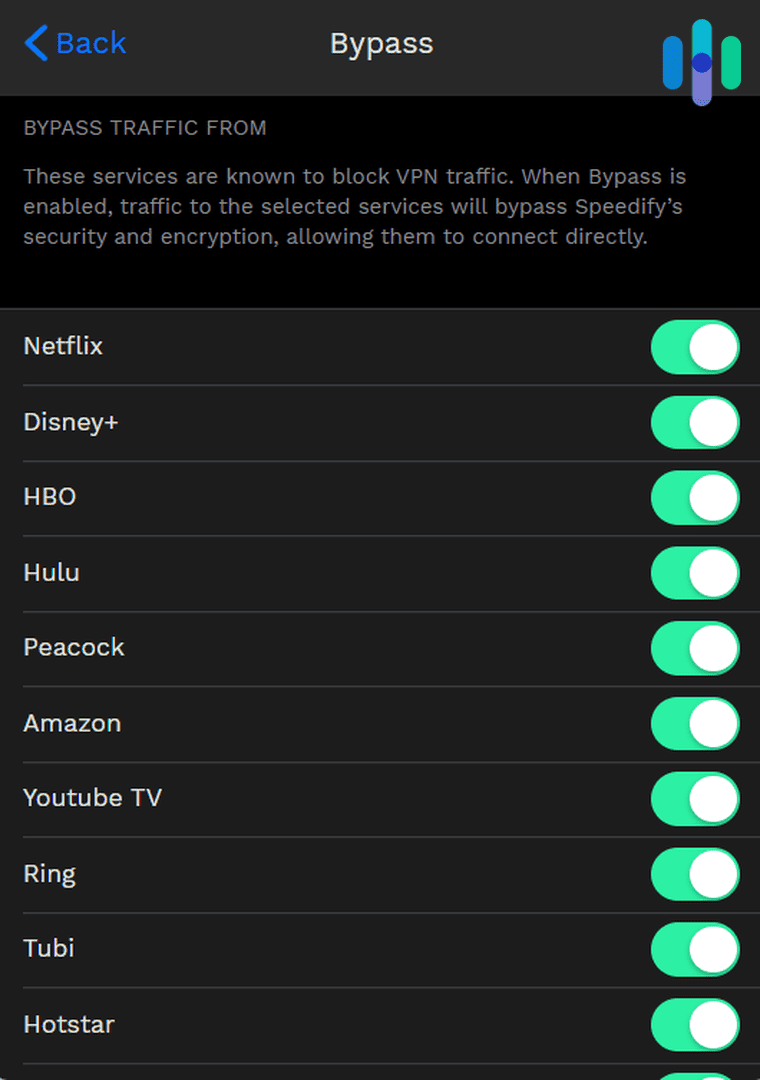 On desktop, Speedify has a list of apps that block VPN traffic. You can use the toggle next to them to set whether they bypass or use the VPN tunnel. On Android and iOS, in addition to the list of preselected apps, you can create a custom bypass list from the apps installed on your phone.
What Encryption Standards Does Speedify Use?
The privacy that VPNs provide come from their encryption. They encrypt your data packets, so that even if they fall into the wrong hands, what they contain will always remain hidden behind the encryption.
Speedify uses the highest encryption standard available to VPNs today: 256-bit AES. It is the same encryption standard our best VPNs use, and it's practically unbreakable.
What VPN Protocols Does Speedify Offer?
OpenVPN, WireGuard, and IKEv2 are some of the most common VPN protocols available from commercial VPNs, but Speedify doesn't use any of those. Instead, it uses a custom proprietary protocol.
The reason that it uses a custom-built protocol is that Speedify needs it for its network acceleration features, which we will discuss below. However, according to Speedify, its VPN protocol is also just as secure as WireGuard, one of the most trusted protocols.1
Speedify's Network Acceleration Features
As you've seen, Speedify offers customary VPN features, making it a secure and reliable VPN option overall. On top of those features, though, Speedify promises to improve your internet connection using network acceleration features.
Channel Bonding
Using its proprietary VPN protocol, Speedify allows one device to use up to two different internet connections. This can be Wi-Fi and cellular data for smartphones, broadband and Wi-Fi, or even Ethernet and Wi-Fi. By doing so, Speedify increases your device's bandwidth, which can result in faster speeds if you're doing bandwidth-heavy tasks like streaming or downloading.
To help you picture how it works, imagine the queue at your local coffee shop. If there's only one barista taking orders, the line will move much slower than if there are two. In the same manner, bonding two internet connections allows your device to process and transmit more data packets at the same time.
Speedify's channel bonding has two modes. Speed mode offers maximum speed output by distributing your online traffic among all available networks. Redundancy mode, on the other hand, sends your online traffic through all available networks; whichever responds the fastest will be utilized. The other network will remain on standby as backup.
Does Channel Bonding Work?
We tested the Speed mode to see if it really makes a difference, and while it didn't make our internet faster, we saw better speeds from Speedify when we used both Wi-Fi and cellular data than when we used just Wi-Fi.

We used the Speedtest by Ookla app on Android.2 With both Wi-Fi and 4G cellular data, we notched a download speed of 268 Mbps. With just Wi-Fi, the speed went down to 259 Mbps. That's not a big difference, and this change could have been affected by other network factors, but if you notice your internet speed goes down drastically whenever you connect to a VPN, Speedify is worth a shot.
Tip: Another VPN worth trying if you want better speeds is Hotspot Shield. In our VPN speed test, Hotspot Shield recorded the lowest download speed loss among the 12 we tested. Learn more from our Hotspot Shield review.
TCP Multiple Through the Speedify Protocol
If you don't have access to multiple internet connections, Speedify has another way to improve your VPN experience using the Speedify protocol. In the Settings page of the app under Transport Mode, you'll see a setting called TCP Multiple.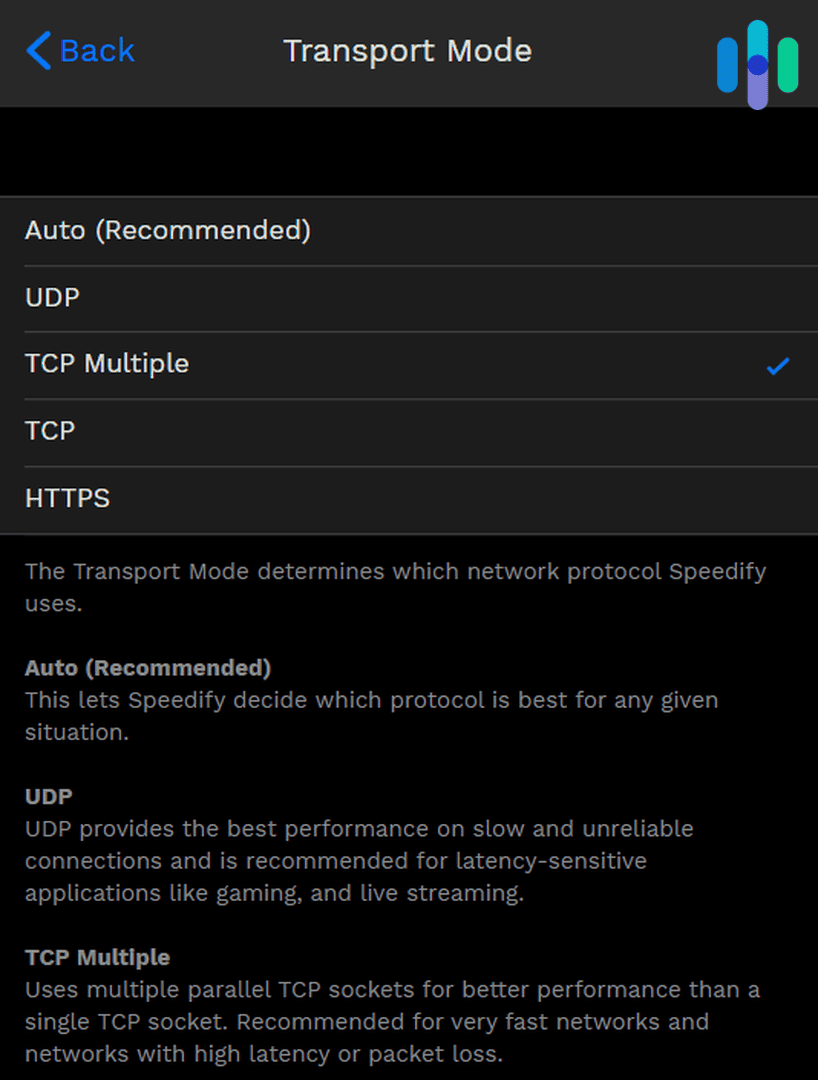 In TCP Multiple mode, Speedify opens multiple network sockets through which your traffic can pass. If you're experiencing high packet data loss, which can result in video buffering, the multiple open sockets will send and receive data redundantly to ensure reliable data transfer. If you're experiencing high latency, which can result in lagging when playing online games, they will send and receive data in parallel to deliver data packets faster to your device. Speedify decides the best course of action, depending on your network.
As our network is pretty reliable (with low latency and low packet loss), we weren't able to test TCP Multiple. But in theory, TCP Multiple can potentially deliver a good VPN experience for gaming and streaming. For recommendations of VPNs that we were able to test, though, head over to our pages on the best VPNs for gamers and the best VPNs for streaming.
How Much Does Speedify Cost?
It's clear that Speedify isn't your average VPN. It offers the traditional security features of a VPN, plus a lot of speed-focused features designed for heavy-users like gamers and streaming fans. Unfortunately, those extra features make Speedify above average in terms of cost, as well.
A single subscription, which can cover up to five devices and offers unlimited data, costs $14.99 per month. That's $2 more per month compared to a NordVPN subscription, the VPN we recommend most for privacy- and security-focused VPN users. You can offset the monthly cost of Speedify by paying yearly, in which case you'd pay only $89.99 or about $7.49 per month.
Also, keep in mind the device limit. A single subscription covers only five devices, so, if you have more than five, you're better off paying for a Surfshark subscription. This protects unlimited devices for $12.95 per month.
If your heart is set on Speedify, however, you can use it on more than five devices by getting a family plan. A family plan covers up to five users, each with a five-device limit. That's a total maximum of 25 devices. A family plan costs $22.50 per month, or if you pay yearly, $135 ($11.25 monthly).
| Speedify subscriptions | Individual | Family |
| --- | --- | --- |
| Monthly plan | $14.99 | $22.50 |
| Yearly plan | $89.99 ($7.49 monthly average) | $135 ($11.25 monthly average) |
Another good thing about Speedify is that you can use it for free, but with limited features and limited data. The free version offers up to 2 GB of data per month (10 GB in some countries), and it lacks features like the kill switch and custom DNS. It's good for some light browsing, but considering that Speedify's spotlight features are speed-focused, you're better off with a paid plan to fully enjoy them.
Final Thoughts: Do We Recommend Speedify VPN?
Based on our testing, Speedify VPN is, at best, an average VPN made exponentially better by its network accelerating features. After all, it comes from a company that specializes in software for network and speed improvement.
As a VPN, it doesn't offer much to improve your privacy, although it does provide the most basic and necessary features you need from a VPN. It also delivers on its promise of a better VPN experience in terms of speed and reliability. While it won't make your internet connection faster and more dependable, it performs better than average VPNs.
The biggest drawback, in our opinion, is the cost. Speedify is on the pricey side of VPNs. In our experience, it's possible to get reliable performance and speed from less expensive options. So, are you willing to pay the higher cost for premium network optimization features? If you answer yes, then Speedify may be for you. If not, check out the fastest (but less expensive) VPNs of 2023.
Speedify FAQs
Let's answer some frequently asked questions about Speedify to cap off this review.