ADT Security System Alternatives
If ADT isn't the home security system for you, we recommend these great alternatives.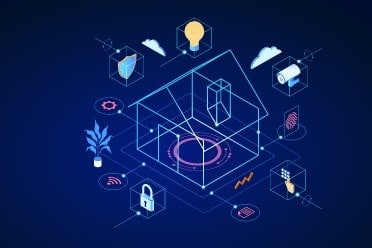 If you're looking for reliable home security, an ADT system will get you there. But not everyone is a fan of ADT. Compared to other home security systems, ADT's prices are steep and its contracts restrictive.
Luckily, there are some solid alternatives out there if ADT isn't the system for you. Check out our picks: SimpliSafe, Cove, and Vivint. All let you arm and disarm your system remotely, with great customer service and few false alarms. Let's get started.
ADT Alternatives
1. Vivint

After a $3 billion funding injection in 2011, Vivint skyrocketed from a tech startup in Provo, Utah, to a full-blown security powerhouse.2 Today, it offers one of the most sophisticated home security systems available.

In our full review of Vivint, we found a system that's light-years ahead of its rivals. Vivint's home automation options are ideal for folks who want to automate their home with Alexa, Google Assistant, or other voice assistants.

Plus, every Vivint system comes with professional installation, so you don't have to dig out your drill or climb up that ladder. We were pleased with Vivint's sleek, modern equipment, including cameras, motion sensors, and a touchscreen keypad. The company also offers smart home devices like smart thermostats, smart locks, smart plugs, smoke detectors, and flood sensors. Thanks to Vivint's intuitive mobile app, all of the system's features are accessible and easy to use.

TIP: If you have many windows in your home, consider picking up a few of Vivint's glass-break sensors.

The only real drawback we found was Vivint's equipment and monitoring fees. Overall, costs for Vivint are steeper than the competition, and you could end up spending $40 to $60 per month on monitoring. There's a financing option, but you have to commit to 60 months, or a five-year contract. In other words, Vivint can be relatively affordable for those not afraid of long-term commitments.

2. SimpliSafe

The story of SimpliSafe, a wireless DIY alarm system, began in 2006 after a team of Harvard Business School students noticed an uptick in burglaries.1 They wanted to create a security system for first-time buyers and apartment dwellers.

Today, the company offers stick-on security equipment, no-fuss setup, and flexible month-to-month monitoring plans. SimpliSafe's security camera, the SimpliCam, plugs in for easy indoor monitoring. The camera recorded clear, smooth video footage in our tests.

However, the SimpliCam wasn't all positive, as we noted in our SimpliCam review. It doesn't contain a battery backup, for instance, and it has no local storage for recordings. It also doesn't have as many features as other similarly-priced cameras offer.

Despite the drawbacks of the SimpliCam, SimpliSafe is excellent for essential intruder protection, especially if you add on the SimpliSafe Video Doorbell Pro. Besides, SimpliSafe's home security packages are very affordable. You can choose from several SimpliSafe kits, which start at $184, or you can customize your system for as little as $160. Plus, professional monitoring from SimpliSafe only costs $17.99 to $27.99 a month, a lot cheaper than ADT.

Learn all about this vendor in our in-depth SimpliSafe system review. But first, check out SimpliSafe's latest package costs below.

SimpliSafe Packages

| SimpliSafe package | Components | Price |
| --- | --- | --- |
| The Foundation | Base station, keypad, entry sensor, motion sensor | $183.72 |
| The Essentials | Base station, keypad, 3 entry sensors, motion sensor | $206.21 |
| The Hearth | Base station, keypad, key fob, 3 entry sensors, motion sensor, auxiliary siren, smoke detector | $292.43 |
| The Knox | Base station, keypad, key fob, 6 entry sensors, 2 motion sensors, auxiliary siren, smoke detector | $348.65 |
| The Haven | Base station, keypad, key fob, 4 entry sensors, 2 motion sensors, auxiliary siren, panic button, freeze sensor, smoke detector, water sensor | $378.64 |

3. Cove

Cove is a no-contract security system that offers quick and easy setup. The company is a relative newcomer, with equipment and monitoring costs on the low end of the spectrum. Rather than offering kits or packages, Cove takes an á la carte approach to home security.

In our testing of Cove, we picked out equipment based on our needs and the size of our home. This way, we didn't pay for anything we didn't want.

Cove's equipment selection includes door sensors, motion detectors, key fobs, yard signs, and window stickers. If you want a security system that handles the essentials and not much more, Cove might be suitable for you.

When it comes to monitoring, Cove provides two plan options: Basic and Plus. Both plans include 24/7 professional monitoring, environmental monitoring, and cellular backup. In our tests, we appreciated having cellular backup, as we didn't want the system to go offline if the power went out.

FYI: Visit our Cove pricing guide for a deeper look at Cove's equipment and monitoring costs.
Final Thoughts
Every security system has its pros and cons. To recap …
If you're looking for something different from ADT, it's good to know there are viable options out there.
If these ADT alternatives aren't quite what you're looking for, take a look at our best security systems list. We're confident you'll find the right fit.