What We Like
Easy DIY installation
Privacy shutter that physically covers the lens
Cloud storage with SimpliSafe's Interactive Plan or as its own subscription
What We Don't Like
Lacks smart detection features (person detection, facial recognition, etc.)
720p HD resolution on the older SimpliCam model
No direct smart platform integrations
As an indoor camera from SimpliSafe, the SimpliCam is one of our SimpliSafe system's vital components. However, it's also a standalone camera, which means it can work alone. Having tested it both ways, we're here to discuss its capabilities, its features, and whether or not it can stand on its own legs as a security camera. Can it protect your home without help from other SimpliSafe products? The answer lies below, so let's get right to this review!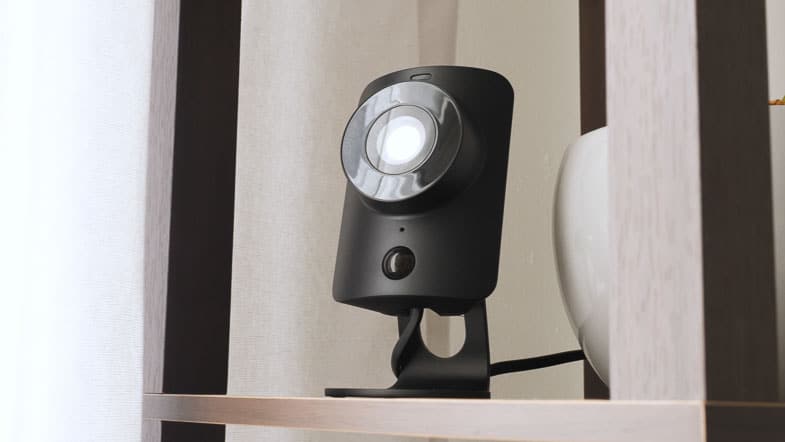 SimpliCam features
| | |
| --- | --- |
| Privacy shutter | Yes |
| Infrared night vision | Yes |
| Two-way audio | Yes |
| Video resolution | 1080p HD |
| Field of view | 120 degrees |
Editor's Rating
Mobile app controls
60-day guarantee
Simple DIY installation
Is It A Good Standalone Camera?
We'll elaborate below, but to give you the bottom line, the SimpliCam isn't the best standalone camera. Unless you have a SimpliSafe system setup in your home, you won't reap the full benefits of the SimpliCam. That is why, if you're looking for standalone indoor cameras, we recommend checking out Lorex, Ring, and Arlo.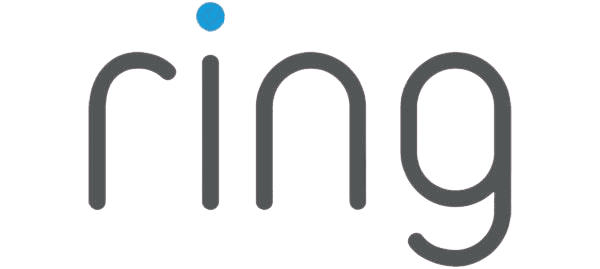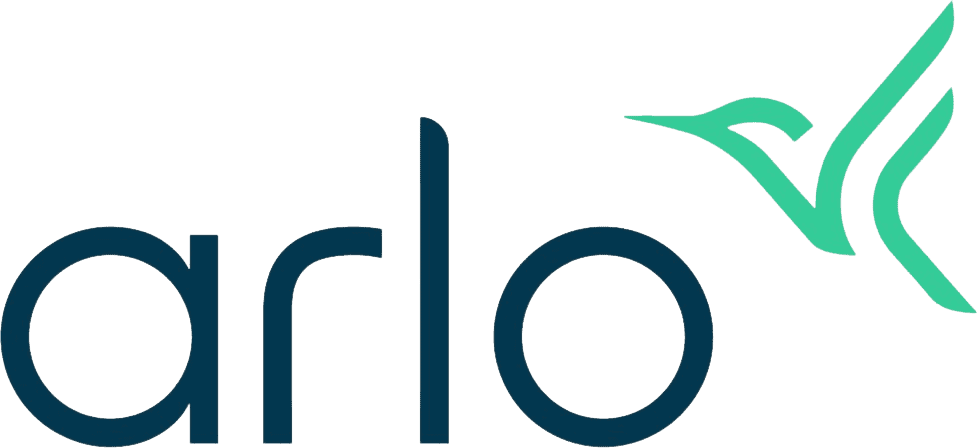 Setting Up The SimpliCam
To kick things off, let's talk about the installation. As usual, SimpliSafe delivered with an easy-to-install device. The installation took us under five minutes. Here's how we did it:
We plugged the camera into a wall outlet.
We downloaded the SimpliSafe Home Security App and logged in.
On the app's menu, we selected the option that would let us set up a new SimpliCam.
We entered our Wi-Fi password and waited for the camera to connect and start streaming to our SimpliSafe app.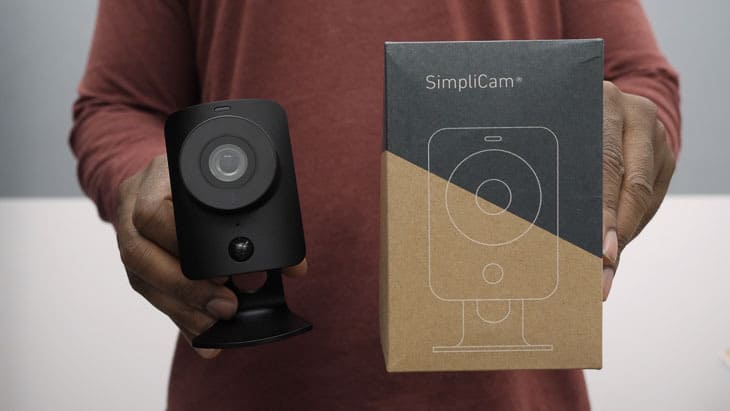 Since it's an indoor camera, we put the SimpliCam in our living room. We placed it on our bookshelf, but we also wall-mounted it using double-sided tape when we wanted it positioned a little higher. SimpliSafe also offered us an outdoor kit priced at $20 that would have allowed us to place the camera outdoors. It included a 25 feet long power cable and a protective case to protect the camera from dust, water, and snow, but seeing that the case didn't cover the lens and power port, we were hesitant to use it. At best, it could work for those who want to place their SimpliCam outside but protected by a roof overhead. Otherwise, visit our best outdoor wireless cameras page for more ideas, or if you want a SimpliSafe camera outdoors, the $169 SimpliSafe Outdoor Camera is a better solution.
FYI: SimpliSafe offers professional installation for $79 if you purchase a SimpliCam with a SimpliSafe system. An authorized third party will perform the installation.
The Key Features of the SimpliCam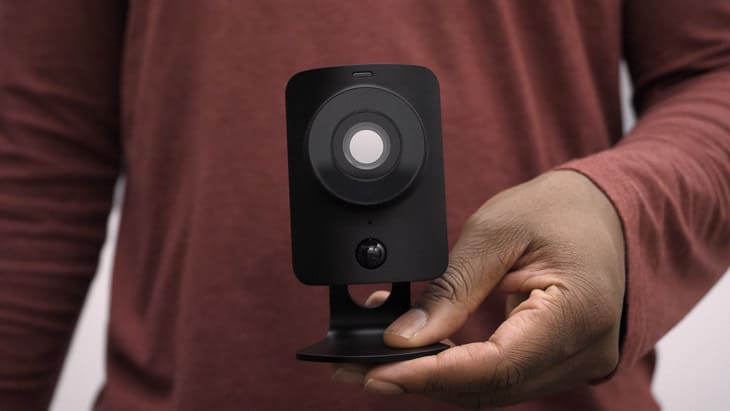 As a standalone camera, the SimpliCam's features were quite basic, but when paired with our SimpliSafe system, it gained new features. Check out our SimpliSafe system review to learn more about the integration, but for now, let's focus on the camera.
720p HD Resolution
Our standard, in terms of video resolution, is 1080p HD. Much to our dismay, the first-generation SimpliCam we tested fell short of that, with only a 720p HD resolution. Although the dip in the video quality wasn't super noticeable when we viewed the videos from our phone screens, it became apparent when we played them on a computer screen. The videos blurred when we zoomed in, making finer details harder to make out. For instance, we could barely read the title of the book on our coffee table, which was a mere 10 feet away from the camera. The ability to capture small details like that is paramount in gathering video evidence in case of a break-in, so we weren't very thrilled about the first-gen SimpliCam's video quality.
However, SimpliSafe has since released a second-generation SimpliCam with an improved 1080p HD resolution. We got our hands on it for a few hours, and yes, the video quality has improved.
120 Degree Field of View
On the brighter side, the camera's 120-degree field of view was more than sufficient for our living room. Perched on top of our bookshelf, it offered a great view of our front door and living room windows, leaving potential burglars no place to hide.
The wide-angle view also made the SimpliCam more practical than cameras with a narrow viewing angle. Instead of getting two cameras for our living room, we managed with just one, putting money back into our pockets where it belongs.
Night Vision
We were also happy about the camera's infrared night vision. It used infrared LED lights to discreetly illuminate our living room at night as opposed to color night vision from a bright spotlight. The resulting image was black-and-white, but clear and crisp.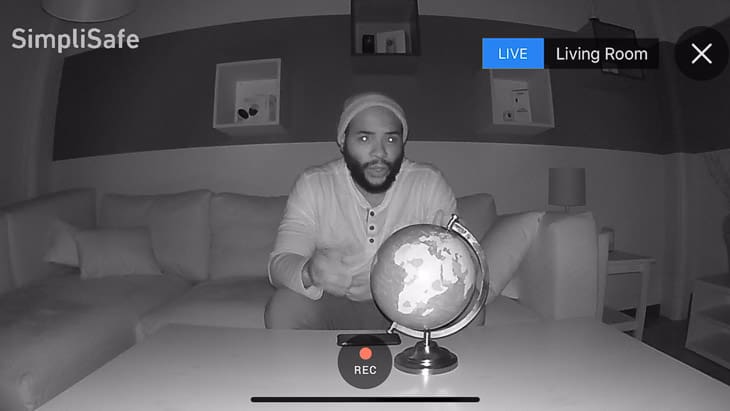 If we were to nitpick though, we thought the sensor that controlled the infrared lights was a little too sensitive. It occasionally switched to night vision even when there was still enough ambient light for normal viewing. It wasn't a big pain for us, just something we'd like to note.
Two-Way Audio
Two-way audio is one of the necessary features of security cameras, and we're glad the SimpliCam has it. With it, we were able to hear the camera's surroundings and speak through the camera using the SimpliSafe app; it was kind of like a walkie-talkie. We held the mic button on the app's interface to talk and then let go of it to listen.
Two-way audio was a handy communication tool with friends and family, whether to let them know what time we're getting off work or that there's leftover food in the fridge (that they should leave for us, of course). More importantly, it would work great for scaring away intruders. Just imagine their reaction if they hear a voice telling them to get out mid-burglary!
PIR Motion Detection
The SimpliCam protected our apartment by alerting us of unexpected movements. It used a PIR motion sensor, which only noticed movements of anything with a human heat signature or one that's similar to humans, like pets. As a result, our SimpliCam didn't generate false alerts no matter how much the shadow shifted and no matter how strong the wind blew on our curtains.
Unfortunately, like humans, pets produce body heat, so there's a chance that the sensor will notice them. That's especially true with larger pets; our 50-pound poodle repeatedly set off the sensor. If you want to err on the safe side, we recommend getting a camera with smart features like person detection or facial recognition instead, like the Nest Cam IQ Indoor; read our Nest Cam IQ Indoor review to learn more, or check out our review of the best pet cameras.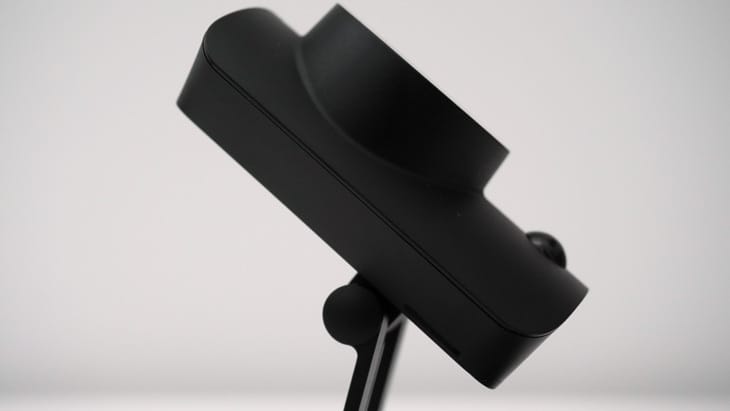 Privacy Shutter
What the SimpliCam lacked in smart detection features, it made up for in protecting our privacy. On the software side, it used end-to-end 256-bit encryption and SSL security certification, making the camera hard to hack. However, even encrypted cameras can be hacked,1 which is where the privacy shutter came in.
The privacy shutter was a remotely controlled lid that physically covered the camera's lens. It blocked the camera's view when closed, so even if someone were to hack our camera, they wouldn't be able to spy on us. We usually closed the shutter when we wanted some privacy, which was whenever we were home. Visit our SimpliSafe privacy guide for more insight into the system's privacy features.
Integration with the SimpliSafe System
That's all for the camera's basic features, but we found that Integrating the SimpliCam with our SimpliSafe system unlocked additional functionalities.
First, the integration created new triggers for our SimpliCam to start recording. It recorded whenever we armed or disarmed SimpliSafe and whenever the system went off, which made it easier for us to see what happened. Plus, in case of a break-in, we could use the recordings as evidence.
Second, the mobile app streamlined the process of verifying alarm events. Opening alarm notifications led us straight to the camera's live feed so we could check what's going on. Was there an intruder or did our roommate forget to disarm the system again? Thanks to this feature, we immediately knew it was the latter.
The third feature was exclusive to Interactive Plan users, which happened to be our SimpliSafe subscription. If there was a break-in, SimpliSafe's monitoring center would temporarily gain access to recordings, allowing them to verify the alarm and assist the responding officers by giving a visual description of the intruder. Also known as video verification, this feature is also a prerequisite for police response in some cities.2
Pro Tip: While video verification helps speed up police response, some don't feel comfortable sharing their recordings. If you feel that way, you can disable video verification using the SimpliSafe app.
Video Storage: SimpliCam Cloud Subscriptions
The SimpliCam didn't have any local storage, so our only option was to back up our recordings in the cloud. We found two ways to get cloud storage for our SimpliCam. The first option was to sign up for the cloud subscription itself to get 30 days of cloud storage. It cost us $4.99 a month for one camera or $9.99 a month for two to 10 cameras. The second option, the Interactive Plan, made more sense for us because we also had a SimpliSafe system. For $27.99 per month, it gave us cloud storage for up to 10 SimpliCams in addition to the professional monitoring of our SimpliSafe system.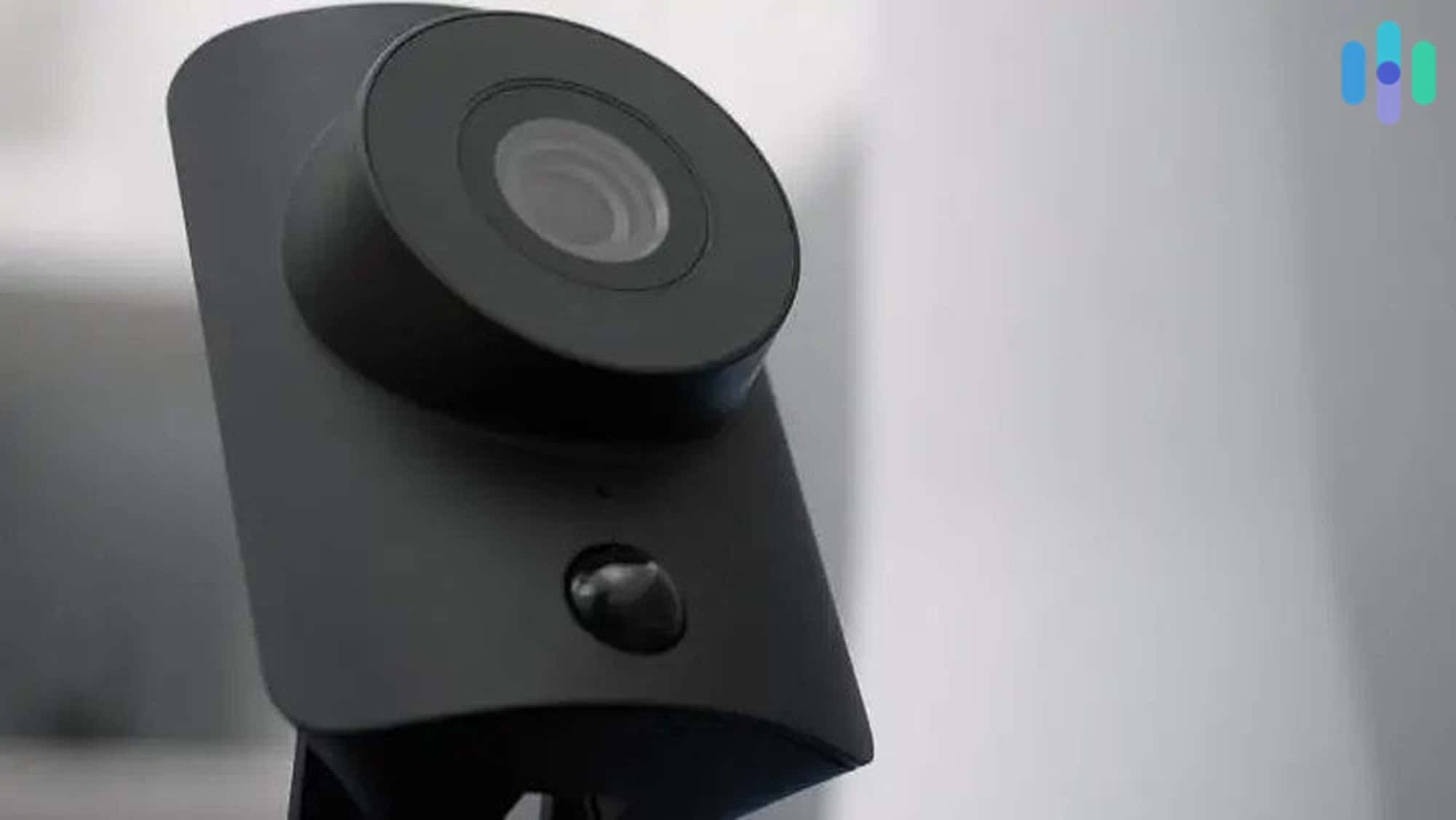 Frankly, those cloud storage options were a little confusing. The cloud subscription only gave our SimpliCam storage space, but didn't affect our security system, so it's only ideal if you use the SimpliCam as a standalone camera. On the other hand, the Interactive Plan was designed for the SimpliSafe system; the included cloud storage was just a bonus. With the Interactive Plan, we got professional monitoring with video verification, remote access, smartphone notifications, and cellular backup. Those features were missing from the standalone cloud subscription, so we recommend the Interactive Plan if you also own a SimpliSafe system. There is one other monitoring plan, the Standard Plan, but we don't recommend it as it doesn't include cloud storage, remote access, and smartphone notifications, just professional monitoring and cellular backup.
| | Cloud Subscription Only | Interactive Plan |
| --- | --- | --- |
| Monthly cost | 4.99 or $9.99 | $27.99 |
| Number of cameras covered | 1 or 2-5 | Up to 10 |
| Cloud storage (in days) | 30 | 30 |
| Length of motion-based recordings | 60 seconds | 60 seconds |
| Download and share clips | Yes | Yes |
| Includes SimpliSafe professional monitoring | No | Yes |
| Requires a SimpliSafe system? | No | Yes |
| Arm/disarm recordings | No | Yes |
| Alarm triggered recordings | No | Yes |
| Length of alarm triggered recordings | N/A | 5 minutes with pre-roll |
| Quick access to live feed during alarm events | No | Yes |
| Video verification | No | Yes |
Buying Tip: SimpliSafe occasionally throws in a free SimpliCam if you purchase any of their security system packages, so check for SimpliSafe sales before you buy!
Our SimpliSafe Home Security App Experience
We also tested the SimpliSafe Home Security app for iOS and Android devices with our SimpliCam. The app was our main access point to the camera, streaming our camera's live feed, sending us notifications, and gathering our cloud recordings in one place. From there, we could download and share important clips. Best of all, the app gave us remote access to our SimpliSafe security system as well.
We noticed mostly good things about the app. It had a clean interface that made it easy for us to access both our SimpliCam and SimpliSafe system, the buttons were responsive, and all the notifications went through in real-time. Overall, we were pleased with the app.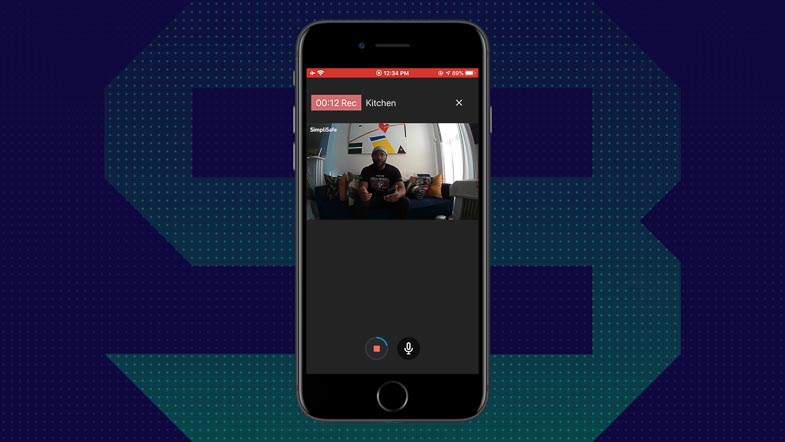 What We Liked (And Didn't Like) About the SimpliCam
That was quite a handful on our part, so to sum things up, these are the most notable pros and cons of the SimpliCam.
Pros
Easy DIY installation
Privacy shutter that physically covers the lens
Cloud storage with SimpliSafe's Interactive Plan or as its own subscription
Video verification
Cons
Lacks smart detection features (person detection, facial recognition, etc.)
720p HD resolution on old SimpliCam model
No direct smart platform integrations
Do We Recommend The SimpliCam?
At $99, the SimpliCam is a decent mid-range camera. It doesn't break the bank, but with the release of much cheaper indoor cameras like the Wyze Cam, covered in our Wyze Cam review, we're finding it hard to justify its value as a standalone camera. Its lack of person detection, robust smart platform integrations, and free video storage options were deal breakers for us.
However, if you're looking to integrate cameras to your SimpliSafe system, there's no better option than the SimpliCam. With all the features unlocked by the integration, like alarm-based recordings, video verification, and the cloud storage included in the Interactive Plan, the SimpliCam will give a lot of bang for your buck.
Product Specs
| | |
| --- | --- |
| Resolution | Up to 1080p |
| Field of View | Up to 120° |
| Power | Wired |
| Connectivity | Wi-Fi |
| Video Storage | Cloud |
| Smart Platform Compatibility | Alexa and Google Home |