IDShield Identity Theft Protection
We tested IDShield and vetted its plans, packages, and pricing so that you don't have to
Access to licensed Private Investigators
Credit freeze and fraud alert features
Up to $1 million in ID theft restoration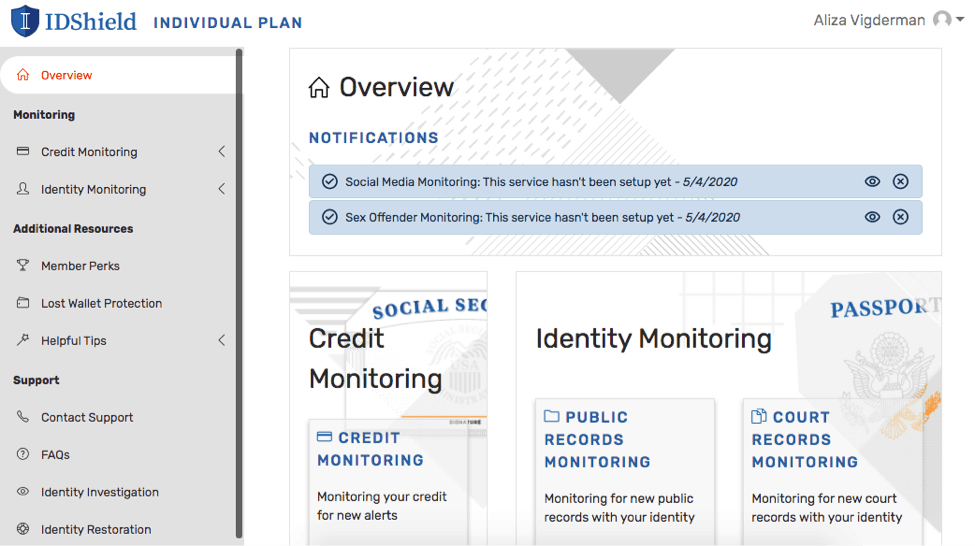 All of our content is written by humans, not robots.
Learn More
By

&

Last Updated
Nov 21, 2023
Identity monitoring services can be a bit hard to tell apart since they all have similar features, so pricing is always a huge factor in our purchasing decision. IDShield, a product of the legal company LegalShield, definitely impressed us when it came to its actual services, but was it worth its price? On this page, we'll discuss IDShield's pricing, how it compares to competitors on the market, and whether or not it's worth it.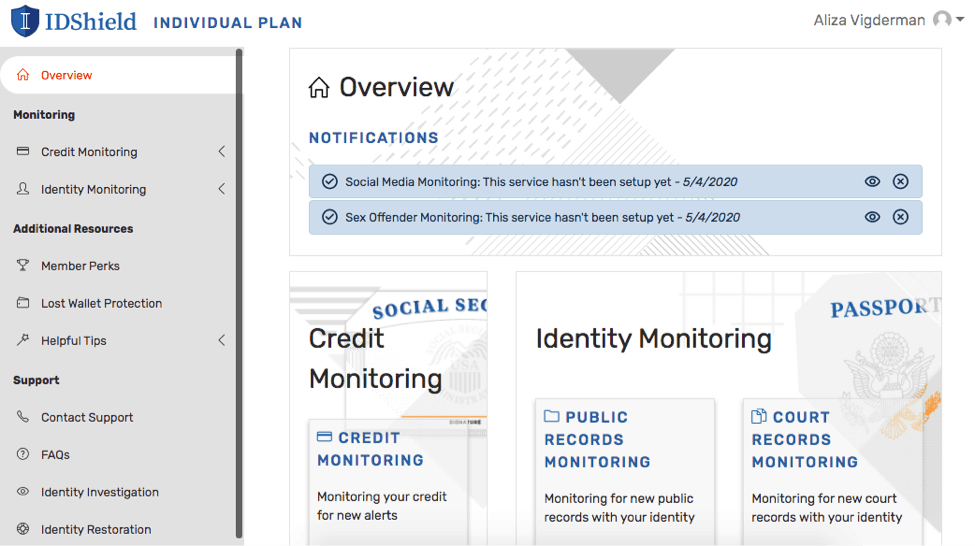 Costs
| Number of credit bureaus monitored | Monthly Cost |
| --- | --- |
| 1 | $14.95 |
| 3 | $19.95 |
IDShield Subscription Options
IDShield made it as simple as possible for us when it came to pricing, with plans for individuals and families consisting of up to two adults and 10 children. With both individual and family plans, we had two tiers to choose from. One tier covered credit monitoring from TransUnion only, and the other tier covered credit monitoring from all three bureaus, tacking on Equifax and Experian.
| Subscription information | IDShield Individual | IDShield Three-Bureau Individual | IDShield Family | IDShield Three-Bureau Family |
| --- | --- | --- | --- | --- |
| Maximum number of users | 1 | 1 | 2 adults, 10 children | 2 adults, 10 children |
| Credit bureaus monitored | TransUnion | Equifax, Experian, TransUnion | TransUnion | Equifax, Experian, TransUnion |
| Monthly cost | $14.95 | $19.95 | $29.95 | $34.95 |
For plans that monitored TransUnion alone, the price was only $14.95 a month for individuals and $29.95 a month for families. These prices are super reasonable, especially for families; compare that to if you had to buy individual subscriptions for 12 people, the family plan could save $149.45 a month.
Tip: We recommend signing up for credit monitoring from all three credit bureaus for the most comprehensive coverage; it's worth the extra $5 a month.
Something that disappointed us a bit was the fact that IDShield didn't provide discounted options if we signed up for a year or longer, two years or three years, something that many other identity monitoring companies do. However, given its affordable prices, we think that IDShield is right where it should be when it comes to costs. And when we consider the fact that the average victim of identity theft pays $1,100 out of pocket1, IDShield could actually pay for itself in the event that someone steals our identity.
Other Options for Protecting Your Identity
IDShield boasts a lot of features, but those features come with a pretty hefty price tag. Make sure you're getting the best bang for your security buck by checking out some of our other favorite identity theft protection services below: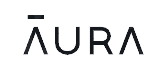 Favorite Features
If you haven't read our IDShield review, after testing it out for ourselves, we definitely think it's a worthwhile investment in terms of features. Here's what makes IDShield worth the money, in our opinion:
Affordability: An individual plan with credit monitoring from TransUnion costs only $14.95 a month, or $5 more per month with monitoring from all three bureaus.
Comprehensive identity monitoring: IDShield covered everything from our Social Security numbers to change of address registries, making sure our personally identifiable information stayed safe from identity thieves.
Free trial: IDShield gave us a 30-day free trial, which comes with all of its subscription options.
Solid privacy policy: IDShield kept as little of our information as necessary, even allowing us to use Touch ID to log on to its mobile app for additional security. Touch ID, and other forms of multi-factor authentication, ensures that nobody else can access our online accounts besides us.
Identity theft insurance: Even the most comprehensive monitoring can't prevent identity theft 100 percent, so if anyone ever steals our identities, we would get up to $1 million back in reimbursement costs, the industry standard. For those on the family plan with three-bureau monitoring, they can get up to $2 million in reimbursements.
Digital security extras: In partnership with Trend Micro, IDShield provides VPN, antivirus, and password manager software to its paying customers, completely on the house. IDShield doesn't just alert customers of identity theft, it also provides them ways to protect themselves from identity thieves lurking on the internet.
What Does IDShield Cover?
We've talked a lot about dollars and cents, but we also want to share exactly what we got with a subscription from IDShield. More specifically, we want to talk about what IDShield's identity and credit monitoring included.
Credit scores and reports: While the lower-tier plans only gave us credit scores and reports from TransUnion, the upper-tier plans gave us credit scores and reports from all three bureaus, TransUnion, Equifax and Experian. This was the only thing that differed between the subscriptions; the rest of the features were the same throughout all the plans.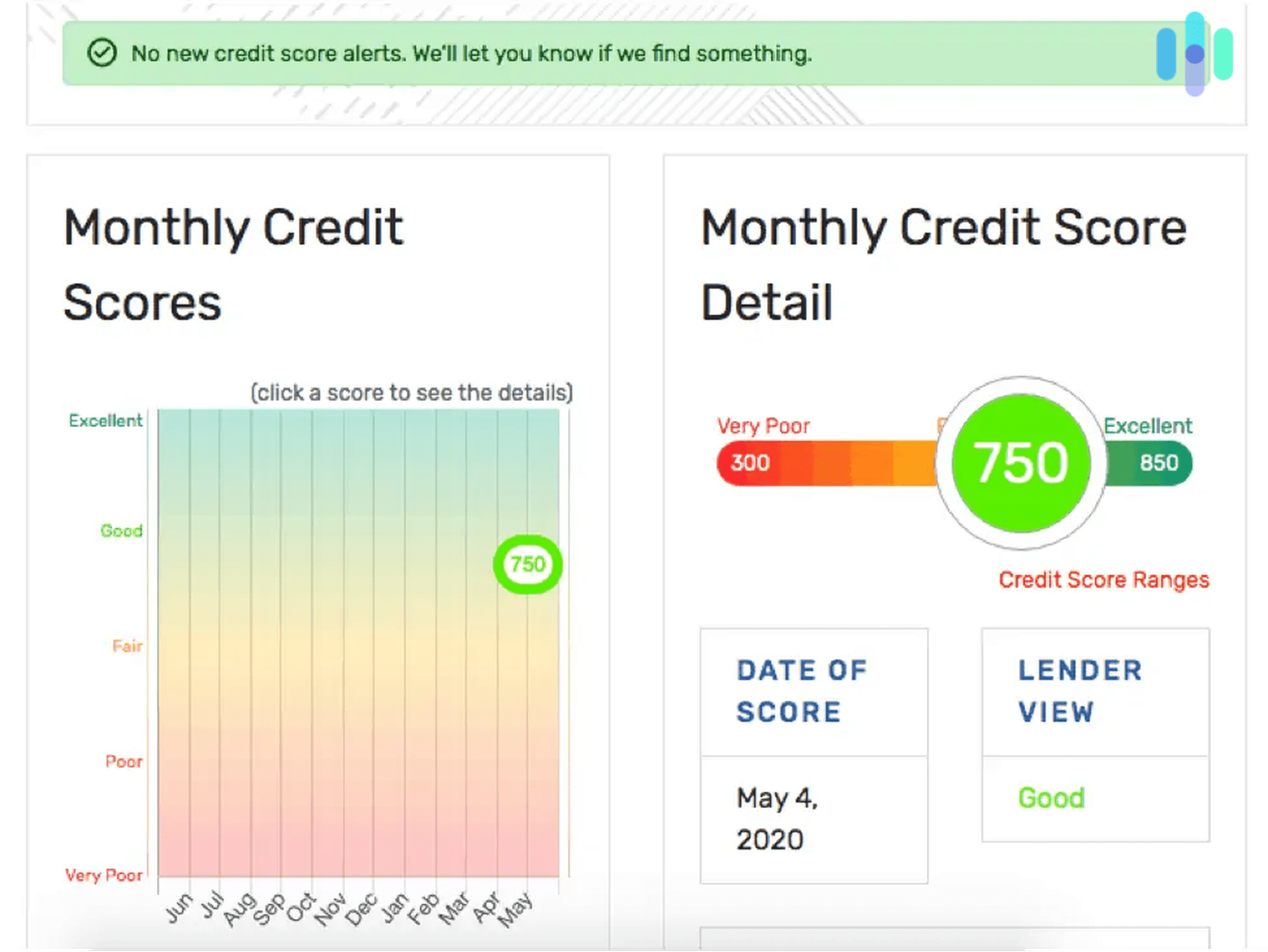 Social media: IDShield scanned our social media accounts (specifically Facebook, LinkedIn, Twitter and Instagram) for any posts and settings that could compromise our privacy. It also provided suggestions on how we can make our online profiles more private, such as by adjusting our privacy settings.
Sex offender registries: Of course, we want to know if we turned up on a sex offender registry, which IDShield monitored. It also told us if there were sex offenders living in our neighborhood, which helped us to stay safe offline as well.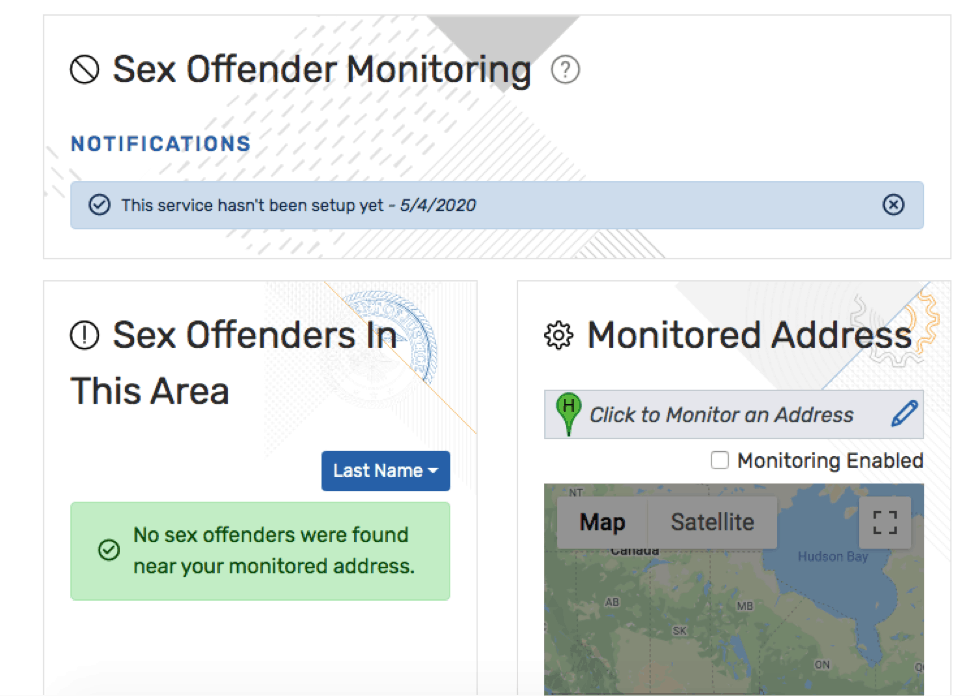 Address changes: While we always report to the U.S.P.S if we move and need a change of address, IDShield monitors this database constantly, making sure no one else changes our records so that we'd keep receiving our mail and packages.
Telecom: In the same vein, IDShield made sure that no one tapped into and redirected our phone numbers. Our credit card companies send one-time passcodes to our phone numbers, so this type of monitoring was crucial.
Dark web: Most identity monitoring services, including IDShield, scan the dark web to make sure our credentials stay off of forums and sites that buy or sell stolen identities.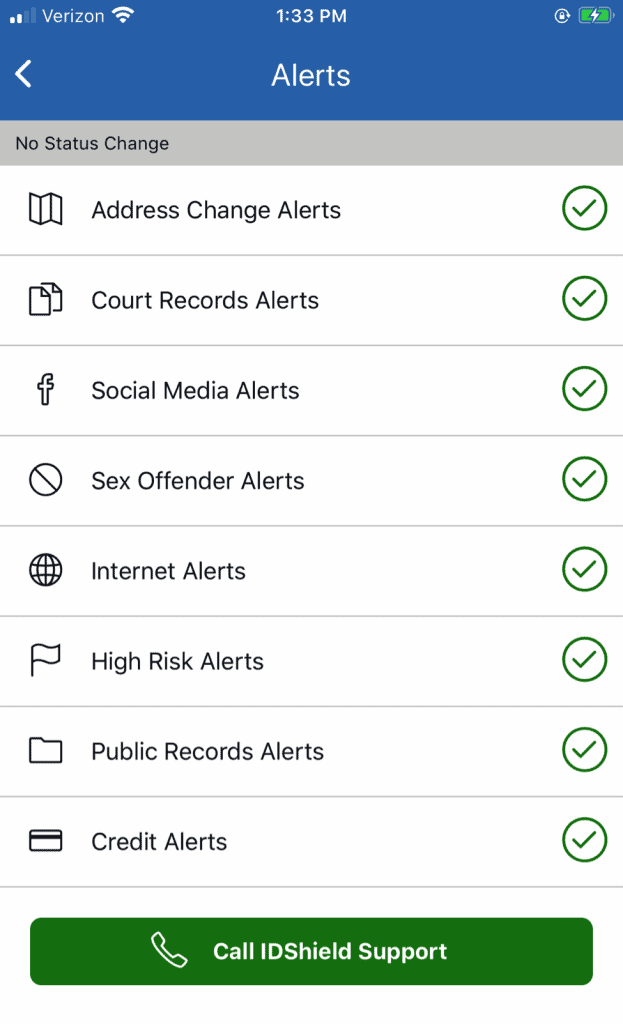 Public and court records: IDShield made sure that our data didn't appear in the United States' 78 billion public records and 250 million court records. It made sure that criminals weren't using our names to commit crimes, even as small as parking violations.
PayDay loans: Trying to use our information to take out a quick loan? Not so fast. IDShield scanned not only PayDay loans but also online and rent-to-own loans for our information.
High-risk applications: IDShield monitored bank accounts for our information, making sure that only we were opening new accounts under our names.
Identity theft insurance: If someone were to steal our identities, a possibility even with an identity monitoring service, we would receive up to $1 million in reimbursements, increasing to $2 million with select family plans.
Lost wallet support: A lost wallet can be a stressful thing, but it's even more stressful if you consider how much of your personal information it contains on top of your cash and credit cards. Fortunately, IDShield's investigators will help us out, making sure our identities stay safe even if we lose our wallets.
Credit freeze assistance: If you ever find out that your identity has been stolen, one of the first things you should do is freeze your credit. Doing so will help to prevent further loss in case someone tries to take out loans in your name. IDShield will provide assistance in freezing your credit with all three credit bureaus.
Those are the basic features we expect of any identity monitoring service, but IDShield takes it several steps further with some features we see either rarely or never:
Solicitation reduction: When we paid for IDShield, we saw a significant reduction in the amount of junk mail we received as well as the number of telemarketing calls we got. This is a pretty unique feature; only IdentityForce has something comparable, to our knowledge.
The More You Know: The average American gets 41 pounds of junk mail a year, half of which is never opened.2 But junk mail could also be a catalyst for identity theft if someone steals it to attain your personal information, so look for a service that reduces the amount of junk mail in your mailbox.
Data broker deletion: Another rare feature of IDShield is the fact that it scanned websites like Whitepages for our personal information and had them delete it. This prevented advertisers from getting our personal information.
Protection cyberbullying: Anti-bullying protection is only available with IDShield's family plans. The sad fact is that 42% of children have been bullied online,

3

but with IDShield, parents can learn about cyberbullying sooner and put a stop to it. Again, this feature is rare. Aside from IDShield, we've seen it in our review of Identity Guard, which has been an overall favorite in identity theft protection services for several years running.
Reputation management: When you're applying for a job or even dating someone new, you want to make sure that your web presence is squeaky clean. IDShield helped us out with that, letting us know if there were any offensive comments or NSFW pictures that we should take down.
Medical data reports: For the most protection, IDShield even scanned medical data reports for fraudulent or false information, keeping our health records in check.
Digital security: Studies found out that in 2020, traditional identity fraud that often involves the use of malware and crimeware costs its victims $13 billion in losses.

4

As such, upping our digital security via the use of antivirus software and VPNs is essential. When we subscribed to IDShield, we got both digital security features on the house.
Does IDShield Have A Free Trial?
As we've mentioned earlier, one of our favorite features was IDShield's free 30-day trial that came with all of its subscriptions. This is actually common with identity theft protection services, but whenever we get something for free, we're always grateful. IDShield's free trial means that when we signed up for an account, the company didn't charge us until 30 days later. But if we cancelled before that time came, IDShield wouldn't have charged us at all.
For comparison's sake, our overall favorite Identity Guard plan comes with a 30-day money-back guarantee in lieu of an Identity Guard free trial. Alternatively, LifeLock's 30-day free trial is a great way to test out the service, though it's worth mentioning that LifeLock's past data breaches and class-action lawsuits make us a bit wary of LifeLock as a brand.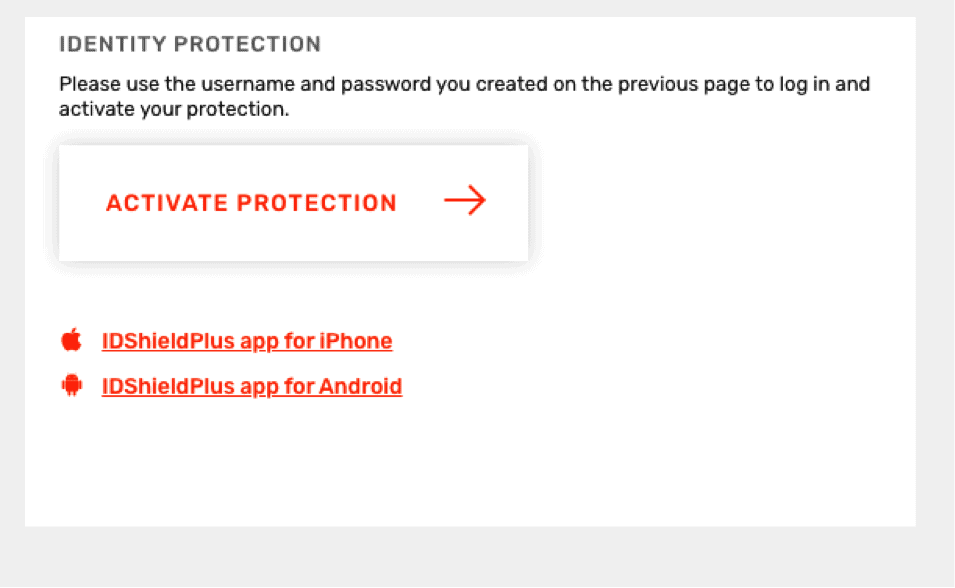 Cancelling IDShield
As we test out the top-rated identity monitoring services of this year, we end up having to cancel a lot of our subscriptions, the experience of which varies greatly from company to company. But with IDShield's free trial, it was easy to cancel without paying anything at all. Cancelling customers could either call IDShield directly or email the support team at support@legalshieldcorp.com. However, note that until we received written notice back that our cancellation went through, we were still active members, so it didn't happen immediately.
Recap
Overall, we're enthusiastic about IDShield as our identity theft protection, and the prices are certainly right, especially for folks who are looking for the best identity theft protection for the whole family. Although we wish that the company had discounted options for longer term-lengths, we did appreciate the fact that we could cancel easily at any time without running into cancellation fees, and the 30 day risk-free trial didn't hurt either.