Best Business Security Systems
Protect your business with these security systems, tested by our home security experts.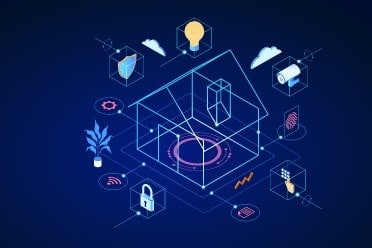 10,000+ research hours
60+ systems tested
150+ simulated break-ins
40 systems reviewed
6 systems recommended
Successful entrepreneurs are adept at making wise investments, but even the best ones sometimes forget the importance of investing in business security. After all, security systems protect both your employees and your customers.
Making sure you have a working security solution tailored to your business' needs can also help you protect your other investments. And we're not just talking about robberies, shoplifting, and other types of crime. For example, having security cameras can protect you from legal trouble (and from a ruined reputation) if and when issues arise in the workplace.
With so many things to keep in mind when choosing a security solution, let's check out the best business security solutions we've personally tested.
What's A Good Business Security Solution?
There's no hard and fast rule when it comes to choosing a business security solution. Every business is unique. An office building has different security needs than a restaurant, for example. So when looking for a security system to protect your business, the only thing every business owner should look for is flexibility. It has to be able to adapt to varying security needs of businesses.
Of course, there are other things to consider, chief among which is the cost. A security solution need not be expensive, but generally, it's going to cost more than a home security system.
You should also consider which types of equipment you'll need. For almost any type of business, security cameras play a big role in security. But do you need security sensors as well? How about automated access systems? Does the security system offer enough components to cover every square inch of your property? Do you even need that much coverage?
>> Learn more: Best Security Cameras for Businesses
We can't tell you which business security solution is best for you. You know your business better than anybody. But we can definitely narrow down your options with our list of the six best security providers that cater to businesses.
Our Feature Preferences
| | |
| --- | --- |
| Installation | DIY or professional |
| Camera resolution | 1080p HD to 4K |
| Storage | Cloud, local |
| Smart platform integrations | Amazon, Google |
Best Business Security Systems of 2023
Side-by-Side Comparison of Business Alarm Systems
| System | ADT | SimpliSafe | Vivint | Frontpoint | Lorex | Cove |
| --- | --- | --- | --- | --- | --- | --- |
| Ranking | 1st | 2nd | 3rd | 4th | 5th | 6th |
| Ratings | 9.8/10 | 9.2/10 | 9.4/10 | 8.9/10 | 9.6/10 | 8.7/10 |
| Equipment price | Varies depending on security needs | $249 and up | Varies depending on security needs | $129 and up | $849 and up | Varies depending on security needs |
| Monitoring type | Professional monitoring | Professional or self-monitoring | Professional monitoring | Professional monitoring | Self-monitoring | Professional monitoring |
| Monthly cost | Customized | $19.99-$29.99 | Customized | $49.99 | None | Customized |
| Installation | Professional | DIY or professional | Professional | DIY or professional | DIY | DIY |
| Read Review | ADT Review | SimpliSafe Review | Vivint Review | Frontpoint Review | Lorex Review | Cove Review |
Detailed List of the Best Security Systems for Businesses
How To Choose A Security System For Your Business
In business security, much like in home security, there is no one-size-fits-all solution. You need to consider how much security your business needs. To do that, you need to pinpoint your current security's weak points, know what types of equipment you need, and assess your budget. Below, we've outlined our criteria for choosing the best security systems for businesses.
Equipment
In business security, the more equipment options, the better. When we selected our top picks, we went with those that offered a wide selection of security equipment. Ideally, that includes:
Security sensors: These are your motion sensors, door and window sensors, and glass break sensors that can alert you to break-ins during and after office hours.
Environment monitoring sensors: These are your smoke alarms, carbon monoxide detectors, and any other sensor you need to make sure your building is safe from environmental threats.
Panic buttons: In cases of robberies and holdups, as well as non-criminal emergencies like fires, panic buttons and alarms can connect you and your employees to emergency services immediately.
Security cameras: Security cameras provide video surveillance so you or security personnel can monitor your establishment during and after office hours. It's ideal if your alarm company can provide both indoor and outdoor cameras.
Security cameras play crucial roles in business security, which is why we also added criteria for choosing security cameras. They must have:
Security features: Such as motion and sound detection, or even better, artificial intelligence like person detection
Good specifications: At least a 1080p HD resolution, infrared night vision, 120 degrees viewing angle, and two-way audio
Storage: Most ideally, local recording via micro-SD cards, NVRs, or DVRs, as well as backup cloud storage
Technology
It's also important to choose a security system that can work in your current office setup. Most businesses today have internet and Wi-Fi, so we selected security systems that use the internet for communication. Communication is crucial because this is how the system will alert you or your alarm company in case of emergencies.
However, as we all know, internet connections can be unreliable sometimes, so you also need backup communications. For most of the security systems on our list, that backup communication comes in the form of cellular backup. With cellular chips built into hubs or control panels, security systems can still alert you over cellular signals should your internet go down.
Power backup is another vital technology in business security. With the use of batteries, which can last for up to a day on a single full charge in most cases, security systems can continue to provide protection through power outages.
Monitoring
If you have on-site security personnel 24/7, good for you. Otherwise, alarm companies can monitor your business for you. They won't watch your security feeds 24/7, mind you, so it's still up to you to catch shoplifters and the like.
However, in the event of real emergencies, like after office hours break-ins, alarm companies can send police dispatch to your building. With professional monitoring, you can gain peace of mind knowing that you're never on your own in protecting your business.
Installation
Most of our top picks offer DIY and professional installation. Choosing the installation method is really a matter of preference; however, professional installation is ideal for larger businesses in particular.
If you go the DIY route, you need a basic understanding of the system you're installing and where to install your system components for maximum effectiveness. With professional installation, those tasks will fall in the hands of experienced technicians. So while DIY installation is doable, if you have the means, go for professional installation.
FAQs
Still got questions about the best security systems for businesses? We're here to help.