What We Like
Human and pet detection with activity zones
2K HD resolution with 125-degree viewing angle
Affordable price
What We Don't Like
Reduced resolution if used with cloud storage
Some features like dog bark detection are still rolling out
Live streaming in 2K HD uses a lot of data
A crystal clear 2K HD resolution, artificial intelligence, and integrations with major smart platforms are just some of the standout features of the eufy Indoor Cam 2K. It may sound like it'd be expensive, but priced at only $39.99, the camera was actually quite a steal— or was it? That's what we set out to discover in this review, so keep on reading to find out if the eufy Indoor Cam 2K is the right smart camera for you.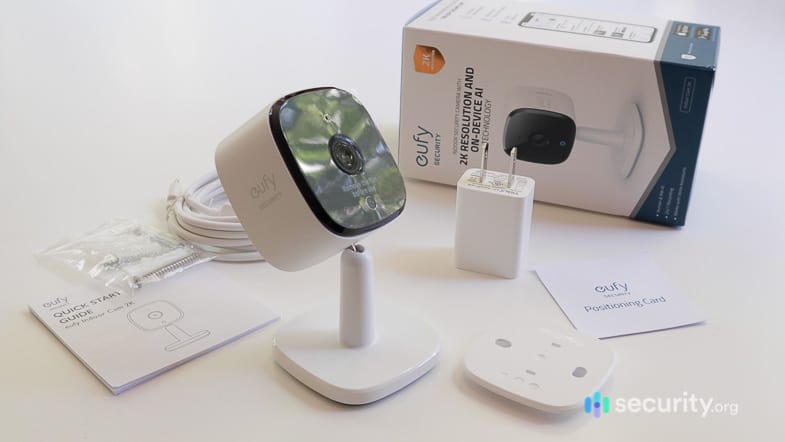 Eufy 2K AI features
| | |
| --- | --- |
| Person detection | Yes |
| Pet detection | Yes |
| Baby cry detection | Yes |
| Dog bark detection | Coming soon |
| Facial recognition | No |
Editor's Rating
eufy cameras are priced competitively, starting at just $49.99 per camera.
eufy offers smart features like AI-powered human detection.
Taking a page out of the Lorex playbook, eufy doesn't require cloud fees. Read our top-rated Lorex camera review to see how cloud-less video storage works.
Pros and Cons of the eufy Indoor Cam 2K
Don't have time to read the entire review? We got your back. Here are the eufy Indoor Cam 2K's most notable pros and cons.
Pros
2K HD resolution with 125-degree viewing angle
Human and pet detection with activity zones
Detects the sound of a baby's cry
Works with Alexa, Google Assistant, and Siri
Affordable price
Cons
Reduced resolution if used with cloud storage
Some features like dog bark detection are still rolling out
Live streaming in 2K HD uses a lot of data
First Impressions
The eufy Indoor Cam 2K looks and sounds good on paper, but much like most eufy cameras we've tested, it does fall short a bit in terms of execution. For example, it records in 1080p resolution, not 2K, and when it livestreams it uses a lot of bandwidth. Continue reading to learn more about the eufy Indoor Cam 2K, but if you want alternatives, these brands offer the best ones: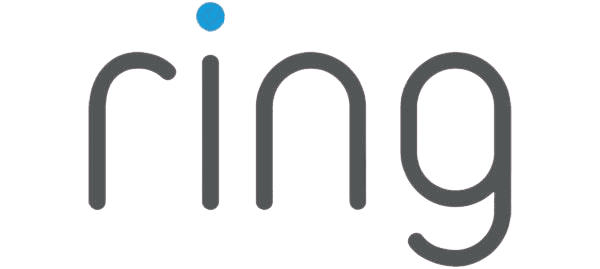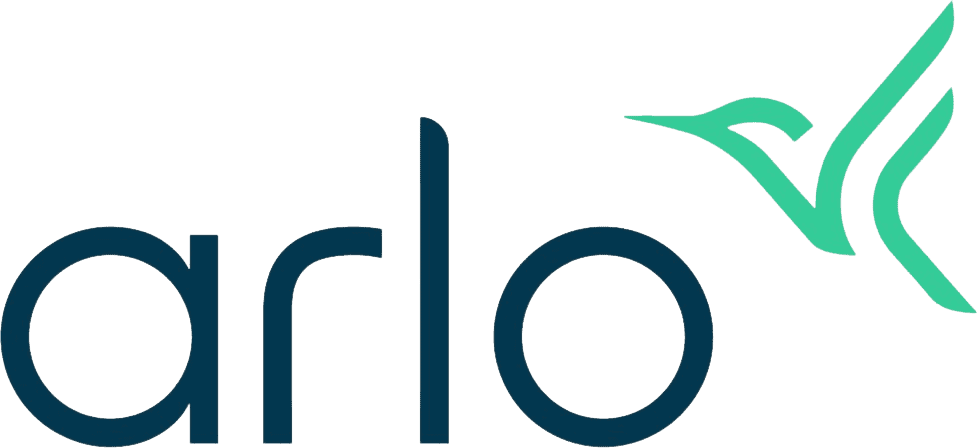 What Exactly Does The eufy Indoor Cam 2K Offer?
Now, let's begin with our review, starting with the camera's features.
2K HD Resolution
As the name implies, the eufy Indoor Cam 2K featured a 2K HD resolution. That's about twice as many pixels and twice as clear as the industry-standard 1080p HD. With rich colors and high contrast, it captured videos nothing short of life-like.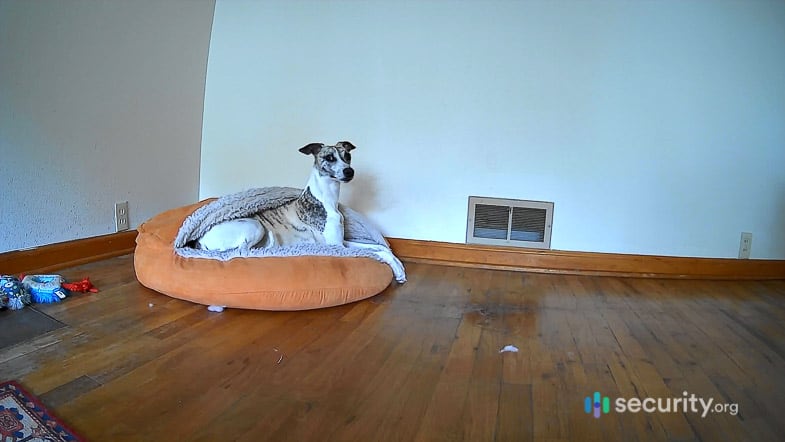 The 2K HD resolution perfectly complemented the camera's ability to digitally zoom up to eight times. Even when fully zoomed in, we could see small details to the point that we were able to identify what our little pup was munching on even though he was at least 12 feet away from the camera. Thankfully, it was just a piece of bread he nabbed from our kitchen counter.
Wide Viewing Angle
The eufy Indoor Cam 2K also boasted a 125-degree viewing angle. For reference, we usually recommend a viewing angle of at least 120 degrees. So how wide of an area can the eufy Indoor Cam 2K monitor? Well, that depends on how you place it. In our case, it covered our living room with an area of about 200 square feet.
Buying Tip: For those with a larger area to monitor, eufy offers a version of the eufy Indoor Cam 2K that can pan and tilt.
Night Vision
The eufy Indoor Cam 2K provided great video quality both during the day and at night, thanks to its eight infrared LED lights. The invisible infrared light they emitted illuminated our living room only for the camera's image sensor. It turned the video into black-and-white though, but to us, that's better than color night vision that uses a visible light source. Infrared cameras are discreet and thus, less likely to be spotted and destroyed by burglars. In case of a break-in, we want our camera to see the burglar's face, not the other way around.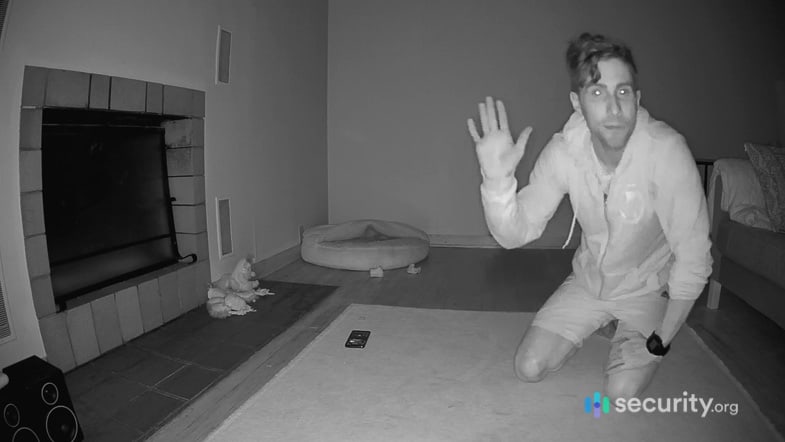 Two-Way Audio
Speaking of break-in scenarios, two-way audio is another eufy Indoor Cam 2K feature we want on our side in case of a break-in. We could use it to talk through the camera's speakers to say something like, "Get out!" or "We're calling the cops!". The button that activated the two-way audio was conveniently placed on the app's live view interface, which made it easier for us to access the feature. Luckily for us, we only ever used it to get our pet to leave our poor couch alone, but simply knowing the feature existed gave us peace of mind.
Human and Pet Detection Powered by AI
While our pet, a poodle named Tucker, is always fun to have around, getting false alerts incessantly from cameras is not. Fortunately, the eufy Indoor Cam 2K had artificial intelligence that could tell people and pets apart. It told us exactly whether it saw a person or a pet. We also had complete control over what kind of notifications were sent to our smartphones. When we wanted to receive person alerts only, we simply turned off notifications for pets. It also worked the other way around when we wanted to receive only Tucker-related alerts. Monitoring our pets' movement is one of the ways we can keep them safe, especially when we're away.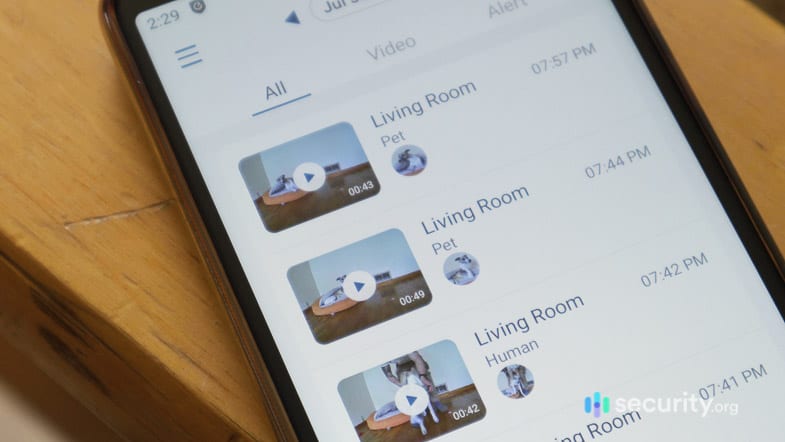 Smart Audio Detection
The eufy Indoor Cam 2K also used its artificial intelligence to alert us of unusually loud sounds. It's particularly trained to listen for the sound of a baby's cry. It alerted us when we played videos of babies crying on our TV, so for parents, the eufy Indoor Cam 2K could also work as a baby monitor.
FYI: eufy's support team confirmed that they might update the camera to detect the sound of dogs barking in the future, likely through an over-the-air firmware update.
Activity Zones
The activity zones were another feature that made the camera's alerts more accurate. Basically, it limited the camera's motion detection to within the activity zones we had defined. Most burglars break-in through the front doors and windows.1 We wanted our camera to focus its attention on those areas, so we drew a zone around our front door and another around our living room windows. Whenever the eufy Indoor Cam 2K saw a person walk within those zones while motion detection was active, we received an alert.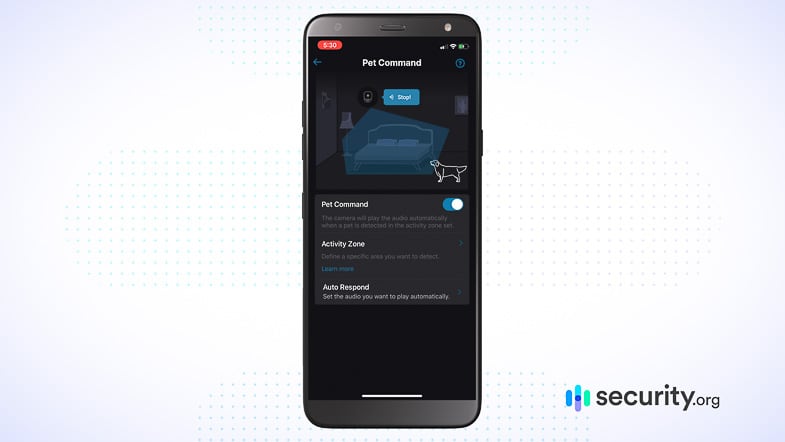 Customizable Pet Commands
As fur parents to a sometimes rowdy dog, there's one feature we especially appreciated: customizable pet commands. This was a unique feature that even the entries in our best pet camera review didn't offer. Combining the camera's activity zones and its ability to detect pets, pet commands allowed us to tie a recording of our voice saying, "Get off," to a particular zone, in our case, the couch. It then played the recording whenever Tucker hopped onto our couch. Hearing our voice certainly sparked Tucker's curiosity. We saw him through the camera looking around, probably wondering where we were. More importantly, it got him off the couch.
Integrations with Smart Platforms
The eufy Indoor Cam 2K certainly had an appeal to us as pet owners, but it also impressed the smart home enthusiasts in us. That's because it integrated with the major voice assistants: Alexa, Google Assistant, and Siri.
Through these integrations, we controlled the eufy Indoor Cam 2K with our voices. With Alexa, we watched the camera's live feed on our Amazon Echo Show. We did the same using our Nest Hub Max, only that time, we used the Google Assistant. And finally, a month after we bought the camera, eufy sent out firmware updates that activated its HomeKit compatibility. Thanks to the update, we added the eufy Indoor Cam 2K to our iPhones' Home apps and viewed the live stream by commanding Siri. HomeKit also improved our camera's privacy by adding end-to-end encryption and giving us 10 days of additional cloud storage space for our videos, also known as HomeKit Secure Video.
See The eufy Indoor Cam 2K In Action
We also made a video review if you want to see the eufy Indoor Cam 2K in action. Check it out below.
Where Do Recorded Videos Go?
The eufy Indoor Cam 2K gave us several options for video storage.
| | Eufy Cloud Subscriptions | Local Recording | HomeKit Secure Video | Real-Time Streaming Protocol (RTSP) |
| --- | --- | --- | --- | --- |
| Cost Per Month | $2.99 for one camera, $9.99 for up to 10 cameras | $0.00 | $2.99 for one camera, $9.99 for up to five cameras | $0.00 |
| Requirements | Subscription to the service | Micro-SD card up to 128 GB (not included) | HomeKit hub and iCloud subscription | A Network-Attached Storage (NAS) and technical knowledge on how to set up RTSP |
| Storage | 30-day video history | Up to 128 GB (about two days of 2K HD videos) | 10-day video history | Depends on the capacity of your Network-Attached Storage (NAS) drive |
| What videos are stored? | Motion or sound-activated event videos | 24/7 continuous recordings | Motion or sound-activated event videos | 24/7 continuous recordings |
| Cons of Each Option On It's Own | Lowers resolution to 1080p | No backup storage if camera is stolen | Requires HomeKit and a monthly fee | Footage stored separately from the camera and more difficult to set up |
First, we subscribed to eufy's cloud storage plan. The $2.99 per month plan gave us a 30-day event history for one camera, while the $9.99 plan allowed the use of up to 10 cameras. The cloud plans were affordable and the storage, which we accessed through the mobile app, was easy to use. However, it only stored videos up to 1080p HD, so we didn't get the most out of the camera's 2K HD resolution.
To take full advantage of the 2K HD resolution, we recommend the local recording option which uses a micro-SD card up to 128 GB of video, which amounts to about two days of 2K footage. We didn't need to pay a monthly fee for this option and on top of that, it recorded continuously 24/7 as opposed to recording only motion events. However, our only worry was that if the burglar saw our camera and stole it, we would be left with no video evidence as the micro-SD card would have been in the camera.
Tip from Our Experts: Combining local and cloud storage is the best way to securely store videos. In case the camera gets stolen, the cloud storage can provide backup and might even contain useful evidence videos.
There are a couple of other storage options. First, there's the HomeKit Secure Video, which is free for anyone with a HomeKit hub— either an iPad, Apple TV, or HomePod— and a $2.99 or $9.99 a month iCloud subscription. The former provides 10 days of video history for one camera, while the latter is for those with two to five cameras. Both also added end-to-end encryption between our camera and Apple devices, among other special features.2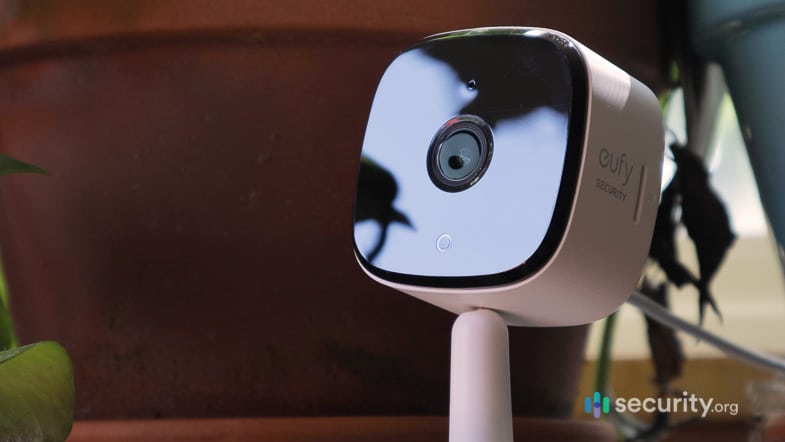 The final option was RTSP or Real-Time Streaming Protocol, a protocol that would allow the camera to stream to a Network-Attached Storage (NAS). Due to the complexity of the setup and our lack of a NAS, we opted not to test this option. But if you're interested in using RTSP, the eufy Security app provides a set up guide to help you get started. For more information, check out our article detailing the eufy Indoor Cam 2K subscriptions and storage options.
Is The eufy Indoor Cam 2K Difficult to Set Up
Although the eufy Indoor Cam 2K had a lot to offer, we were pleasantly surprised by how simple it was to set up. The process involved only a few steps.
First, we downloaded the app and created a eufy account. Then, we followed the app's instructions on how to add a new camera. We plugged in the camera, scanned the QR code, and then entered our Wi-Fi password. Once the camera was up and running, all that was left to do was place the camera. Thanks to its minimalist design and all the mounting hardware included, like the two-meter power cable and rotating stand, we wall-mounted the camera easily. But if you're looking for an even easier way to install the camera, setting it on a table or shelf would work as well.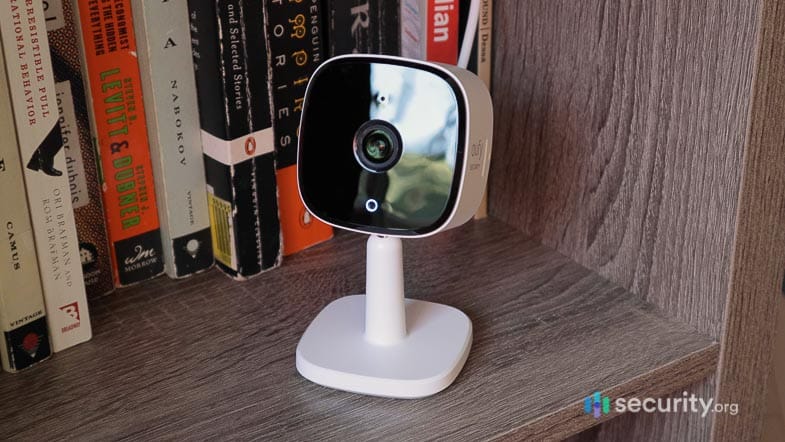 How Was The Mobile App?
The eufy Security mobile app played a vital role during our tests. It gave us access to our camera's live feed and recordings, sent us notifications, and allowed us remote control over the camera. More importantly, we fine-tuned the camera's settings using the app.
We first configured the notifications. We decided whether we wanted to be notified of people, pets, or both and then we set a longer interval between alerts to avoid getting one alert after another whenever Tucker played in the living room. We also used the app to customize each of the camera's three modes: home, away, and disabled. For instance, we wanted the camera to alert us if it sees Tucker in our living room even when we're home, so we turned on pet detection alerts in Home mode. Overall, the app worked great for us.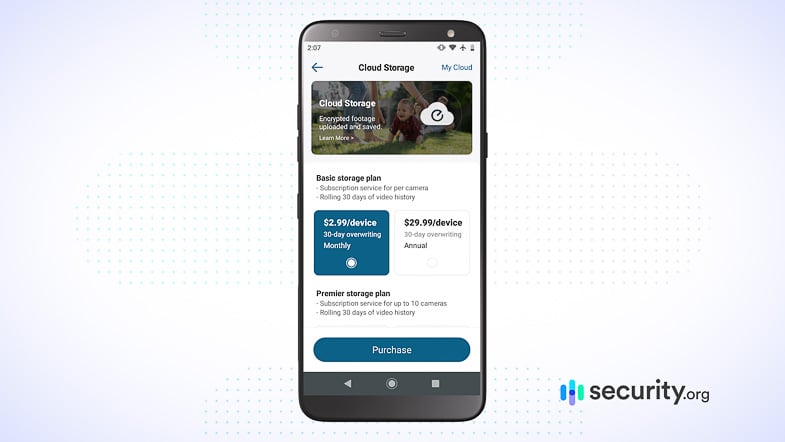 Our Final Words
The eufy Indoor Cam 2K boasts features that we normally only see in more expensive cameras, like its 2K HD resolution and AI-powered motion and sound detection. So in terms of value, the eufy Indoor Cam 2K is worth more than its $40 price tag. It could certainly give more expensive 2K HD cameras, like the Arlo Pro 3, a run for their money. For reference, here's our Arlo Pro 3 review.
We think the eufy Indoor Cam 2K is especially great for pet-owners because of its customizable pet commands, pet detection, and activity zones. These features made everyday life easier for us and Tucker, and we're sure it will do the same for you. But really, anyone— pet-owner or not— who's looking for a smart yet affordable indoor camera should check out the eufy Indoor Cam 2K. This versatile camera might just be what you're looking for.
JSU. (2020). Home Burglary Awareness and Prevention.
jsu.edu/police/docs/Schoolsafety.pdf

Apple. (2020). Use HomeKit Secure Video.
support.apple.com/en-us/HT210538