Best VPNs for Watching NFL Games
Improve your NFL experience with the right VPN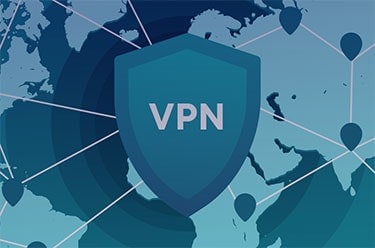 2,500+ research hours
50+ VPNs reviewed
300 speed tests
6 experts consulted
4 VPNs recommended
A VPN is standard equipment if you're going online, and you never want to use public Wi-Fi without one. While you're keeping yourself safe, you might as well get some other benefits too.
Some VPNs give you access to NFL content you may not be able to see otherwise. Streaming services don't always give you access to every game every week, and if your home team's stadium doesn't sell out, then you may not even be able to watch the game that's playing across the street. With a good VPN, though, you can log on to servers in other locations, ensuring you never miss a minute of action.
Below we'll get into all the ins and outs of picking the best VPNs for watching NFL games while also keeping yourself safe.
One-Year Subscription Prices
| | |
| --- | --- |
| IPVanish | $44.99 |
| Ivacy | $47.76 |
| Surfshark | $47.88 |
| NordVPN | $59.88 |
Comparison of the Best VPNs for NFL
| System | NordVPN | Surfshark | IPVanish | Ivacy |
| --- | --- | --- | --- | --- |
| Ranking | 1st | 2nd | 3rd | 4th |
| Ratings | 9.7/10 | 9.5/10 | 9.3/10 | 9.2/10 |
| Best monthly price | $3.99 | $2.49 | $3.75 | $1.19 |
| Highest monthly price | $11.99 | $12.95 | $10.99 | $9.95 |
| Subscription options | 1 month, 1 year, 2 years | 1 month, 1 year, 2 years | 1 month, 1 year | 1 month, 1 year, 2 years, 5 years |
| Split tunneling | Yes | Yes | Yes | Yes |
| Netflix | Yes | Yes | Yes | Yes |
| Torrenting | Yes | Yes | Yes | Yes |
| IP adresses | Dynamic or dedicated | Dynamic or shared | Dynamic, shared, or dedicated | Dedicated |
| 5 Eyes, 9 Eyes, 14 Eyes member | No | No | Yes | No |
| Multihop | Yes | Yes | No | No |
| Read Review | NordVPN Review | Surfshark Review | IPVanish Review | Ivacy Review |
Detailed List of the Best VPNs for NFL
Methodology
A list like this is only as good as the research that goes into it. That's why we take our time and assess every VPN using an extensive set of criteria. We consider what each company does to ensure security, what kinds of speeds you can get using the VPN, whether a subscription comes with any special features, and how much a subscription costs. Only once we've evaluated all the VPNs out there and compared them with one another do we feel confident saying which ones will work best when you're trying to watch the NFL. You can find a more detailed explanation of our process in our complete guide to VPNs or check out our brief outline below.
NFL Access
For this list, we were primarily interested in VPNs that could provide greater access to NFL games. There are many ways to watch NFL content. You may use a streaming service from a broadcast network such as FOX Sports or Paramount. On the other hand, you may use a more direct service such as NFL Network. You may find games blacked out on any of these services though. All the VPNs on this list let you log in to streaming content from remote servers so no one can tell where you're actually located, which helps you avoid blackouts. It also allows you to access the NFL even if you're traveling abroad.
Definition: A blackout is when a TV station doesn't air a particular sporting event in a particular geographic area. Most blackouts happen when the team doesn't sell enough stadium tickets to the event.
Price
The bottom line matters, so price is one of the first things we look at. Some VPNs are just too expensive, no matter what perks they offer. Generally, we like to see prices between $10 and $13 for single-month subscription plans, but we also expect companies to offer significant discounts if we sign up for long-term contracts.
A year's subscription, for example, should cost somewhere between $3 and $5 per month. Within that range, we have to consider what we're getting for our money. We like low-cost VPNs, but we're also willing to pay a little more for a VPN that is particularly secure or has a wide range of bonus features.
On the lookout for the lowest price? Check out our list of the best VPN deals.
Speed
Speed is always an important consideration when it comes to VPNs, but especially when you're thinking about VPNs to use with streaming services. All VPNs slow down your connection some, but the trick is to find the ones that slow it down as little as possible.
We're interested in three kinds of speed: upload speed, download speed, and latency. We test for all three. First we check a device's speed without the VPN running, which gives us a baseline number. Then we run the VPN and check the speed again. Comparing our results gives us a percentage we can then use to rank various VPNs side-by-side. We do this using both a Windows device and a Mac device, so we can say with confidence how well a VPN will perform on each operating system.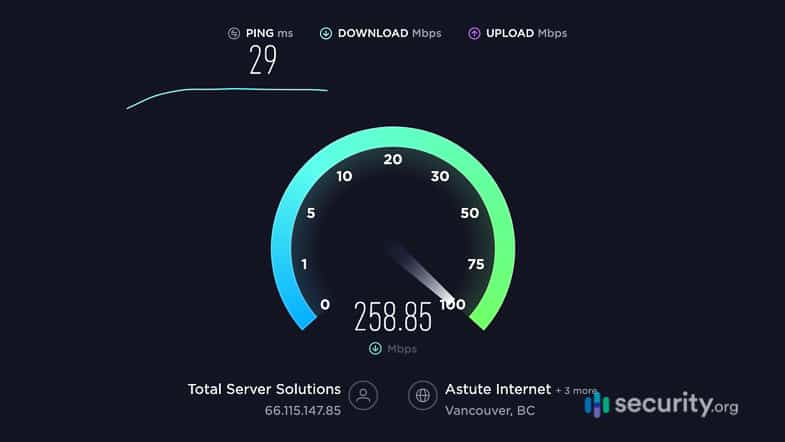 Security
Security is at the heart of what a VPN does. A VPN that doesn't conceal your identity and protect your data when you are online isn't worth the money. A free VPN can cost you in the long run if it's not secure. Security, though, isn't a simple matter. Rather, it involves several independent factors.
Company location: VPNs based in Five Eyes, Nine Eyes, or 14 Eyes countries can be forced to turn over customer data to government agencies, so we prefer VPNs located in places like Panama, the British Virgin Islands, and Switzerland.
Privacy policy: We occasionally include a VPN from the U.S. on our list, even though the U.S. is a member of Five Eyes. The key is the company's privacy policy. The government can't force a company to turn over your information if the VPN isn't actually recording any information about you. In particular, we look for companies that don't store IP addresses, time stamps, or a list of the sites we've visited.
Encryption: A VPN is an encrypted tunnel — that's the definition. The better the encryption, the better the VPN. We like companies that use AES-256 encryption, which is the same method employed by the U.S. government, including spy agencies and the military.
Protocols: Protocols are the instructions a VPN uses for how to employ its encryption methods. There are many different protocols out there, and each one provides a different benefit. All things being equal, we prefer the OpenVPN protocol because it's open source and has a proven track record.
IP addresses: There are essentially two kinds of IP addresses: shared and dynamic. A shared address keeps you safe because when multiple users share the same address, no one from the outside can tell who is doing what online. Dynamic addresses keep you safe by rotating frequently, so no one knows which address you're using at any given moment. Both get the job done, but dynamic addresses make you just a little harder to track.
Multihop: This technology routes your internet connection through multiple encrypted tunnels. As you may expect, doing so provides extra layers of security.
Kill switch: A kill switch logs you out of all your apps and websites if you lose your VPN signal. That way, no one can see what you're up to even if your connection is dropped.
Features
If a VPN is secure, then we don't necessarily need a lot of extra features. They're always nice to have, though, and sometimes they can even boost our productivity.
Servers and server locations: The nearer you are to a server, the stronger the signal is likely to be. The more servers a VPN maintains, the less crowded each one will be. In general, we look for VPNs with lots of servers spread out over lots of geographic locations.
Split tunneling: Split tunneling lets you log on to the normal internet at the same time you're using a VPN. That can help save bandwidth and money because you don't have to route everything through the VPN — just your sensitive data.
Streaming access: A VPN that can access Netflix doesn't just allow users to sign on to Netflix. You don't need a VPN for that. It allows you to sign on to Netflix all over the world, giving you access to content only available in other countries. The best VPNs help you access entertainment from all kinds of streaming services in locations around the globe.
Torrenting: Torrenting is another way to get lots of music, film, and television content, but torrenting is notoriously unsafe. A VPN with torrenting capabilities lets you download files without risking your own data.
Customer Service
We also consider customer service when we review a VPN. A VPN is a technology, and, like any technology, it isn't always easy to operate. Help lines and customer support are important. We don't expect VPNs to have 24/7 phone lines. That kind of setup may actually put you in some danger, since companies would have a means to identify you. We like 24/7 online chat help, however, and we tend to give bonus points to VPNs that offer it.
Recap
If you're a serious fan of the NFL, you need a VPN. No matter which streaming services you subscribe to, you'll find it hard to find some games in some regions. If you travel overseas, then you may find it difficult to watch any games at all.
With the right VPN, you can always sign on to your service through a remote server, and no matter where you are you can choose the games you want to watch.
FAQs
Want to know even more about the best VPNs for the NFL? Check out our answers to your frequently asked questions below.