Best VPNs for India
From Mumbai and Chennai to New Delhi and Kochi, a VPN should be standard equipment when you're surfing the web in India.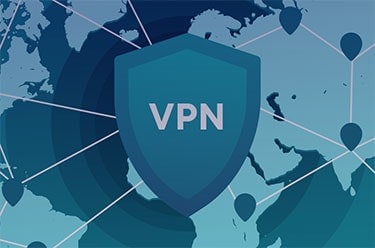 2,500+ research hours
50+ VPNs reviewed
300 speed tests
6 experts consulted
5 VPNs recommended
India is a beautiful country with rich traditions and friendly people, but you'll still need a VPN if you're going to log on to public Wi-Fi. When you're on a public network, you're vulnerable to things such as man-in-the-middle attacks, malware infections, and all sorts of spying. A VPN solves those problems by routing your connection through an encrypted tunnel and masking your actual IP address. There are lots of VPN options out there, so which ones are the best if you're in India?
Number of Servers Worldwide
| | |
| --- | --- |
| Private Internet Access | 20,000 |
| NordVPN | 5,400 |
| Surfshark | 3,200 |
| ExpressVPN | 2,000 |
| IPVanish | 2,000 |
Comparison of the Best VPNs for India
| System | NordVPN | Surfshark | Private Internet Access VPN | IPVanish | ExpressVPN |
| --- | --- | --- | --- | --- | --- |
| Ranking | 1st | 2nd | 3rd | 4th | 5th |
| Ratings | 9.7/10 | 9.5/10 | 9.4/10 | 9.3/10 | 9.1/10 |
| Five Eyes, Nine Eyes, 14 Eyes member | No | No | Yes | Yes | No |
| IP addresses | Dynamic, shared, or dedicated | Dynamic or shared | Shared or dedicated | Dynamic, shared, or dedicated | Dynamic |
| Multihop | Yes | Yes | Yes | No | No |
| Netflix | Yes | Yes | Yes | Yes | Yes |
| Split tunneling | Yes | Yes | Yes | Yes | Yes |
| Torrenting | Yes | Yes | Yes | Yes | Yes |
| Maximum monthly cost | $11.99 | $12.95 | $9.95 | $10.99 | $12.95 |
| Best monthly cost | $3.99 | $2.49 | $2.08 | $3.75 | $6.67 |
| Subscription options | 1 month, 1 year, 2 years | 1 month, 1 year, 2 years | 1 month, 1 year, 39 months | 1 month, 3 months, 1 year | 1 month, 6 months, 15 months |
| Read Review | NordVPN Review | Surfshark Review | Private Internet Access VPN Review | IPVanish Review | ExpressVPN Review |
A Detailed Look at the Best VPNs for India
Methodology
We devote a great deal of time and energy to putting together a list like this. We put every VPN through a battery of tests. We inspect privacy policies and research company histories. We use every product ourselves. Ultimately, we're looking at a handful of very important categories: security, features, speed, customer service, and price. You can find out more about each category below.
What Makes a VPN Good for India?
If we're going to put a VPN on a list of the best VPNs for India, our first concern is how well that VPN works in India. We take into account how many servers a VPN has in the country and where they are located. We consider whether it can unblock content from India-based streaming services such as Sun NXT. Finally, we think about the needs of users in India, such as the need to avoid government scrutiny.
Security
A VPN's primary function is to provide a safe, secure browsing experience. Security is one of our chief concerns, but it isn't about any single factor in how a VPN operates. Rather it has to do with the way many factors work together.
Location: First up is location. We look for VPNs based in countries outside the Five Eyes, Nine Eyes, and 14 Eyes surveillance alliances, which means they aren't subject to subpoenas from government agencies and no organization can force them to turn over customer data.
Encryption: Encryption is at the heart of what VPNs do. The definition of a VPN is an encrypted tunnel, so we expect the best VPNs to employ the best encryption methods. We prefer AES-256, since it's the method used by the U.S. military.
Protocols: Protocols must be secure since they control how a VPN's encryption occurs. We have favored OpenVPN for many years because it's open-source and has been around long enough to have been thoroughly tested. We have been impressed by some newer protocols, however, including WireGuard and Lightway, which are based on OpenVPN code but eliminate redundancies for faster speeds.
Kill switches: We always make sure a VPN has a kill switch. Kill switches close down all internet activity if you lose your VPN connection, so you never have to worry that someone may catch a peek at what you're up to.
Multihop: VPNs with multihop route your connection through not one encrypted tunnel but two or more. The more encryption the VPN uses, the harder it is for governments or hackers to track your activities.
Leaks: VPNs are subject to two nasty types of leaks: WebRTC leaks and DNS leaks. Either can expose your information to the web, so we test for both. We test for DNS leaks at DNSLeaksTest.com, and we test for WebRTC leaks using a tool developed by ExpressVPN.
Privacy policy: We look carefully at every company's privacy policy to find out what user information they keep. We understand that a VPN needs our email and credit card number in order to do business, but we don't want it to keep anything related to our online activities, including IP addresses, time stamps, and browsing histories.
FYI: Many companies claim to offer "no log" VPNs. All VPNs log some information, though, even if it is only for billing and maintenance purposes.
Features
We look at the range of features each VPN offers, which may include:
Streaming access: We're interested in how well each VPN gets around blackouts and geographic blocks to access the best streaming content from around the globe.
Torrenting: We prefer VPNs that offer services specifically geared toward torrenting, like P2P-dedicated servers and user-friendly tools for connecting directly to torrent sites.
Split tunneling: Split tunneling can be a useful feature as well. It lets you log on to the regular internet at the same time you're using the VPN, which can save you bandwidth and money.
Server locations: We pay close attention to how many servers a VPN has and where those servers are located, which can have an impact on what streaming services users can access. They can also affect connection speeds.
Speed
We test every VPN we recommend to find out exactly how much it slows down Windows and Mac devices. Every VPN slows down your internet speeds to some extent, but we're looking for VPNs that slow it down as little as possible. We're primarily interested in three kinds of speed: upload, download, and ping.
We start by testing device speeds without the VPN, and then we test the same device with the VPN running. We use the two numbers to come up with a percentage indicating how much slower the device runs with the VPN than without it. Comparing these percentages allows us to rank VPNs by speed.
Customer Service
A VPN is a fairly sophisticated piece of technology, which means you'll probably need help with it sooner or later. VPN setup can be tricky, or you may want to know what to do if your service goes down. We look at what kind of help each company offers. We like FAQs and libraries, but we get really excited when a company offers 24/7 live assistance either through online chat or over the phone. It's especially important if you happen to be in another country (like India, for instance). We also take into account what sort of help we get. Surly customer-service agents don't get extra points.
Price
Wouldn't it be nice if none of us ever had to worry about how much things cost? We live in the real world, though, so we're always on the lookout for VPNs that aren't going to wreck our bottom line. Most companies offer a variety of subscription options. We like short-term, month-to-month plans, since they don't lock us into anything, and we expect these types of plans to run somewhere between $10 and $13 per month.
We understand why you may be interested in a longer plan though. They're almost always cheaper, depending on how long you're willing to commit. We've seen some plans that extend as long as five years. Most good multiyear plans cost $200 or more.
Recap
Whether you live in India or you're just visiting, you'll need a good VPN if you're going online. The best options will have servers in India, offer the best security and fastest speeds, and provide you with features that can make you more productive.
No VPN is perfect for everyone, but we're confident somewhere on this list you'll find the one that's right for you.
FAQs
Still have questions? Take a look at our answers to the ones you ask most frequently.