ZenMate VPN Review and Pricing
ZenMate is a fast and affordable VPN with all the right security features for better online privacy.
What We Like
Unlimited devices: A single subscription covers an unlimited number of devices.
Free browser VPN: For quick browsing, ZenMate offers free VPN browser extensions for Chrome, Firefox, and Edge.
Complete core features: ZenMate checks off all the security features we're looking for in a VPN: a kill switch, 256-bit AES encryption, and a strong VPN protocol in OpenVPN.
What We Don't Like
Lack of split tunneling: Although most VPNs today offer split tunneling, ZenMate has yet to add this feature.
Doesn't work in restricted countries: If you're looking for a VPN for your travels to China, Iran, or Saudi Arabia, ZenMate isn't for you. The VPN doesn't work in those countries.
Not enough configurations: While we love simple-to-use apps, the iOS app didn't let us configure our VPN connection at all, besides letting us choose a server to connect to.
Bottom Line
ZenMate wasn't the perfect VPN for us, but with all its security features, plus its affordable pricing, it's also not a bad VPN. It is rich in security features, it has an expansive network of 4,000 servers in 80 countries, and it uses top-of-the-line encryption and VPN protocols, yet its apps are simple to use. If that's what you're looking for, ZenMate VPN costs just $1.64 a month with the three-year plan.
It's getting harder to find peace of mind while browsing the internet these days due to the looming threats of hacking, spying, and personal information theft. Can a VPN help us find our zen? That's what we set out to find out when we tested the ZenMate VPN. Here, we'll share with you everything we learned about ZenMate, from its features and technical information to its apps and customer support.
From the surface, it's looking like a solid VPN — affordable, fast, and secure — but recently, users experienced a few bugs preventing them from accessing features like streaming. In this review, we'll take an objective look at Zenmate's pros and cons.
ZenMate VPN Quick Summary
| | |
| --- | --- |
| Kill switch | Yes |
| Torrenting | Yes |
| Netflix access | Yes |
| Encryption | 256-bit AES |
| VPN protocols | OpenVPN, IKEv2 |
Editor's Rating
Unlimited devices
Free browser VPN
Complete core features
Getting to Know ZenMate
Before we get started, how about a little introduction? ZenMate got its start in Berlin in 2013. It was under the ownership of ZenGuard, and in just a couple of years, it managed to grow its user base.
Recognition followed shortly after. Specifically, it caught the eye of an international cybersecurity firm called Kape Technologies. To those unfamiliar, Kape Technologies owns two other popular VPNs, namely CyberGhost and Private Internet Access. ZenMate continues to operate separately from those two, but as part of the larger Kape umbrella, it has access to resources to provide what its customers need.
ZenMate's Features
All VPNs work the same way: They encrypt internet traffic and route it through VPN servers to protect your privacy. However, it's a VPN's features that distinguish the great from the mediocre. Let's see where ZenMate stands.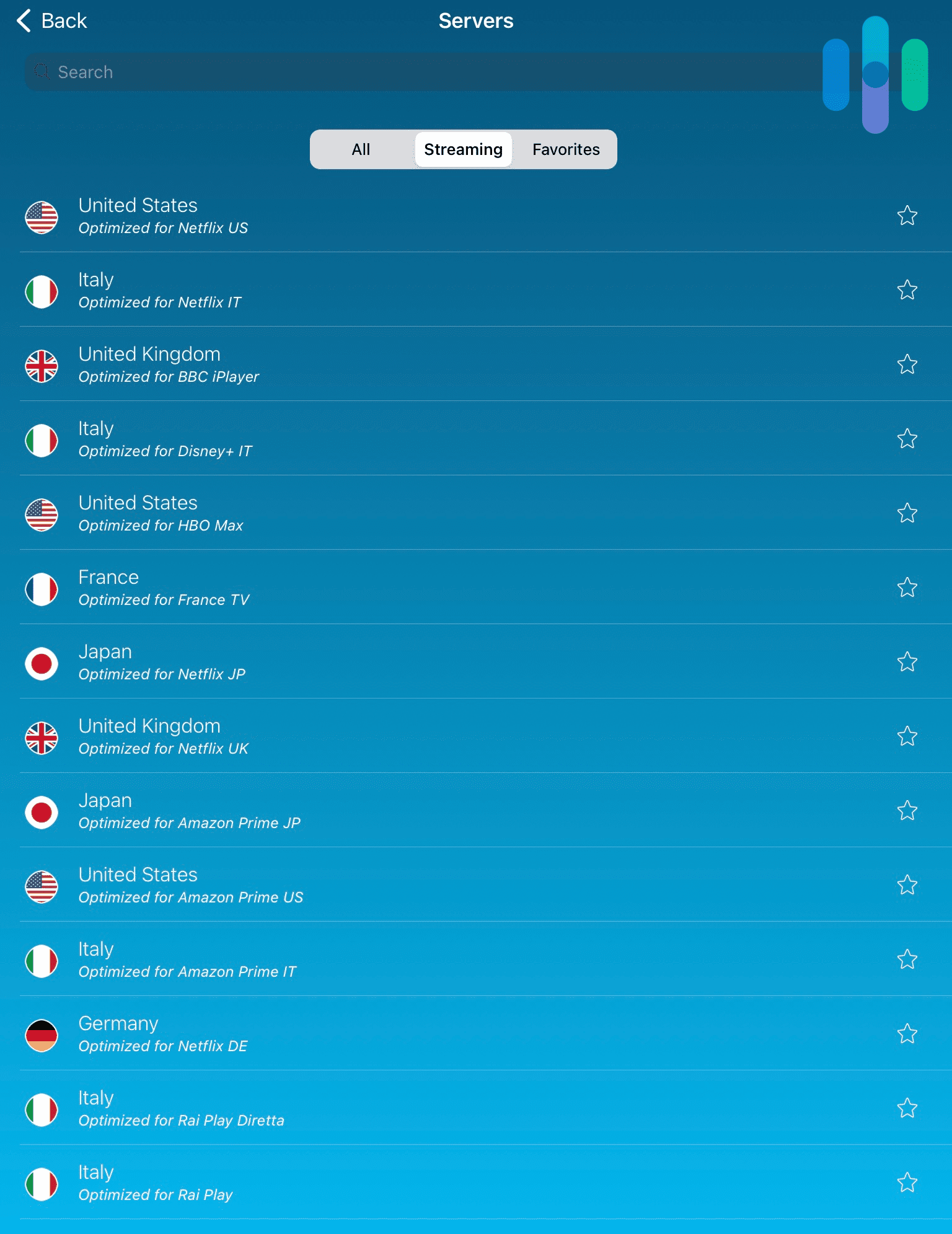 Does ZenMate log browsing data?
When we use VPNs, we give the VPN company the key to our encrypted browsing data. Yes, they prevent outsiders like ISPs and Big Brother from snooping around our internet traffic, but VPNs themselves can access our encrypted data. So … can we trust Zenmate?
ZenMate, like many other VPNs, claims to have a strict no-logs policy. By that, ZenMate means that it won't collect and store identifiable browsing information, such as IP addresses and visited websites, when you connect to its VPN.
However, ZenMate does collect some information when you visit its website or sign up for its services. According to ZenMate's privacy policy,1 it collects the following information:
Contact information: This includes names, addresses, and email addresses.
Payment information: Understandably, ZenMate asks for payment information, like credit card information, when you buy a subscription.
Website usage: ZenMate logs data, such as approximate locations and IP addresses stored in an anonymized format, whenever you go to its website.
Transaction information: This includes any and all information about transactions you make with ZenMate, like the subscriptions you purchased, the price you paid, returns and cancellations, and your billing methods.
We've seen other VPNs collect way more data than ZenMate, so we were certainly happy to see that ZenMate collects just the bare minimum. We also liked that this VPN erases stored personal data routinely, per the regulations of the European Union General Data Protection Regulation.2
FYI: ZenMate doesn't associate the information it collects with your browsing activity when you connect to its VPN, so overall, ZenMate's no-logs policy holds true.
Does ZenMate Have a Kill Switch?
Although it sounds threatening, a kill switch is an important feature if you want to stay anonymous online, and yes, ZenMate has one. Basically, a kill switch blocks all your device's internet traffic when it detects connectivity problems with your VPN. Without a kill switch, your device will switch over to your regular, unencrypted network, and your ISP will see whatever you were doing while connected to the VPN. That defeats the purpose of using a VPN in the first place.
But did ZenMate's kill switch work? While testing ZenMate's torrenting capabilities, which we'll get to later on, the server we connected to timed out. Without a kill switch, our computer would have revealed to our ISP that we were torrenting, which could have gotten our internet throttled down.3 Fortunately, the kill switch stopped that from happening. Instead, it blocked our internet connection until we had chosen a different server to connect to. So we were happy with this feature.
Does ZenMate Support Split Tunneling?
Split tunneling is a common feature of the best VPNs, but unfortunately, ZenMate doesn't have it yet. What is split tunneling, exactly? It's a feature that lets you route some traffic through the VPN and other traffic through your ISP's unencrypted network. We use it mostly to log in to our online banking accounts, as our banking websites block IP addresses from other countries besides the U.S. Instead of turning off VPNs, we simply configure them to route traffic to and from our online banking websites through regular, unencrypted networks. That way, we don't interrupt anything else that we're doing online. Unfortunately, we couldn't do that with ZenMate.
Does ZenMate Offer Multi-Hop?
Multi-hop, otherwise known as a double VPN, offers extra privacy and security. This feature connects you to two VPN tunnels, essentially doubling down your encryption. ZenMate doesn't have this feature either, but it's not a deal-breaker, as multi-hop is not something everybody uses. Because of the double encryption, multi-hop networks cause internet connections to slow down much more than normal VPNs do. That being said, if you need a VPN with multi-hop, check out our NordVPN review, as it's one of the best VPNs that offer the feature.
Can You Torrent and Watch Netflix With ZenMate?
It's no secret that Netflix and other streaming platforms are in a tug-of-war battle against VPNs. By changing your IP address, VPNs essentially let you change your Netflix region and watch titles not available in your home country. That goes against Netflix's terms of service. As a result, Netflix, along with other streaming platforms, try to ban VPN IP addresses.
Fortunately for us, ZenMate's IP addresses are still in the clear. We were able to watch Netflix while connected not only to U.S. servers, but servers from other countries. A really great job on ZenMate's part, but if you're looking for other options, ZenMate isn't the only VPN we tested that was able to navigate around Netflix's IP address banning. Our review of the best VPNs for Netflix will tell you more.
We expanded our tests to our streaming platforms, and while Zenmate performed well overall, we had trouble connecting to Prime Video for a while. The blackout lasted for about a week, during which Prime Video blocked our Zenmate IP address. It went back to normal eventually, and we got our access back.
How about torrenting? As long as we connected to a server that supports peer-to-peer (P2P) downloads, we were able to use torrent clients to download large files. The even better news is that most of ZenMate's U.S. servers support P2P, so downloads were much faster since we are closer to the servers.
ZenMate Encryption Protocols
Now onto the more technical stuff: ZenMate's encryption protocols. Encryption is vital, as this is what VPNs use to hide our internet traffic from the eyes of third parties. While testing ZenMate, we discovered that it uses different encryption protocols depending on your ZenMate product.
| ZenMate products | Encryption type |
| --- | --- |
| Desktop clients (Windows, Mac, Linux) | 256-bit AES |
| Mobile apps (iOS, Android) | 256-bit AES |
| Browser extensions (Chrome, Firefox, Edge) | 128-bit AES |
Currently, 256-bit AES encryption is the strongest encryption type VPNs have to offer. It's the gold standard, and we're glad to see that ZenMate uses it on its desktop and mobile apps. As for the browser extensions, 128-bit AES is still a solid encryption protocol. ZenMate explains that it uses a lower encryption type on its browser extensions in order to provide better speeds. That doesn't mean, however, that 128-bit AES is easy to crack; experts estimate that it would take billions of years to crack 128-bit AES using brute-force attacks, even with the computational power of modern computers.4
ZenMate's VPN Protocols
Another important thing to consider when choosing a VPN is the protocol it uses. A VPN protocol is a set of instructions that determine how your internet traffic travels from your device to a VPN server, and vice versa. Simply put, some VPN protocols are better than others because they are more airtight, meaning they allow fewer loopholes for third parties to exploit.
OpenVPN
ZenMate's default VPN protocol for Windows, Android, and Linux is OpenVPN, which is arguably the most widely used protocol out there. The reason that it's popular is that it provides a good balance between speed and security.
Think of it this way: If we liken OpenVPN to a courier service, its job is to pack, transport, and unpack fragile packages, which in this case is our private browsing data. The speed in which OpenVPN transports our data is largely dependent upon our internet speed, but the entire process also depends on how securely OpenVPN packs our data. If it packs — or encrypts — the data loosely, the process will be quicker but not as secure. Our data could be subjected to leaks or hacking. On the other hand, if OpenVPN encrypts our data too securely, it will take longer for the VPN to decrypt it. Using OpenVPN, ZenMate encrypts our data and sends it through encrypted channels with just enough security and just enough speed.
IKEv2
All right, we hate throwing tech-jargon at our readers, but please bear with us for a moment.
For Mac and iOS devices, ZenMate uses IKEv2, which stands for Internet Key Exchange version 2. Developed by Cisco and Microsoft security engineers, IKEv2 establishes a secure channel between your device and ZenMate's server using a key exchange algorithm. Then it checks that the two endpoints — your device and the server — are using the same algorithms and encryption keys. Once that's confirmed, IKEv2 relies on IPSec (Internet Protocol Secure) to create an encrypted tunnel. IPSec is a group of several protocols that work together to establish secure communications between two internet-connected devices.
Because of the complexity of IKEv2, it is best used when connecting to servers that are closer to you. It doesn't sustain fast transmissions reliably over long distances.
We hope we didn't lose you there, because the next part is the highlight of this review: our hands-on testing of ZenMate.
Testing ZenMate
With all the information we just threw at you, we're sure you want to get to the bottom line: Did ZenMate perform as we expected? Here are our test results.
Speed Tests
We wanted to get a feel of how ZenMate performs on desktops and mobile devices, so we tested it on our Windows laptop and iPad.
On our Windows laptop, ZenMate's upload and download speeds were exceptional. Before doing a speed test on ZenMate, we first performed a network test, and our download and upload speeds averaged 38 Mbps and 35 Mbps, respectively. Once we connected to ZenMate, the average download and upload speeds were hovering around 34 Mbps and 33 Mbps, respectively. Not bad, considering that VPNs tend to slow down upload and download speeds by 40 percent on average. In that regard, ZenMate outperformed many of the VPNs we've tested.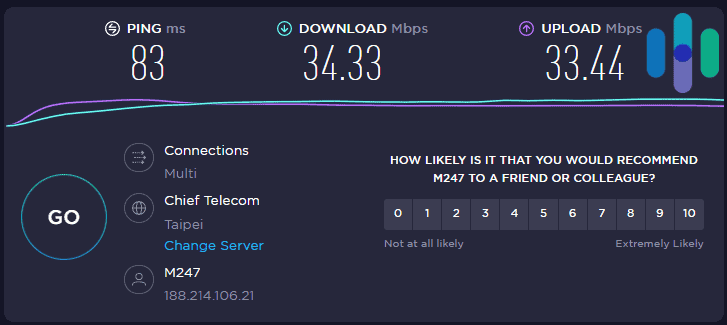 The latency, however, didn't hold up. Normally, our ping is around 10 to 15 ms, but once we connected to ZenMate, it shot up to 83 ms. Not terrible, but also not ideal, especially for online gamers.
| Test parameters | Download speed (in Mbps) | Upload speed (in Mbps) | Latency (in ms) |
| --- | --- | --- | --- |
| Without ZenMate | 38 | 35 | 15 |
| With ZenMate | 34 | 33 | 83 |
| Difference | -10.50% | -5.70% | 453.30% |
Our iPad speed tests mirrored the results as our Windows tests. Our upload and download speeds remained high after connecting to ZenMate, but our network's latency suffered.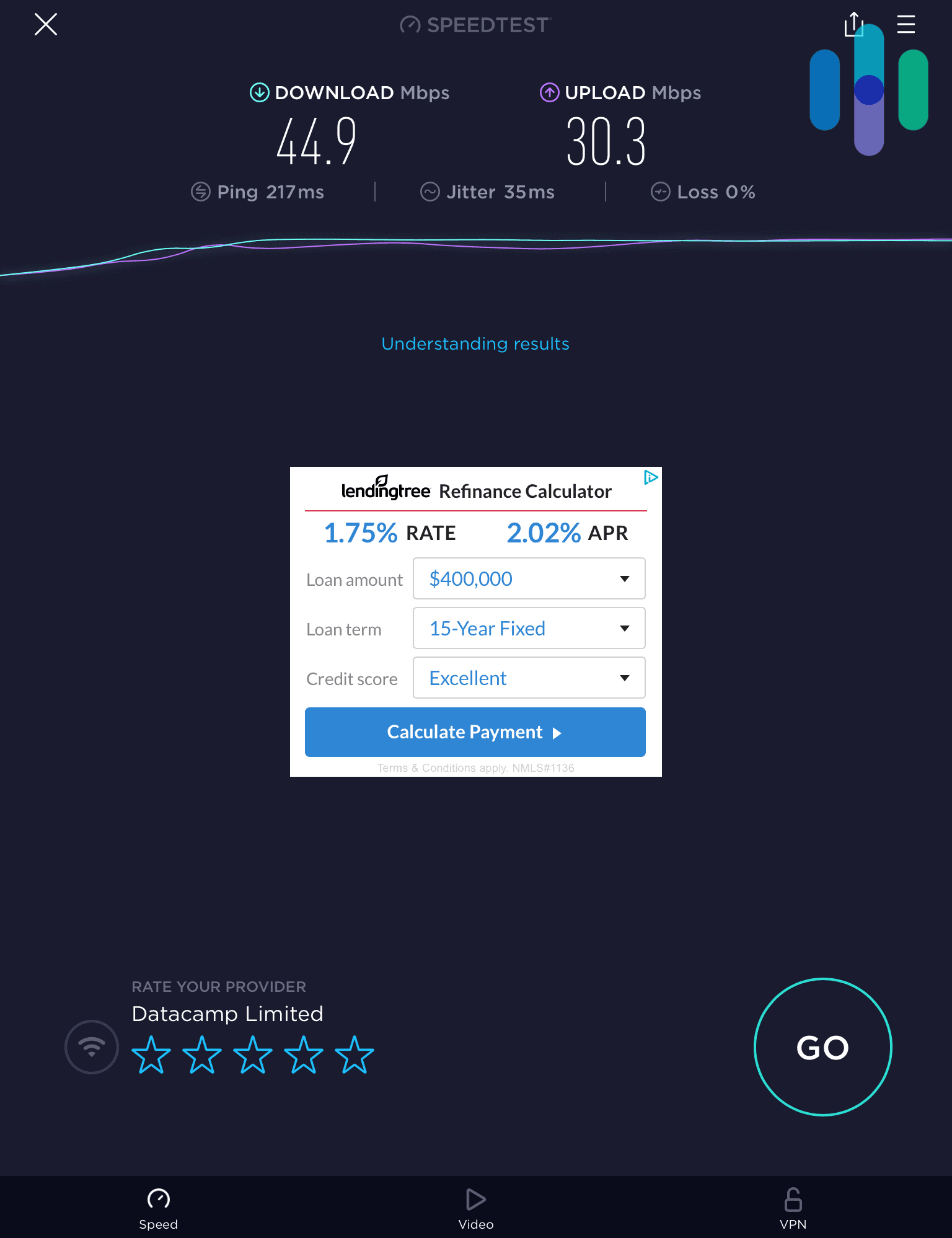 | Test parameters | Download speed (in Mbps) | Upload speed (in Mbps) | Latency (in ms) |
| --- | --- | --- | --- |
| Without ZenMate | 57 | 31 | 2 |
| With ZenMate | 45 | 30 | 217 |
| Difference | -21% | -3% | 10,750% |
Expert Insight: If you're looking for a VPN you can use for online gaming, you need a VPN that can keep your network's latency below 40 ms. We've compiled a list of the best VPNs for gamers, so check it out.
IP Address Leak Tests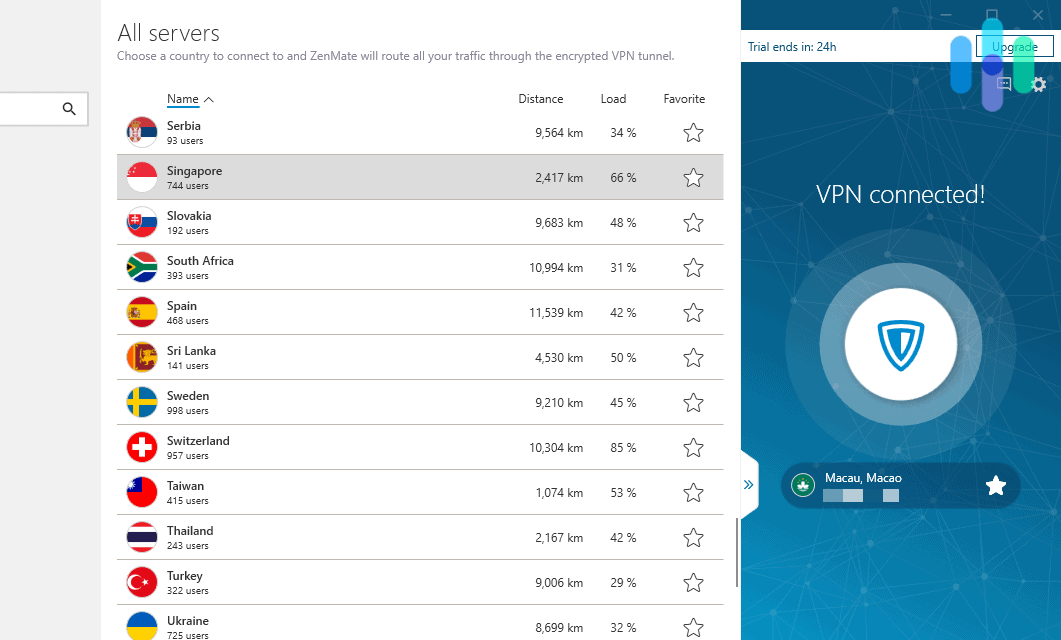 Aside from speeds, security is our top priority. VPNs hide our IP addresses using encrypted tunnels, but sometimes there are loopholes. Examples are DNS leaks and WebRTC leaks.
DNS leakage occurs when security flaws allow your ISP's DNS server to see DNS requests, which contain your real IP address, even if you're connected to a VPN. Using an online tool, we tested our network for DNS leaks while connected to ZenMate, and fortunately, the result was negative. The tool showed us the IP address that ZenMate gave us, not our real IP address, which means that ZenMate did a great job of hiding our IP address.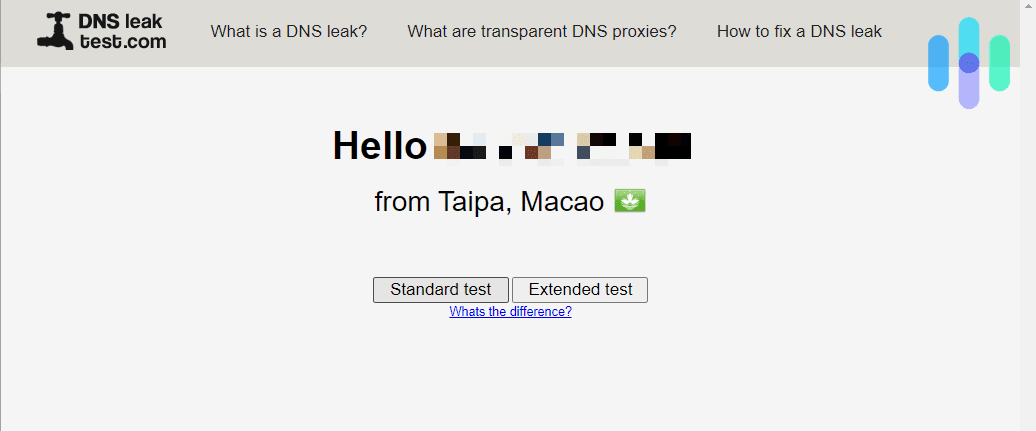 The same principles apply to the WebRTC leak test tool we used. WebRTC is a browser feature, and one of its flaws is that it can reveal your IP address to a third party, even if you're connected to a VPN. Much like the DNS leak test, the WebRTC leak test returned the IP address from ZenMate, meaning that ZenMate prevented our real IP address from leaking out.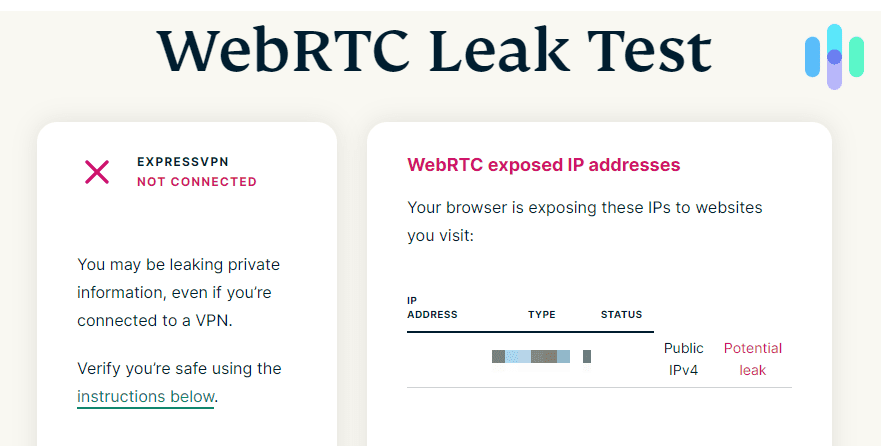 ZenMate Apps
When we tested ZenMate, we spent a huge chunk of time navigating its software, and we've got some thoughts about it. But first, which devices and systems can you use the software on? Here's the complete list:
Mac
Windows
Linux
iOS
Android
Raspberry Pi
Chromebook
Smart TVs
Apple TVs
It's also available as a browser extension for:
Chrome
Firefox
Opera
Edge
We tested ZenMate mainly on our Windows computer and iPad, and we can tell you that the software is easy to use. In fact, it might be too easy to use. While the Windows app provided enough configurations — we could change our VPN protocol, select a server we want to connect to, turn the kill switch on and off, and more — the iOS app lacked those customizations. The only things it let us do, as far as configuring our VPN, were connect to the VPN and choose a server.
Overall, though, the apps worked as intended. While they might be too simple for advanced VPN users like us, they did connect us to ZenMate's VPN servers with no problems.
Subscriptions and Pricing
We've been telling you from the start that ZenMate is an affordable VPN, but how affordable is it exactly? Below is a summary of ZenMate's pricing for its VPN subscriptions. Keep in mind that all ZenMate plans cover an unlimited number of devices, so all you need is one subscription. We did a more detailed report on ZenMate's pricing, so check that out if you want to learn more.
ZenMate VPN Subscriptions and Pricing
| Subscriptions | Monthly rate | Total amount billed |
| --- | --- | --- |
| 1 month | $10.99 | $10.99 |
| 1 year | $4.49 | $53.88 |
| 3 years | $1.51 | $59.00 |
Tip: For the biggest savings, go with the three-year plan. It comes with a 30-day refund period, so you can get your money back if you change your mind. You will also get a seven-day free trial if you buy a subscription via the ZenMate mobile app.
ZenMate Customer Support
ZenMate offers 24/7 customer support via live chat, an online help center, and support tickets (or so it says). While testing ZenMate, we wanted to find out how many devices we could connect to the VPN simultaneously. Although our subscription covered an unlimited number of devices, we know that some VPNs limit the number of simultaneous connections, so we turned to ZenMate's 24/7 live chat for support. Unfortunately, we couldn't find the live chat button where it's supposed to be on ZenMate's website. We tried several times, at different hours, to no avail.
Eventually, we caved in and submitted a support ticket, to which ZenMate responded one business day later. Apparently, we could connect up to 99 devices simultaneously, which is great. It would have been even greater, though, if ZenMate's live chat support wasn't missing in action. Fortunately, the email support team didn't take too long to respond.
Recapping ZenMate
We know that that's a lot of information to process, so let's get to the bottom line. ZenMate is an affordable VPN that allows an unlimited number of devices to use a single subscription. It's easy to use, it allows for fast downloads and uploads, and it provides top-notch privacy.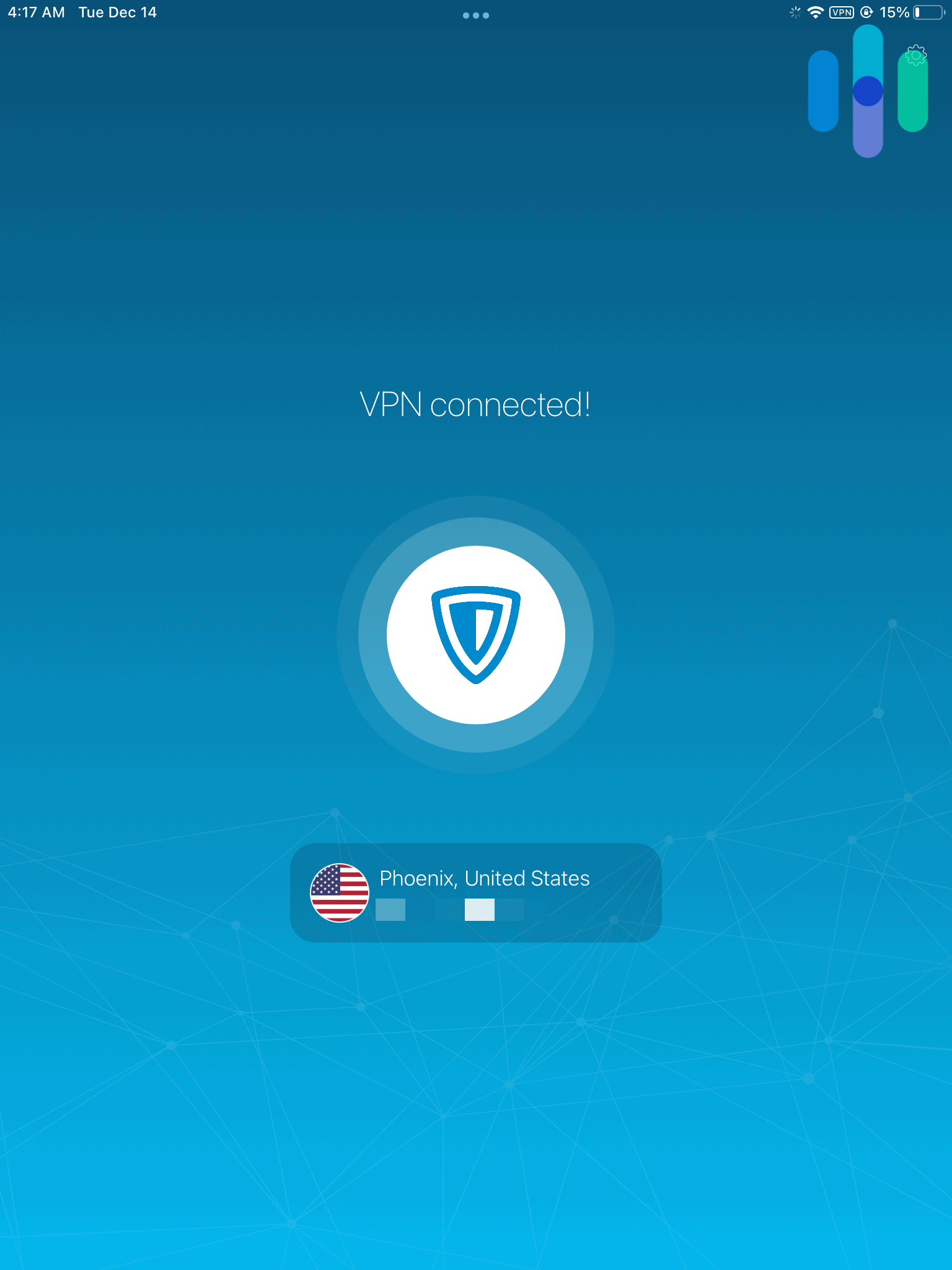 It's not free from drawbacks, though. ZenMate's apps, although functional, lacked configuration options. ZenMate also doesn't include split tunneling, which is a pretty important feature. If you can live with those limitations, then ZenMate is a strong option. Nevertheless, we recommend reading our reviews of other excellent VPNs. You can start with our ExpressVPN review, or if you're looking for more affordable alternatives, check out our list of the best cheap VPNs.
FAQs
Have some questions about ZenMate? We have answers to these frequently asked Qs!