Best Vacation Home Security Systems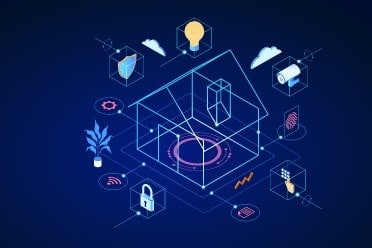 Do vacation homes even exist when we're not vacationing in them? The answer is, unfortunately, yes, and if you own a vacation home, then you know the struggles that come with keeping it safe and secure year-round. In fact, maintaining your vacation home is far from a vacation, but security systems can help you prevent and detect home burglaries. Well, here at Security.org, security systems are the name of the game, and we've selected the systems best-suited for guarding your vacation home. With mobile applications and professional monitoring, you can be home even from thousands of miles away.
Vacation Home Security System Features
| | |
| --- | --- |
| Monitoring type | Professional |
| Remote access | App-controlled |
| Environmental safety monitoring | Fire, CO, flood |
| Security cameras | Indoor, outdoor |
Selecting a security home for a vacation home specifically required us to focus on features like 24/7 professional monitoring versus self-monitoring, professional versus DIY installation, and the usability of apps for mobile devices. We also looked for systems like Vivint, that integrate with home-sharing platforms like Airbnb, making property management a breeze.
Another factor that hugely impacted our ratings was smart home integrations beyond voice assistant integration with Alexa and Google Assistant. We preferred systems that worked with connected devices from other Internet of Things (IoT) brands so that users could control their vacation home's security system along with its temperature, lighting, locks, and more. When it comes to smart home technology, convenience is king, especially in a place that's supposed to bring you joy and relaxation.
The Best Vacation Home Security Systems of 2023
Comparison of the Best Security Systems for Vacation Homes
| System | SimpliSafe | Vivint | Frontpoint | Cove | Protect America | Ring Alarm Security Kit |
| --- | --- | --- | --- | --- | --- | --- |
| Ranking | 1st | 2nd | 3rd | 4th | 5th | 6th |
| Ratings | 9.2/10 | 9.4/10 | 8.9/10 | 8.7/10 | 8.2/10 | 7.7/10 |
| Monitoring | Professional only | Professional only | Self or professional | Professional only | Professional only | Self or professional |
| Installation | Professional | DIY | DIY or professional | DIY | DIY with phone support | DIY |
| Smart Platform INtegrations | Hue, Alexa, Google Assistant, Nest Thermostat, Airbnb | Alexa, Google Assistant | Alexa, Google Assistant, Nest thermostats, August smart locks | Alexa, Google Assistant | Alexa, August Smart Lock Pro, Kwikset deadbolts, Yale Z-Wave locks, Linear garage door controller, Z-Wave lights and outlets, GoControl Z-Wave thermostats | Alexa, Google Assistant, Dome, Ecolink, First Alert, GE, Leviton, etc. |
| Contracts | Monthly or equal to the timing of loan | Monthly | Monthly | Monthly | Three years | Monthly or yearly |
| Android App Rating | 4.4 | 4.1 | 4.4 | 2.6 | 3.5 | 3.5 |
| iOS App Rating | 4.6 | 4.5 | 4.8 | 2.3 | 4.2 | 4.2 |
| Read Review | SimpliSafe Review | Vivint Review | Frontpoint Review | Cove Review | Protect America Review | Ring Alarm Security Kit Review |
Detailed List of the Top Vacation Home Security Systems
1. SimpliSafe - Best Vacation Security System Overall

Having a vacation home can, at times, feel like a job. Between making sure the landscaping won't anger the homeowner's association to keeping the home's temperature at a certain level to keep the pipes from bursting, we truly never get a vacation from our vacation home. But at least with SimpliSafe, we didn't have to worry about it getting burgled when we weren't there. That's because we signed up for the Interactive Plan, which included 24/7 professional monitoring. If any of our sensors went off and we weren't around to respond to it, the monitoring team handled it, calling emergency services if needed. This gave us the peace of mind to take a vacation from our vacation home without worry.

What We Liked

Monthly contracts
DIY or professional installation
Smart home integrations with Alexa, Google Assistant, Nest thermostats, August smart locks, etc.
Affordable professional monitoring

What We Didn't Like

Notifications, remote control and smart home integrations only available with Interactive plan for $25 a month
Indoor camera lacks person detection
Self-monitoring only includes livestreaming and not remote control or notifications
Motion sensors only have 90-degree field of view

DIY or Professional Installation

Originally, SimpliSafe only offered DIY installation, which is the route we took. However, since we installed our system, they've offered professional installation for $79. Compared to companies that charge up to $130 for professional installation, this is a reasonable price. But if you don't want to pay anything for installation, the DIY option won't be too difficult, either. After plugging in the base section, the app guided us through the rest of the process, which was mostly sticking sensors onto walls.

SimpliSafe Keypad

Smart Home Integrations

Now, we aren't thrilled with the fact that smart home integrations are only available with SimpliSafe's Interactive Plan. However, we signed up for that plan, so we reaped the benefits of Alexa and Google Assistant voice commands plus integrations with Nest thermostats and August smart locks. Especially in our vacation home, we want to make sure that we lock the door and turn the thermostat down when we're not around. SimpliSafe made it easy to control all of our IoT devices from their mobile app, which has good ratings for iPhones and Androids alike.

The SimpliSafe App

Let's go back to the app. Again, if you have a vacation home, we highly recommend signing up for the Interactive plan so you can get notified when sensors go off and control your system remotely, including arming and disarming it. Otherwise, you'll only be able to livestream footage. But with remote control, we could speak to whoever the camera was on from anywhere in the world. This proved useful in talking to the plumber, who we let in remotely with our August smart locks. Talk about a full circle moment!

2. Vivint - Best Vacation Security System with Professional Installation

We trust Vivint to guard our home, and if we had a vacation home, we'd trust it to guard that, too. Especially because of their partnership with Airbnb, it's easy to let guests in, adjust the Nest Thermostat remotely when there's a heatwave, or even turn the Hue lights on "away" mode so it seems like you're home, all from the Vivint Smart Home app. As long as you're okay with Vivint's pricing, which certainly isn't the cheapest home security on the market, it's our number one recommendation for guarding your vacation home.

What We Liked

Airbnb partnership
Professional installation
Integrations with Hue lighting and Nest thermostats
24/7 professional monitoring and cellular backup

What We Didn't Like

Expensive monthly fees
Pricey equipment
No self-monitoring option
Installation and moving fees

Vivint and the Smart Home

Have you ever left your vacation home and, an hour after driving away, realized you've left the lights on? Maybe you forgot to turn off the air conditioner and you won't be back for months. With Vivint, both of those scenarios are a-okay, so long as your smart lighting is Hue and your thermostat is from Nest. You'll be able to go into the Vivint Smart Home app and make adjustments from anywhere with Internet, along with getting notified if your security sensors go on. It's a property management system and a security system all in one!

Vivint Doorbell Camera

Impressive Doorbell Camera

It may fly under the radar compared to the Ring Video Doorbells, but Vivint actually has one of the most impressive doorbell cameras on the market, although it will cost you a pretty penny at $249.99. You can learn more about it in detail in our Vivint Doorbell Camera review, but to summarize, the best things about it are its three to five-year battery life, meaning you won't have to worry about it losing power when you're not around, its two-way audio, so you can greet visitors even if you're away, and its person detection, meaning you'll only get notified when it detects a person. Basically, if someone is at the door of your vacation home, you, along with the professional monitoring team, will be able to handle it ASAP.

Monthly Contracts

As long as you pay for your Vivint equipment upfront as we did, Vivint won't make you sign up for a long-term contract. Rather, everything is month-to-month, which is good in case you decide to sell your vacation home or rent it to someone else long-term. However, if you financed your loan, the contract length will equal the time of the loan, better for vacation homeowners on a budget.

3. Frontpoint - Best Vacation Security System for Customer Support

Frontpoint is perhaps best known for its excellent customer support; even though you may not be in your vacation home, you'll be able to reach them via phone, email, or an online form. We recommend calling them up directly for a quick response. Their representatives are knowledgeable and helped us navigate the app, even thousands of miles away from our vacation home. Good customer service is hard to come by, so anyone with multiple homes and little time will appreciate Frontpoint for their support alone.

What We Liked

Alexa and Google Assistant integrations
Awesome customer support
Easy, DIY installation
24/7 professional monitoring

What We Didn't Like

High professional monitoring fees
No option to self-monitor
No professional installation option
No direct integrations with other IoT brands

DIY Installation

It's no secret that owning multiple homes can get expensive, what with two mortgages, two of every appliance, and two yards to keep trim, so the last thing you want to spend more money on is professional installation for your security system. That's why we appreciate Frontpoint's DIY installation, which, for most of its components, was as easy as peel-and-stick. Even if you sell your vacation home and move into a new one, you'll be able to move your system free of charge, and Frontpoint will even send you more double-sided adhesive! Extra points for convenience.

Frontpoint Indoor Camera

30 Day Returns

We don't think you'll want to return your Frontpoint system if you get it, but if you do for whatever reason, you'll be able to get a full refund (including shipping!) within 30 days of receiving the system. Frontpoint is a bit pricey, so this policy takes out the financial risk, so long as you remember the dates in your calendar.

24/7 Professional Monitoring

All Frontpoint systems include 24/7 professional monitoring. For those that haven't pored over our home security system buyers guide, 24/7 professional monitoring means that there's a team of people at a monitoring center who can respond if any of our alarms go off. Especially for people with vacation homes in different time zones, or anyone with a job, this service is essential for keeping your home secure, and contacting emergency services when the time calls for it. In our opinion, it's worth it for the peace of mind alone.

4. Cove - Best Vacation Security System for Google Home

Got a Nest Hub Max or a Nest Mini in your vacation home? You might be interested in Cove, which works with Google Assistant along with Alexa. Using our voices alone, we could check the status of our alarm system and arm it in either home or away mode. That was convenient for when we were leaving our home for the summer and our hands were full of food and luggage. Plus, we're frequent users of the Google Home app, so it was nice to be able to control our system remotely without having to download yet another third-party application.

What We Liked

Professional monitoring starting at $15 a month
Alexa and Google Assistant integrations
DIY installation
Monthly contracts

What We Didn't Like

Poorly-rated Android app
Poorly-rated iOS app
No self-monitoring option
Remote control only available for $25 a month

24/7 Professional Monitoring

We opted for Cove's Plus plan, although the Basic plan also included 24/7 professional monitoring. For vacation homeowners like us that aren't in their homes for the majority of the year, 24/7 professional monitoring was essential. Although we got alerted when our sensors went off through the Cove Security app, it was nice to have backup when we were too busy to respond. In one case, the monitoring center called us when our door sensor went off. Fortunately, we answered and found that it was just our plant sitter coming to give everything a spray, but if we hadn't answered, they might've called the police. Better safe than sorry!

The Cove App

The Cove Security App

| Cove app | Rating |
| --- | --- |
| iOS | 2.2 |
| Android | 2.6 |

Another advantage of the Plus plan was smartphone control via the Cove Security app. Again, since we're usually not at our vacation home, remote control is a must. It helped us when we were 40 minutes away and couldn't remember if we had armed our system or not (we had, but if we had forgotten, we could have fixed the error remotely in the app). Although the Android and iOS apps don't have great ratings on the Google Play and App stores, respectively, they did the simple job of remote control and livestreaming just fine, in our experience.

DIY Installation

Vacation homes come with enough expenses without tacking on professional installation, so we were thrilled to install Cove ourselves, for free. The system came pre-programmed and the majority of it was wireless, so installing it only took about an hour. Plus, with free phone support, we tested our system so we could feel as confident as we would've with professional installation.

FYI: You'll need a smart speaker or smart display to speak to either Alexa or Google Assistant in the first place.

5. Protect America - Best Vacation Security System with Free Professional Monitoring

Not to brag, but we've tested out dozens of security systems, and to date, Protect America is the only one we know of with free professional monitoring. That's an amazing offer, but there is one small caveat: while cellular backup is usually included with professional monitoring for free, with Protect America, it has a cost, plus three-year, binding contracts. But if you're ready to commit to Protect America for at least a few years, then read on.

What We Liked

DIY installation with help over the phone
Works with Alexa
Free professional monitoring
Landline or cellular backup

What We Didn't Like

Three-year contracts only
Unimpressive indoor camera
Expensive monthly subscriptions
No professional installation

Smart Lights, Lights, Thermostats and More

Maybe you need to let a plumber into your vacation home when you're on the other side of the country, or maybe you are getting a new chandelier delivered and want it delivered to the garage to avoid package theft. If you have an August Smart Lock Pro or a Linear garage door controller, you can let the plumber and the delivery guy in through your Protect America app. The system also integrates with smart locks from Kwikset and Yale, Z-Wave smart lighting and outlets as well as Z-Wave thermostats from GoControl, making keeping your home safe and not wasting energy easier than ever.

Protect America Base Hub

Negotiable Fees

Just to reiterate, while Protect America technically doesn't charge for professional monitoring, they do charge for cellular backup, also a requirement for all systems. However, these prices can range from around $20 to $60 a month depending on your equipment and services, and negotiation is encouraged. So whether you have a small, beachside apartment or a sprawling country mansion, you'll be able to create a customized system from Protect America, with prices to match.

Alexa Integration

Aside from working with a slew of smart home devices, Protect America also works with Alexa, making it a great choice for vacation homes already deeply entrenched in the Amazon ecosystem. Using your voice alone, you can have Alexa lock or unlock the door, arm or disarm and system and check its status, armed or disarmed. That'll come in handy when you enter your empty vacation home, arms full of groceries to feed your entire extended family!

6. Ring Alarm Security Kit - Best Vacation Security System for Alexa

Our fifth and final best security system for vacation homes is Ring Alarm, a product of gigantic tech company Amazon, which owns Ring. Ring Alarm is one of the most affordable and easy security systems on the market, with 24/7 professional monitoring available for only $10 a month or $100 a year, the lowest we've seen. Of course, self-monitoring is free, which isn't always the case (looking at you, SimpliSafe), so if you want to avoid more bills, you can get away with just paying for your Ring equipment.

What We Liked

$10 a month professional monitoring option
Free self-monitoring through Ring— Always Home app
Many IoT integrations
DIY installation

What We Didn't Like

History of breaches and hackings
No professional installation
Connectivity issues
Not the highest-quality cameras on the market

Ring Protect

As we said, you don't have to pay a dime for Ring to receive motion notifications, check in on your camera's live footage, or control your devices remotely. But for vacation homeowners that want more security, there's the Ring Protect Plus plan, which includes 24/7 professional monitoring for all of the Ring devices at your home, plus a few extras.

| | Free Plan | Protect Basic | Protect Plus |
| --- | --- | --- | --- |
| Cellular Backup | No | No | Yes |
| What's Covered? | No | One Ring camera | All Ring devices at one home |
| Discounts at Ring.com | No | No | 10% off Ring Products |
| Days of Cloud Storage | No | 60 | 60 |
| Person Detection | No | Yes | Yes |
| Professional Monitoring for Ring Alarm | No | No | Yes |
| Review, Share, and Save Ring Videos | No | Yes | Yes |
| Length of Warranty | 1 Year | 1 Year | Extended |
| Monthly Cost | $0 | $3 | $10 |
| Annual Cost | $0 | $30 | $100 |

Considering the fact that more traditional companies like ADT can charge up to $60 a month for professional monitoring, Ring Alarm comes in at a fraction of the cost, so you can spend your money making other improvements to your vacation home.

Ring Alarm Security System (2nd Gen)

Compatible IoT Devices

Ring works with a ton of IoT devices,2 so much so that we don't have space to list them all here. However, from sirens to smoke alarms, from smart plugs to light dimmers from top companies like Dome, EcoLink, First Alert and GE, there are a ton of products that we could control through the Ring— Always Home app. Another advantage was that we could create triggers, like having our Dome Siren go off anytime one of our Ring motion sensors was activated. This ensured that, if we got robbed, the whole neighborhood would know about it, whether or not we were around to respond to the notification.

Proven To Decrease Burglaries

Without anyone home in your vacation house, it can be hard to prevent burglaries, but Ring's video doorbells have been proven to do just that. In 2015, the LAPD partnered with Ring to install video doorbells in 500 homes in L.A. By the second half of the year, there was a 55 percent decrease in burglaries compared to homes without the devices installed.3 Sometimes, all an intruder needs to pick another home is a voice answering the door, implying someone is home (even if you haven't been there in months).

Note: Want to only get notified when your Ring video doorbell detects a person? Go with the Ring Video Doorbell Elite or the Ring Video Doorbell Pro, both of which have person detection with Ring Protect plans.
Methodology
Just how did we select the best security systems for vacation homes specifically? Of course, we looked at the factors we judge security systems by in general, with emphasis on a few key areas:
Smart platform integrations: In many ways, your vacation home can run itself with automated lights, thermostats, and plugs in addition to smart security systems and cameras. We looked for systems that worked not only with Alexa and Google Assistant, but also with other IoT devices that can be controlled remotely.
Monitoring: We also prioritized systems that offered 24/7 professional monitoring, and ideally self-monitoring as well.
Highly-rated apps: Since you probably won't be at your vacation home most of the time, it's important that you can check in on it with a user-friendly app, be it for iOS or Android.
Installation: Easy installation is important, whether it's done by a professional or good old DIY.
Of course, we never forget about price, looking for low storage, equipment and monitoring costs. Between your multiple homes and your travel, money can be tight, but you don't have to spend a ton to invest in some awesome smart home security systems.
Frequently Asked Questions