Wyze Sense Security System
Is it Wise To Get Wyze? Wyze's Pricing, Packages, and More
Works with the rest of Wyze's products including the Wyze Cam Pan and the Wyze Cam V2 and their smart bulbs, plugs and more.
Two contact sensors and a motion sensor cost only $19.99.
Requires either the Wyze Cam or the Wyze Cam Pan to attach a bridge.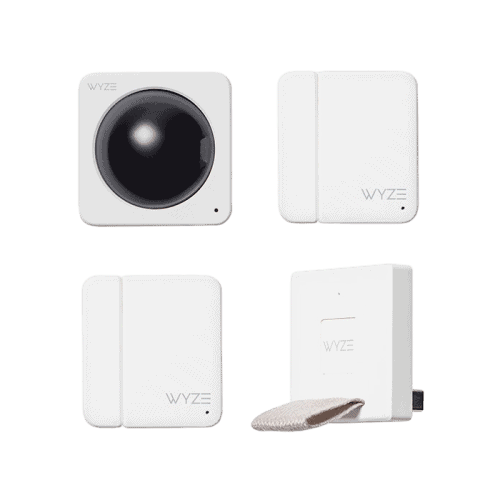 All of our content is written by humans, not robots.
Learn More
By

&

Since the smart home company Wyze was founded in 2017, they've put out a ton of home security products, from the Wyze Cam and the Wyze Cam Pan to the Wyze Sense, their unique take on a home security system. The main thing that initially attracted us to Wyze was their shockingly low prices; the Wyze Sense Starter Kit we purchased only cost $19.99, a fraction of the cost of even the most affordable home security systems that we've already tested. But just because something is cheap doesn't make it worth buying, especially with other costs that can crop up with home security. From equipment to storage, here's what we paid for Wyze Sense.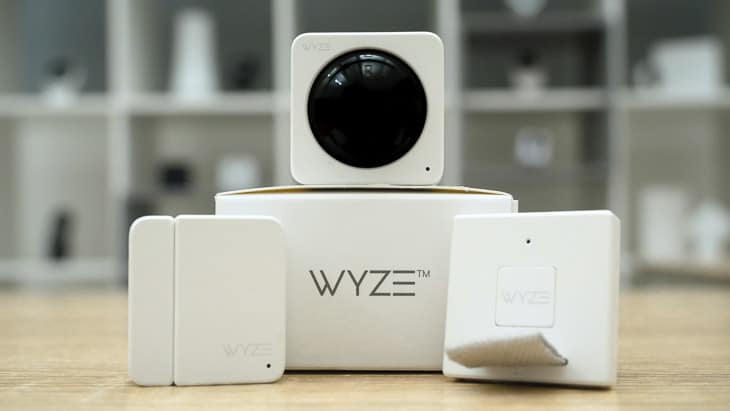 Why Wyze Sense Makes Sense
Spoiler alert: If you're looking for a quick and easy DIY home security system that you can monitor yourself, we think Wyze Sense is a great option. Here's why:
Affordable price: At just under $20 for a bridge, two contact sensors and a motion sensor, Wyze gave us smart home security without breaking the bank, to put it lightly.
No required monthly fees: We got alerts from our sensors on the Wyze app for free, and we were never forced to pay a dollar after the initial equipment costs.
IFTTT-integration: Since Wyze Sense works with IFTTT, we hooked it up with a lot of our other smart home products, like having our sensors arm whenever our abode security system is armed. To learn more, read our abode system review.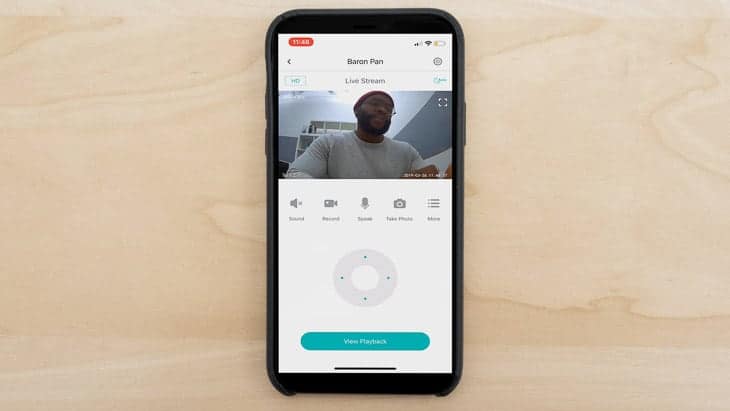 Easy app: Wyze's iOS app made receiving notifications and arming and disarming our sensors a snap.
Works with other Wyze products: We have a lot of Wyze's other products, like the Wyze Cam Pan and the Wyze Cam V2, either of which are required to use the Wyze Sense. Wyze also has a number of IoT products for cheap like a smart bulb, a plug, and even a thermometer in light of the COVID-19 pandemic. Want to explore their cameras? Read our Wyze cameras review.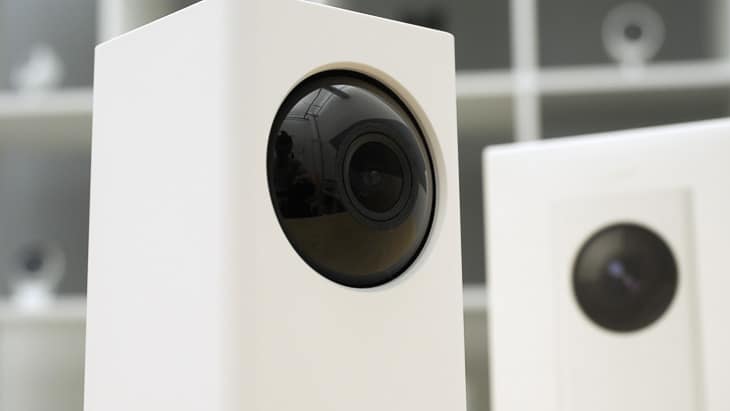 More Security.org Recommendations
Check out more of our favorite home security systems.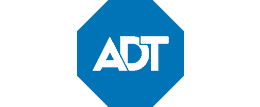 Costs: Equipment, Monitoring and Storage
Okay, so here's the thing: once we paid for Wyze Sense, we didn't have to pay a penny more. But we ended up choosing to, for reasons we'll explain, but first, let's jump back to equipment costs.
Equipment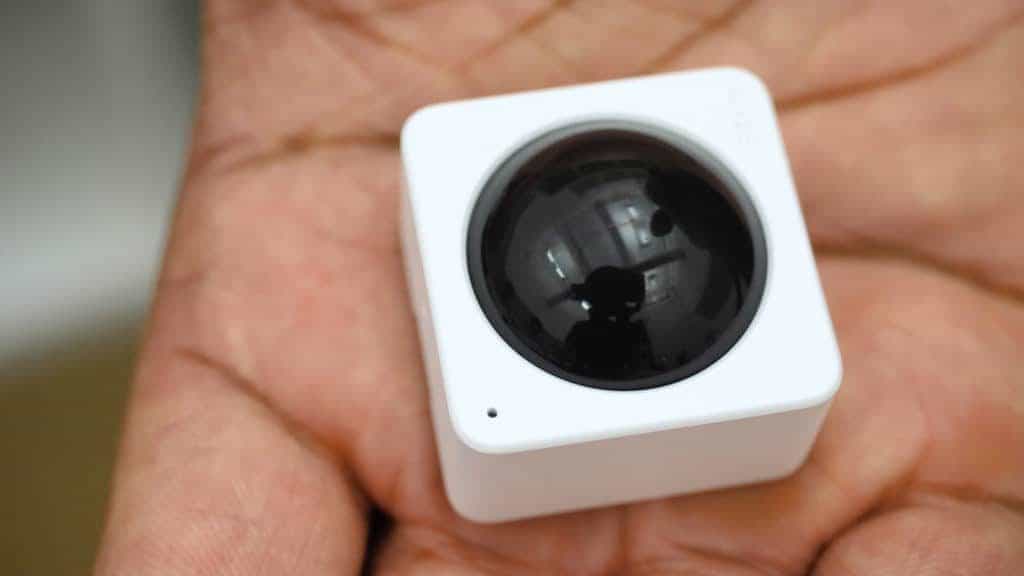 While we spent $19.99 on the Wyze Sense Starter Kit, which included a bridge for the Wyze Cam, two contact sensors and a motion sensor; we needed a Wyze Cam to put the bridge in the first place, which cost us another $19.99. So all in all, we got our system up and running for $40, although Wyze has some other options and packages available as well.
| Product | Price |
| --- | --- |
| Wyze Smart Home Starter Pack- Wyze Cam, 3 Wyze bulbs, 2 Wyze plugs, bridge, 2 contact sensors, 1 motion sensor, 1 micro-SD card | $99 |
| Outdoor Starter Bundle- Wyze Cam Outdoor and base station | $49.99 |
| Outdoor Expansion Camera- Wyze Cam Outdoor, charging cable, screw assembly | $39.99 |
| Wyze Cam Pan | $29.99 |
| Wyze Sense Contact Sensor Kit | $19.99 |
| Wyze Sense Starter Kit- bridge, 2 contact sensors, 1 motion sensor | $19.99 |
| Wyze Cam V2 | $19.99 |
| Wyze 32 GB Micro-SD Card | $9.99 |
| Wyze Cam Pan Mounting Kit | $8.99 |
| Wyze Sense Single Motion Sensor | $5.99 |
| Wyze Cam V1/V2 Mounting Kit | $3.99 |
To get the absolute most bang for your buck, we recommend the Wyze Smart Home Starter Pack, which gives a ton of value for just $99.
Monitoring
Wyze doesn't offer 24/7 professional monitoring, which can cost anywhere from $10 a month with companies like Ring all the way up to $40 a month and more with companies like Vivint (and you can verify that on our Ring costs page and our Vivint costs page). Instead, we monitored our system and cameras for free on the Wyze app. While we had to be completely responsible for our home's security, it was worth it to lessen our bills which, believe us, are high enough as it is (the median home price in Brooklyn, where we live, is over Welp).
Storage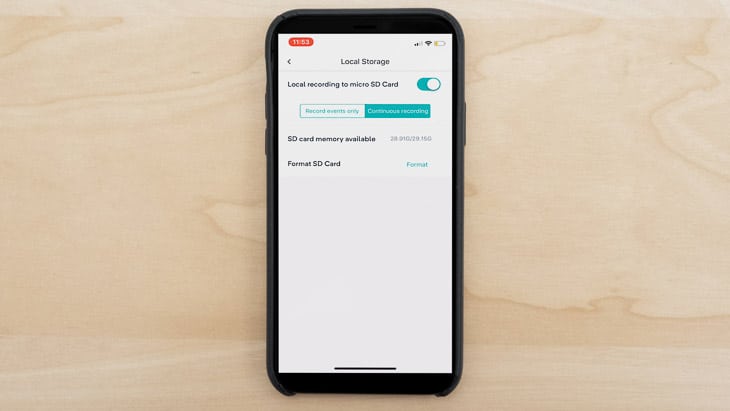 Now, storage only applies to the Wyze cameras, not the Wyze Sense security system, but since you need the cameras for the system, we thought we'd also include storage information here. The verdict? Wyze gave us 14 days of free cloud storage for our video clips, and when we wanted to store them locally, we shelled out $9.99 for a 32 GB micro-SD card, which wasn't bad. However, the length of our clips depended on Wyze's only paid subscription option, which leads us nicely into our next point…
Cam Plus
A new feature, Wyze Cam Plus is how we got our clips to go from only 12 seconds long to however long the motion actually lasted for. While we didn't have any intrusions while testing out the Wyze cameras, if we did, we would've wanted to capture the whole thing, not just a measly 12 seconds. For $1.99 per camera per month or $14.99 for a year, we thought this cost was more than worth it.
| | Free | Cam Plus Cost For One Camera | Total Amount Billed For One Camera |
| --- | --- | --- | --- |
| Clip Length in Seconds | 12 | Unlimited | Unlimited |
| Detection for People | No | Yes | Yes |
| Monthly Cost | $0.00 | $1.99 | $1.99 |
| Yearly Cost | $0.00 | $1.25 | $14.99 |
But wait, there was one feature that Wyze added to Cam Plus, and that was person detection. Before we got person detection, our Wyze app alerted us whenever our cameras detected motion, which was particularly annoying when we were watching a neighbor's dog. Person detection changed that, only alerting us when it detected people instead of all moving objects. We recommend Cam Plus for the person detection alone, but the unlimited clip length didn't hurt, either.
Tip: If you want unlimited clip length and person detection, buy Cam Plus for $1.99 a month per camera or $14.99 a year per camera, which comes out to $1.25 a month making it a slightly cheaper option.
Wyze and the Smart Home
While the Wyze sensors work with IFTTT, their cameras work with IFTTT, Alexa and Google Assistant. Hopefully, Wyze will integrate the sensors with our favorite voice assistants soon, because we'd love to arm and disarm our system using our voices instead of the Wyze app.
| Product | Alexa | Google Assistant | IFTTT |
| --- | --- | --- | --- |
| Wyze Cam | Yes | Yes | Yes |
| Wyze Cam Plus | Yes | Yes | Yes |
| Wyze Sense | No | No | Yes |
Regardless, here's how we integrated the Wyze sensors and cameras into our larger smart home.
Alexa: We had Alexa show our camera footage on different Alexa-enabled devices like the Echo Show, which you can learn more about in our Echo Show review. It was fun to talk with our guests from out of town through the Wyze Cam while we were at work!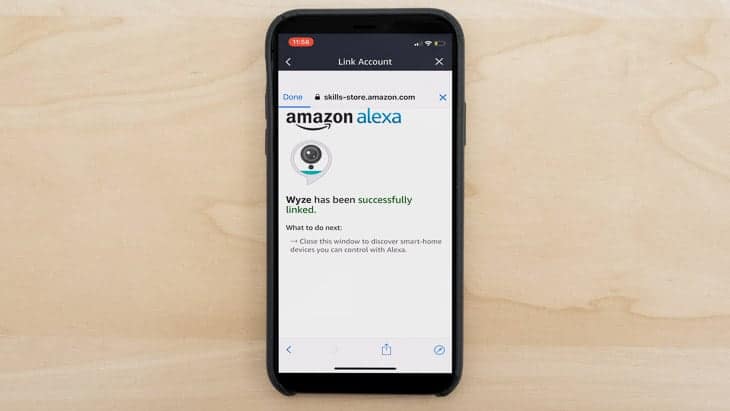 Google Assistant: We could do even more with Google Assistant, from showing our footage on our Nest Hub to turning our cameras off and on and asking about their status. To see our Nest Hub in action, read our Nest Hub review.
IFTTT: Okay, so so far neither Alexa or Google Assistant actually works with Wyze Sense, just their cameras, which is why we turned to IFTTT. IFTTT stands for If This Then That, and it allows us to have devices of different brands trigger one another, which is ideal considering Wyze Sense isn't integrated with any voice assistants directly. So far, there were 36 applets

2

that people had created with Wyze, from turning off smart lights when the motion sensor doesn't detect motion, or vice versa, to buzzing our phones when the contact sensors opened on our doors or windows. Sure, this isn't ideal, but it's better than nothing.
FYI: Wyze Sense doesn't work directly with voice assistants, so in order to connect it to other IoT devices in your home, you'll need to use IFTTT's applets.
To learn more about how we used Wyze Sense in our larger smart home ecosystem, read our full Wyze Sense review.
Wyze Sense vs. Other Top Systems
It's a dog eat dog world, and that also extends to smart home security. The systems we've tested out that are most similar to Wyze Sense are from Kangaroo and Ring Alarm, which, again, you can explore further in our Kangaroo review and Ring Alarm review, but here's an overview.
Kangaroo is another startup that offers small packages; we started off with a motion and entry sensor for $29.99, which is more expensive than Wyze by $10, and even more expensive when you consider Wyze also threw in an additional contact sensor. However, Kangaroo has several things that Wyze Sense does not; with Kangaroo Complete, their subscription service, we got integrations with Alexa and Google Assistant plus professional monitoring, either for $10 a month or $99 a year. Wyze doesn't offer professional monitoring, so if that's something you want, Kangaroo definitely makes more sense than Wyze. However, if you're good with self-monitoring only, Wyze makes more sense, as it's equipment is more affordable than Kangaroo's.
We also compared Wyze Sense to Ring Alarm, another super affordable option. Although we purchase Ring's five-piece security kit in addition to a plethora of cameras and video doorbells, buying two contact sensors and a motion sensor from Ring would have cost us $70, more than three times as much as it cost with Wyze. But like Kangaroo, Ring offers professional monitoring for $10 a month or $100 a year. Ring also has integrations with Alexa and Google Assistant with or without a paid subscription. Again, we'd go with Ring if you want free smart platform integrations and professional monitoring, but Kangaroo is a better option if you want to pay less for equipment. Wyze, on the other hand, only makes sense for someone that wants to monitor their system themselves and doesn't care if their security sensors work with Alexa and Google Assistant. It's also the most budget-friendly option by far.
Recap
Also, Wyze Sense isn't exactly where we want it to be in terms of smart platform integrations and monitoring options, it's a fantastic choice for someone that wants smart security for the lowest cost possible. If you're okay with the bare-bones experience of getting alerted of motion and whenever doors are opened or closed and you already have a Wyze camera, then Wyze Sense makes sense. But if you want your sensors to work with voice assistants or a professional monitoring center, we'd recommend another system; our list of the best home security systems of 2023 is a great place to start.
FAQs
Still have questions about Wyze Sense? You'll find answers to many of the most common below.