Security cameras can bring a ton of value to your home security. They give you visual access to your home, record important footage, and even let you speak with guests at your front door.
Security camera prices vary widely. Although there are security cameras that cost upwards of $200 per piece, there are also some that cost as little as just over $30. Whether you're seeking a high-end security camera like the $399 outdoor camera from Vivint or a budget indoor camera like the $35 Wyze Cam, there's a security camera for your budget.
Let's delve deeper into security camera pricing and analyze the real cost of owning and using security cameras.
What Do The Best Security Cameras Cost?
The best security camera brands we've tested, which we've listed below, offer equipment at a range of prices. Entry-level indoor and outdoor cameras typically cost $100 or less from these brands, while high-end cameras with 4K resolution and advanced features usually cost around $200 or more. Here are our top picks:
The Real Cost of Using Security Cameras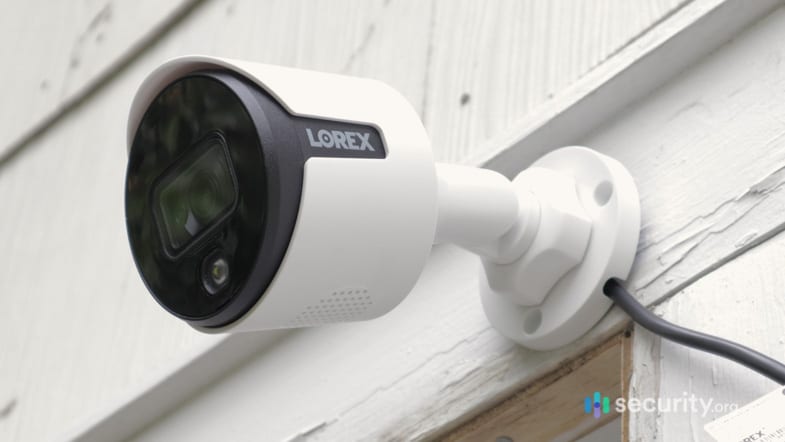 Many seem to think that security camera costs relate only to the cost of the equipment itself, but that's not the actual case. You can buy only the equipment and stop there, but most brands these days offer add-ons in the form of cloud and monitoring subscriptions. There's also the installation and maintenance cost to factor in.
Let's take a closer look at each, starting with the most basic, the equipment cost.
Equipment Costs
Security cameras range from $20 to around $400, but on average, indoor cameras cost around $100 and outdoor cameras cost around $200.
| Name of camera | Cost (low to high) |
| --- | --- |
| YI Indoor | $22.49 |
| Wyze Cam Pan v3 | $35.98 |
| Blink Mini | $34.99 |
| Wyze Cam v3 | $35.98 |
| eufy 2K | $39.99 |
| YI Outdoor Camera | $39.99 |
| iSmartAlarm Spot Camera | $40 |
| Kasa Spot Indoor Camera | $49 |
| Swann Dome Camera | $51.49 |
| Ring Indoor Cam | $59.99 |
| Netvue Vigil Camera | $59.99 |
| Tend Indoor 2 | $60 |
| Blink Indoor Camera | $69.99 |
| iSmartSafe Indoor Smart Camera | $69.99 |
| Fortress Indoor Camera | $79.99 |
| Blink Indoor | $80 |
| Reolink Argus 3 | $93 |
| Reolink Argus 2 | $94.99 |
| abode Cam | $99 |
| Scout Indoor Camera | $99 |
| eufy 2C | $99.99 |
| Canary View | $99.99 |
| Blink Outdoor | $99.99 |
| Google Nest Cam (indoor, wired) | $99.99 |
| Ring Stick Up Cam Battery | $99.99 |
| Ring Stick Up Cam Wired | $99.99 |
| Frontpoint Indoor Camera | $99.99 |
| Alarm.com V522IR Camera | $104.99 |
| Reolink Argus PT | $132.99 |
| Ring Stick Up Cam Solar | $148.99 |
| SimCam AI Security Camera | $149 |
| Tend Secure Lynx Pro | $150 |
| Logitech Circle View | $159.99 |
| Canary Pro | $169 |
| Honeywell Lyric C2 | $169.99 |
| Swann 4K Camera | $170 |
| Arlo Pro 2 | $179.99 |
| eufyCam E | $179.99 |
| Logitech Circle 2 | $179.99 |
| Google Nest Cam (battery) | $179.99 |
| Netatmo Camera | $184.72 |
| Canary Flex | $199 |
| Ring Spotlight Cam Battery | $199 |
| Ring Spotlight Cam Wired | $199 |
| Arlo Pro 3 | $199.99 |
| Ring Stick Up Cam Elite | $199.99 |
| ADT Blue Outdoor Camera | $200 |
| ADT Blue Indoor Camera | $200 |
| Ring Spotlight Cam Solar | $229 |
| Reolink Go | $239.99 |
| Ring Floodlight Cam | $249 |
| Ring Spotlight Cam Mount | $249 |
| Nest Cam with floodlight | $279.99 |
| Reolink Go PT | $290 |
| eufyCam 2 | $299.98 |
| Netatmo Presence | $299.99 |
| Arlo Ultra | $299.99 |
| Arlo Go | $349.99 |
| Deep Sentinel 3 Camera | $399 |
| Vivint Outdoor Camera Pro | $399 |
| Reolink RLK8-410B4 | $399.99 |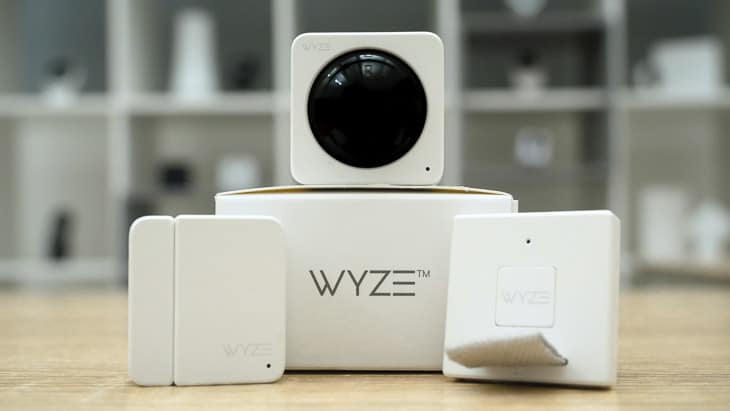 Storage Costs
Security cameras either store footage locally in a hard drive, video recording device, or microSD card, or in the cloud. Local storage requires the purchase of additional hardware, like a DVR or microSD card, although in some cases, the recording device is included in the package cost.
Cloud storage, on the other hand, can either be free or subscription-based. The Wyze Cam and Wyze Cam Pan, for example, includes both free cloud storage and a local storage option. On the other hand, there are brands like Nest that don't include any local storage at all and offer a very limited free cloud storage option. In such a case, a paid cloud subscription is necessary to enjoy the camera's full features and capabilities.
Cloud subscriptions may cost you more in the long-run, as they are usually paid on a monthly or yearly basis. Nest's storage options, for instance, cost a minimum of $6 per month or $60 per year.
Here are other security camera brands with cloud subscriptions and the options available from them.
| Camera brand | Cloud storage amount options (number of days) | Cost per month (for one camera) | Cost per year (for one camera) |
| --- | --- | --- | --- |
| abode | 3, 14, 90 | $0, $10, $20 | $0, $96, $200 |
| Arlo | 30 | $2.99 | $35.88 |
| Blink | 60 | $3 | $36 |
| Canary | 1, 30 | $0, $99.99 | $0, $99 |
| Deep Sentinel | N/A — up to 64 GB | $29 | $348 |
| eufy | 30 | $2.99 | $29.99 |
| Honeywell | 30 | $4.99 | $59.88 |
| Logitech | 14 | $3.99 | $47.88 |
| Nest | 30, 60 | $6, $12 | $60, $120 |
| Reolink | 7, 20, 60 | $0, $3.49, $6.99, $10.49 | $0, $34.99, $69, $104 |
| Ring | 60 | $3, $10 | $30, 100 |
| Swann | N/A | N/A | N/A |
| Vivint | 14 | $5 | $60 |
| Wyze | 14 | $0 | $0 |
Pro Tip: Back up your camera's footage in both cloud and local storage. That way, if one way method fails, you'll still have a copy.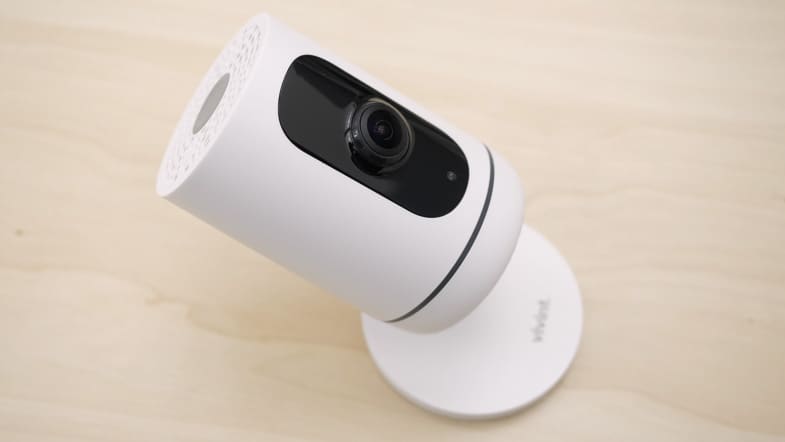 Monitoring Costs
Usually, security companies don't monitor security cameras due to the potential privacy implications. However, there are some security cameras that work only if you have a security system and professional monitoring from their parent brands.
ADT security cameras are examples of that. You can only buy ADT security cameras as part of an ADT security system, and while the professional monitoring service from ADT doesn't cover the security cameras, your subscription to the monitoring plan gives your cameras cloud recording.
When buying security cameras, it's important to take note whether a professional monitoring plan is necessary, and if so, how much it costs.
FYI: The only security company that really monitors security cameras is Deep Sentinel, and all its cameras are for outdoor use only. You can read about Deep Sentinel in our full Deep Sentinel review.
| Company | Monthly cost of 24/7 professional monitoring | Yearly cost of 24/7 professional monitoring | Professional monitoring required? |
| --- | --- | --- | --- |
| abode | $19.80 | $100 for the first year, then $200 from the second year on | No |
| ADT Self Setup | $0 for the first month, then $19.99 plus tax | $219.89 for the first year, then $239.88 from the second year on | No |
| Deep Sentinel | $29 | $348 | Yes |
| Fortress | $8.95 plus $35 registration fee | $107.40 plus $35 registration fee | No |
| Frontpoint | $44.99 – $49.99 | $539.88 – $599.88 | Yes |
| Ring | $20 | $200 | No |
| Scout | $19.99 | $215 | No |
| Vivint | $29.99 | $359.88 | Yes |
| Wyze | $10 | $120 | No |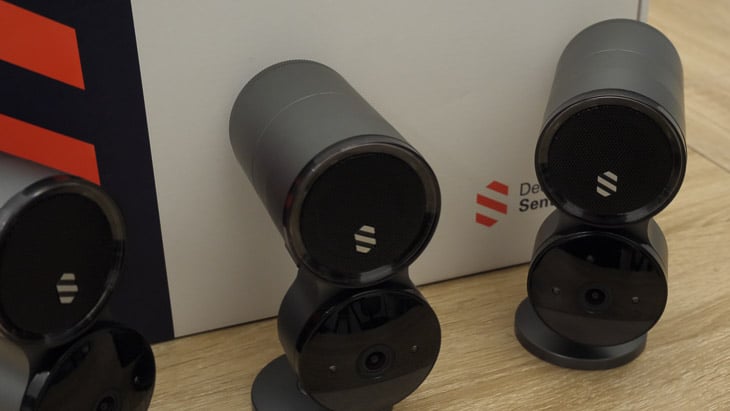 Installation Costs
Most of the cameras we test are DIY, meaning that we installed them ourselves and didn't have to spend a dime. However, some cameras from larger security companies, like ADT or Vivint, require professional installation. On average, that costs around $100 to $200,1 which is pretty steep. However, those who don't want to install their security cameras or worry about placing their security cameras might want to pay for the sheer convenience of professional installation.
Cost of Maintenance
In our experience, the security cameras we tested didn't require any additional maintenance after we installed them. Of course, lower-quality, cheap security cameras may require more maintenance, adding to their overall costs. However, with a quality camera, you shouldn't have to replace anything regularly, especially as most batteries these days are rechargeable.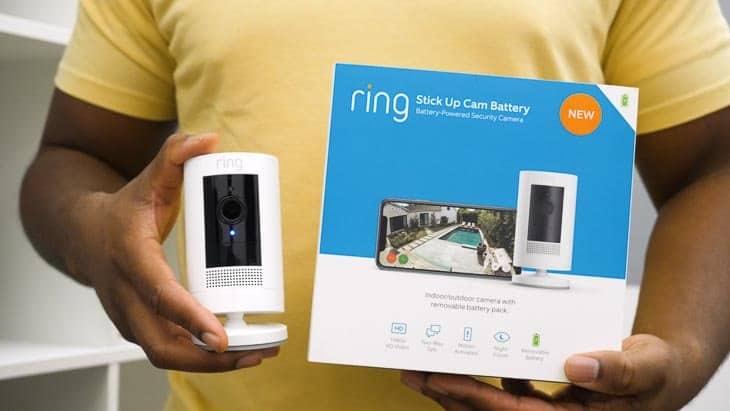 Pricing Factors
As you can see, the price of security cameras varies widely based on factors such as whether you're paying for just the camera itself or also for storage, monitoring, or installation. However, all that aside still leaves you with a wide price range, determined by the type of camera and its quality. That includes factors such as these:
Durability
Quality of video, audio, and night vision
Smart platform integrations
AI
Power
We'll go over what to look for in a security camera below, but first, let's compare some common terms.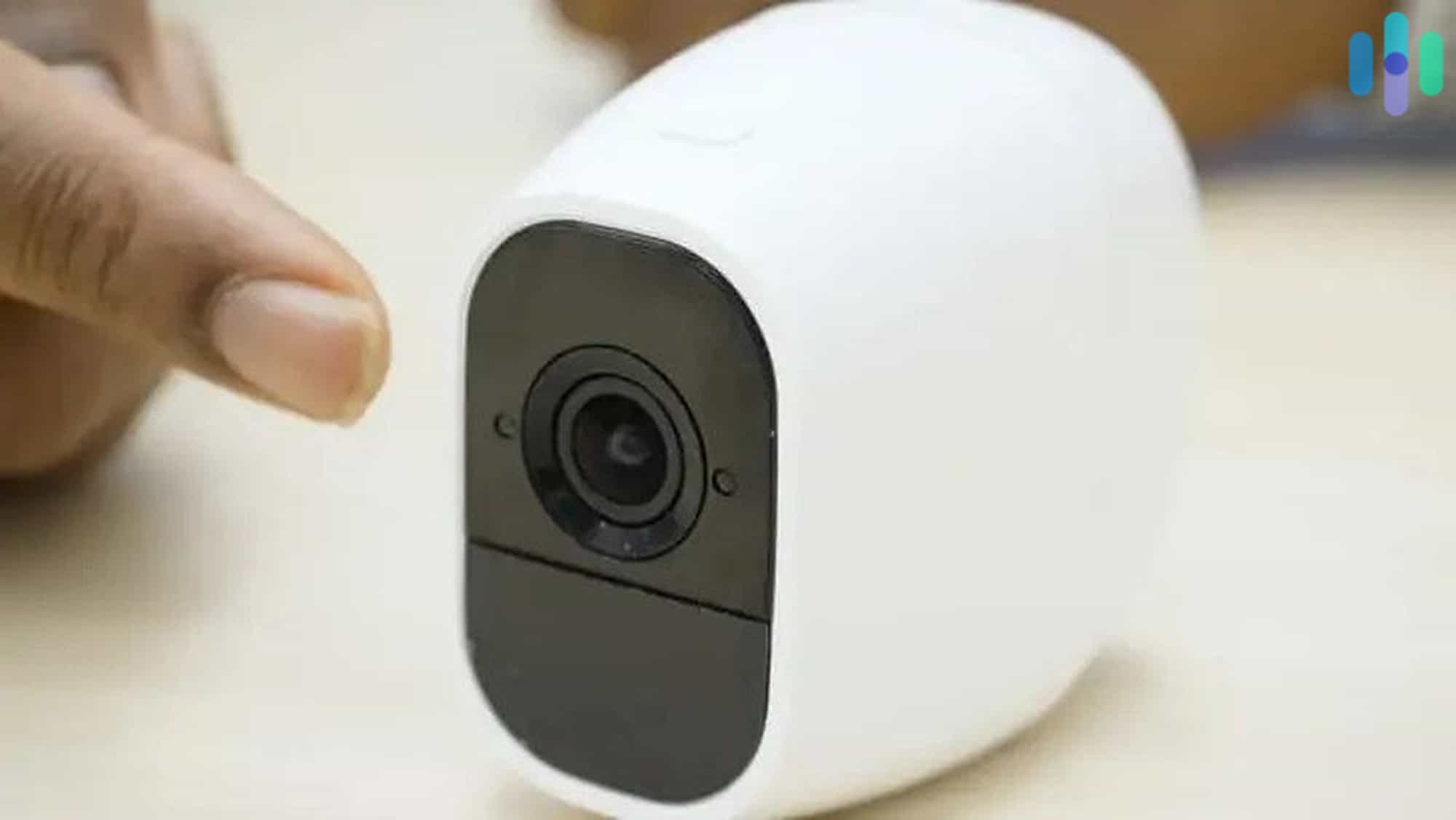 Surveillance vs. Security Cameras
Most people use the terms "surveillance cameras" and "security cameras" interchangeably, but technically, they're different. While security cameras are CCTV cameras used to monitor one place from one particular location, surveillance cameras work on IP networks, so you can access the footage remotely through a mobile app.2 That being said, even though the majority of the cameras we work with are technically surveillance cameras, we call them security cameras to fit in with what most people are searching for. Go figure!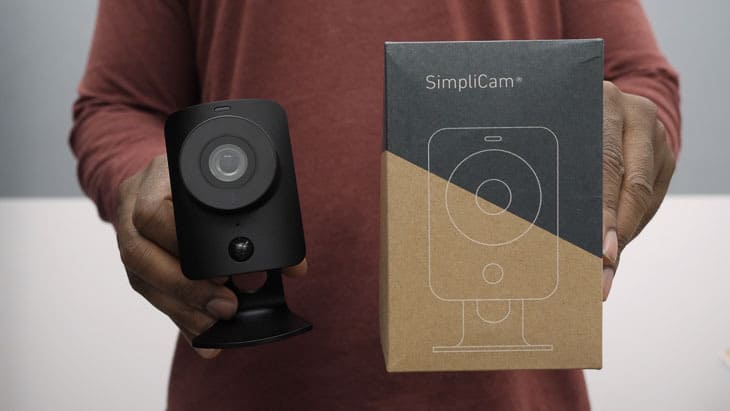 Video Doorbells vs. Security Cameras
While all video doorbells are security cameras, not all security cameras are video doorbells. What they have in common is that they're typically both outdoor cameras, meaning they're weather-resistant. However, only video doorbells connect to existing doorbell setups (if they're hardwired) or have separate chimes (if they're battery-powered). Both outdoor security cameras and doorbell cameras can be wired or wireless and have either motion detection or person detection. Technically, you can use an outdoor camera in place of a doorbell camera and get the same results, unless you want to integrate it with your existing hardwired doorbell setup.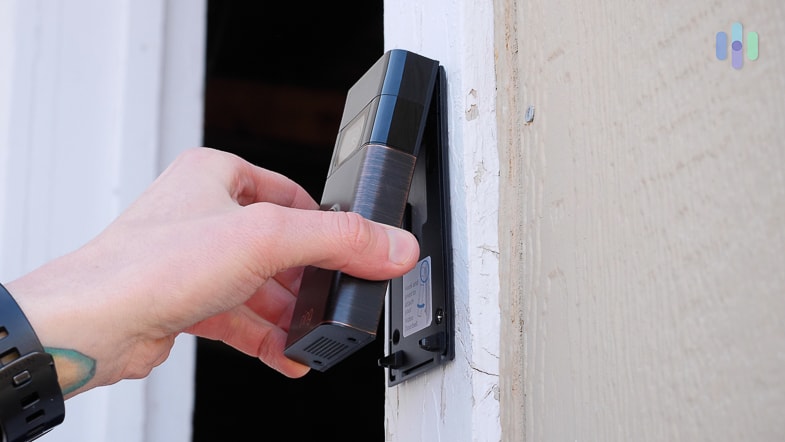 How Much To Spend on Security Cameras
Again, you can spend anywhere from $20 to $500 on security camera equipment alone, but the total cost depends on a ton of factors, such as how many cameras you want, whether they're indoor or outdoor cameras, their video quality, and whether you're also paying for storage, monitoring, and installation. Fortunately, most DIY home security companies are pretty flexible on creating customized camera systems, so you can find a package that works within your budget.
What To Look For in a Security Camera
Price aside, there are tons of factors to consider when you're buying security cameras.
Indoor vs. outdoor: Do you need an indoor camera or an outdoor camera? We recommend getting both, unless you live in an apartment.
Video resolution: Video resolution for security cameras ranges from 720p HD to 4K, with 4K cameras being among the highest quality available today. In our opinion, though, 1080p HD resolution or higher is more than enough to get clear footage, while 720p HD is a bit pixelated.
Field of view: The field of view is how wide the camera's viewing angle is, 180 degrees being the widest possible. We look for cameras with fields of view of at least 120 degrees.
Artificial intelligence: While some cameras have mere motion detection, others can detect people, pets, and packages, leading to more specific notifications. The best cameras for AI have person detection, facial recognition, and beyond.
Night vision: We also prefer cameras with infrared night vision via LED sensors, because they're not as conspicuous as the spotlights that allow for color night vision.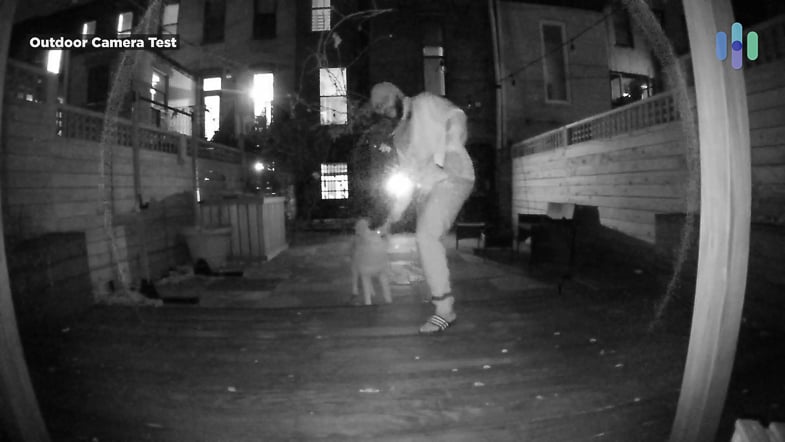 Smart platform integration: If you're already in a smart home, why not get a security camera that works with your voice assistant? You can also set up your camera to trigger other IoT devices, and vice versa.
Two-way audio: Most cameras these days have speakers and microphones for two-way audio, meaning you can speak to anyone who's in front of the camera through its mobile app.
Power: Decide whether you want a wired camera or a wireless camera. While wireless cameras are easier to set up, particularly outdoor wireless cameras, they also lose charge over time. Wired cameras, on the other hand, are harder to set up but aren't dependent on batteries. Of course, with wired cameras, you also have to worry about power outages, unless you have cellular backup.
Storage: Finally, cameras can have cloud storage, local storage through a hard drive or SD card, or both.
Note: While some cameras include micro-SD cards for free, sometimes you'll have to buy them separately.
Are Home Security Cameras Worth It?
Many people wonder if security cameras deter crime, or if they're simply a capitalistic ploy that exploits our greatest fears about safety. Conspiracy theorists, step down. In general, studies have shown that security cameras deter crime, even without displacing it elsewhere. For example, a survey of 86 inmates serving time for burglary said that security cameras were a deterrent in the houses they chose to burglarize (although a minority noted that cameras suggested there were valuables in the home).3 Similarly, a study from the University of North Carolina found that cameras and surveillance devices deter burglars most effectively.4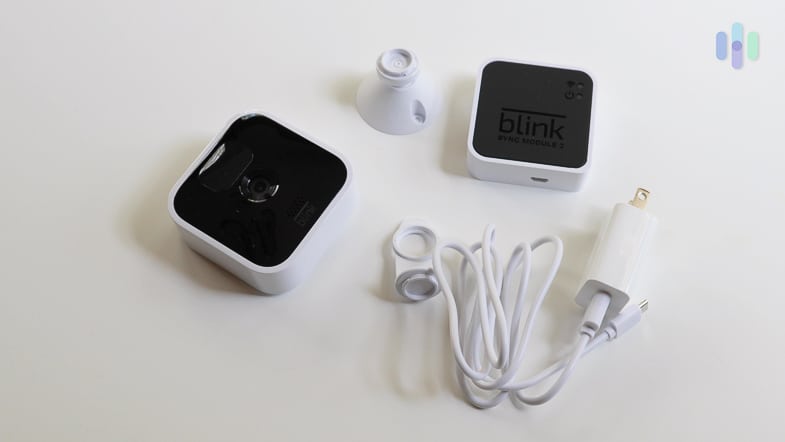 Of course, security cameras don't deter all crime. There's always faulty cameras to worry about, limitations of night vision, and more. In general, though, security cameras are your best bet to deter burglaries and package theft (or, at the very least, to give you video evidence if these thefts do occur).
Do Security Cameras Need Wi-Fi?
If your Wi-Fi is as faulty as ours is, you may be worried about a camera losing connection and preventing you from checking in remotely. However, not all smart security cameras require Wi-Fi. For example, many Reolink cameras work with data, not Wi-Fi; so does the Arlo Go. If you're OK with not having remote control and livestream abilities, there are also cameras that record locally only, so you don't need Wi-Fi. Of course, we recommend these features so you can stay on top of your home's security from anywhere, but you won't need Wi-Fi to connect remotely to your home security cameras, as other options exist.
Integrating Security Cameras Into Your Smart Home
One of our favorite things about testing out new security cameras is integrating them into our larger smart home. What does that mean, exactly?
Connects to voice assistant: If you've read our reviews of the Nest Mini or the Echo Dot With Clock, then you know that we're voice assistant agnostic here at Security.org. However, most people tend to stick to one voice assistant, such as Google Assistant, Alexa, or Siri. We recommend getting a security camera that works with the smart home ecosystem already set up in your home.
Triggers other IoT devices: Once you connect your camera to your voice assistant, you can automate actions with compatible IoT devices. For example, we have our smart lights turn on whenever our outdoor camera detects a person. This sort of convenient automation is the entire point of a smart home, one that protects you without any action on your part.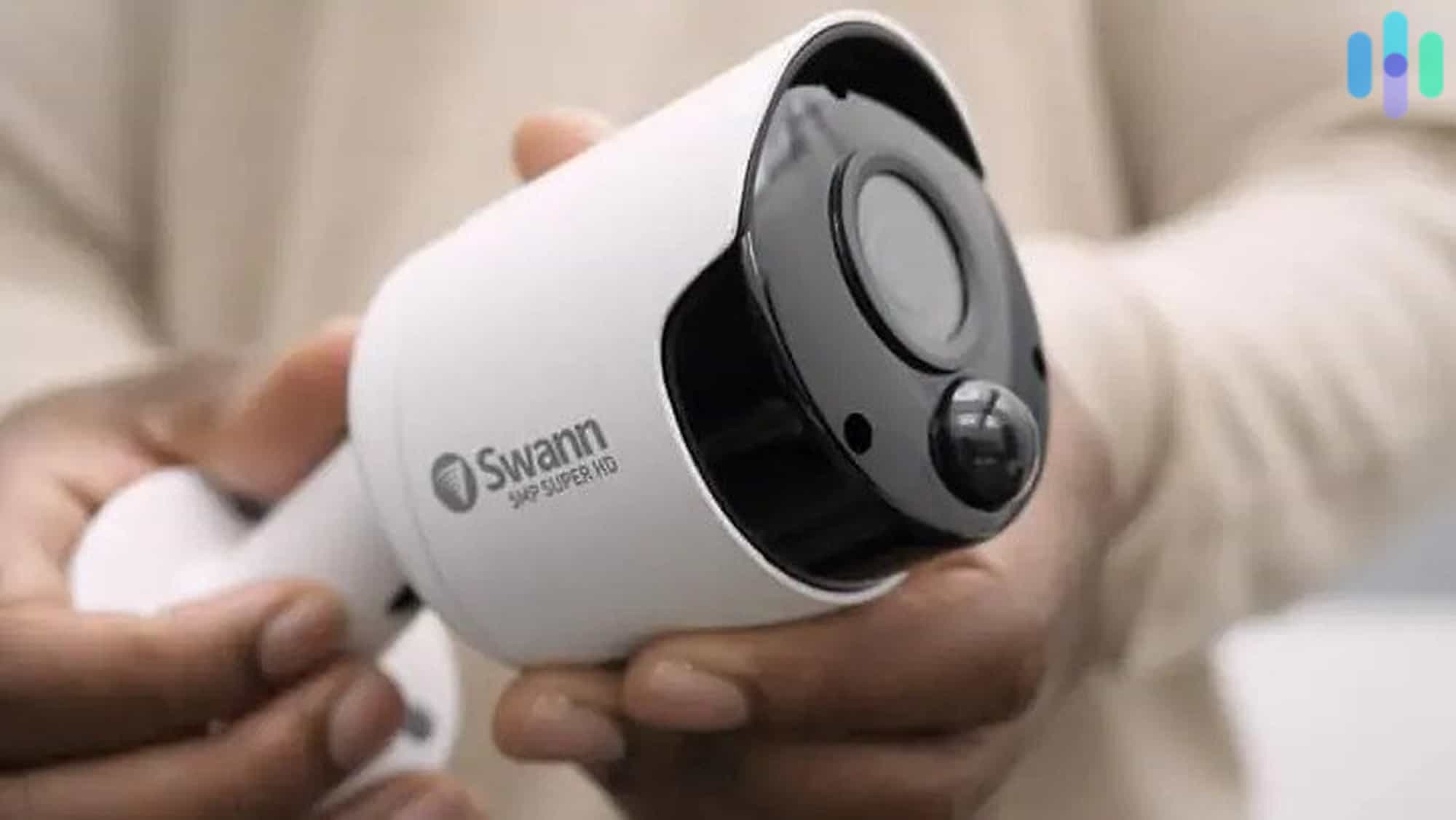 How Do Outdoor Security Cameras Work?
With the threats of snow, rain, and hail (depending on where you live), many people wonder how to use and install outdoor security cameras. The truth is that there's not much difference in using outdoor cameras vs. indoor cameras. Of course, you have to worry about durability, which is indicated in the camera's IP rating5 and temperature range. Another consideration is the power source, if your outdoor camera isn't wireless. If it's wired, it'll need proximity to an outdoor outlet. You may also want to hide your outdoor cameras, although we'd argue that you should keep some visible to deter crime.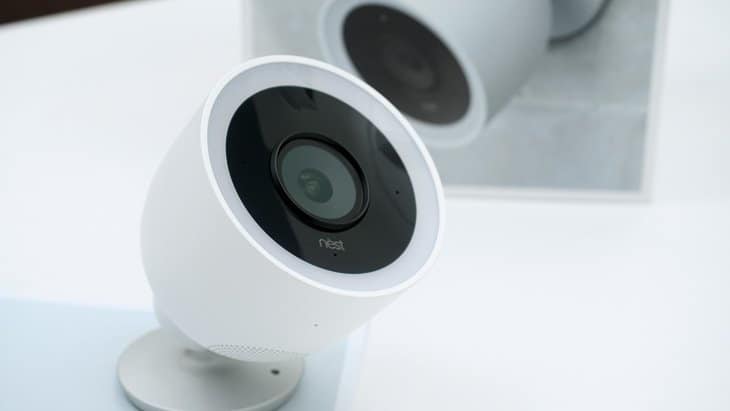 Aside from that, outdoor cameras work the exact same way as indoor cameras, connecting to mobile applications via Wi-Fi in most cases. With infrared night vision, you should be able to see clearly, day or night. However, note that weather conditions can affect visibility, so you may want to pair your outdoor camera with security lights.
The Cities With the Most Burglaries
We live in New York City, one of the most dangerous cities in the U.S. and one of the worst cities for police. Using the FBI's 2019 burglary data, we learned that NYC is also one of the top five cities for known burglaries.6 Here are the rest of the top 20.
| City | State | Number of burglaries known by state in 2019 |
| --- | --- | --- |
| Houston | Texas | 17,038 |
| Los Angeles | California | 13,809 |
| Las Vegas | Nevada | 10,646 |
| New York | New York | 9,846 |
| Chicago | Illinois | 9,578 |
| Phoenix | Arizona | 9,471 |
| Dallas | Texas | 9,210 |
| San Antonio | Texas | 8,172 |
| Memphis | Tennessee | 7,833 |
| Seattle | Washington | 7,210 |
| Detroit | Michigan | 6,820 |
| Oklahoma City | Oklahoma | 6,206 |
| Columbus | Ohio | 5,809 |
| Charlotte-Mecklenburg | North Carolina | 5,426 |
| Baltimore | Maryland | 5,414 |
| Jacksonville | Florida | 4,906 |
| Tulsa | Oklahoma | 4,846 |
| San Francisco | California | 4,644 |
| Austin | Texas | 4,344 |
Recap
That was a lot more information than you may have wanted, but if you'd like to learn more, read what we consider the best security cameras. We also have a ton of individual security camera reviews and additional best-of pages at your disposal, both on this website and on our YouTube page,7 and we're available to answer any and all of your questions. Keep reading for the answers to the questions we get the most.
Frequently Asked Questions
People have a lot of questions about security cameras — often a lot of the same questions, in fact.