Blue By ADT Review and Cost
Blue by ADT is the company's latest brand. What do our experts think of it?
All of our content is written by humans, not robots.
Learn More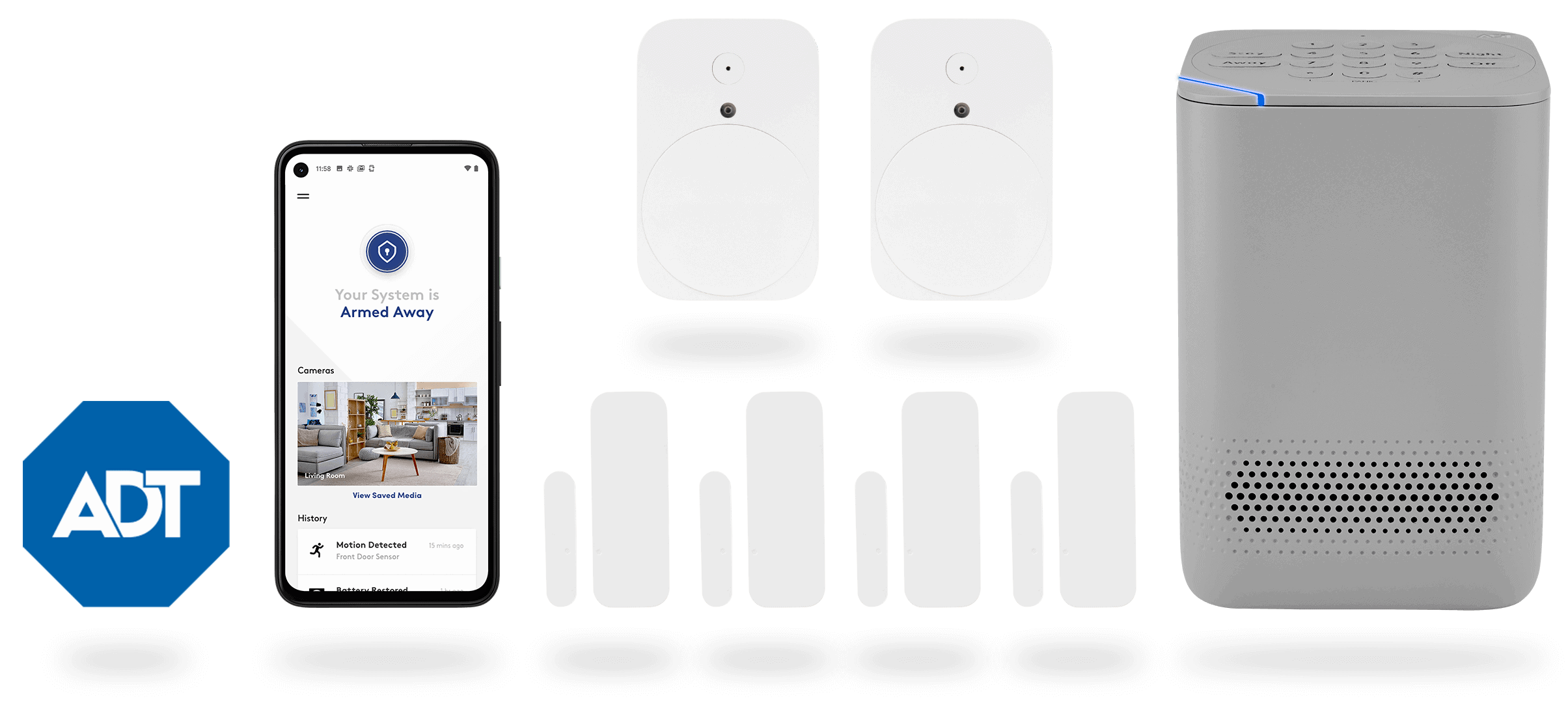 When Louis Stilp founded LifeShield in 2004, he set out to provide simple yet effective home security systems that didn't break the bank. The result was LifeShield, a company that offered innovative, DIY security systems that paved the way for wireless home safety. Now backed by ADT, LifeShield continues to provide peace of mind under its new name, Blue by ADT.
Pricing
| | |
| --- | --- |
| Door/window sensor | $14.99 |
| Motion sensor | $24.99 |
| Flood & temperature sensor | $34.99 |
| Doorbell camera | $199.99 |
| Indoor camera | $199.99 |
| Outdoor camera | $199.99 |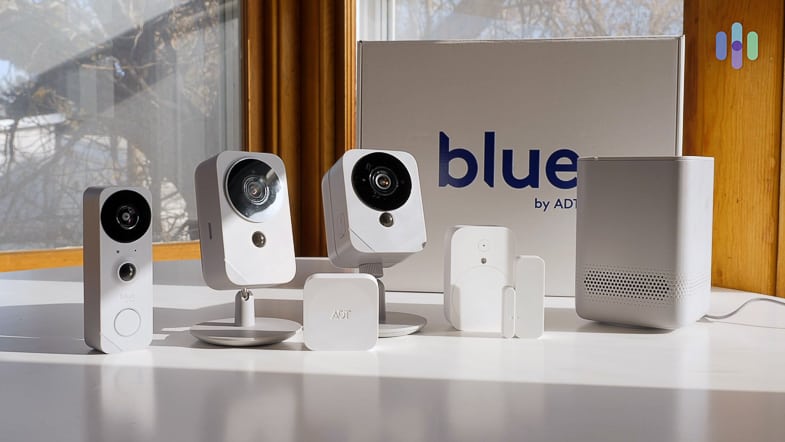 Blue by ADT really shines when it comes to customization. Its range of products, including doorbells, cameras, and motion sensors, can be tailored to your specific needs. Whether you live in a one-bedroom apartment or a freestanding home, Blue by ADT can secure your space with ease. And with the help of its free mobile app, you can control and monitor your system from afar. With Blue by ADT, even when you're gone, you're never too far from home.
Is Blue by ADT the right security system for you? Maybe, or maybe not, which is why we had our experts test it to find out.
Pros and Cons
The Good
Blue by ADT bills its systems as DIY, and we are happy to report that setup is, in fact, a breeze. In less than one hour, we were up and running with our indoor camera, entry keypad, and door/window sensors. Blue by ADT also features native integration with Amazon Alexa, in addition to IFTTT compatibility. This allowed us to seamlessly integrate the security system to the rest of our smart home. And costing only $295 for a fifteen-piece system, Blue by ADT offers a highly competitive price point.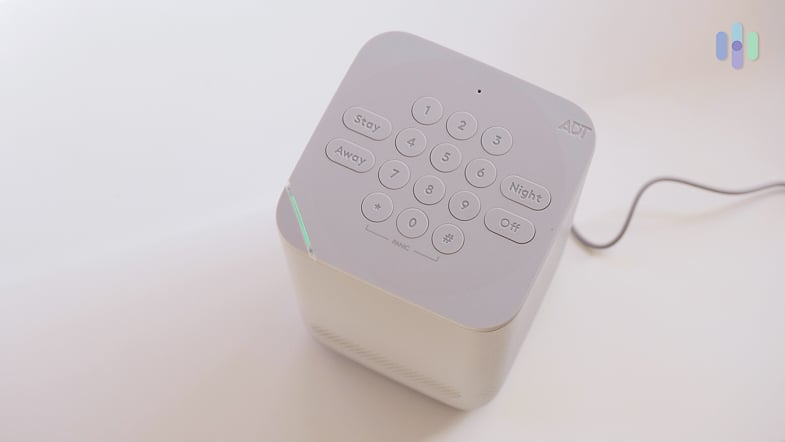 The Bad
We were excited to use Blue by ADT's app, which allowed us to tap into our cameras and arm our system on the go; however, we couldn't help but notice a lagging quality to the software, making the overall experience a bit cumbersome.
Also, despite the attractive price point for the system itself, professional monitoring is not as cheap as other options available on the market, although it's at an average price point.
Video Review of ADT Blue
Want to see how Blue by ADT's doorbell camera, indoor camera, outdoor camera, and other system components work? Watch our video reviews, which covers everything from equipment to monitoring.
Our Experience With the Blue by ADT Security System
Blue by ADT's simple installation makes it the perfect solution for those of us looking to go at it alone. By using the included setup guide, we were able to quickly set up our base, keypad, cameras, motion sensors, and fire safety sensor. The indoor camera fits easily on an end table, and, with the included power adapter, we plugged it in and got going. We were also excited to find that the indoor camera contains a battery backup. With power outages expected to rise1 in the coming years, we can rest assured our system will remain intact. The outdoor camera was also quick to set up. Using the included mounting hardware, we secured it to the ceiling of our porch in just a few minutes.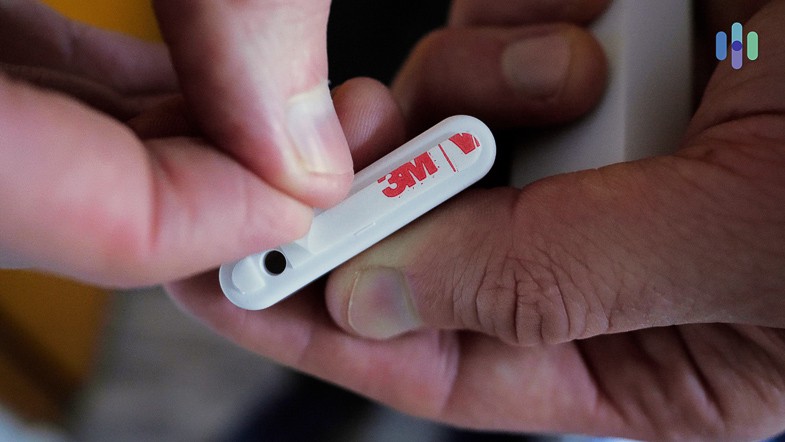 Once the hardware was set up, we logged into the Blue by ADT app on our iPhone. From there, we selected the cameras we wished to install, and connected each of them to our existing Wi-Fi network. A couple of our cameras needed to download the latest firmware; however, this was completed in a matter of minutes, and then our system was fully operational.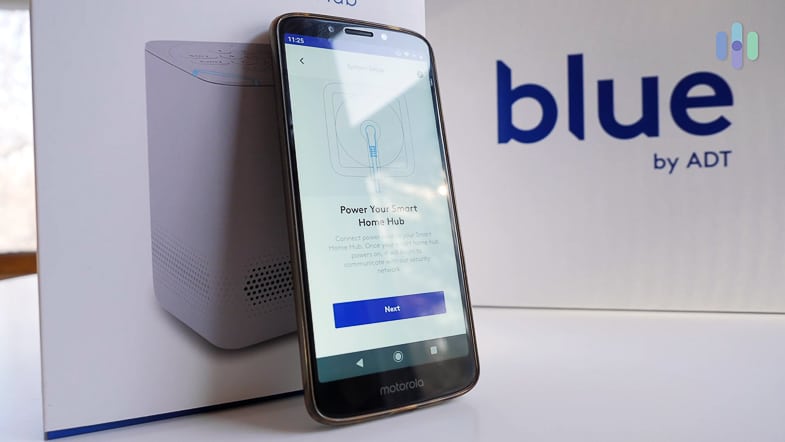 At times, the app ran a bit slowly, particularly when shifting from one camera's feed to another, but once the connection was established, the video stream was crisp and clear. Additionally, the app provided us with constant updates from each of the cameras and motion sensors. For those of us with pets, though, we'd recommend you adjust the sensitivity of your motion sensors, unless you want to be barraged with notifications.
Hot Tip: Although LifeShield products are now made under the Blue by ADT moniker, their systems are still compatible with Blue by ADT cameras and devices.
System Components
Our Blue by ADT system included an indoor camera, outdoor camera, doorbell camera, door/ window sensors, motion sensor, fire safety sensor, keychain remote, and base station. Let's see how it stacks up!
The Indoor Camera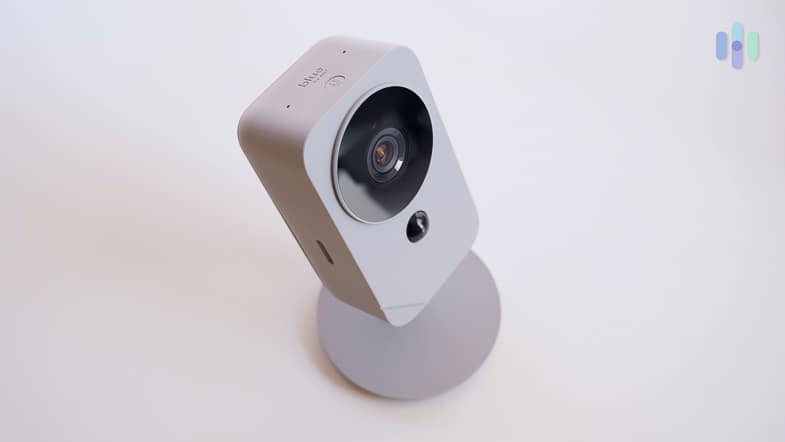 Capturing in 1080p HD with a 130-degree field of view, Blue by ADT's indoor camera delivers a crisp stream of video with accurate colors. For night video, the camera renders footage in black-and-white with an impressive clarity due to its infrared LED sensors. Video is stored for 24 hours in free cloud storage, but you can pay $2.99 per month to upgrade to 60 days of cloud storage.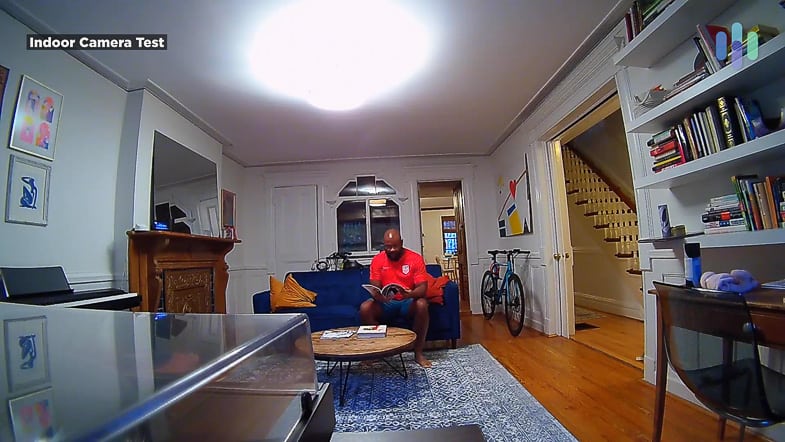 There is also support for up to 128GB of micro-SD card storage, something not seen on popular cameras such as Ring. We found that the support for two-way audio was clean and audible. Even while miles away at work, we were able to speak to our house sitter, instructing her on exactly how much water each plant needed.
This camera also supports facial recognition, which is the one feature we found to be lacking. When standing further than a few feet from the device, we found that the camera would frequently fail to recognize our (beautiful) faces. Still, the motion detection worked well, and we could even customize areas of motion detection in the Blue by ADT app.
The Outdoor Camera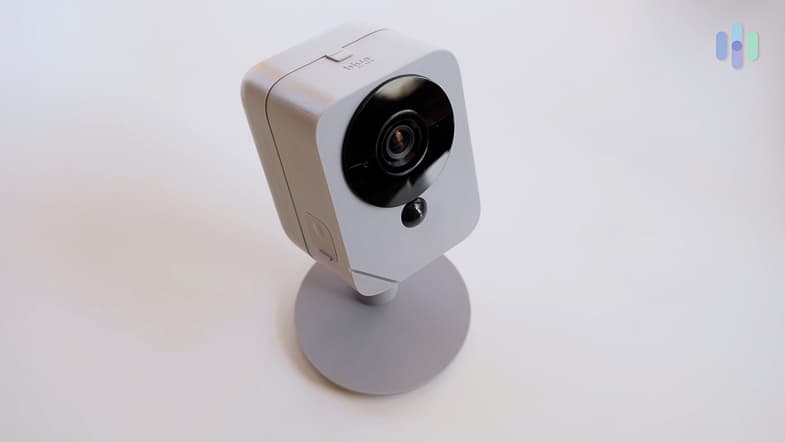 Similar to the indoor camera, Blue by ADT's outdoor camera also boasts 1080p HD video with a 130-degree field of view, facial recognition, and two-way audio. What separates this camera from the rest is its sophisticated motion-sensing technology. By using the app, we were able to customize the zone of motion detection. This comes in handy if your house, like ours, is relatively close to the street, and you don't want to receive a notification every time a car drives by. We only received notifications when stuff was happening in our front yard, which is where it matters most.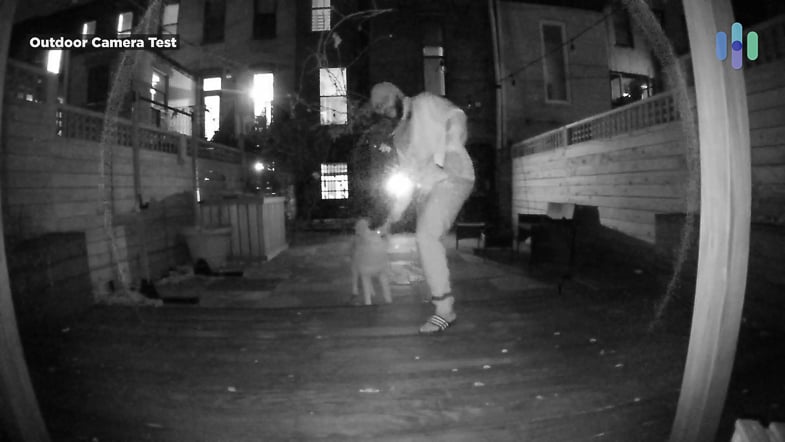 With this camera, you can also choose to receive motion alerts at specific times. We found it helpful to only receive notifications at night, which helped us avoid hearing about every pedestrian passing on the sidewalk. We were also impressed with this camera's battery life. After a few weeks of use, the battery has yet to dip below 75 percent of its capacity. When maintained properly,2 this sort of battery can last for several years.
The Doorbell Camera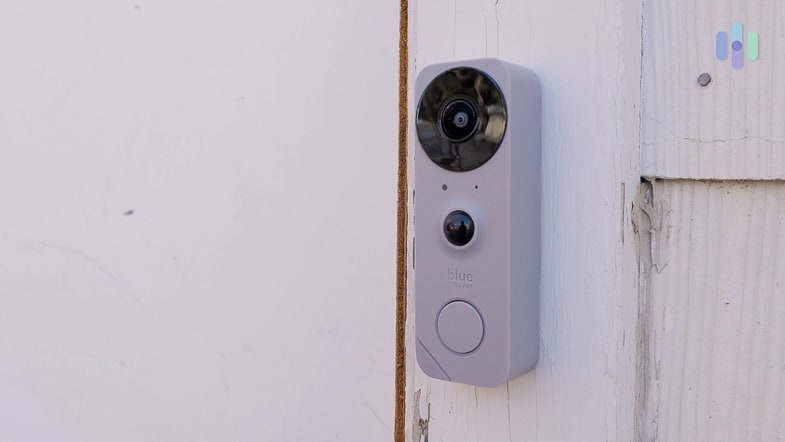 Blue by ADT's doorbell camera features 1080p HD video, two-way audio, and 180 degrees in its field of view, which really helped us to see everything that was happening. The video is crisp, during both day and night, and the audio is loud and clear. It also boasts some advanced motion detection features not seen on other doorbell cameras. In particular, we found the person detection mode to be highly useful, as it prevented the device from alerting us of animals or passing cars. Like Blue by ADT's other cameras, it also allows for custom motion detection zones. As with the other cameras mentioned here, the facial recognition is somewhat spotty, failing to properly label our faces, even when registered up close. Despite this, the two-way audio offers a handy way to thwart intruders the old-fashioned way; yelling at them to get off of our lawn!
The Base Station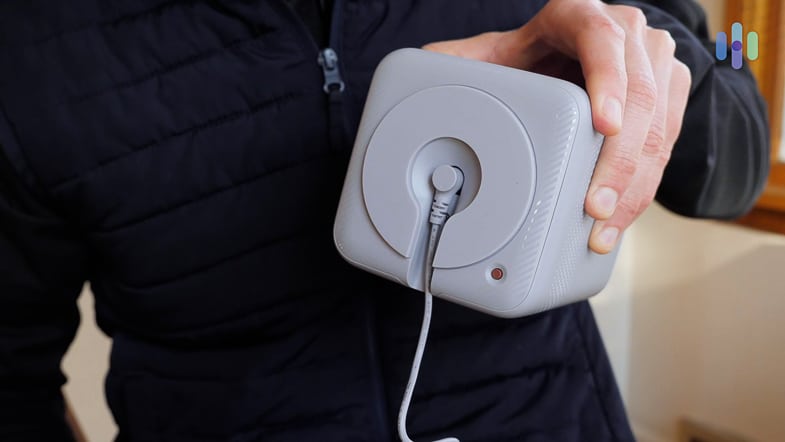 The base station is sturdy and discrete, about the size of a modem. It connected to our Internet through either Wi-Fi or ethernet cable, serving as the hub for all of our Blue by ADT devices.
The Door/Window Sensors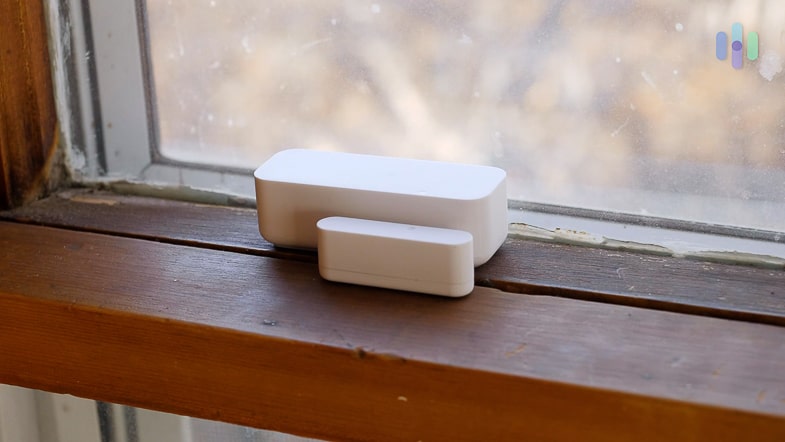 The door and window sensors feature a slim profile, allowing them to be placed discreetly on doors and windows, both interior and exterior. They can also be used on closets or doors. Like any of Blue by ADT's devices, these sensors can be monitored and managed through the proprietary app. We placed the door/ window sensors on the doors and windows on our ground floor, as that's where intruders are most likely to enter.
The Motion Sensors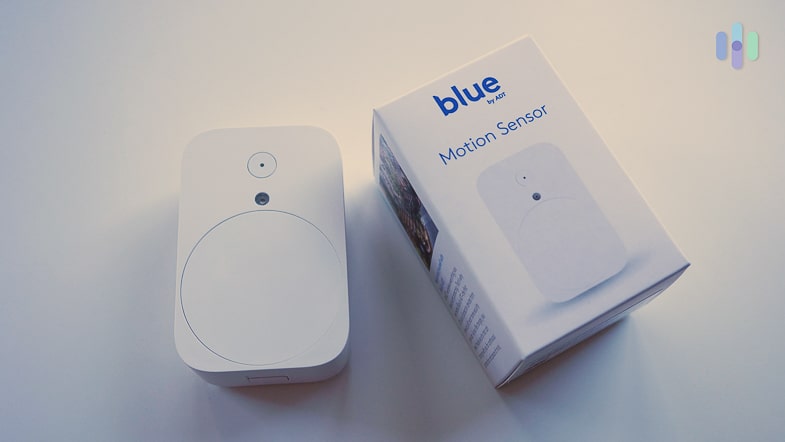 When purchased as part of a kit, the motion sensors come pre-registered with your system, which makes setup as simple as putting in a battery and placing the sensor in an appropriate area. We placed it in the corner of our front hallway for maximum coverage.
The motion sensor's sensitivity was on point. If placed correctly, it can monitor an entire room (or hallway in our case) and alert you of any movement it notices. When it does detect motion, it sends a signal to the base station, which in turn alerts you via the smartphone app.
Fire Safety Sensor
Blue by ADT's fire safety sensor worked in tandem with our home's preexisting smoke and carbon monoxide detectors. Should it sense an alert from them, it sends a signal to the ADT monitoring center. Good news for your wallet, this means that you won't have to shell out too much more dough for a smart smoke detector!
The Keychain Remote
As you'd expect, this handy little device clips onto keys, allowing you to arm or disarm your system from a short distance. We found it particularly handy to store this in our car's center console so we could disarm our system right before we went in, leading to a calmer entrance experience.
Installation
When purchasing our Blue by ADT security system, we naturally expected a thoroughly DIY experience, and we are happy to report that setup is easy enough that your grandmother could do it. Provided your home has a Wi-Fi connection, this system has everything included to get your home wired and secured in less than one hour. At least that's how long it took us.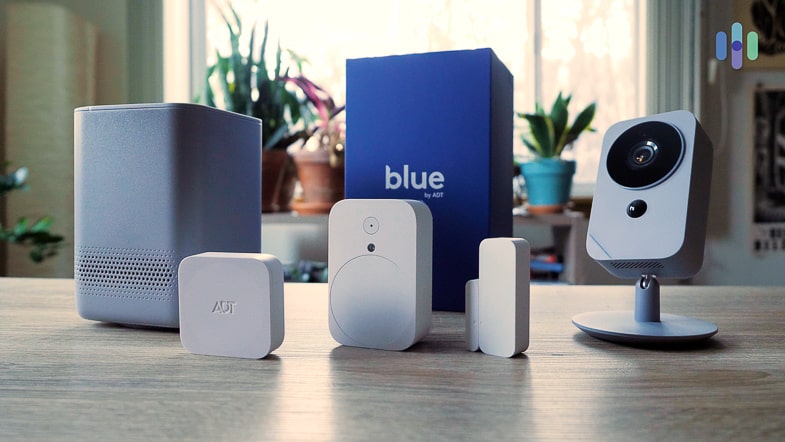 Each camera, indoor or outdoor, simply needs to be hooked up to its power source (AC adapter and rechargeable battery, respectfully) and mounted in an appropriate place in your home. For our indoor cameras, we chose our living room and the main hallway. Hallways are an ideal place for interior cameras because regardless of where someone breaks in, they'll likely have to pass through a hallway.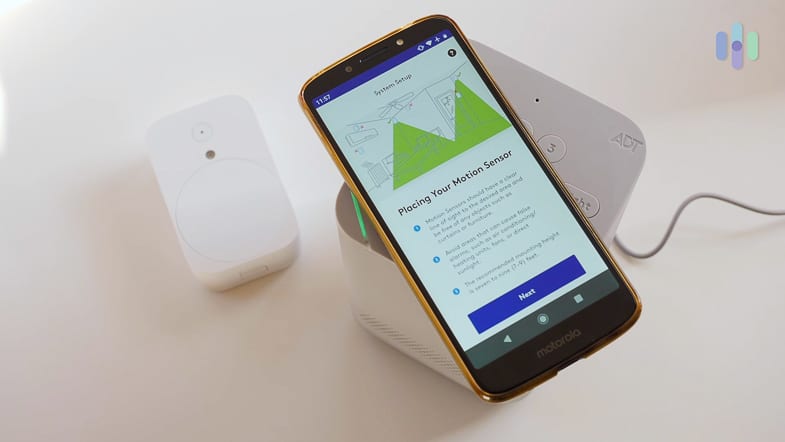 Once mounted, we set up the cameras pretty quickly through the Blue by ADT app, which let us register and label each of our devices. The app can also be used to troubleshoot any issues had with your devices, whether through the FAQ section or the customer support hotline.
The trickiest part of the installation was the doorbell camera, which required us to do some light electrical work in order to hook it up to our existing chime box. Still, with the help of some instructional videos provided through Blue by ADT's YouTube page, we were able to get through it with hardly a snag. Blue by ADT also offers a 24-hour support center, which helped guide us through the process, but more on customer support later.
Monitoring Options
Included with our Blue by ADT is a 30 day trial of their 24/7 professional monitoring. This included emergency alarm alerts to both you and authorities, custom alerts, unique codes, protection for your pets, and protection against burglary, fire, and floods. Professional monitoring also offers cellular backup, meaning that even if our home loses power, we would still receive alerts from our security system. Additionally, our insurance provider offered a discount on our homeowner's insurance for having a professionally monitored system, which we aren't mad about.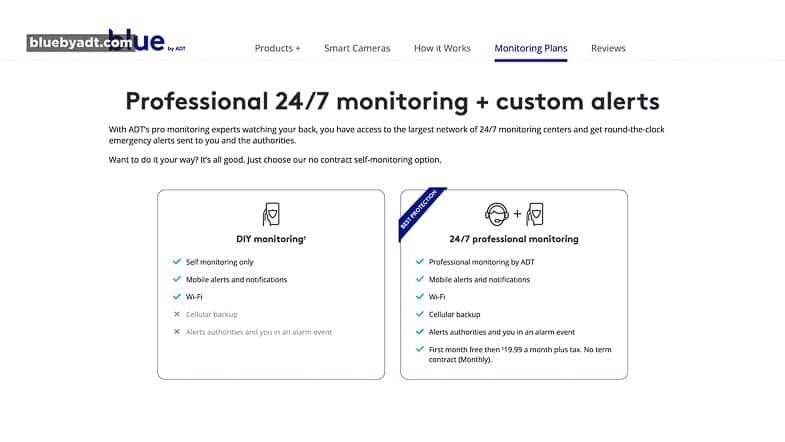 After the one month trial, professional monitoring will cost $19.99 per month (with no long term contract).
ADT Blue Monitoring Breakdown
| | Self-Monitoring | 24/7 Professional Monitoring |
| --- | --- | --- |
| Amount of Cloud Storage in Days | 1 | 30 |
| 4 Layers of backup including Cellular | No | Yes |
| Panic and Duress Modes | No | Yes |
| Insurance Discounts | No | Yes |
| Custom Alerts | Yes | Yes |
| Unique Codes | Yes | Yes |
| Monthly Cost Plus Tax | $0.00 | $19.99 |
Should you not go with the professional monitoring, then your system still includes one day of video storage in the cloud and one layer of data protection through Wi-Fi.
FYI: Avoid placing motion sensors in rooms with direct sunlight. Swift changes in temperature (such as sunsets or cloud coverage) can trigger false alarms.3
Smart Home Integrations
Blue by ADT security systems feature native integration with both Amazon's Alexa as well as Google Assistant. With Alexa, we could control dimmers, outlets, door locks, bulbs, switches, and plug-ins, as well as, you guessed it), our Blue by ADT system. But we could only arm our system or check its status with Alexa, not disarm it. With Google Assistant, on the other hand, the action was under both Lifeshield for the security system and Lifeshield Smart Home to control smart lights, dimmers, locks, thermostats, and more. As far as the security system commands went, we could arm our system in stay or away mode or disarm it by saying our user code. This was a bit more convenient than with Alexa, although we're impressed with both integrations.
Blue by ADT cameras also work with IFTTT, Z-Wave Plus, Nest, Hue, Lutron, Sonos, and iRobot connected devices, which gave us a ton of automation options. For example, we paired our iRobot vacuum cleaner to clean the downstairs for a half-hour every time our security system was armed, meaning we've just left the house and have probably left a ton of dust on the ground. In this way, our Blue by ADT/ Lifeshield system integrated into our larger smart home quite nicely.
The More You Know: For indoor cameras, consider placing them in rooms with large ground-floor windows, as these are likely break-in points.
Customer Support
Blue by ADT offers a plethora of customer service options, from their online help center, their instructional YouTube page, and their 24/7 support line. When we called asking for assistance with installing our doorbell camera, we were promptly assisted. The person we spoke to was both kind and informative, guiding us through the process effectively. We also highly recommend their YouTube page, which offers helpful visualizations, particularly with regard to installation. While Blue by ADT does not offer in-person assistance with these devices, in our opinion, this hardly seems necessary. Their products truly are made for the do-it-yourselfer.
The Blue by ADT App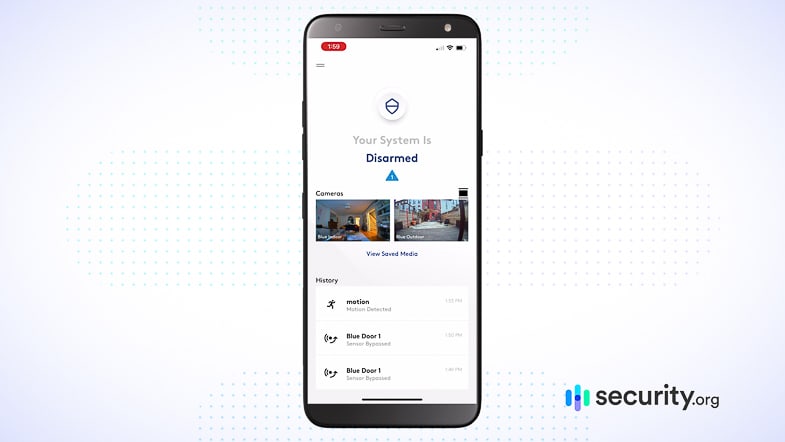 While the Blue by ADT cameras can operate on their own, the Blue by ADT app allowed us to maximize their features and integrate their devices into one control deck. From here, we could access our alerts, tap into video feeds, and adjust our settings. One of our favorite features is the ability to allow multiple people access to this app. We were even able to control individual admin privileges, ensuring that easy access doesn't lead to anyone in the household changing the settings.
As mentioned before, the app tends to lag a bit when accessing video, particularly live video feeds, which may have to do with our sometimes spotty Internet. We also noticed some issues regarding automatic logging out of the app. Multiple times, we had to log back into the app in order to access our alerts, which was a bit annoying, but overall we were satisfied with the app's functionality.
Final Words
Blue by ADT's security systems shine when it comes to simplicity. Their devices are a breeze to install and are easily monitored through the Blue app.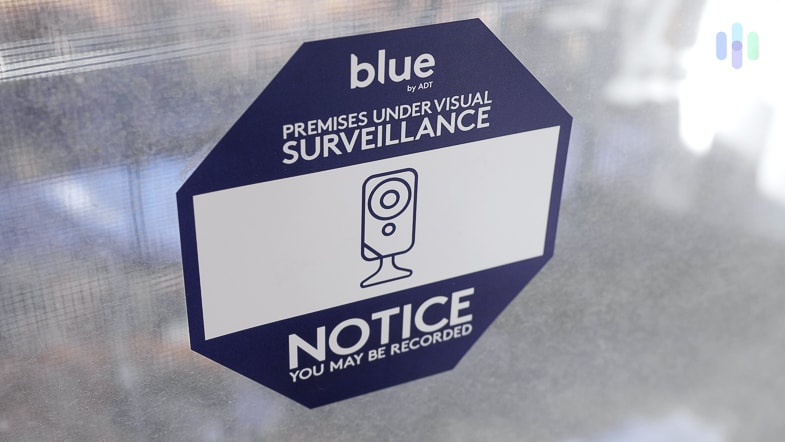 We found it particularly useful that we were able to customize our security system. Blue by ADT allows you to add on multiple cameras and sensors, depending on your needs. This makes it ideal for those of us renting our homes, as you can build your own system tailored to your needs and seamlessly change it upon moving. It is this same ability to customize that makes this system less than ideal for those of us with larger homes, as the cost of cameras can quickly add up.
Still, Blue by ADT home security promises simple and effective home security, and we can firmly say that it delivers.
FAQs
We're not done just yet. Here are the answers to the questions we get about Blue by ADT most frequently.