Protect America Review
Affordable DIY home security systems featuring a low-price guarantee
What We Like
Free professional monitoring: Protect America is the only system we've reviewed where professional monitoring is not only included but also free.
DIY installation with phone support: It's the best of both worlds; while you won't pay anything to get your system installed, the over the phone support was excellent, in our experience.
Alexa integration: Protect America is a great choice if you're already in the Amazon ecosystem like us.
What We Don't Like
Long-term contracts: Three years may be longer than you want to be locked into Protect America, which is the term length for the required cellular backup.
Not the most affordable: With monthly prices ranging from $20 to $60 a month, you may up paying a non-negligible amount for backup.
Faulty camera: Protect America's indoor camera didn't impress us in terms of video and AI, resulting in a lot of false notifications.
Bottom Line
Free professional monitoring is nearly unheard of when it comes to the home security market, but Protect America is an exception. Plus, the system worked with Alexa, making it a great choice for those already in the Amazon ecosystem.
What can you do in nine years? If you're Protect America, you can put over 200,000 security systems in homes across the country. It's numbers like these that made the company worth $100 million when it was sold in 2010,1 expanding into Canada only two years later. Protect America even provides security systems for the police in Austin, Texas, where they're based.2 And we definitely want to learn about a security system that the police uses.
More Security.org Recommendations
Check out more of our favorite home security systems.
Our Video Review of Protect America
If you want to see our review of Protect America in video form, check out the below video, where our Director of Content Gabe Turner shows you exactly what the system looks like and how it's used.

What's Included with Protect America
Protect America let us create a customized system that included a touchscreen control panel, door/window sensors, motion sensors, garage door sensors, and an indoor camera. Here's how all these devices performed during testing.
Simon XTI-5 Touchscreen Panel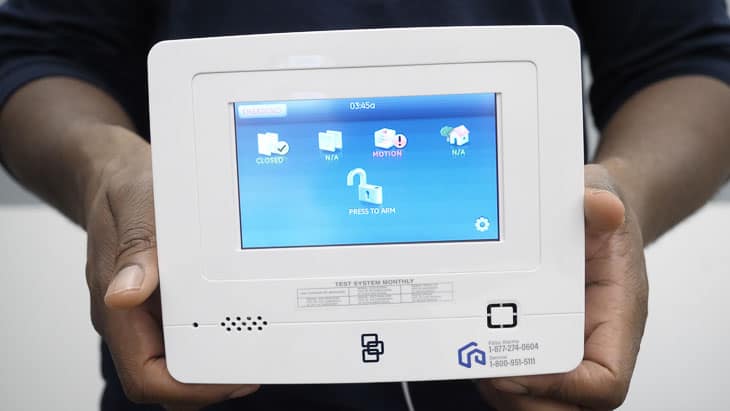 The touchscreen panel was where we armed and disarmed our security system upon entering and exiting our home, literally with just the touch of our fingertips. You'll need one of Protect America's panels to connect the rest of their devices as well as the professional monitoring team and the mobile application, which we'll discuss more below.
FYI: The touchscreen panel is required, as it connects all the other devices in the Protect America system.
Interlogix Micro Door/Window Sensors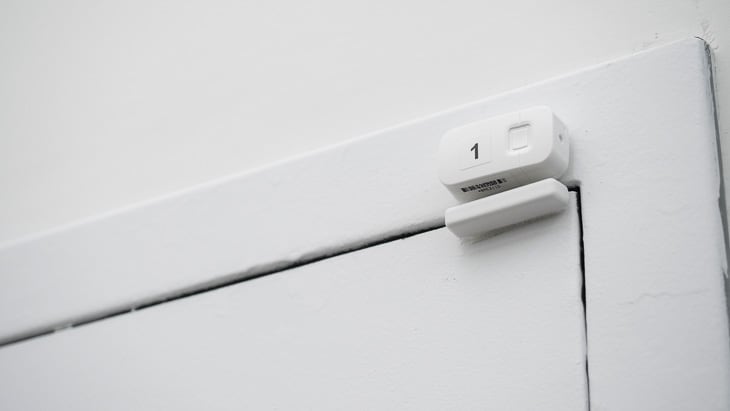 Most burglars enter homes via the doors and windows, with kicking the door in as the most common method of intrusion.3 But with these tiny door and window sensors, which go on the frame and the door/window itself, we got alerted whenever there was any movement. Completely wireless, our contact sensors never ran out of battery and shouldn't for five years. We also appreciated that Protect America has options for different kinds of doors and windows, from saw doors to crystal recessed windows and everything in between.
Interlogix Motion Detector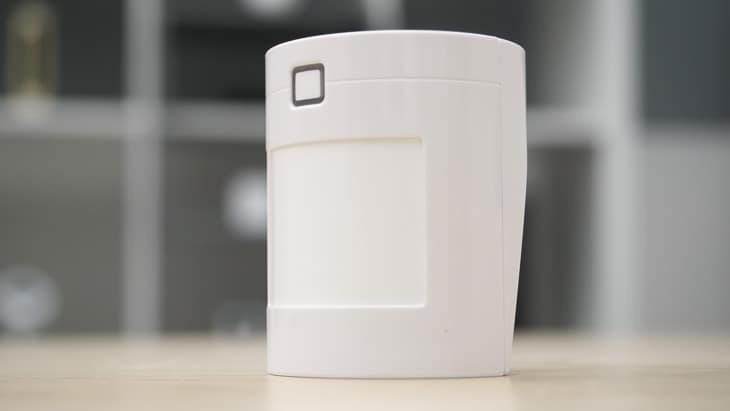 But your doors and windows aren't the only things to protect. We opted to add in a motion detector, also wireless, to protect a 25-foot range. Now, we know what you might be thinking: is my pet going to set off the motion detector every time I leave the house? Fortunately, Protect America thought of that, so their motion detector can differentiate between people and animals under 40 pounds. But if you have a pet over 40 pounds, first of all, congratulations on raising such a big boy or girl! Second of all, you may receive some false notifications, but that's going to be true with the majority of motion sensors available.
Garage Door Sensors
Since our regular door/window sensors didn't work with the garage door, we got a separate sensor to see when our garage was opened or closed. Protect America has different options for different types of garage doors, be them roll up, linear, or what have you, as well as controllers, so you don't have to get out of the car every time you want to back out of your garage. Most security companies don't offer garage door sensors, so Protect America is a good option to protect and control your garage.
1.0 Megapixel SmartView Indoor Camera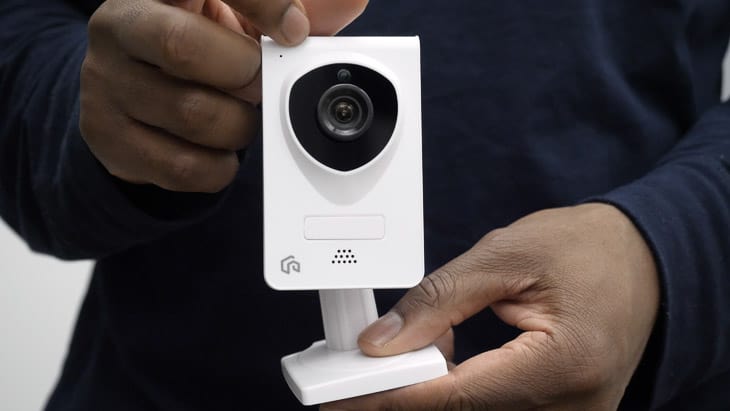 We're going to be honest: we were a bit disappointed with Protect America's indoor camera in terms of video and artificial intelligence, or AI. First of all, its video quality was a bit pixelated at only 720p HD, and with only a 60-degree field of view, we weren't able to see much of our living room. Plus, without any AI capabilities, we got a lot of false notifications from moving objects that weren't people, which were a bit irritating.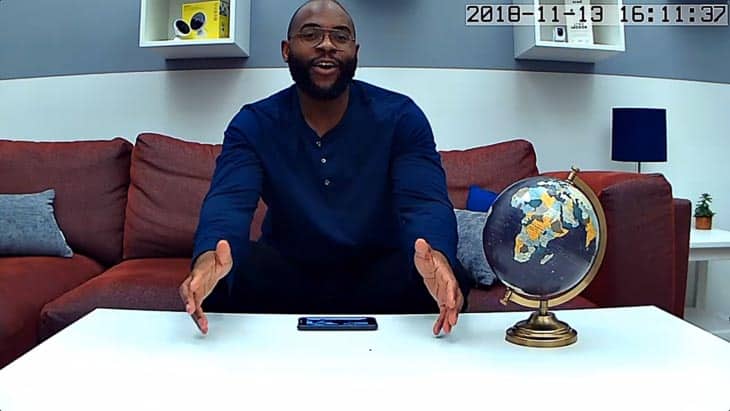 However, the camera did have its good qualities, like excellent infrared night vision, giving us clear, black and white footage in the dark, plus a speaker and microphone for two-way audio.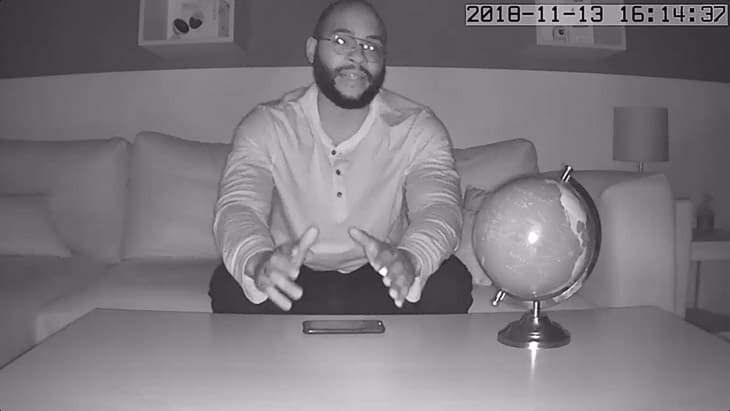 We stored our footage directly onto a micro-SD card via the camera's expansion slot. From there, we backed it up onto our own cloud storage on Google Drive, though we could've shelled out an extra $2 a month for a week's worth of storage. We were able to control the SmartView camera using the voice assistant Alexa,4 but we'll talk more about Protect America's smart home integrations in a bit. Finally, we plugged in our camera to power, which meant that we didn't have to worry about the battery running out. Even if the power goes out, we'll still be connected via cellular backup, but again, let's not get ahead of ourselves — we'll get to cellular backup in a bit.
Installing and Using Our Protect America System
All of the Protect America components came pre-programmed with each other, which made setup much easier (not to mention the help over the phone that we got, which was excellent). During setup, the guide had us out each component as we installed it, ensuring it's all working correctly. In our experience, the tests were all aced. Although this setup isn't the most sophisticated security system around technologically, it certainly served its function and was easy to arm and disarm. Most of the Protect America security system we tested is made of hardened plastic, which is pretty durable, save for the Megapixel camera, which seemed a bit fragile. But again, this camera wasn't our favorite for other reasons, as well. Overall, it's easy to install and use Protect America, and they get extra points for their helpful phone support, which guided us step by step.
Monitoring with Protect America
Free 24/7 professional monitoring may seem too good to be true, but Protect America is the one security company we've reviewed to offer it with all of their systems. However, this becomes a bit more believable when we realized we had to sign a three-year, binding contract5 to get cellular backup, which keeps the system on in the event of a power outage. The cost of this contract depends on the customer's equipment and needs and will lie between $19.99 and $60 a month. This is the exact same price range as other traditional security companies like ADT and even similar to Vivint. Of course, we negotiated our monthly rate, so don't be afraid to haggle. Learn more about Protect America's pricing here.
Important Tip: Protect America's monthly costs aren't set in stone, so go in prepared to negotiate.
Protect America's Customer Support
Protect America offers customer support over the phone, live chat, and email, along with their online help center. Now, let's start positive. We had an excellent experience with the customer support live chat feature. They answered our various security system questions in an extremely straightforward and prompt manner. Like we said before, the support over the phone during installation is also excellent.
However, our experience with the customer support phone line wasn't always ideal. We had a simple question about cellular backup and was on the phone for over 20 minutes, mostly on hold. The woman we spoke to refused to send any information via email, which was a bit frustrating. That being said, many companies refuse to send you information so that you'll have to speak to a sales representative. Protect America is no exception.
Protect America and the Smart Home
| | |
| --- | --- |
| Type of IoT device | Brands compatible with Protect America |
| Security cameras | Alarm.com, Vivotek, Megapixel SmartView |
| Smart locks | Kwikset, Yale |
| Smart thermostats | GoControl, Alarm.com |
| Smart speaker | Echo |
| Smart bulbs | Z-Wave |
| Siren | Resolutions, Z-Wave |
| Environmental monitors | Trident, Interlogix, Alarm.com |
Protect America works with Alexa, the most popular voice assistant4 for the smart home. With our voices alone, we could arm our system, check its status, or control connected devices. Protect America works with a ton of third-party IoT devices, such as:
Security Cameras
Alarm.com Indoor Wireless Fixed Camera
1.0 Megapixel SmartView Indoor Camera
Alarm.com Outdoor Camera V722W
1.0 Megapixel SmartView 64GB Outdoor Camera
Alarm.com Indoor Fixed Camera with Night Vision ADC-V522IR
Alarm.com SkyBell Slim Line Doorbell Camera
Alarm.com WiFi Doorbell Camera
Alarm.com Pan/Tilt Camera V620PT
Alarm.com Outdoor Camera V721W
Vivotek Outdoor Wireless Video Camera
Vivotek Indoor Video Security Camera
Vivotek TC5633 Pan/Tilt
Alarm.com Image Sensor Camera Kit V2
Alarm.com Outdoor Camera V723
Smart Locks
Kwikset 916 Touchscreen Deadbolt
Yale Z-Wave Touchscreen Lock YRD226
Kwikset 910 Z-Wave Push-Button Deadbolt
Kwikset Signature Series Z-Wave Traditional Round Deadbolt
Yale Z-Wave Push Button Deadbolt
Smart Thermostats
GoControl Z-Wave Thermostat
Alarm.com (Legacy) Smart Thermostat
Alarm.com Smart Temperature Sensor
Alarm.com Smart Thermostat
Smart Speaker
Smart Bulbs
Z-Wave Dimmable LED Light Bulb
Sirens
Resolutions Wireless Sensor
Z-Wave Siren with Strobe
Environmental Monitoring
Home Disaster Sensor
Trident Environmental Sensor
Interlogix Wireless Smoke Detector
Interlogix Carbon Monoxide Detector
Firefighter Sensor
Interlogix Wireless Smoke and Heat Detector
Alarm.com Smart Temperature Sensor
All of these devices can be controlled remotely through the Protect America app7 or controlled through Alexa. Although Protect America doesn't make a ton of their own devices, we liked the fact that it works with so many connected devices from third parties, allowing for home automation. For example, we had our sirens go off whenever our motion detector went off, because sometimes it's hard to hear our control panel from upstairs. With so many devices, you'll be able to really customize your smart home, but if you're already in the Google smart home ecosystem, Protect America may not be your best bet, as it doesn't work with Google Assistant.
The Protect America App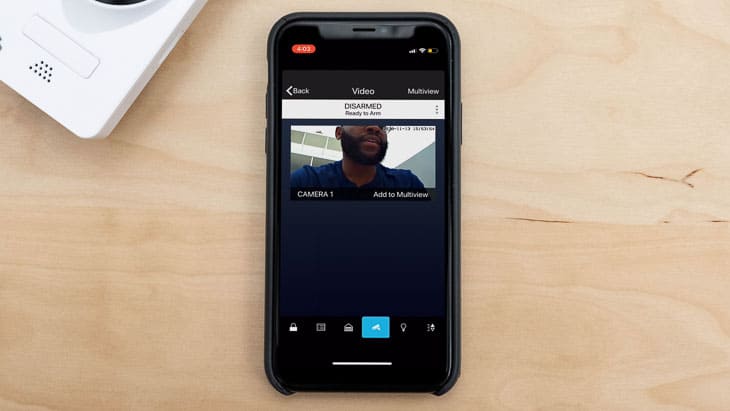 Although every Protect America system comes with professional monitoring, we could also monitor our system through the Protect America app, available for iOS and Android. The Protect America app let us arm and disarm our security system, livestream footage or view cloud storage, speak through two-way audio, control connected devices, review an event history, and receive notifications.
As far as how well the app worked for us, it was so-so; it definitely was not as good as the award-winning Vivint mobile app we reviewed. Sometimes it wouldn't let us control things remotely, but we've noticed that in the months we've had Protect America installed, the app has gone through some helpful software updates. So, while the app isn't the best, at least it's improving.
Recap of our Protect America Review
Would we trust Protect America to protect our homes? Short answer, yes! With nearly 30 years in business, it's no wonder that Protect America has so much staying power, but it definitely will work for some homes better than others.
That's it for our Protect America security system review! Our experts appreciated their security system for its customization, DIY installation with over the phone support, and ease of use overall. Even though the app is a little lacking, we wouldn't call it a dealbreaker for Protect America overall. With free professional monitoring, cellular backup, and an Amazon Alexa integration, this smart security system will help protect your home and family. Still not sold on Protect America? Check out our best home security systems page to find out about our top reviewed picks.