The Best VPNs for France
Whether you live in Paris year-round or are just visiting the great country of France, here are the best VPNs with the most servers.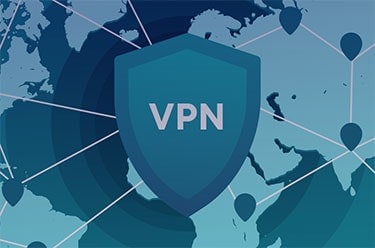 2,500+ research hours
50+ VPNs reviewed
300 speed tests
6 experts consulted
6 VPNs recommended
VPNs don't just serve the citizens of the country they're based in. For France, in particular, we've researched and tested several VPNs that locals or visitors alike can use to ensure their internet safety and protect their personal information. This is important especially considering the amount of overreach and control that the French government has over its citizens' private browsing.
The Best VPNs for France Statistics
| | |
| --- | --- |
| Highest server count | 687 |
| Lowest server count | 42 |
| Most affordable | $1.32/month |
| Available contracts | Monthly to 3 years |
We know it's tricky to find full online privacy, as the French government is infamous for internet censorship and falls under the jurisdiction of Nine Eyes. France's ideas of internet censorship and the measures it takes to find out every individual's browsing history are somewhat scary; Internet Service Providers are required to track all of your online activity, and if anything's flagged as suspicious, law enforcement agents are able to install stealth cameras and other software in your computer, without your knowledge, to keep better tabs on you.1
Finally, and perhaps most frightening, whenever content is created online in France, French law requires all web hosting companies to provide the government with the usernames, passwords, phone numbers, financial transactions, and IP addresses associated with the content's creator. Whether we're visiting France, moving to France, or simply tapping into French media, accessing the media through a VPN is our best bet for digital privacy.
Comparison of the Best VPNs for France
| System | NordVPN | Surfshark | Private Internet Access VPN | CyberGhost | ProtonVPN | PureVPN |
| --- | --- | --- | --- | --- | --- | --- |
| Ranking | 1st | 2nd | 3rd | 4th | 5th | 6th |
| Ratings | 9.7/10 | 9.5/10 | 9.4/10 | 8.9/10 | 8.8/10 | 8.9/10 |
| Servers in France | Over 230 | Unspecified, but has servers in Paris, Marseille, and Bordeaux | 315 | 634 | 44 | 24 in Paris, 18 in Roubaix |
| Servers Worldwide | 5246 | Over 3200 | Over 3194 | 3157 | 568 | 6500 |
| Member of Five Eyes, Nine Eyes and Fourteen Eyes | No | Yes | Yes | No | No | No |
| Logs Traffic/Web Activity | No | No | No | IP address, when and where VPN was used | Collects timestamps | Collects total bandwidth consumed |
| Kill Switch | Yes | Yes | Yes | Yes | Yes | Yes |
| Torrenting | Yes | Yes | Yes | Yes | Sometimes | Yes |
| IP Addresses | Static, shared or dedicated | Dynamic, static | Dynamic | Static, shared | Dynamic | Static or dedicated |
| Split Tunneling | No | Yes | No | Yes, but with exceptions | Yes | Yes |
| Monthly Plans | $3.71 - $11.95 | $2.30 - $12.95 | $2.19 - $11.95 | $2.95 - $12.99 | $0 - $29.12 | $1.32 - $10.95 |
| Customer Support | Live chat support 24/7 | Live chat, email tickets | Online form, live chat | Live chat, tickets, phone number | Email, social media | 24/7 support |
| Contract Lengths | Monthly, yearly or 2 years | Monthly, 6 months, or 2 years | Monthly, yearly or every 3 years | Monthly, yearly, and 3 years 3 months | Yearly | Monthly, yearly or every 5 years |
| Location of Headquarters | Panama | Netherlands | Greenwood Village, Colo., USA | Bucharest, Romania | Geneva, Switzerland | Hong Kong |
| Read Review | NordVPN Review | Surfshark Review | Private Internet Access VPN Review | CyberGhost Review | ProtonVPN Review | PureVPN Review |
Summary of the Best VPNs for France
Detailed List of the Best VPNs for France
1. NordVPN - Best VPN Overall for France

Product Specs

| | |
| --- | --- |
| Multi-hop | Yes |
| Camouflage Mode | Yes |
| Kill switch | Yes |
| Split Tunneling | Yes |
| Netflix | Yes |
| Torrenting | Yes |

What We Like

Uninterrupted streaming
Accessible on multiple devices
No data leaks
Private IP address available

What We Don't Like

Static IP addresses
Torrenting is only supported on some browsers
No split tunneling
Discounts only available for longer subscriptions

Fastest VPN Connection in France

NordVPN features over 230 servers in France, ensuring plenty of options that don't get too crowded, keeping connections running fast. We received a dedicated IP address for $70 a year, and the platform offered a Quick Connect feature, which automatically connected us to the best French server available. One of the most attractive qualities that NordVPN boasts is that it's the fastest VPN connection in France. We can use NordVPN to stream our favorite media, work from home with no problems, and even play video games without worrying about lagging or buffering. Additionally, NordVPN provides unlimited bandwidth for a full, unfiltered internet experience.

Complete Privacy

Operating outside Five Eyes privacy jurisdictions in Panama, NordVPN offers complete and total privacy, which is exemplified in its no traffic-logging policy and the steps it takes for IP protection. The company doesn't provide any web activity information to third parties, simply because it can't; it doesn't store browsing history. In terms of IP protection, NordVPN can provide a dedicated IP address, and changes your IP address two times while connecting to the server to provide an extra layer of protection.

NordVPN App

Ultimate Security

Chances are, security is one of the biggest reasons you're seeking out a VPN. We get it; it's intimidating to know that some nefarious people out there are chomping at the bit to get our personal information. To that end, NordVPN encrypts all data traffic when a user's browsing around on public Wi-Fi, and offers the same level of security across all of a user's devices and operating systems with OpenVPN and an AES-256-GCM encryption algorithm with a 4096-bit DH key.

Pro Tip: Data encryption is important, as it switches carrier forms to send a message. This makes it more difficult for hackers to intercept and steal our information.2

2. Surfshark - Best VPN for Families in France

Product Specs

| | |
| --- | --- |
| Multi-hop | Yes |
| Camouflage Mode | Yes |
| Kill switch | Yes |
| Split Tunneling | Yes |
| Netflix | Yes |
| Torrenting | Yes |

What We Like

Unlimited simultaneous connections
Well-rated apps
Strict no logs policy
Camouflage Mode

What We Don't Like

Somewhat pricey monthly plans
Not all servers can unblock streaming content
No phone support in France, or anywhere else
Only three server locations in France

Use On Unlimited Devices

Surfshark is one of the few VPNs that allow unlimited simultaneous connections, meaning, you can connect an unlimited number of your devices to Surfshark at once. This makes Surfshark a perfect VPN whether you're traveling to France with friends or moving to France with your family. With just one subscription, you can use the VPN to protect all of your devices.

Multi-system Compatibility

When we say all of your devices, we mean ALL of your devices. Surfshark works with a wide variety of systems, including iOS, Android, macOS, Windows, Linux, Android TV, and Fire TV. It also offers browser extensions for Chrome, Firefox, and Edge. And while there are no native apps for Apple TVs, Playstations, and Xboxes, there are ways to connect Surfshark to these devices, as well.

VPN Camouflage

Especially in countries that impose internet censorship, even the mere fact that you're using a VPN could get the government's sights on you. Sure, they can't see what you're doing online if you use a VPN, but your ISP can throttle your internet speed down if they see that you're using a VPN. That's where Camouflage Mode comes in, or what other VPNs refer to as VPN obfuscation. Basically, Camouflage Mode hides the fact that you're using a VPN, so that in the eyes of your ISP and the government, you're just another internet user.

3. Private Internet Access VPN - Best VPN for Torrenting in France

Product Specs

| | |
| --- | --- |
| Multi-hop | Yes |
| Camouflage Mode | No |
| Kill switch | Yes |
| Split Tunneling | Yes |
| Netflix | Yes |
| Torrenting | Yes |

What We Like

Allows up to 10 simultaneous connections
Fast on Windows
Netflix access
High app reviews

What We Don't Like

No split tunneling
Limited streaming options
Based in the U.S. within jurisdiction of Five Eyes
Slow on Mac

Layers of Security

Private Internet Access has multiple layers of protection for its users, including IP cloaking, which replaces your IP address with one of the company's private addresses to avoid unwanted exposure and data leaks; high-grade encryption, based on the cryptographically-secure Blowfish CBC algorithm; blocking of unwanted connections from hackers or government surveillance, with the integration of the Netfilter Project; identity protection to enable anonymous browsing and posting; and the unblocking of websites, allowing unrestricted access to websites in France.

Reasonably Priced

While privacy is of utmost importance, no one wants to break the bank in order to ensure their online safety. For those interested primarily in torrenting or streaming, it's hard to beat the prices Private Internet Access offers, especially considering their prices go down and incentives are increased as contract length is extended. Even though there's no free trial period, there is a 30-day money-back guarantee and prices start as low as $2.19 a month. Learn more about the costs of Private Internet Access.

Connecting to Private Internet Access

User Experience

Unlike other VPN providers on our list, Private Internet Access features a simple, user-friendly app. We were walked through prompts when accessing the app, the layout is easy to understand, and it's clean and uncluttered. It uses a color-coding system to let us know which servers are delivering the best pings, or those that will be fastest, and let us save our favorites easily.

4. CyberGhost - Best VPN for Streaming for France

Product Specs

| | |
| --- | --- |
| Multi-hop | No |
| Camouflage Mode | No |
| Kill switch | Yes |
| Split Tunneling | No |
| Netflix | Yes |
| Torrenting | Yes |

What We Like

Supported on multiple platforms
Budget-friendly, competitive prices
Good for video streaming
Automatic kill switch

What We Don't Like

Limited payment options
One-day free trial only
Limited access to high security servers
Slow when accessed outside of France

Unblocks Streaming Platforms

It's no secret that Netflix's (and other online streaming services') offerings vary from country to country, and it's frustrating when another country has that one movie or series we've been dying to see. CyberGhost helps us work around that by unblocking Netflix France and local news channels TF1, Canal+ and RMC on servers, and monitoring them regularly so they can switch IP addresses if a streaming site gets blocked. The streaming options are easy to navigate, too. All we had to do was type the name of the streaming service into the search bar and choose which country's platform we wanted to use.

CyberGhost App

Strong Encryption

Without a VPN, it's laughably easy for Internet Service Providers and the government to access our online browsing history and activity without our permission. CyberGhost designed its servers to provide 256-bit military-grade encryption at all times. It features several VPN protocols, including OpenVPN, which bypasses firewalls, is highly-configurable and open course; Internet Key Exchange Version 2, a protocol that re-establishes your VPN connection when you're disconnected from the internet; Wireguard, an open-source software that creates point-to-point connections; and Layer 2 Tunnel Protocols, which combines with the IPSec to create a highly-securable VPN client. For more information on these encryption methods and internet protocols, check out our VPN guide.

Native Apps for All Operating Systems

Too often, mobile apps are created with one platform in mind and, once adapted for use on a competing platform, fall short of users' expectations and often have noticeable differences across each platform. CyberGhost, however, has apps native to Windows, MacOS, iOS, Android, and Linux, in addition to multiple smart TVs, routers, streaming consoles, and gaming consoles. However, some apps worked better than others. CyberGhost seems to work best for Macbooks. To test how much CyberGhost slowed down connections (as all VPNS do), we used a Macbook Air. There was a 14 percent ping increase when we were connected to the VPN (which is your connection's reaction time to every request you send to it), compared to the industry average ping increase of 32 percent. Not bad, CyberGhost!

5. ProtonVPN - Best Free VPN in France

Product Specs

| | |
| --- | --- |
| Multi-hop | Yes |
| Camouflage Mode | Yes |
| Kill switch | Yes |
| Split Tunneling | Yes |
| Netflix | Yes |
| Torrenting | Yes |

What We Like

Based in Switzerland, non-member to Five Eyes
Free option available
Fast speeds
No data logging

What We Don't Like

Limited P2P availability
Only email support
Prone to VPN blocks
Hard to connect customer support

Free Option

Uncommon for most VPN providers, ProtonVPN offers a completely free option for its users. However, the free version can only connect to servers in the U.S., Japan, and the Netherlands. You can only connect one device and the speed is kind of slow (something we're definitely not used to!), but there's no data limit, so you're free to stream away. While that package is, predictably, without bells and whistles, it still provides basic privacy protection. This is true of most free VPNs or VPNs with free trials.

ProtonVPN Leak Test

Swiss-Based Secrecy

Located in Switzerland and firmly out of Five Eyes, Nine Eyes and Fourteen Eyes jurisdiction, ProtonVPN is protected by some of the world's strictest privacy laws, meaning it can't spy on us as we use their servers. Additionally, physical security is taken into account, too, as the system's critical infrastructure is located in a former Swiss army fallout shelter 1,000 meters below ground.3

Top to Bottom Privacy

One of the most unique features of Proton VPN is that it generates a new encryption key each time we accessed a server through its system, meaning that old sessions can't be decrypted if an encryption key is compromised. Additionally, the company has a strict no data-logging policy, DNS leak protection, and OpenVPN and IKEv2/IPSec protocols, which are the most secure and reliable.

6. PureVPN - Best VPN for Fire TV Stick in France

Product Specs

| | |
| --- | --- |
| Multi-hop | No |
| Camouflage Mode | Yes |
| Kill switch | Yes |
| Split Tunneling | Yes |
| Netflix | Yes |
| Torrenting | Yes |

What We Like

Responsive and accessible customer support team
Offers five simultaneous logins with every account
Easy to set up
Unlimited server switching

What We Don't Like

Android app has interruptions
Slow download speed
Connection problems with some servers
Poor customer support

Fire TV Stick Compatibility

PureVPN offers an application that's available on Fire TV Stick. You may be wondering, "why do I need to encrypt my streaming services?". Well, to begin, you can prevent third-parties from monitoring your streaming activity, and, perhaps the coolest part, you can pick a server in a different country, unlocking access to the country's library of media that may only be available regionally. While we were in France, we had access to servers that unlocked Netflix libraries, so we were able to get our much-needed fix of Brooklyn 911.

FYI: Netflix and other streaming platforms don't have the same library in all the countries they're available in. VPNs mask and replace your IP address so it appears you're accessing the streaming service from a different location.

Global Network

PureVPN's server number is impressive, to say the least. The company owns a self-engineered and self-managed global network of over 6,600 servers in 140 countries, including 42 in France. Additionally, it has dedicated servers that are optimized for streaming, meaning we were able to watch our shows super fast.

PureVPN Mac App

Additional Offerings

Though they come at a price, PureVPN offers other features that make its appeal more attractive, including a kill switch, split tunneling, app blocker, content and URL filters, port-forwarding, a Smart DNS server (for an extra $4.95 per month) and an NAT firewall (for an extra $2.95 per month).
How We Test VPNs: Methodology
By this point, you're probably wondering what qualifies us to review the best VPNs in France and what methodology we used to determine which VPNs made the cut. The first thing we do is start at the beginning: we make sure it has all the features you're looking for. For the best VPNs in France, in particular, we considered the amount of servers in the country each VPN provider has. Variety of server locations is important because proximity matters when it comes to the speed of each server; the closer you are to a server location, the better the connection will be.
We don't believe in simply repeating information we've gleaned from scrolling through each VPN provider's website. Instead, we personally test each provider across iOS, Android, MacOS and Windows devices to ensure they can live up to advertised expectations on all platforms. While researching the features a provider offers is essential, we also go deeper than that. We examine each individual company, where it's based, and whether or not the headquarter's country is a member of Five Eyes, Nine Eyes or Fourteen Eyes, those pesky intelligence agencies that can force VPN providers to share their customers' personal information.
Speed
As we do with all of our reviews, we tested each VPN in our Brooklyn office on a private Optimum network. Using one device at a time, we set a baseline by judging our internet speed without a VPN, and use the findings as the control group for our research. We understand that most people are firmly planted in the Apple or Windows camp, so we test the VPNs using a Macbook Air and a Windows Vivobook so we can tailor our recommendations based on your operating system of choice.
Our testing method is quite simple: we test download and upload speed along with ping (latency) with and without a VPN. While download and upload speed are measured in megabits per second, latency is measured in milliseconds. Once we have these figures, we calculate the difference between the two measurements as a percentage, because of how greatly the speed differs between the operating systems. Though VPN speed varies based on factors such as distance to the server, operating system, device used, etc., VPNs should have no more than a 40 percent difference in any of the speed categories. While we try to provide the most transparent results and information possible, we urge our readers to conduct the speed tests themselves so the results are more accurate.
Security
Most people who opt for VPNs are looking to protect their web traffic, which is composed of domain name servers (websites visited) and their respective IP addresses. We take that a step further and want to make sure that users' private IP addresses are not leaked due to WebRTC, which essentially enables default browsers, like Chrome, Microsoft Edge, and Opera, to directly communicate with each other.
We use DNSLeakTest.com to test for DNS leaks by comparing our computer's IP address with the IP addresses that come up on the website. If we're using a VPN and our personal IP address pops up, the VPN is leaking our data. After that, we test for WebRTC leaks on ExpressVPN's website, so we can look at the local and Public IPv4 IP addresses to determine if there were any WebRTC leaks.
Once we're finished testing for DNS and WebRTC leaks, we focus our attention on each VPN provider's privacy jurisdiction and data-logging policy. We try to avoid companies that are based in areas that fall under Five Eyes, Nine Eyes, and Fourteen Eyes jurisdiction, international surveillance alliances that could legally force companies to hand over customer information.
In terms of data-logging, we look for companies that don't hold any overly-sensitive information and only keep it to a user's basic account information, such as their name, email, and payment information. We don't think that it's necessary for VPNs to keep any information about when customers use their VPNs, for how long, or their web activity and IP addresses.
For our longer reviews, we examine the VPN's encryption methods and Internet protocols to ensure they adhere to industry standards, which include AES-256 and OpenVPN, the most secure methods around. Additionally, we search for anonymous and dynamic IP addresses, because they're difficult to track. Finally, we make sure that each VPN has a kill switch, which will shut down all Internet browsers in the event that the VPN fails.
Performance
We all love streaming our favorites shows and films, so we look for VPNs with Netflix and torrenting access. We also look for split tunneling, which gives users the opportunity to access their VPN and public network at the same time. This can help increase speed by using lower bandwidths. We also prefer double or multi-hop VPNs, as they encrypt data multiple times through multiple servers.
Subscriptions
In addition to providing readers with unbiased information about the subscription options each company offers, we compare their pricing to that of their competitors so we can determine if a certain company is charging a reasonable rate or not. The price range of VPNs varies, but it's nothing too extreme — VPNs can go from free options (yes, free!) up to $15 a month, but on average it's around $5 to $10 a month.
While monthly plans offer users more flexibility, annual plans often come with discounted prices. Additionally, we provide information about any trial periods or money-back guarantees that a company offers. Finally, we put a subscription's offerings into the clearest terms possible to let you know what each package entails, in terms of the numbers of server switches, simultaneous connections, and devices allowed. Typically, VPNs allow for unlimited server switches and devices and anywhere from one to unlimited simultaneous connections.
Customer Support
Most VPN companies provide a free live chat feature, in addition to any email information or ticket slips to feel out. Though the customer service typically isn't the best with VPN companies, we prefer 24/7 live chat and award extra points if the company provides a phone number.
App
We test the company's VPN app on both iOS and Android-run devices, as well as learning their ratings; anything below three stars on the device's respective app stores doesn't get recommended to users with that device.
FAQs
Here we put together some common VPN questions to provide some clarity on the topics we discussed.