The Best VPNs for Germany in 2023
Whether you live in Germany year-round or you're simply traveling through, you can protect your web activity with these VPNs we tested.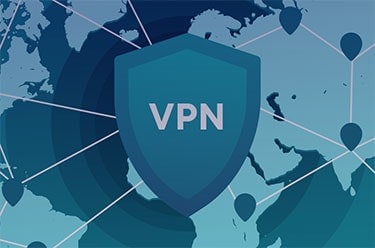 2,500+ research hours
50+ VPNs reviewed
300 speed tests
6 experts consulted
5 VPNs recommended
Besides being world-renowned for its precise engineering, Germany is well known as a safe haven for data privacy. It is part of the European Union, and thanks to the General Data Protection Regulation (GDPR) that took effect in May 20181, Germany enjoys greater privacy than many other countries in the world.
Despite Germany's commendable regulations, however, laws alone aren't enough to protect its citizens' and residents' data privacy on an individual level. Cybercriminals aren't exactly law-abiding citizens, so we need data-protection tools — such as a virtual private network — wherever in the world we happen to be. And if you happen to be in Germany, these are the five best VPNs you can use, curated by us after weeks of testing over a dozen VPNs.
>> Read more: The Internet and Data Privacy
The Best VPNs in Germany: Why They're The Best
Our Process: How VPN Testing Works
We're not in Germany. We live 4,000 miles across the Atlantic in New York, but we've been testing VPNs long enough (more than a decade and counting) to know that in order to find the best VPNs in a specific country, we should start by looking at their server networks.
A VPN's main job is to encrypt your traffic and route it through a VPN server. It's the routing of data that gives VPNs the ability to hide and change your IP address, unblock websites, and get around censorship, but you have to note the server's location. If you're trying to access a website blocked in Germany, for example, you'll need to use a server outside the country to unblock it. If you're trying to access a streaming service available only in the U.S., you'll need to use a U.S. server.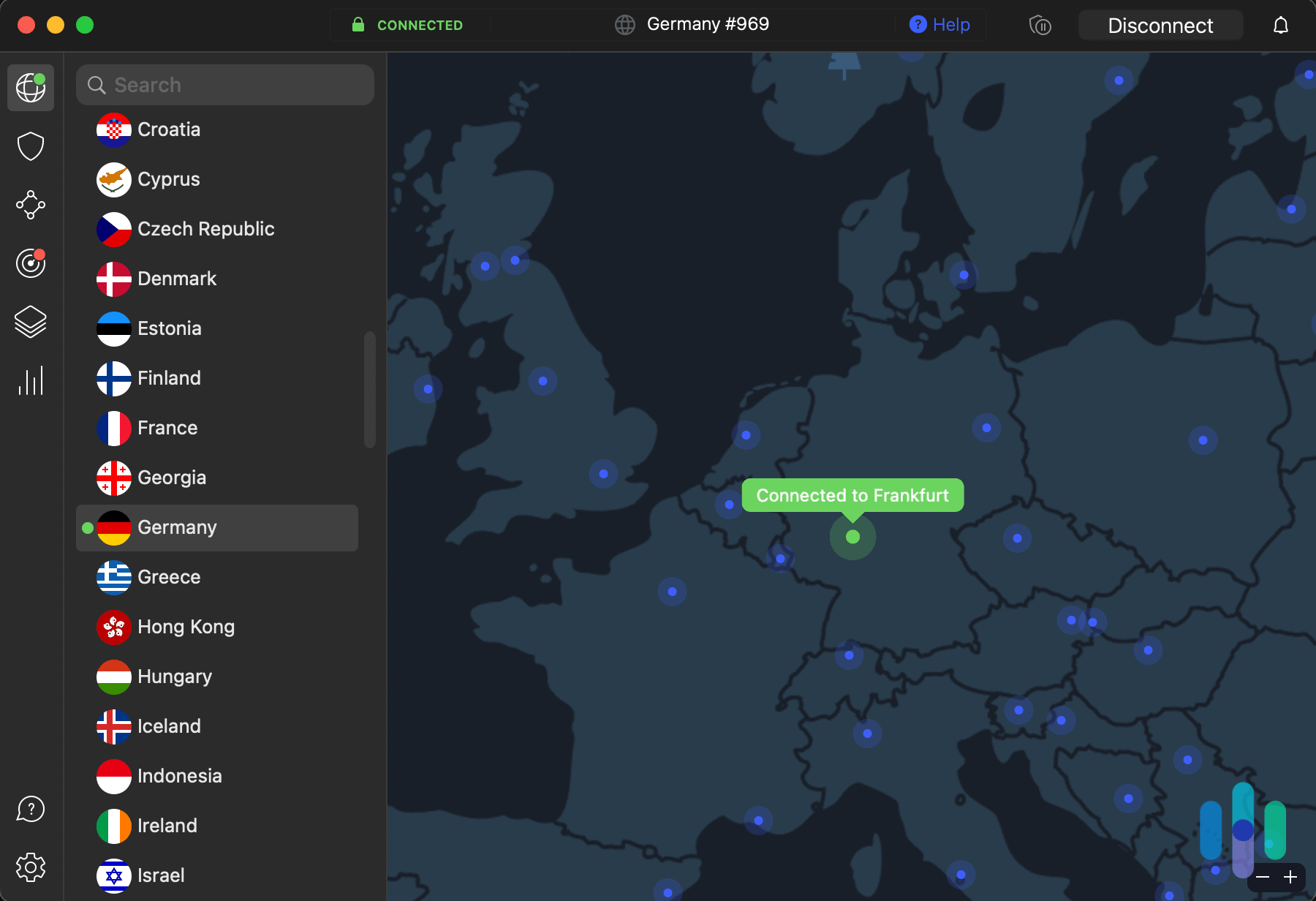 Besides that, the location of the VPN server can have a huge impact on your browsing speed. The farther the server is from you, the farther your data packet will have to travel and the slower your connection will be.
What should you look for in a VPN if you want to use it in Germany?
Servers in Germany: For when you want to encrypt your data and enjoy the fastest speeds.
Servers in Europe: To access sites blocked in Germany without compromising much speed.
Servers in the U.S.: To access sites and services available exclusively in the U.S.
That's just half of what you need if you want the best of the best VPNs though. If you want data privacy, you'll want to look for a VPN with the right security features and privacy policy.
That's where our hands-on tests come in. We checked each VPN's stealth-mode features, such as a network kill switch and multihop. We also checked each VPN company's data-logging policy to make sure it adheres to GDPR guidelines.
What is a kill switch? A kill switch is a VPN feature that stops your device's internet connection if your VPN disconnects. It is a crucial feature for keeping your browsing history private, since even the best VPNs sometimes experience connection issues.
We also, of course, checked that each VPN worked as promised (i.e. encrypting data and not leaking our IP address to the sites we accessed). For that, we did DNS and WebRTC leak tests. The tests, which show if a VPN's ability to hide IP addresses is flawless, are part of our standard review process besides testing VPN speeds.
These are the main aspects we'll discuss in this roundup:
Server network and performance: Everything from the number of servers and where they are located to the speeds we got.
Privacy and security features: Covers encryption and tunneling protocols, as well as extra features such as malicious site blocking, obfuscation, and more.
Privacy policy: Discusses what data each company logs, if any.
Without further ado, let's do a deep-dive into the best VPNs to use in Germany!
VPN Specs: VPN Performance in Germany Side-by-Side
| System | NordVPN | Surfshark | Private Internet Access VPN | IPVanish | CyberGhost |
| --- | --- | --- | --- | --- | --- |
| Ranking | 1st | 2nd | 3rd | 4th | 5th |
| Ratings | 9.7/10 | 9.5/10 | 9.4/10 | 9.3/10 | 8.9/10 |
| Minimum subscription cost (in Germany) | €3.79 | €2.39 | €1.94 | €3.33 | €2.37 |
| Minimum subscription cost (in the U.S.) | $3.79 | $2.39 | $2.19 | $3.33 | $2.37 |
| Server locations in Germany | Berlin and Frankfurt | Berlin and Frankfurt | Berlin and Frankfurt | Frankfurt | Berlin, Dusseldorf, and Frankfurt |
| Kill switch | Yes | Yes | Yes | Yes | Yes |
| Multihop | Yes | Yes | Yes (via proxy) | No | No |
| No-logs policy | Yes | Yes | Yes | Yes | Yes |
| DNS leak test | Passed | Passed | Passed | Passed | Passed |
| WebRTC leak test | Passed | Passed | Passed | Passed | Passed |
| Upload/ download speed on closest server* | 78 Mbps/87 Mbps | 80 Mbps/84 Mbps | 67 Mbps/88 Mbps | 77 Mbps/79 Mbps | 80 Mbps/91 Mbps |
| Upload/ download speed on Germany server (connecting from the U.S.)* | 57 Mbps/78 Mbps | 51 Mbps/72 Mbps | 63 Mbps/86 Mbps | 73 Mbps/79 Mbps | 59 Mbps/79 Mbps |
| Read Review | NordVPN Review | Surfshark Review | Private Internet Access VPN Review | IPVanish Review | CyberGhost Review |
*While on a 100 Mbps fiber-optic internet connection
VPN Deep-Dive: The Best VPNs in Germany
How to Choose the Best VPN for You
NordVPN, Surfshark, Private Internet Access, IPVanish, and CyberGhost have proven to be the best VPNs to use in Germany, but how do you know which one is the best for you?
Consider your priorities: How will you use the VPN? That will be the main deciding factor. If you're looking for a VPN to stream U.S. TV shows, for example, choose a fast VPN on U.S. servers. In our tests, that was Private Internet Access. If you're looking for a VPN to secure your data, choose the one with the best privacy features, which is NordVPN.
Set a budget: VPNs can cost anywhere from $10 to $15 per month if you pay monthly, or $50 to $100 total if you buy a two-year subscription. If you have a set budget for a VPN, narrow down your options by crossing off the ones that go over your limit.
See the server locations: VPNs typically have servers in at least a few dozen countries. Of the ones on our top-five list, NordVPN has the fewest (60 countries), while Surfshark and CyberGhost have the most (100 countries). You more than likely won't use all those server locations, so list which countries you'll want to connect to and see if your options have servers in those countries.
Device compatibility: All our top picks work with Windows, macOS, iOS, and Android devices, but there may be other devices you want to protect, such as gaming consoles or smart TVs. Check how your top options work on those devices — and if they work at all — before buying.
Try out the VPNs: Although they're affordable, buying a long-term VPN subscription is full of risks. Fortunately, a lot of VPN providers alleviate the risk by offering free trials. Don't be afraid to test your options first, because most VPNs offer risk-free trials that allow you to cancel your VPN subscription and get your money back within a set time period.
>>See more: The Best VPN Free Trials
Are All VPNs Legal in Germany?
The legality of VPNs varies around the world. There are countries where using a VPN can land you in jail, and there are others that severely restrict the use of VPNs. In most other countries, though, VPNs are completely legal. That includes the United States and, yes, Germany.
Of course, there's a little footnote here. Using a VPN is legal, but it doesn't excuse anyone from doing illicit activities while behind VPN anonymity. It's kind of like driving. It's legal to drive if you have a driver's license, but that doesn't mean you can do anything you want behind the wheel. You still have to follow traffic rules. The bottom line: You can use a VPN legally in Germany, but just make sure you don't do anything illegal online.
Setting Up and Using VPNs
Now that you're in the clear to use VPNs — and you probably have a VPN in mind — what's next? Setting it up and using it.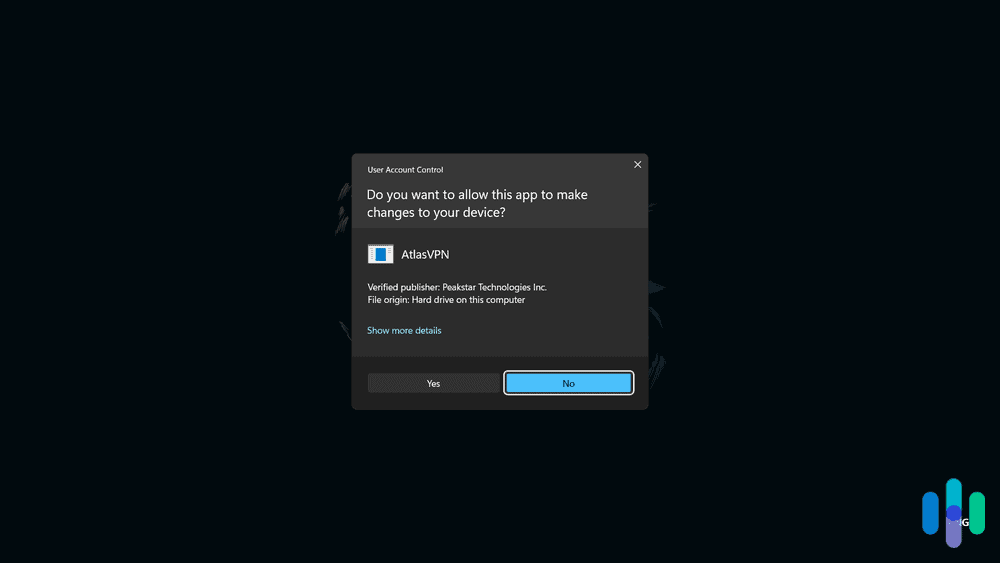 We put together a handy guide of VPN how-tos that anyone from VPN novices to pros can learn from. The guide explains how to set up a VPN on Android, Macs, and many other devices; how to use VPN app features; how to do things like unblock websites and change IP addresses; and much more. Bookmark the page as you explore your VPN's features to get the most out of your VPN subscription.
Are There Free VPNs in Germany?
Besides free trials, another way you can test a VPN is by seeing whether it offers a free version. None of our top picks offer free options — just free trials — but some premium VPNs offer free VPNs with limitations. Check out our list of the best free VPNs for examples. Some of the options there offer free VPNs with limited monthly data usage, fewer servers available, or speed caps. You can even use them for as long as you like, as long as you're fine with those limitations.
Not all VPNs are good though. There have been reports of free VPNs that log browsing data and sell it to advertisers or that contain malware to infect users' devices. Most free VPNs aren't trustworthy, so use one only if you know you can trust the provider.
Are VPNs Worth It? Benefits of Using VPNs
Still not convinced a VPN is worth your time and money? Here are a few reasons you should use a VPN, as well as other benefits you can get by connecting to a VPN server.
Enhanced privacy: This is the reason VPNs came into existence in the first place. Your browsing activity is not private. Even with strong data-privacy laws such as the GDPR, the services you use online can still see most of your browsing data, which can be used to target you with ads. Even worse, companies that have records of your data can suffer a data breach and expose your private data to the public. Using a VPN can stop spying of any sort by scrambling the content of your online traffic.
Freer internet: Germany gets a good score on censorship — meaning the German government isn't big on censoring information — but there may still be a few websites you can't access because they're blocked by your internet provider or your network administrator at work or school. Connecting to a VPN removes those blocks, allowing you to access any website.
Changed IP address: As a side effect of tunneling, the sites you visit will not see your real IP address if you're connected to a VPN. That serves as protection as well. There are many things others can do with your IP address, so it's best that your IP address is hidden for the purpose of digital security and privacy.
Hidden location: Your IP address is tied to your physical location, so if someone knows your location, they can also find out where you live — at least on a city level. By changing your IP address, VPNs can hide your physical location from services and websites that can see visitors' IP address.
Access to more entertainment: If you put together those last three benefits, you get one more thing out of your VPN: access to a wider variety of entertainment options. We've already given a few examples, such as getting access to Hulu from Hong Kong and accessing BBC iPlayer from the U.S. Wild, right?
Using a VPN is not only good for your privacy, but it also has tons of other benefits. Even though the best VPNs often cost money, we truly believe they are worth it.
>> Do You Know: How to Change Your Region on Netflix
Conclusion: Is a VPN All You Need?
Using a VPN is a good way to protect your privacy, but it's just one of the things we recommend if you want to enjoy safer browsing and more internet freedom.
To recap, the best VPNs for Germany are NordVPN, Surfshark, Private Internet Access, IPVanish, and CyberGhost. You can't go wrong with any of these picks, but after extensive testing, we're partial to NordVPN.
Once you've chosen and set up your VPN, head to our digital safety and cybersecurity guide to find out what else you can do to stay safe online.
FAQs
Here are our answers to some of the most frequently asked questions asked about the best VPNs for Germany.