Consumers Flocked To VPNs in 2020 Under Threats of Government Censorship, Major Events Impacting Travel
Average consumer interest in Virtual Private Networks increased by 74 percent when President Trump proposed a ban on TikTok.
People use VPNs for various reasons, such as bypassing government restrictions, securing Wi-Fi networks, and hiding web activity from Internet Service Providers. Recent data suggests that consumers' average interest in VPNs increased greatly in 2020 during important news events such as the potential ban of the social media platform TikTok by the U.S. government. In general, average consumer VPN interest increased greatly when there were newsworthy events impacting international travel, restrictions on internet usage, and events impacting work-from-home status. Key findings include:
Consumers' VPN interest increased by 55 percent over typical consumer demand on February 12, the day that the House Judiciary Committee voted in favor of a bill that would withdraw President Donald Trump's travel ban on citizens of Libya, Iraq, Sudan, Somalia, Iran, Yemen and Syria to the U.S.
In August, average consumer interest in VPNs increased by 74 percent when President Trump announced that he would ban TikTok. On the day the ban was meant to begin, September 20, VPN interest surged by 34 percent.
When the postponement of the Olympics was announced, there was a 78 percent increase in consumers' VPN interest as people began securing at-home networks for the possibility of stay-at-home orders and thus, remote work.
Nearly one in 10 U.S. adult VPN users highlight whistleblowing, activism, or bypassing government or organization restrictions as a reason for use.
Data from this report on consumer interest levels was provided to us from NordVPN, and U.S. consumer usage data comes from our annual report on VPN usage.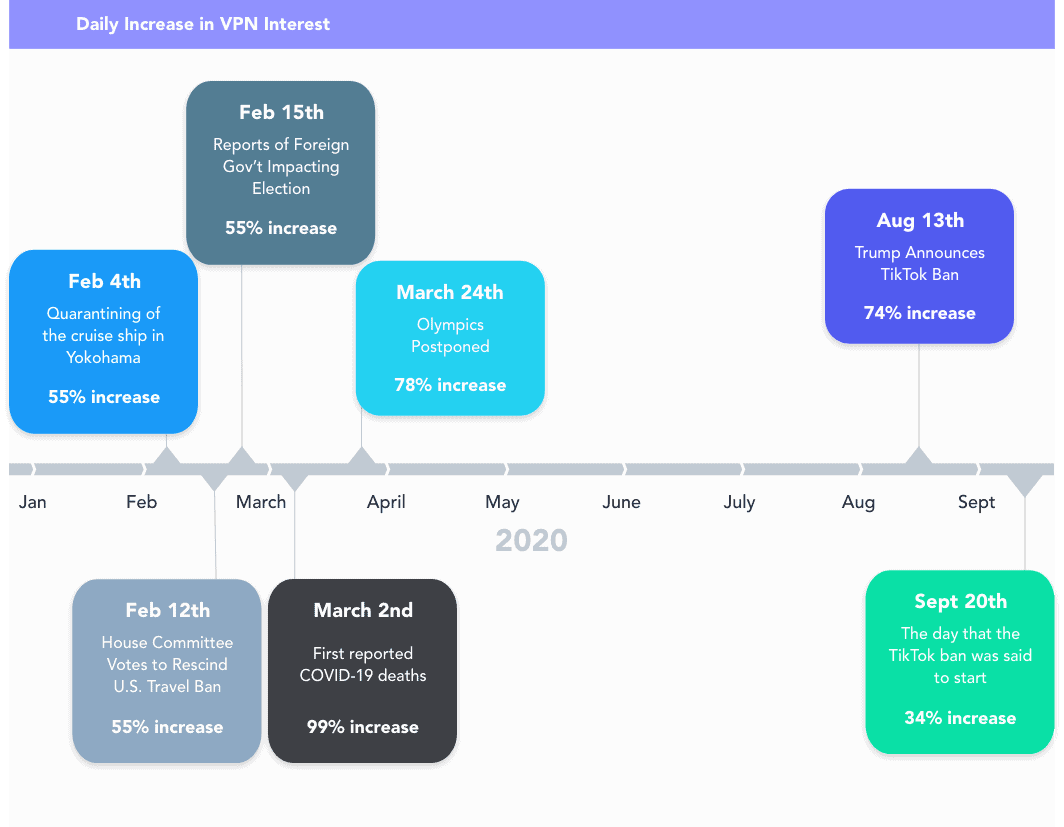 Why VPN Interest Spiked in 2020
Data shows that interest in VPNs spiked with various news events throughout 2020, indicating that people were gearing up for government censorship and stay-at-home orders. The data was calculated by measuring the amount of web traffic in a day compared to the average of a week prior to the date, an effective measure of increased consumer demand for VPNs. Even with additional marketing efforts taken into account, spikes in interest correlated with events such as the first quarantined cruise ship in Yokohama, the first COVID-related deaths, and the proposed ban of TikTok, among others.
Government Censorship
As the threat of internet censorship increased, so did the average consumer interest in VPNs. By changing a device's IP address, VPNs allow users to access the internet on another country's servers, bypassing government or geo-restrictions. Accordingly, there was a 74 percent increase in average consumer VPN interest on August 13, the day that President Trump first said that he might ban TikTok1. Later, on September 20, the day that TikTok was set to be banned in the U.S, VPN inquiries increased by 34 percent.
Similarly, President Trump's proposed travel ban on Muslim-majority countries2 also correlated with increases in the average VPN interest for consumers. As VPNs would allow people in countries with high levels of internet censorship to bypass firewalls, there was a 55 percent increase in interest in mid-February. Our own consumer research has shown that nearly one in 10 U.S. adult VPN users highlight whistleblowing, activism, or bypassing government or organization restrictions as a reason for use.
Stay-At-Home Orders
Indications of the severity of the COVID-19 pandemic and thus, stay-at-home orders, also led to large increases in consumer VPN interest throughout 2020. By encrypting a user's device IP address and web activity, people used VPNs to secure their home networks after learning they'd be working remotely. Digital privacy expert Daniel Marksuon explains, "When the Olympics were canceled and the cruise ship got quarantined, people must have realized that the virus began to spread. They saw how cities in China got locked down and rushed to acquire protection tools that would help them to continue with their life and work at home in the most secure way possible."
Accordingly, there was a 55 percent increase in average consumer VPN interest on February 4, the day that the first cruise ship, the Diamond Princess, was quarantined at Yokohama3. About a month later on March 2, the first deaths due to COVID-19 were reported, leading to the largest increase in VPN interest of the year of 99 percent. Later, on March 24, it was announced that the Olympics were postponed4, causing a 78 percent average increase in consumer VPN interest. At this point, the majority of the U.S was under stay-at-home orders and working remotely, leading to more of a need for VPNs to secure home networks.
Conclusion
The correlation between the average increased consumer interest in VPNs and 2020's tumultuous events suggests that VPNs are used for a variety of reasons, including bypassing government censorship and protecting sensitive business information. "Whenever a government announces an increase in surveillance, internet restrictions, or other types of constraints, people turn to privacy tools," Markuson continued. Although there wasn't a surge in interest at the storming of the Capitol, as the COVID-19 pandemic continues into 2021, it's expected that average consumer interest in VPNs will continue to increase as well.
Frequently Asked Questions
Not everyone uses VPNs, and many people aren't sure of what they are in the first place. Below you'll find the answers to the VPN-related questions we get most frequently.
Can you be tracked if you use a VPN?
Whether or not you can be tracked if you use a VPN depends on the VPN itself. The best VPNs, with AES-256 encryption, strict logging policies, and headquarters in Five Eyes non-member countries, hide the user so they can't be tracked. By replacing their IP address with a new one and encrypting their web activity, the user is essentially anonymous online.
Should I use a VPN at home?
You should use a VPN at home if you would like to:
Access a remote network
Access content not available in your home country
Avoid cookies/ cache
Avoid internet censorship
Bypass network restrictions
Hide your web activity from your internet service provider, device manufacturer, browser, search engine, etc.
Increase your security while shopping online
Secure VOIP phone calls
Torrent safely
Work on sensitive topics in the fields of activism, journalism, etc.
However, unlike on public Wi-Fi networks, using a VPN at home isn't necessary 100 percent of the time.
Are VPNs illegal?
In the U.S., VPNs are not illegal. However, some countries ban VPNs, such as:
Belarus
China
Iraq
North Korea
Oman
Russia
Turkey
Turkmenistan
Uganda
United Arab Emirates
How do I know if a VPN is working?
To check if a VPN is working, first, check your IP address without the VPN connected, then check again when it is connected. If the IP address is different when connected, then the VPN is working. Here's how to check your IP address on different devices:
Click on the Taskbar.
Click on Wi-Fi Network.
Click Select Network.
Click Properties.
Look under IPv4 Address.
Go to System Preferences.
Click Network.
Select Wi-Fi Network.
Click Advanced.
Click TCP/IP.
Check for your IP address under IPv4 Address.
Click Settings.
Click Wi-Fi.
Under the lowercase i, click on Network.
Click Information.
Look at the IP address under IPv4 Address.
Click Settings.
Click About.
Click Status.
Click IP Address.
Sources
Need additional insights for a story?
Send our research team an email