Best Doorbell Cameras for Low Lighting 2023
Video doorbells that work great during the day don't always deliver the goods at night. These five low-light doorbell cameras do.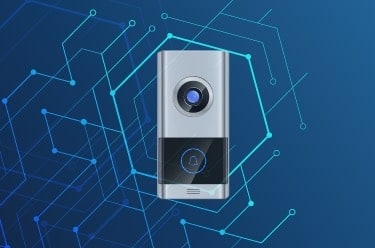 We've all seen at least one video of a deranged man who has wandered up to someone's door to have a look around. Prowler, porch pirate, or drifter, it's difficult to tell. Doorbell cameras like the Ring catch a lot of these suspicious encounters.
The footage is generally pretty clear during the day, but nighttime videos are another story. Image quality can get pretty grainy even a foot away when the lighting is low. With sketchy infrared sensors, lurkers often look more like apparitions than actual humans. If you've invested in a top video doorbell, you don't want that. You want images you can use to identify a potential threat.
In other words, you want a doorbell that doesn't just see, but that also sees well in low-light or no-light conditions. Here are our top recommendations for doorbell cameras that deliver exceptional video quality even when there isn't much light.
Our Review Process: Key Features We Looked For
| | |
| --- | --- |
| Video quality | 1080p and up |
| Night Vision quality | Color night vision with High Dynamic Range (HDR) |
| Field of vision | 140 degrees-plus |
| Smart home integrations | Compatible with Google Home, Amazon Alexa, and Apple HomeKit |
| Response time | Faster wired connections |
| Cost | $180 and under |
Top 5 Doorbell Cameras for Low Lighting
Did You Know: Color night vision cameras may shoot more detailed video at night than lower-contrast infrared (IR) cameras, but only when there's enough ambient light. In near or total darkness, most cameras with color night vision will revert to black-and-white IR.
Comparison of the Best Low-Light Doorbell Cameras
| System | Lorex Video Doorbell | Ring Video Doorbell Pro 2 | Nest Doorbell | Wyze Video Doorbell | Arlo Video Doorbell |
| --- | --- | --- | --- | --- | --- |
| Ranking | 1st | 2nd | 3rd | 4th | 5th |
| Ratings | 7.5/10 | 9.2/10 | 9.0/10 | 8.7/10 | 9.1/10 |
| Cost | $149.99 | $249.00 | $179.99 | $64.99 | $129.99 |
| Resolution | 2K | 1536p | 1200p | 1080p | 1536p |
| Aspect ratio | 4:3 | 1:1 | 3:4 | 3:4 | 1:1 |
| Field of view (horizontal) | 164 degrees | 160 degrees | 145 degrees | 120 degrees | 180 degrees |
| Night vision | Color, black and white | Color, black and white | Color, black and white | Black and white | Black and white |
| High Dynamic Range (HDR) | Yes | Yes | Yes | No | Yes |
| Two-way audio | Yes | Yes | Yes | Yes | Yes |
| Cloud plans | N/A | $3.99 and up | $6.99 and up | $2.99 and up | $4.99 and up |
| Native smart-home integration | Google, Amazon | Google, Amazon | Google, Amazon, Samsung | Google, Amazon | Google, Amazon, Apple, Samsung |
| Package detection | No | Yes | Yes | Yes | Yes |
| Installation | Wired, battery | Wired | Wired, battery | Wired | Wired, battery |
| Read Review | Lorex Video Doorbell Review | Ring Video Doorbell Pro 2 Review | Nest Doorbell Review | Wyze Video Doorbell Review | Arlo Video Doorbell Review |
Methodology: How We Ranked These Video Doorbells
Video Quality
For a doorbell camera to make our top-five list, video quality had to be above average. We were looking only at doorbells with full HD (1080p) and above, because crisp video is a must in low lighting. HDR was also a plus, and so was color night vision. Our No. 1 pick, the Lorex 2K, had all three. The Lorex isn't our top all-around video doorbell, but it's our favorite for nighttime recording.
Cost
It's not a testable feature, but cost was also in the back of our minds when we made our selections. We were looking for affordable doorbell cameras, which meant anywhere from $150 to $180. The considerably pricier Ring Pro 2 ($249) and the bargain-basement Wyze Video Doorbell ($64 with the chime) were the outliers. The Ring Pro 2's price was definitely a consideration. Although close in video quality to the Lorex, the Ring's much heftier price tag earned it a lower spot on our list.
Cloud Plans
Our final two considerations were cloud plans and smart-home integration. Our favorite nighttime video doorbell, the Lorex, doesn't lock you into a subscription plan to use its key features. Most of the other doorbells we tested do. We've let you know which brands they are and how much you should expect to pay each month.
Smart-Home Integration
Smart-home integration is last on our list, but it's probably the first thing you should check when shopping for a doorbell camera — especially if your home is Apple-friendly. HomeKit isn't well represented on this list, for example, while Google and Amazon are everywhere.
Final Thoughts
Those were the main criteria for our low-light video doorbell champs. There were plenty of hurdles to clear, and some pretty stiff competition. Obviously, you'll notice a difference between a $65 camera (Wyze) and one that costs $249 (Ring). Brands can't perform magic. All differences aside, however, any of the doorbell cameras we tested should deliver exceptional nighttime footage, making them high-quality, hopefully long-lasting additions to your home security arsenal.
FYI: Passive infrared sensors are good at picking up side-to-side motion, but not very good at detecting motion when objects are approaching from the front. That explains why, if you're using a battery-powered doorbell with PIR motion detection, your doorbell sometimes captures events late.
Best Low-Light Video Doorbell FAQs