UrbanVPN Review 2023
UrbanVPN is completely free to use, but what's the catch?
What We Like
Absolutely no fees: UrbanVPN is completely free to use, with no bandwidth or speed limits.
Unblocks Netflix libraries: UrbanVPN lets you stream from Netflix libraries outside your geographical region.
Good speeds: Despite being free, UrbanVPN delivers good download and upload speeds.
What We Don't Like
Peer-to-peer VPN: Using UrbanVPN makes your device a node of its peer-to-peer VPN network, opening up your network to possible hacking.
IP address logging: When connected to UrbanVPN, the VPN records your IP address, and other users might be able to see your IP address too.
Extensive data logging: UrbanVPN logs websites you visit, ads you click on, and more while connected to its network.
Bottom Line
While a completely free VPN sounds nice, UrbanVPN is not a good VPN if your goal is to protect your privacy. It may be good for unblocking streaming libraries outside your region, but it lacks security features, and the fact that it logs IP addresses is a red flag.
It's rare to find anything free in this world, so naturally, if we find a company that offers its services completely free, we get curious.
That's especially true with VPNs. All the best VPNs we've tested are subscription-based. They charge a fee in exchange for access to their products. That's understandable because running VPN servers located in different parts of the world costs money, not to mention the cost that goes into developing top-notch security features and the upkeep of their software.
So how is UrbanVPN, a VPN company located in the United States, able to keep its software and services free? Are its products safe to use? How exactly does it work? We will answer those questions in this review.
UrbanVPN 101: How It Works
UrbanVPN is completely free to download and use. Unlike the best free VPNs we've tested, which often have bandwidth and speed limits, UrbanVPN has zero limits. You get the full speed possible from its network, and you can download, stream, and browse all you want. So what's the catch?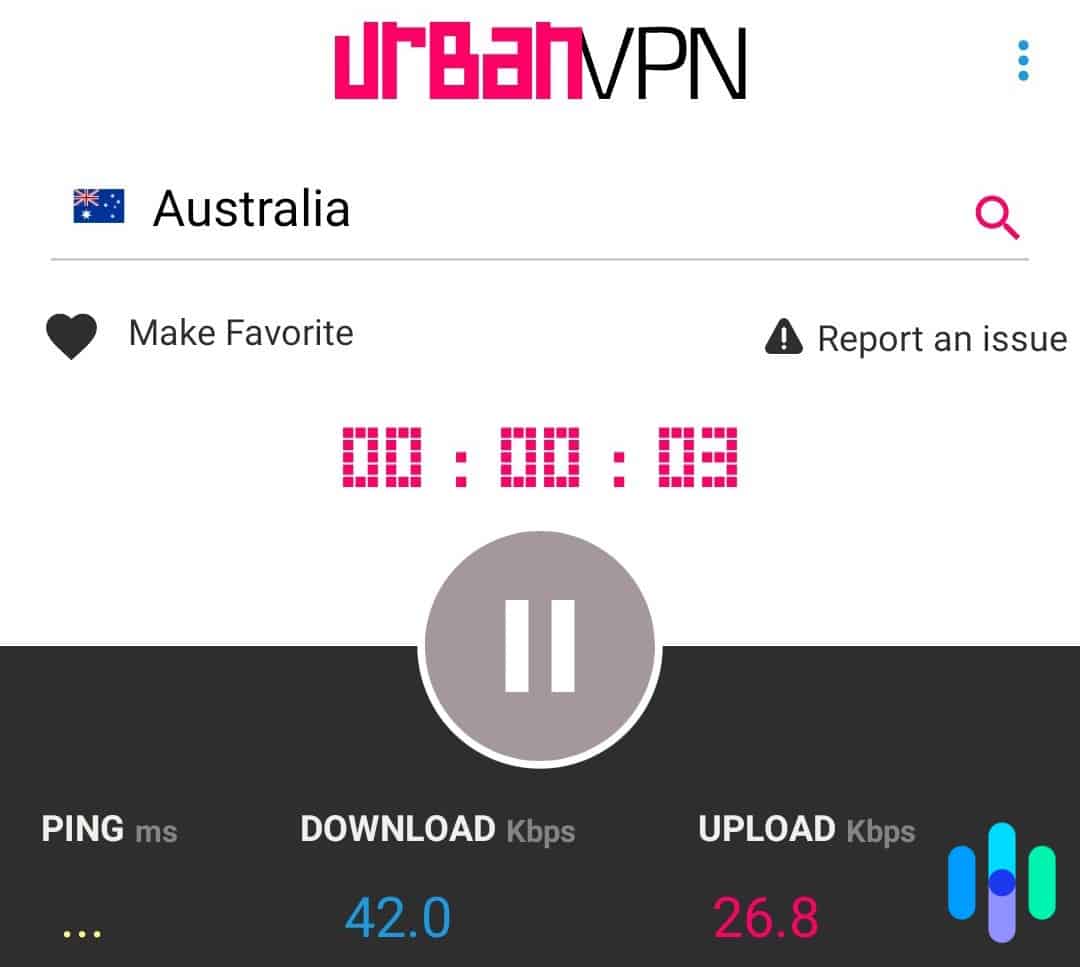 UrbanVPN doesn't work exactly like most paid VPNs. With something like NordVPN, one of the top VPNs today, the virtual private network is created by the service itself by routing traffic through its secure servers. With UrbanVPN, the traffic is routed through multiple nodes, which are actually devices of other users. That is called a peer-to-peer VPN.
If you use UrbanVPN, you become a part of that peer-to-peer network. The saying "If you're not paying for a product, then you are the product" has never been more true.
Learn More: Give our NordVPN review a read to find out more about one of the best premium VPNs. You can also check out NordVPN's prices here. Spoiler: It's more affordable than you might think.
Is UrbanVPN Safe?
So is UrbanVPN still safe to use? Sharing resources to create a virtual network in order to make traffic harder to track is not only plausible, but this is actually being done by one of the most secure anonymity networks today, Tor.1
From a high level, Tor bounces your traffic through three encrypted nodes, each with an encryption key that only the next node knows. This creates a network where every node is anonymous.2
UrbanVPN is different from Tor because it doesn't keep nodes anonymous. In fact, it logs their IP addresses. It's also quite possible for users with ill intent to see the IP addresses through which their traffic is being routed, and there are a lot of things someone can do with your IP address.
For those reasons, we suggest avoiding UrbanVPN if maintaining privacy is your primary reason for using a VPN. And even if privacy isn't your main reason — for example, if you only want to change Netflix regions — we still recommend being cautious about using Urban VPN for the reasons we'll share below.
FYI: UrbanVPN operates similarly to another popular free VPN called Hola. You can read our Hola VPN review for more information and find out if the Hola free VPN is any safer to use than UrbanVPN.
More Security.org Recommendations
Check out more of our favorite VPNs.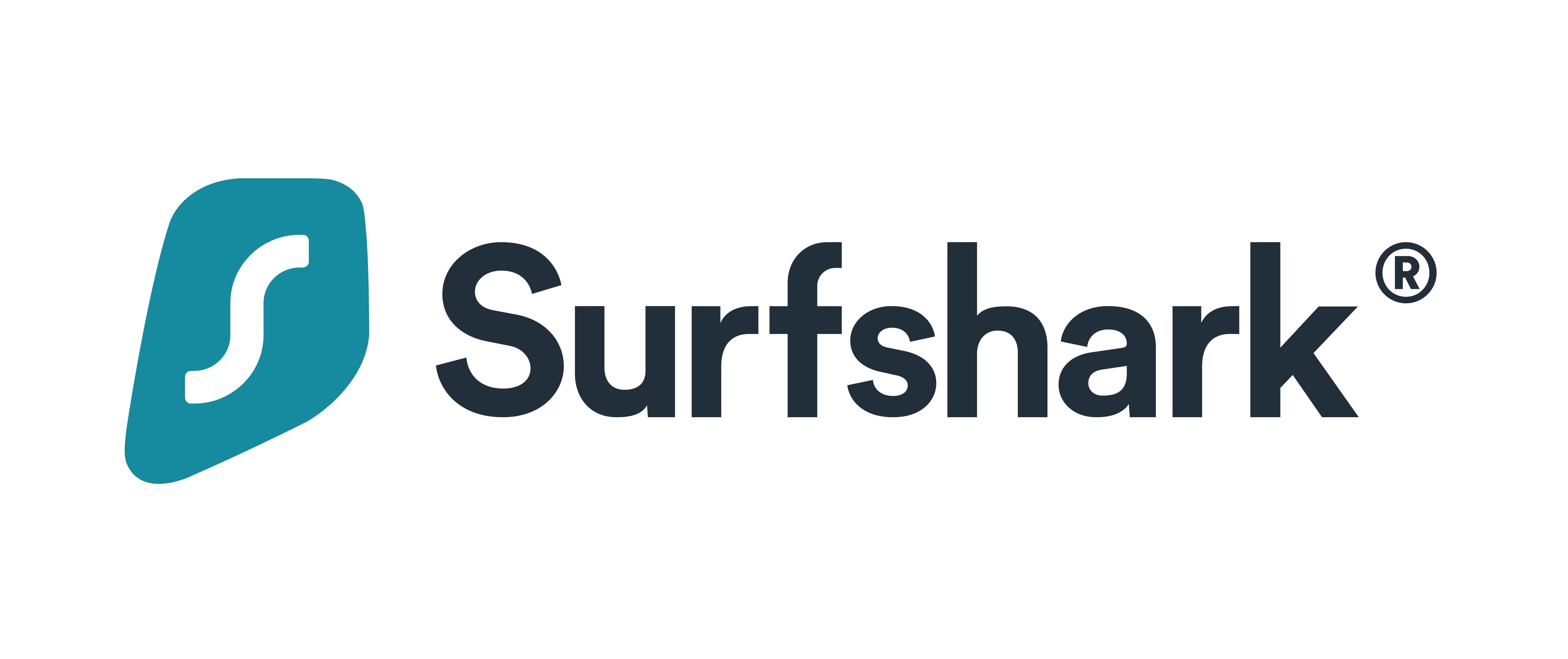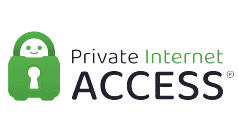 Testing UrbanVPN: The App Experience
Since we wanted to provide a full, honest review of UrbanVPN, we downloaded its free app on Android.
UrbanVPN Features in a Nutshell
| Common VPN features | Does UrbanVPN have it? |
| --- | --- |
| Data encryption | Yes |
| Hide/Change IP address | Yes |
| Kill switch | No |
| Split tunneling | No |
| Multi-hop | No |
| Secure VPN protocol | Yes (OpenVPN) |
The Positive Side of UrbanVPN
Let's start with the positive. UrbanVPN offers more than 60 virtual locations to choose from, evenly distributed throughout Asia, North America, South America, Europe, and the Pacific region. With that, we were able to change our Android phone's location with ease and unblock Netflix libraries from different regions.
The app was also easy to use. It connected quickly, and while connected, it showed useful insights like our network's speed and our "new" IP address.
And lastly, it gave us some level of malware protection by scanning the websites we visited and alerting us of potentially harmful or malicious sites. This feature is called UrbanVPN Safe Browsing.
The Red Flags of UrbanVPN
Other than those features, UrbanVPN was pretty basic. It didn't have a kill switch, a split tunneling feature, or even options for configuring the network.
We also encountered a couple red flags. The first was UrbanVPN's aggressive marketing of its other products and features. We learned upon launching the app the first time that it does not give unlimited VPN data to all users. Instead, we had only 100 MB of data to consume per day.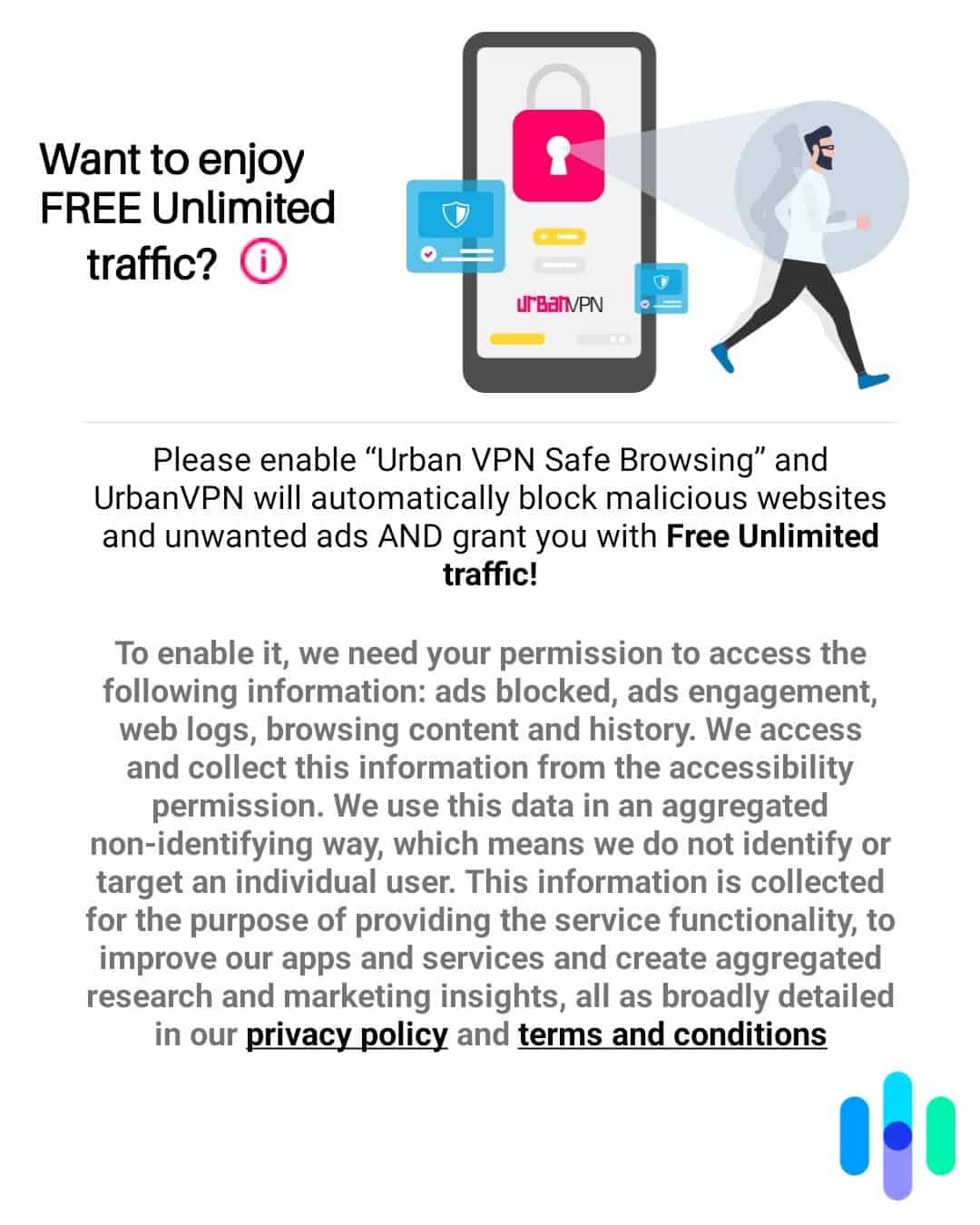 To get unlimited data, we had to enable the UrbanVPN Safe Browsing feature, which granted the app unrestricted access to our device's ads engagement, web logs, browsing content, and history.
Later on, we found out why it wanted us to enable the feature. We read through UrbanVPN's privacy policy and found out that it collects browsing data from users for commercial purposes. That's another way of saying it sells users' data. While it claims that the information it logs is anonymized, it's simply hard to trust a VPN that collects your browsing information.
Its data collection practices become even more of a red flag considering that UrbanVPN is based in the United States, a member of the Five Eyes Alliance. This means that UrbanVPN has to comply if the government asks it to share user information, and even other members of the Five Eyes, Nine Eyes, and 14 Eyes can legally obtain information from the company.
FYI: Trustworthy VPNs have a "no-logs" policy, which means they don't log your IP address and the websites you visit while using their services. In contrast, UrbanVPN logs both types of data, and it even uses your browsing history for commercial purposes.
UrbanVPN's Performance
It's clear by now that UrbanVPN isn't an ideal VPN for privacy-conscious users, but does it at least offer good speeds for users who just want a VPN to access streaming sites and don't mind having their data collected?
To test, we did a simple speed test while connected with an Australian IP address. Check the image below for the results.

That is, of course, not a great speed for streaming. And while connecting to UrbanVPN gave us access to Netflix Australia, the video buffered a lot when we tried streaming.
Because Australia is several thousand miles away, we thought we would get better results if we connected to a server closer to us. Unfortunately, this is how our speed test looked after choosing a closer server.

For reference, that's only about 1 percent of our network speed when not connected to a VPN (see picture below). In our VPN speed test experiment, there were some VPNs that retained almost the same speed as our network. Granted, those are premium VPNs with subscriptions, but the difference between UrbanVPN's speed and theirs is simply massive.

Final Thoughts on UrbanVPN
You probably know what we're going to say: UrbanVPN is in fact a working free VPN. However, we can't recommend it as a privacy-friendly VPN. Besides the fact that it utilizes users' network resources to create a virtual network, it also logs browsing data for the purpose of selling it. UrbanVPN also doesn't deliver a lot of security features besides hiding your IP address and encrypting your traffic.
On a positive note, UrbanVPN does a good job of unblocking content, including the Netflix libraries of other regions. The question is, are you willing to risk your privacy for such a feature?
If not, we're with you. There are lots of premium options out there that may not be free but have subscriptions for as low as about $2 per month. Check out our Surfshark review, for example. Surfshark has servers in about 100 countries, and it delivers fast and secure VPN connections with unlimited bandwidth. It also offers some of the best security features we've seen in VPNs.
Frequently Asked Questions
Learn more about UrbanVPN through this question-and-answer portion of our review.