Comparing Home Security Systems in 2023
With so many home security systems on the market, how do you choose?
All of our content is written by humans, not robots.
Learn More
Choosing something as important as a home security system can be a daunting test, especially when you hear advertisements on the daily. How can you decide which system to choose without going completely bonkers with research? Below, we've created an easy way to compare the best home security systems to each other, along with some helpful information on how to choose. Best of luck in your search!
How We Set Our Standards
You might have noticed that three alarm companies make frequent appearances in our comparison pages: ADT, SimpliSafe, and Vivint. That's because they are the highest-rated alarm companies in our book, and they are the standard with which we measure security systems to find the ones that offer the best protection. Have a look at our favorites below:
Security System Deals
Of course, you want quality home security, but you don't want to pay top dollar. There are home security system deals throughout the year that you can take advantage of to offset the equipment cost, and sometimes even the monthly cost of owning a security system.
General
Black Friday and Cyber Monday
Prime Day
NOTE: Prime Day is a two-day sales event only available for Amazon Prime members. Prime Day 2022 kicks off on July 12 and ends on July 13.
What To Look For in a Home Security System
If you are at the beginning of your home security journey and want to learn more about what to look for, here's a brief overview.
Type of Installation
Do you want DIY or professional installation? DIY installation has the distinct advantage of being free, while you might have to pay a fee for professional installation. These days, most DIY home security systems are pretty easy to install, especially if they're wireless, so if you're looking to save money, do it yourself.
Type of Monitoring
Similarly, figure out if you want self-monitoring, 24/7 professional monitoring service, or both. Again, if you're looking to save money, you can self-monitor your system for free using its mobile app. However, for the most protection at all times, go with the professionals to get a quick response time, even if you miss the alarm notification.
Home Automation
If you already live in a smart home and are addicted to voice control, look for a smart security system that works with your existing smart home devices. Also, so you don't have to switch between voice assistants, look for an Alexa security system or a Google Home security system, depending on what you already have set up. With compatible IoT devices, you'll be well on your way to home automation.
Equipment
What equipment will you need, and how much do you need? Take these factors into account:
Where your equipment will go: You may be installing your security system in a garage, or looking for a large home security system, apartment security system, or vacation home security system. Decide what you need for your space.
Wired vs. wireless: Next, choose wireless home security, hardwired home security, or a combination of the two. And yes, wireless security systems can be reliable.
Components: Finally, decide what components you'll need, such as security cameras, video doorbells, smart door locks, and various sensors like motion sensors, glass break sensors, window sensors, and door sensors. You can also add smart lights to make it seem like you're home when you're not. Learn more about the best smart locks as well.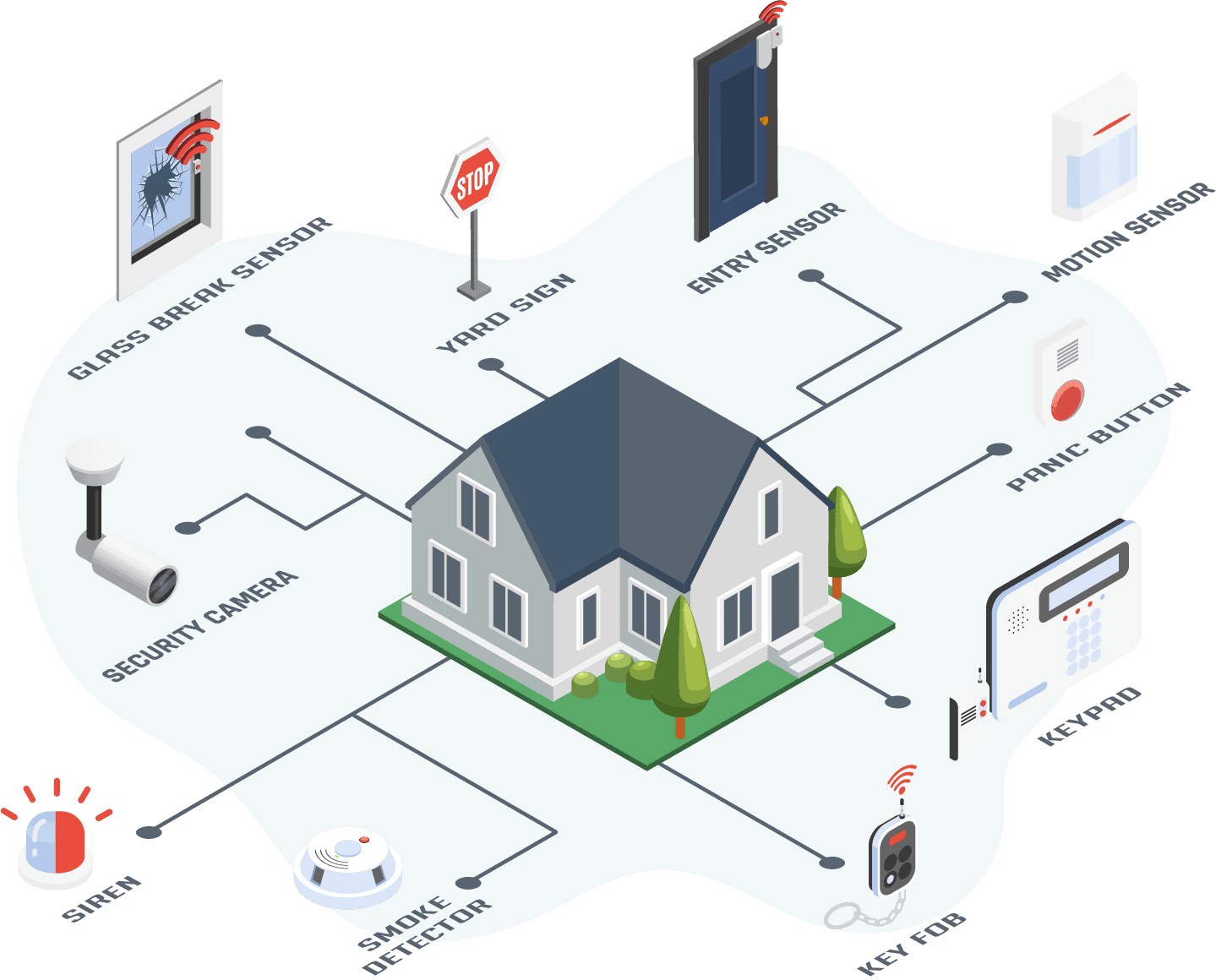 Backup
Many Wi-Fi-connected security systems come with some form of backup so that they can stay connected to the professional monitoring center. You may want a cellular security system, a landline security system, or a no-landline security system. Since most people don't have landlines anymore, there are many security systems that don't require landlines.
App
Look for a security system with a strong app on either iOS or Android, depending on your mobile device. Check the app's reviews in the App Store or Google Play Store. If it's rated above three stars, chances are that it works well.
Customer Support
Customer support should be available over the phone, live chat, and email, with a helpful selection of user guides and FAQs.
Pricing
Of course, you can't forget to consider the bottom line, your home security budget. From equipment to monitoring fees, there are many factors to take into account, so come up with a budget before you start shopping. But let's break down the cost of home security even further.
Security System Finder
By answering a handful of easy questions, you can discover the security system that's perfectly tailored to your needs!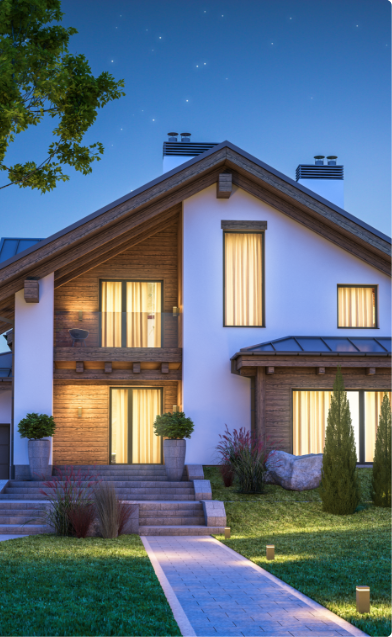 How Much Do Security Systems Cost?
Security systems can cost as little as $30 for three entry sensors for your ground-floor windows, up to thousands of dollars for larger homes. But equipment isn't the only cost you might incur; we've listed them all below.
Activation fee: These days, activation fees are rare, but some companies do require a small fee to activate your security system.
Storage: If you have a security camera, you may have to pay a monthly or yearly fee for cloud storage, although in most cases, cloud storage is included in the professional monitoring subscription.
Installation: Professional installation usually comes at a price of around $100, but you may need to pay more depending on the equipment being installed. Of course, if the security system allows DIY installation, you can skip this cost by installing your system yourself.
Equipment: Equipment is the bare minimum when it comes to home security costs. Again, it can range from under $100 to thousands of dollars, depending on the size of your home and how much protection you want. On average, a basic home security system costs $200 to $300.
Monitoring plan: Another optional cost is monitoring. If you go with 24/7 professional monitoring, you'll pay either monthly or yearly, whereas self-monitoring is typically free. For professional monitoring, the cost ranges from $10 to $60 a month.
Cancellation: If you sign a long-term as opposed to a month-to-month contract, you may have to pay a fee to cancel your home security.
Permits: Depending on where you live, you may have to buy a permit for your home security, which usually costs around $50 to $100.
Some companies also make you pay more for livestreaming, remote control (which lets you arm and disarm your system from anywhere, not just a physical control panel), and smart platform integrations, but they typically include these services for free. So, if you want to save money, look for a DIY, self-monitored system with free cloud storage. That way, you'll only have to pay for equipment.
TIP: If you want to minimize your equipment costs, only buy entry sensors for the doors and windows on your ground floor, as these points are where burglars are most likely to enter.
Do I Need a Home Security System?
After reading about all those potential costs, you may be wondering if you really need a home security system. We think that anyone living in a building without physical security guards could use a home security system to secure your home and protect your home from invasions, but if you don't believe us, weigh the pros and cons below.
Pros
More safety: Did you know that most burglars enter homes through doors

1

and windows?

2

Even just installing entry sensors could make a huge difference in the security of your home.
Home insurance discount: Installing a home security system could get you a discount on your homeowners insurance (but you're unlikely to get a tax deduction for your security system).
Crime prevention: Aside from letting you know the moment when break-ins happen, security systems and cameras actually deter crime. A survey of over 400 convicted burglars, compiled by the University of North Carolina, found that burglars decided which houses to rob based partly on signs of increased security — alarm systems, outdoor cameras, and the like. In fact, if they saw alarms, 83 percent of burglars would choose another home, and if they found alarms mid-burglary, only 13 percent would continue with the attempt.

3

Even a security sign can lower your chances of being burgled!
Cons
Costs: Of course, alarm systems come at a cost, as we've detailed above. With the cost of the equipment itself, the monthly or yearly monitoring fees, and the storage fees, you can add home security to your ever-growing list of bills.
False alarms: Security systems aren't perfect. Sometimes, you'll receive false alarms due to faulty equipment, low batteries, incorrect installation, insects, etc.

4

Of course, with the correct maintenance, you shouldn't run into too many false alarms.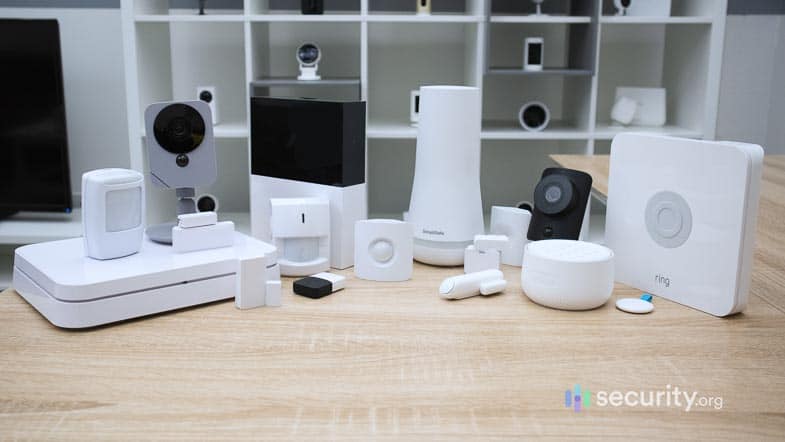 Home Security Statistics
We love a good statistic, but surprisingly, there's not that much data on home security in the U.S. However, we've compiled the best research available as of this writing.
From 2018 to 2019, which is the last time the FBI collected burglary data, crimes decreased by almost 10 percent. From 2010 to 2019, that number decreased by almost 49 percent.
Burglaries make up an estimated 16 percent of all property crimes.
56 percent of burglaries involved forcible entry.
As of 2019, the average loss per burglary was $2,661.

5

Most burglaries occur between 10 a.m. and 3 p.m., when most homes are empty.
The months with the highest burglary rates are July and August.

6

In 2019, only 0.82 percent of U.S. households experienced burglaries.

7
Home Security Reviews
Want to dive deeper into a specific security system? Read one of our reviews below.
Recap
There you have it, everything you need to know about comparing home security systems. We test out every system we review for at least six months, so you can trust our analysis. To learn more, read our complete guide to home security systems, or keep reading for answers to some common questions.
FAQs
Home security never sleeps, and neither do we. We get a barrage of questions on how to secure your home, and we've answered the most common ones here.