Best No Landline Home Security Systems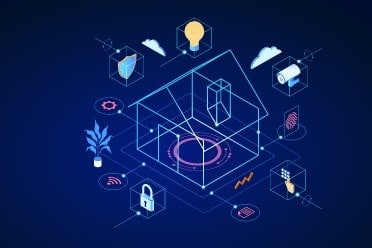 10,000+ research hours
60+ systems tested
150+ simulated break-ins
40 systems reviewed
5 systems recommended
It used to be that investing in a high-quality security system required a landline phone. But then again, it used to be that we all had landline phones. No more! These days, many companies offer total home security simply by bouncing signals off the nearest cell towers. Others route emergency calls through Wi-Fi connections. Below, we try to make sense of it all by detailing the five best security systems available for purchase, absolutely no landlines required!
Landline Alternatives
| Connection Type | Description |
| --- | --- |
| Cellular | Cellular signals |
| Internet/Wi-Fi | Internet |
| Dual | Cellular and internet |
The More You Know: No commercial security system connects directly to 911. Instead, monitoring personnel act as a go-between. They are notified of any potential problems in your home first. They then quickly and carefully assess the situation before notifying the authorities to respond.
We've tested the very best no landline security systems and come up with a list of our favorites. We've made sure to include a variety of companies offering a wide range of options. Some of these systems, for instance, come with 24-hour professional monitoring. Others offer complete self-monitoring for no monthly fee. We looked at systems that only charged for monitoring, providing equipment for free, and systems that allow you to buy all your equipment a la carte. We examined DIY systems and those that provide professional installation. And of course, we made sure to include some companies with a month-by-month contract option.
In making our final decisions, we considered elements like service, reputation, smart home capabilities, DIY options, and, of course, affordability. As a result, we believe that our final list, which includes Ring Alarm, ADT, Frontpoint, Cove, and Link Interactive, offers a full range of choices in no landline security.
Best No Landline Security Systems
Comparison of the Best No Landline Home Security Systems
| System | ADT | Ring Alarm Security Kit | Frontpoint | Cove | Link Interactive 2Gig Go!Control Panel |
| --- | --- | --- | --- | --- | --- |
| Ranking | 1st | 2nd | 3rd | 4th | 5th |
| Ratings | 9.8/10 | 7.7/10 | 8.9/10 | 8.7/10 | 7.0/10 |
| Monthly Monitoring Fees | $45.00 and Up | $10.00 (or self-monitor for free) | $44.20 and Up | $14.99 or $24.99 | $30.99 and Up |
| Contracts | 3 years | Month-to-Month, 1 Year | Month-to-Month | Month-to-Month | 1-3 Years |
| Installation | Professional $99.00- $199.00 | DIY | DIY | DIY | DIY |
| Base Equipment Packages | $0.00 | $199.00 | $319.95 | $229.00 | $200.00 |
| Read Review | ADT Review | Ring Alarm Security Kit Review | Frontpoint Review | Cove Review | Link Interactive 2Gig Go!Control Panel Review |
Our Detailed Look at the Best No Landline Security Systems
Methodology
In selecting our best no landline security systems, we considered a number of factors, including smart home compatibility, wireless protocols, available components, installation, and overall value. Security systems, of course, don't have to earn perfect scores in every category to be considered worth buying. These categories simply served as a framework for thinking through which were the best systems on the market.
Smart Home Compatibility
Does it really matter whether our no landline security system can talk to other parts of our house? Certainly security systems have been around for a long time, much longer than Alexa or Google Assistant, and they've been protecting our homes just fine all that time. Still, we can't deny that the ability to turn on our lights or lock our doors with just a voice command does make us feel just a little more in control of our safety. Smart home integration isn't a necessity, particularly if you haven't yet done much to upgrade in the smart direction, but it can certainly be an important consideration for those already invested in smart home technology.
Wireless Protocols
One of the advantages to a no landline security system is that the landline that connects us to a monitoring station can never be cut. If our Wi-Fi shuts down because the power to our house was cut, though, we are in essentially the same situation. Some systems solve this problem with backup power options. In general, though, cellular security systems are less likely to be down when you need them. While we don't see this as the sole determining factor, it definitely weighs heavily in the decision-making process.
Components
No two no landline security systems are exactly alike. In fact, as this list demonstrates we found enormous differences between some systems. Some companies focus, for example, on protecting the central spaces of your home. Others are more concerned with protecting entrances. A whole list of other possibilities include glass break sensors, carbon monoxide monitors, doorbell cameras, and remote control key fobs. It's important to carefully consider all the possibilities before choosing the right company.
Installation
Some systems come with full installation. Others are strictly DIY. And DIY can vary from one company to another, from simple wiring to peel-and-stick equipment. One reason we included such a variety of different systems in our best list is that we understand that no single approach will suit everyone. DIY usually means there's no cost to installation, and in many cases companies tell us there's no need for tools or wiring. On the other hand, for a set fee, other companies offer professional installation, so there's no question every component works properly.
Value
This is yet another tricky category because it really depends on how "value" is defined. We found some landline security systems that require no upfront costs and no equipment fees but charge heavily for monthly monitoring. Other services had low equipment fees and low monthly monitoring but offered only basic services: no video, no app, and no smart home integration. At least one of the services we included offered self-monitoring, with no monthly fees whatsoever. Again, we carefully considered the different needs of most consumers and then tried to offer a range of choices.
No Landline Security System FAQs
Here are our answers to some of the most frequently asked questions about no landline security systems.