How To Change Location on Crunchyroll
Learn how to change location on Crunchyroll to access your favorite anime and manga wherever you are.
All of our content is written by humans, not robots.
Learn More
Crunchyroll is a haven for anyone who loves, lives, and breathes anime and manga. It's the largest and arguably most popular anime streaming platform in the world, with over 1,000 titles across different genres.
Unfortunately, geo-restrictions might limit the number of titles you can access from your location. In this guide, we'll teach you how to change location on Crunchyroll so you can watch all the anime you want without restrictions. Isn't that a real otaku's dream?
Change Your Crunchyroll Location With These Top VPNs
VPNs are incredibly useful for securing our online privacy, but they're also what we use to change location on Netflix, Crunchyroll, and most other websites with geo-restrictions. Some VPNs work better than others, though, and these three are our top go-to options for when we want to change our streaming location:
How To Change Location on Crunchyroll
Basically, when you connect to a VPN, it changes your IP address. Instead of showing your real IP address, VPNs show the IP address of the server to which you connected. Since Crunchyroll uses IP addresses to pinpoint where you are, it will appear as if you're streaming from the server's location.
That's how VPNs work, but how can you use them to change location on Crunchyroll? Well, first, you need a good VPN for streaming. Below, we've listed some of the VPNs we tried that worked and didn't work, with links to our reviews of them. However, with streaming platforms constantly fighting to block VPNs and with VPNs doing their best to keep their customers happy, things may change, so keep your options open.
FYI: Most free VPNs we tested didn't work with Crunchyroll, including some that were on our lists of the best free VPNs and best VPN free trials. This might be because free VPNs often offer fewer servers, which makes it easier for Crunchyroll to detect and block their IP addresses. So, think twice before signing up for a 30-day trial VPN service.
Android VPNs
and
iPhone VPNs
often come in the form of apps. To change your location on your smartphone:
Changing Location on Smartphones
Close the Crunchyroll app.

Search for the VPN app in Google Play or the App Store.

Install the VPN.

Launch the app and sign in. You may need to create an account and get a subscription.

Grant the VPN app permission to create VPN configurations on your device.

Proceed to the app interface.

Choose a server location you want to connect to.

Tap "Connect."
Pro Tip: If your location on Crunchyroll doesn't change after you connect to a VPN, try clearing your device's cookies. Crunchyroll may have stored cookies or trackers on your device that are leaking your real location.
Changing Location on Computers
To use VPNs on your computer, you'll first need to download and set up VPN software.
Go to the VPN's official website.
If you haven't already, create an account and buy a VPN subscription.
Download the VPN installer.
Install the VPN.
Log in to your account.
From the list of servers, choose the VPN location you want to connect to.
Click "Connect."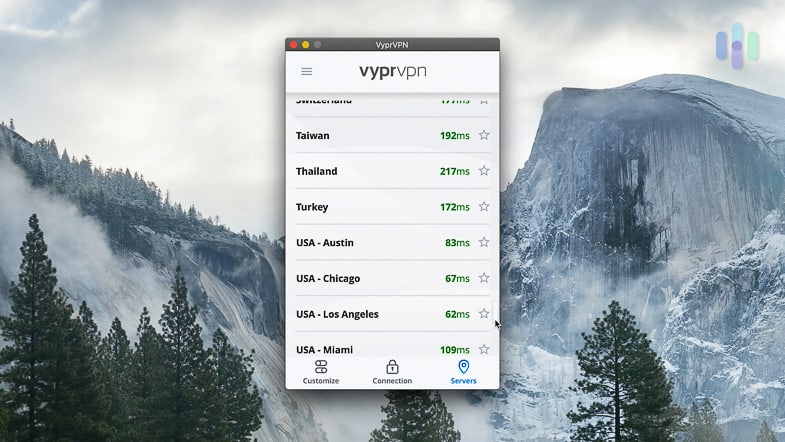 Changing Location on Smart TVs and Consoles
Nothing beats bingeing your favorite anime from your widescreen TV. Crunchyroll has native apps for Apple TV, Fire TV, Chromecast, Roku, and even Xbox and PlayStation consoles. If you're using one of those devices to watch, don't worry; VPNs work on them as well. We've specifically tested Apple TV VPNs, Fire TV Stick VPNs, and Xbox VPNs.
Unfortunately, the process of setting up VPNs on smart TVs, TV boxes, and consoles varies widely by device and by VPN. You'll need to follow the instructions from your VPN provider, but generally, this is how it goes:
Find a VPN that works with your specific devices.
Sign up for a subscription.
Obtain the correct DNS server IP and DNS settings from your VPN provider. Don't forget to mention the server location you want to access.
Go to your devices' network settings.
Apply the DNS settings and server IP you got from your VPN provider.
Important Note: Since you'll get fixed DNS settings, you'll need to change your devices' or network settings every time you want to change locations.
What Other Devices Does Crunchyroll Work On?
As we've mentioned, Crunchyroll has native apps for a variety of mobile, desktop, smart TV, and console systems.
| Types of devices | Systems with Crunchyroll native apps |
| --- | --- |
| Mobile phones and tablets | iOS, Android, Windows |
| Desktop computers | Windows, Mac |
| Smart TVs | Apple TV, Chromecast, Fire TV, Roku TV |
| Consoles | Wii U, Xbox One, Xbox 360, PlayStation 5, PlayStation 4, PlayStation 3, PlayStation Vita |
Technically, however, you can use any device with internet browsers, such as Linux computers, to watch on Crunchyroll's website. So how do you change the location on those devices?
Well, you could install VPNs on Linux computers, but another option is to set up VPN routers. VPN routers are Wi-Fi routers that encrypt all traffic that passes through them using VPN technology.
With a VPN router, you can change the location on all your devices just by connecting them to the router. You can set your Wi-Fi system so that you have a normal router and a VPN router. Every time you need to change location, just switch your devices over to the VPN router and you're good to start streaming.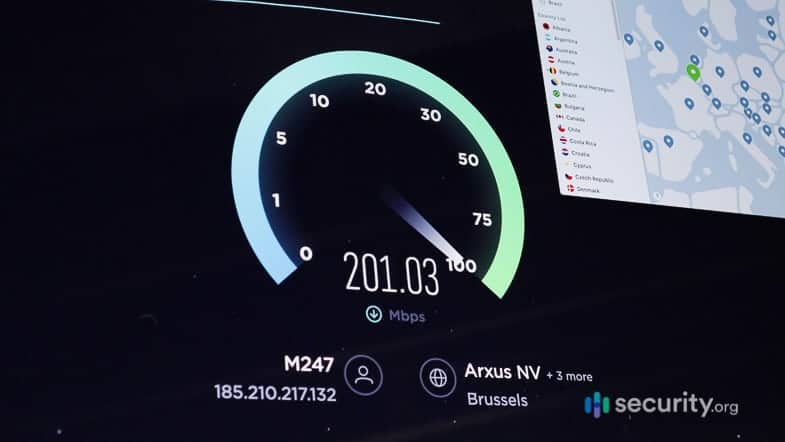 Will VPNs Slow Down My Internet?
While we're on the topic of using VPNs to access Crunchyroll, it's about time we discuss the impact of VPNs on internet speeds. Just like all anime fans, we don't want to see our video buffer in the middle of an exciting story arc, so we tested VPNs for their impact on our download speed specifically.
We found that VPNs slowed down our internet by about 30 percent on average. Typically, you need at least 5 Mbps to watch 1080p videos on video-streaming sites and apps like YouTube.1 So, even with a 10 Mbps internet connection, you likely won't have any problems watching Crunchyroll with a VPN.
VPNs Not Working? Try These Steps
Once you've connected to a VPN, you should be able to access anime and manga available in the country that you selected. If you're having problems, the first thing you should do is test your VPN to see if it changed your IP address successfully. Then follow these steps:
Open your device's browser.
Go to the IP2Location website, which detects your IP address and shows your approximate locations based on your IP addresses.

2

Select, click, or tap "Lookup" next to your IP address.
Scroll down to the IP Lookup Result. Next to the "country" field, the result should show the country of the server, not your actual country.
If it's showing your real country, then the VPN is not working. Restart your VPN connection and try again.
If you still can't access your shows, you could also do the following.
1. Clear Your Cookies.
Crunchyroll may have stored cookies that leak your real IP address or location. Here's how to clear them from your browser.
On Chrome:
Open Chrome.
Click the ellipsis in the top right corner.
Select "Settings."
Scroll down and select "Advanced."
Under the Privacy & Security section, click "Clear Browsing Data."
In the pop-up window, select the time range or leave it at "all time."
Check the box next to "Cookies and Other Site Data."
Click "Clear Data."
On Firefox:
Open Firefox.
Click the hamburger menu in the top right corner.
Click "Options."
In the tab that opens, select "Privacy & Security."
Scroll down to History.
Click on "Clear History."
Under the History section, check the box next to "Cookies."
Click "Clear Now."
On Microsoft Edge:
Open Edge.
Click the ellipsis in the top right corner.
Open Settings.
Under "Clear Browsing Data," click "Choose What To Clear."
Put a check next to "Cookies and Saved Website Data."
Hit "Clear."
On Safari:
Open Safari.
Click the Safari menu.
From the dropdown menu, select "Preferences."
Click "Privacy."
Select "Manage Website Data."
Click "Remove All" in the dropdown menu.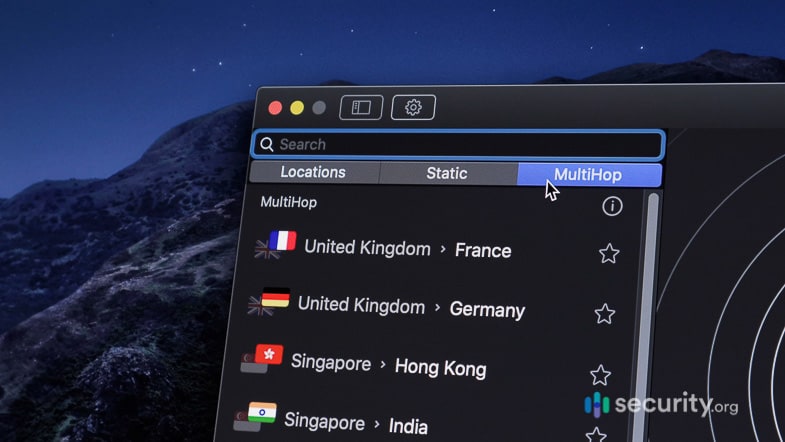 2. Change Servers.
Crunchyroll may have detected that you're using a VPN and blacklisted the server you're connected to. Changing servers should fix that.
3. Get a Dedicated IP Address.
In contrast to static and dynamic IP addresses, only you can use your dedicated IP address from your VPN provider. That reduces the chances of Crunchyroll detecting your VPN.
You can buy dedicated VPNs from the likes of NordVPN and PureVPN. You can check NordVPN's pricing and PureVPN's pricing for more information, or read our PureVPN review. Even better, pit NordVPN against PureVPN in our comparison of the two.
4. Try SmartDNS.
Some VPNs, like Norton and ExpressVPN, offer SmartDNS features that allow access to streaming content on smart TVs, but without VPN encryption.3 If you can't get VPNs to work on your smart TV, SmartDNS is worth a try.
5. If All Else Fails, Change Your VPN.
As we've mentioned, Crunchyroll can block VPNs completely. If none of the other solutions worked, try a different VPN.
Why Does Crunchyroll Have Geo-Restrictions?
You're probably wondering why you need to change location on Crunchyroll just to access some titles. It certainly seems unfair, but Crunchyroll and many other streaming platforms enforce geo-restrictions for copyright reasons. When you see the dreaded "sorry, this video is not available in your region" notice on Crunchyroll, that's most likely because Crunchyroll doesn't have licensing rights to broadcast the title in your country. To get around that problem, you need to change your location to a country where Crunchyroll holds the rights to broadcast the content.
Can Crunchyroll Ban You for Using VPNs?
VPNs are legal in the U.S. and in most other countries (except for a few that heavily regulate or outright ban VPNs).4 However, using VPNs to circumvent geo-restrictions is against Crunchyroll's terms of service.5 It expressly states that users should not "alter source-identifying information," such as IP addresses, and that Crunchyroll reserves the right to block IP addresses and networks that violate its terms.
So, yes, Crunchyroll can block your IP address if it detects that you're using VPNs. On the bright side, the terms of service doesn't mention anything about banning accounts that use VPNs. If you change your IP address — whether by turning off your VPN, choosing a different server, or switching VPNs — you can still access Crunchyroll, even if it blocked the IP addresses you've used previously.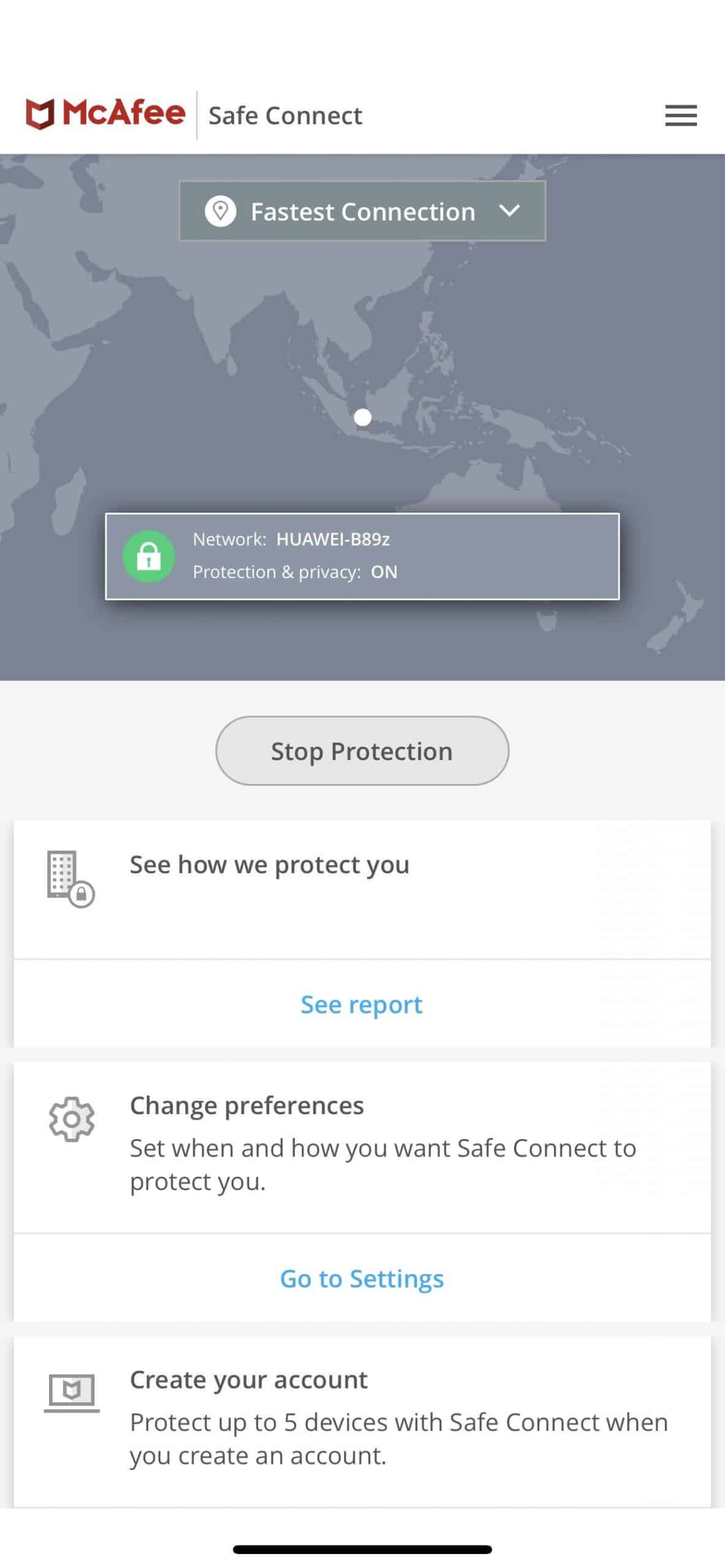 Where Is Crunchyroll Available?
If you're wondering which locations you can watch Crunchyroll from, we've got good news for you: Crunchyroll is available virtually anywhere. We tried a bunch of server locations in North America, Asia, Europe, Africa, and Australia, and we accessed Crunchyroll content from all of them. Of course, again, because of geo-restrictions, the amount of content we could access varied, so a better question is …
What's the Best Location To Watch Crunchyroll?
With 990 titles plus dozens of mangas, Crunchyroll U.S. has the most content available.6 Of course, the U.S. library is far from complete. Some popular anime, like "Tokyo Ghoul" and "Cowboy Bebop," aren't available in the U.S. If you can't find the titles you're looking for, try changing your location to the U.K. The U.K. library contains 841 titles, including many that are not in the U.S. library. While Crunchyroll Canada has the second largest library with 988 titles, it contains mostly the same titles as the U.S. library.
| Countries with largest Crunchyroll libraries | Number of titles in Crunchyroll library |
| --- | --- |
| United States | 990 |
| Canada | 988 |
| United Kingdom | 841 |
| New Zealand | 790 |
| Australia | 789 |
Will VPNs Give You Access to Premium Plans?
Unfortunately, the answer is no. No VPN can give you access to Crunchyroll's premium plans for free. You'll need to shell out some money if you want the perks that premium users get. How much money, exactly?
Crunchyroll Premium Plan Pricing
| Features and inclusions | Fan | Mega Fan | Annual Mega Fan |
| --- | --- | --- | --- |
| Monthly price | $7.99 | $9.99 | $6.67 |
| Billing cycle | Monthly | Monthly | Yearly |
| Total bill per cycle | $7.99 | $9.99 | $79.99 |
| No ads | Yes | Yes | Yes |
| Full access to Crunchyroll library in your location | Yes | Yes | Yes |
| New episodes available 1 hour after Japan release | Yes | Yes | Yes |
| Access to digital manga | Yes | Yes | Yes |
| Maximum number of devices that can stream simultaneously | 1 | 4 | 4 |
| Offline viewing | No | Yes | Yes |
Can You Still Watch for Free?
The good news is, you don't actually need a premium plan. Crunchyroll has always had a free streaming option, but with slight drawbacks.
Ads: Using a free account to watch on Crunchyroll means you'll have to sit through 20- to 30-second ads throughout each episode. Based on our experience, each episode contains two or three ads — at the beginning, midway through, and near the end.
Delayed release of new episodes: While premium users get to watch new episodes just an hour after their Japan release, free users have to wait a little longer. Some episodes drop just hours later, but sometimes they take a day to become available.
No offline viewing: Mega Fan subscribers can download multiple episodes and watch them offline, but free users have to be online to watch on Crunchyroll.
Lower streaming priority: When new episodes of "My Hero Academia" or other popular anime drop, viewers flock to Crunchyroll. This means the website's servers experience a lot of traffic. To keep its premium users happy, Crunchyroll gives priority access to them, sadly, at the expense of free users.
Will VPNs Change Your Subtitle Language?
One issue that might arise when you switch locations on Crunchyroll is that your subtitle language may change as well. Crunchyroll selects the default subtitle language based on your location, so if it thinks you're in Brazil, for example, it may change subtitles to Portuguese. If you find yourself in this situation, here's what you should do.
1. Change Your Subtitle Language on Crunchyroll Mobile Apps.
Open the app (the directions are the same for Android and iOS devices).
Go to Account or tap on the Crunchyroll icon, depending on your app version.
Select "Subtitle Language."
Choose your language.
2. Change Your Subtitle Language on Crunchyroll Web Browser.
Log in to your Crunchyroll account.
Click on the Profile dropdown menu.
Select "Settings."
Under "Account Settings," click "Video Preferences."
Select your language from the dropdown menu next to "Default Language."
Crunchyroll Error Codes Related to VPNs
While we were testing VPNs for Crunchyroll, we ran across several error codes. Should you encounter the same error codes, here's what they mean and how to fix them:
Crunchyroll Forbidden 403: We encountered this error code when we used a VPN IP address that Crunchyroll had already blacklisted. We swapped servers to fix this issue.
Crunchyroll Error 1005: Similar to the 403 error, this error code showed when we used a banned IP address. Upon further investigation, we found that the VPN we were trying to use no longer worked with Crunchyroll. If you encounter the same error code and swapping servers doesn't solve it, use a different VPN.
Dang! We Couldn't Connect to Crunchyroll: We came across this error message several times and for a number of different reasons. Sometimes, it was because our internet was down. On other occasions, it was because Crunchyroll's servers were having issues. We also got this error message when we used a VPN that didn't work with Crunchyroll.
Can You Watch Crunchyroll After Disconnecting From a VPN?
Lastly, we had a little fun experimenting with what happens when we disconnect from a VPN halfway through a "Boruto: Naruto Next Generations" episode. Some people might think that disconnecting from their VPNs would boost their internet speed, and since they've already accessed the title they wanted, Crunchyroll won't stop them, right? That may be true under the correct circumstances.
Disconnecting from a VPN reveals your real IP address to Crunchyroll, which means its servers will eventually find out where you really are. If you disconnect from a VPN while the video is still loading, the error message "Dang! We Couldn't Connect to Crunchyroll" will appear. It will force you to reload the video, and when you do, the "Sorry, This Video Is Not Available in Your Region" notice will stop you.
So, here's how to set up Crunchyroll so you can continue watching after disconnecting from your VPN:
While still connected to your VPN, click the episode you want to watch.
Pause the video and let it load completely. The translucent gray shadow on the progress bar shows how much of the video has loaded.
Disconnect the VPN.
Hit "Play." Don't refresh the page.
Once you're done watching or before the episode ends, connect to the VPN.
Repeat for each episode and everything should be working fine.
Can You Watch Crunchyroll Offline?
If disconnecting from a VPN halfway through an episode doesn't work, how about downloading the entire episode? That would work, provided that the VPN is active throughout the process. Once you've downloaded enough episodes for a binge session, you can disconnect your VPN and Wi-Fi. However, not everyone can download Crunchyroll videos: You need to be a Mega Fan or an Annual Mega Fan.
Recap
As anime fans ourselves, we're glad that Crunchyroll has brought hundreds of titles together in one streaming service. We're even happier that many VPNs allow us to change location on Crunchyroll, letting us access shows that we couldn't watch otherwise. Keep this how-to guide handy and you'll have unrestricted access to all of Crunchyroll's content anytime and anywhere.
If you're sick of anime shows, you can also learn how to change your location on Amazon Prime Video with a Prime Video VPN.
FAQs
We've answered a lot of VPN and Crunchyroll-related questions in this post, but we'll answer a few more here.