The Best VPNs for Apple TV in 2023
While not as straightforward to set up on a phone or computer, VPNs work on Apple's highly-touted streaming device.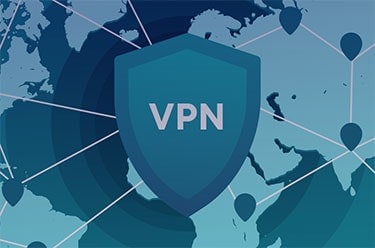 2,500+ research hours
50+ VPNs reviewed
300 speed tests
6 experts consulted
5 VPNs recommended
These days, watching TV isn't as simple as turning on the remote, and sometimes, we wish we could go back to that much simpler time. But the truth is, with more streaming services comes more entertainment options and fewer commercials. So overall, we're definitely in the golden age of television, even if it has made things more complicated than ever before.
Now, streaming devices such as Chromecast, Apple TV, and Fire TV have become the go-to choice for streaming on a bigger screen. These devices can turn any HDMI-equipped TV into a smart TV, with access to a variety of streaming services via the internet.
We're Chromecast and Fire TV users ourselves, but here, we'll focus on Apple's modern set-top box: the Apple TV. We're not going to be reviewing it, though. Rather, we're going to explore the best options for using it with a VPN or virtual private network. Why? Because just like with other streaming devices, you can benefit by connecting your Apple TV to a VPN, both in terms of digital privacy and accessing more streaming content.
The Best VPNs to Use With Apple TV
Choosing the Right Apple TV VPN for You
The first thing you should know about Apple TV VPNs is that setting one up isn't as straightforward as setting up a VPN on most other devices. You're not going to find a VPN app for your Apple TV that you can simply download and install – at least for the time being.
Apple announced in a 2023 press release that tvOS 17 will soon bring native VPN app support1, but for now, there are only three options for connecting an Apple TV to a VPN service:
Smart DNS: The easiest method changes your Apple TV's DNS settings to that of the VPN, essentially making it appear like the Apple TV is in a different location. This doesn't provide encryption though, so it's best used if your sole goal is to stream content available only to other regions.
Virtual router: This is another easy method, but it requires a Macbook or Windows laptop. Basically, the goal is to connect the laptop to a VPN, and then use it as a virtual Wi-Fi router to which you'll connect your Apple TV, sharing the VPN connection.
VPN router: This is similar to the previous method, but instead of using a laptop as a virtual router, you'll use your actual Wi-Fi router. This is the most complex to set up, but it's the best method if you want a permanent VPN connection for your Apple TV. This won't work on all models of routers, though, so check out our list of the best VPN routers if yours is not supported.
You don't want to get too hung up on the set-up process, though. The user-experience is still the top priority. You should choose a VPN that offers servers or smart DNS locations in the regions you're planning to use. For example, if your goal is to access BBC iPlayer, you need a VPN that can offer U.K. IP addresses or smart DNS locations.
It's also a bonus if the VPN has streaming-optimized servers and if those servers are optimized for the streaming services you use. If you want to watch Netflix with a VPN, for example, choose a VPN with servers optimized for Netflix. Our list of the best Netflix VPNs might help.
Lastly, you'll want to make sure your VPN is up to snuff when it comes to speed, especially if you're an Apple TV 4K user. Apple doesn't say the minimum speed you need to stream videos, but with Netflix, you need at least 15 Mbps to load 4K videos without buffering.2
Unfortunately, VPN speeds vary. It's affected by a number of factors, including your own network's speed, your distance to the VPN or DNS server, and even your device's performance. To make sure our recommendations can support 4K streaming, we tested the speed of these VPNs to measure how much they affect our 250 Mbps network. While our test isn't an elaborate study of VPN speeds, they should at least give you an idea on the capabilities of our top picks.
With all those factors in mind, let's take a look at these five VPNs we deemed the best for Apple TVs: NordVPN, Surfshark, ExpressVPN, Private Internet Access, and CyberGhost.
What The Best Apple TV VPNs Offer
| System | NordVPN | Surfshark | ExpressVPN | Private Internet Access VPN | CyberGhost |
| --- | --- | --- | --- | --- | --- |
| Ranking | 1st | 2nd | 3rd | 4th | 5th |
| Ratings | 9.7/10 | 9.5/10 | 9.1/10 | 9.4/10 | 8.9/10 |
| Monthly Price Range | $3.19 - $12.99 | $2.30 - $15.45 | $8.32 - $12.95 | $2.03 - $11.95 | $2.19 - $12.99 |
| Smart DNS setup | Yes | Yes | Yes | Yes | Yes |
| Virtual router setup | Yes | Yes | Yes | Yes | Yes |
| VPN router setup | Yes | Yes | Yes | Yes | Yes |
| VPN server locations | 60 countries | 100 countries | 94 countries | 84 countries (incl. in each of the 50 U.S. states) | 91 countries |
| Encryption standard | 256-bit AES | 256-bit AES | 256-bit AES | 128-bit or 256-bit AES | 256-bit AES |
| Read Review | NordVPN Review | Surfshark Review | ExpressVPN Review | Private Internet Access VPN Review | CyberGhost Review |
Breakdown of the Best VPNs for Apple TV
What The Best Apple TV VPNs Have in Common
Now that we've given you the "what" of the best Apple TV VPNs, let's talk about the "why." As you can probably tell, we didn't just randomly select these VPNs. Our recommendations are based on weeks of testing and researching possible options. In the end, we noticed that the best VPNs to use with Apple TV share a few things in common.
Compatibility: Of course, they all have to be compatible with Apple TV, but we selected the VPNs that support all three setup methods in case you want to experiment and find the setup that works best for you.
Ease of setup and use: Naturally, each VPN is easier to use with different setups, but overall, the five VPN we recommended are all easy to use. You won't need to be a tech whiz to use any of them.
Server network: Since streaming is probably the most common use case scenario for Apple TV VPNs, we chose only the VPNs with a sizable server network, especially pertaining to the location of the servers. You won't use all those locations (probably!), but it's best to have options.
Speed: This is another crucial factor. We wouldn't recommend VPNs with abysmal speeds, especially since they'll mostly be used for streaming.
Security: This may not be a top priority for most who are looking for an Apple TV VPN, but it is to us. While we did focus our tests on the streaming and overall user experience, we still selected only VPNs capable of protecting your data and more importantly, those that will not log and sell your browsing activity.
Do Apple TVs Really Need a VPN?
We strongly recommend using a VPN on all gadgets, from smartphones to computers, but that may not be the case for Apple TVs. Connecting your Apple TV to a VPN is not an absolute must. There's no native browser for the Apple TV, so there's no need to use a VPN to hide your browsing activity.
That being said, there are unique benefits to connecting your Apple TV to a VPN. One we've repeatedly mentioned in this review is that it can give you access to geo-restricted content. In addition to that, though, using a VPN can help keep your activity more private, even if that activity is just watching shows.
Let's take Netflix, for example. According to the service's privacy policy7, it collects a ton of data, including which shows you watch, which titles you preview, your search queries, and more. It also collects unique identifiers like device IDs, but not just of the device you're using but also your router and other devices connected to the same network.
None of that's particularly concerning IF Netflix uses it only to improve its services; unfortunately, Netflix shares information with third parties, including advertising partners and service providers. There's no telling what those parties do with your data.
While data about one's streaming activity may be benign, there may be underlying data collection practices we don't know about. Using Apple TV with a VPN is completely optional, but a good idea.
Step-by-Step Guide: Setting Up Apple TV VPNs
As we've discussed rather extensively throughout this page, there are three methods for setting up a VPN for Apple TV. We also gave you a glimpse of the process for each. Here, we'll do a deeper dive with step-by-step instructions.
Due to the complexity of setting up a router VPN, however, we opted not to include setup instructions here as even a single misstep can ruin your router. If you want to use a router VPN, we recommend researching instructions from your VPN provider and router manufacturer – these vary from one VPN to another, and from one router model to another. Another option is to buy a router pre-installed with a VPN, such as Aircove.
Smart DNS
To set up smart DNS, you'll need any device with a browser, a subscription to a VPN, and access to your Apple TV.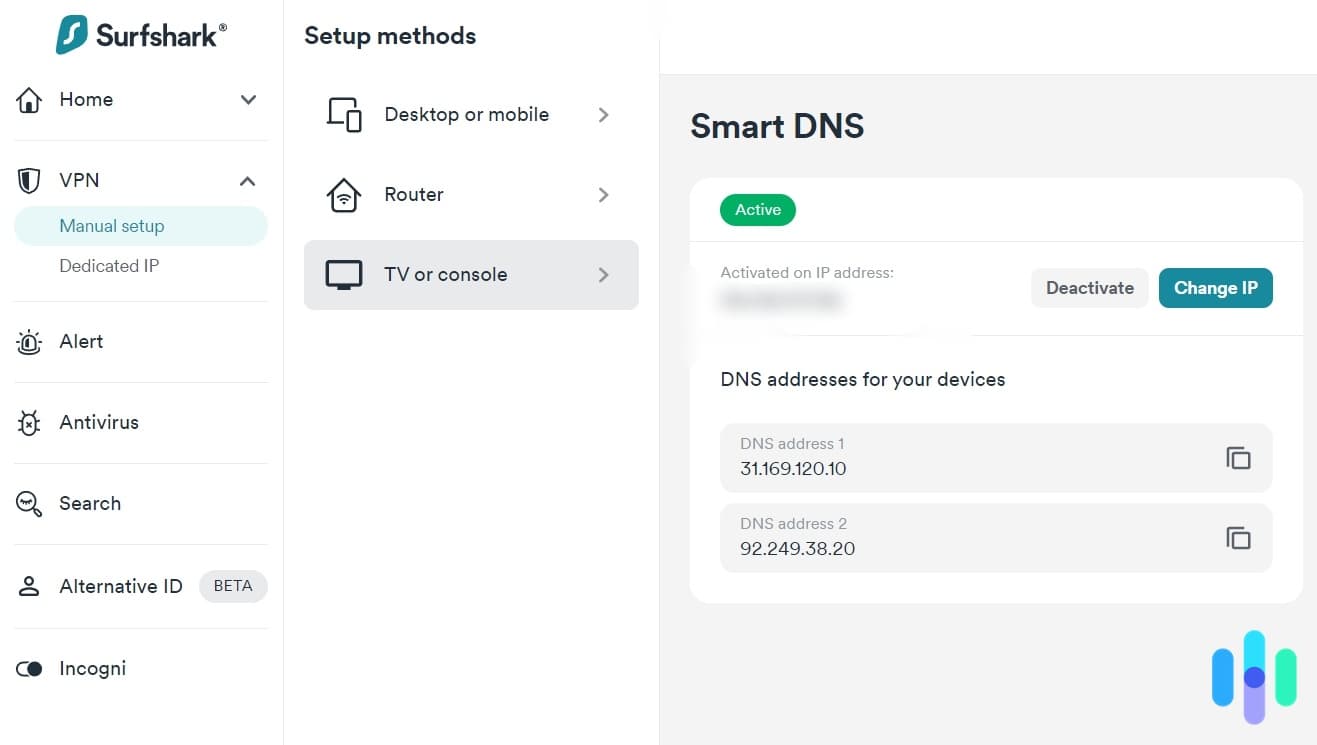 Connect your device to the same network your Apple TV is connected to.
On your device, go to your VPN's website and log in to your account.
Once you're in your account dashboard, look for "Smart DNS."
Enable the smart DNS.
Wait for an email from your VPN confirming that smart DNS has been enabled. This could take minutes or hours, depending on the VPN.
Once enabled, go back to your dashboard. Some VPNs will detect your IP address automatically, but if your VPN asks you to "whitelist" or "allowlist" your IP address, simply find your device's IP address and enter it.
Once done, two strings of DNS addresses should appear: a Primary DNS and Secondary DNS.
On your Apple TV, go to the network settings. (General > Network > Wi-Fi)
Select "Configure DNS," then "Manual." The interface will ask you to plug in the new DNS. If you see two fields, enter both the Primary DNS and Secondary DNS from your VPN dashboard. If you see only one, enter just the Primary DNS.
We recommend restarting your Apple TV to apply those changes.
Virtual Router
For this configuration, you'll need a Windows 10 or 11 laptop capable of broadcasting Wi-Fi signals and a VPN subscription. It would be best if you connect your laptop to your router via an Ethernet cable for better speeds.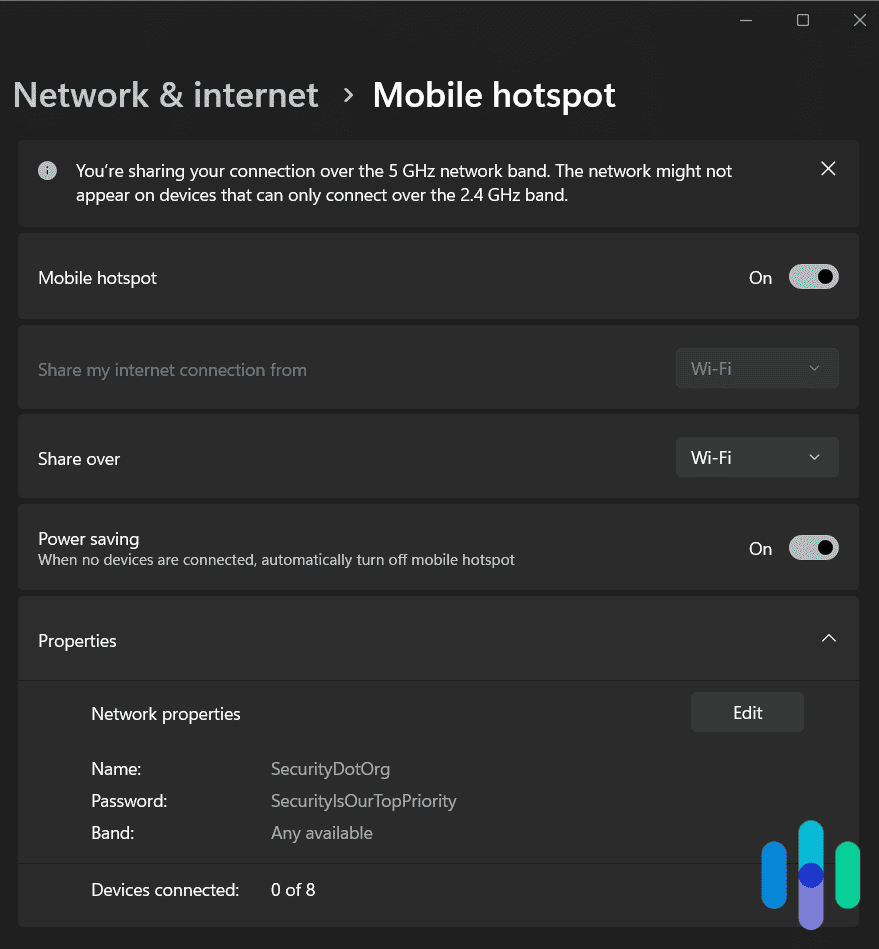 Download the VPN's app for Windows.
Log in and connect to your preferred location.
Open your laptop's settings and go to Network and Internet.
Click Mobile Hotspot and toggle the switch to the "on" position.
Note the Name (SSID) and password. If this is your first time using the Mobile Hotspot feature, set your desired SSID and password.
On your Apple TV, go to the network settings and disconnect it from your home Wi-Fi.
From the available networks, select your laptop's SSID and enter your password.
Conclusion
The Apple TV already offers endless options for streaming content, but with a VPN, you can expand those possibilities even further. Moreover, VPNs offer a great way to increase your online privacy, not just for your Apple TV but your other devices as well.
Fortunately, in most cases, you'll need only one subscription to install a VPN on your mobile devices, computers, and other gadgets. So make the most of it – for more information, read how to set up a VPN on a Mac and how to install a VPN on an iPhone.
FAQs
Millions of people have read and watched our reviews of the best VPNs, and with those views come a ton of questions. We've narrowed down the questions we get most frequently about the best VPNs for Apple TV.