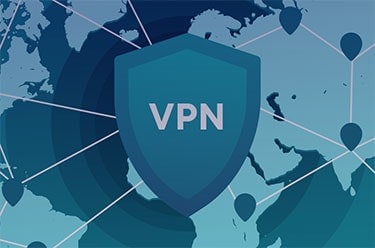 These days, watching TV isn't as simple as turning on the remote, and sometimes, we wish we could go back to that much more simple time. But the truth is, with more streaming services comes more entertainment options and fewer commercials, so overall, we're definitely in the golden age of television, even if it has made things much more complicated than ever before. One method of streaming is through Apple TV, and although it's less common than Google's Chromecast and Amazon's Fire TV Stick, a number of VPNs are compatible; here are the best ones.
| VPN | Method for connecting to Apple TV |
| --- | --- |
| NordVPN | Through router or Smart DNS |
| Surfshark | Through router or Smart DNS |
| Private Internet Access | Through router or Smart DNS |
| ExpressVPN | Through router |
| CyberGhost | DNS settings |
| HideMyAss | Through router |
| KeepSolid VPN Unlimited | DNS settings or AirPlay Mirroring |
We tested out all the VPNs on this list with Apple TV, and some of them took more effort than others. Of course, Apple would rather us not use VPNs to stream from Apple TV, so most of them required workarounds, which we'll get into. We'll also explain our experiences using the VPNs in general, their privacy policies, privacy jurisdictions, and other security factors we took into consideration.
The Best Apple TV Compatible VPNs
| System | NordVPN | Surfshark | Private Internet Access VPN | ExpressVPN | CyberGhost | HMA VPN | KeepSolid VPN Unlimited |
| --- | --- | --- | --- | --- | --- | --- | --- |
| Ranking | 1st | 2nd | 3rd | 4th | 5th | 6th | 7th |
| Ratings | 9.7/10 | 9.5/10 | 9.4/10 | 9.1/10 | 8.9/10 | 8.3/10 | 8.0/10 |
| Monthly Price Range | $3.71 - $11.95 | $2.30 - $12.95 | $2.19 - $9.95 | $8.32- $12.95 | $3.69- $12.99 | $2.99- $4.99 | $2.78- $14.99 |
| Contract Lengths | 1 month, 1 year, 2 years | 1 month, 6 months, 2 years | 1 month, 1 year, 3 years | 1 month, 6 months, 12 months | 1 month, 1 year, 2 years, 3 years | 1 year, 2 years, 3 years | 1 month, 1 year, 3 years, lifetime |
| Netflix Access | Yes | Yes | Yes | Yes | Yes | Yes | Yes*U.S only |
| Torrenting Access | Yes, on select servers | Yes | Yes | Yes | Yes | Yes | Yes*only on certain servers in the U.S, Canada, Romania, Luxembourg and France |
| IP Addresses | Dynamic, shared with other users but can pay for dedicated address | Dynamic or static | Dynamic, dedicated | Dynamic | Static and shared | Dynamic | Dynamic, dedicated IP addresses available for an extra cost |
| Non-Member to Five Eyes, Nine Eyes and 14 Eyes | Yes | No | No | Yes | Yes | No | No |
| Read Review | NordVPN Review | Surfshark Review | Private Internet Access VPN Review | ExpressVPN Review | CyberGhost Review | HMA VPN Review | KeepSolid VPN Unlimited Review |
Summary of the Best VPNs for Apple TV
Detailed List of the Best VPNs for Apple TV
1. NordVPN - Best VPN for Apple TV Overall

NordVPN is a big-name VPN brand, and with that comes compatibility with a wide range of systems. Although Apple TV does not support NordVPN directly, there are plenty of ways to connect your Apple TV to this VPN. You could set up NordVPN on your router, share your Windows laptop's VPN connection with your Apple TV, or if you don't mind its lack of encryption, you could use NordVPN's Smart DNS feature. That last one is the easiest to set up if your goal is solely to watch Netflix from other countries without much need to secure your traffic.

What We Like

68-percent off the two-year plan
Strict no-logs policy
Multiple ways to set up VPN on Apple TVs
Blazing-fast speeds
5,200+ servers in over 60 countries
Top-class encryption with option to use Double VPN

What We Don't Like

Setup process could be easier
Can't share VPN connections from Macs, only Windows
Up to six simultaneous connections only

NordVPN App

Best-in-Class Security and Encryption

We'll go easy on the tech jargon, but here's what you should know about NordVPN's protocols. First, it offers the options to use OpenVPN, IKEv2/IPSec, and WireGuard. Those three are some of the most secure VPN protocols available today. Second, it uses the gold standard in encryption, 256-bit AES. And last, NordVPN is one of the few VPNs that allow multi-hop, basically routing your traffic through two encrypted tunnels for maximum security.

Smart DNS

But sometimes, all you want is to stream content not available in your country. We get it; a study shows that more than half of all VPN users use VPNs primarily to access better entertainment. NordVPN has an easier way for you to access content on your Apple TV without having to go through the hoops of setting up NordVPN on your router. The feature is called Smart DNS, and you can set it up simply by manually configuring your Apple TV's DNS. If that sounds too daunting, don't worry, NordVPN will provide all the details you'll need. Just enable manual DNS on your Apple TV and enter the DNS address you'll find in your NordVPN account.

Speeds That Don't Disappoint

Speed is pretty important when you're streaming, and well, we tested NordVPN's capabilities in this area. We have the full scoop in our NordVPN review, but here's an overview: In our Mac tests, NordVPN slowed down our upload and download speeds by 20- and 24-percent, respectively. And in our Windows test, the download speed difference was a mere eight-percent. These results tell us that even though NordVPN provides top-notch encryption, it doesn't sacrifice speed. Isn't that what we want from the best VPN for Apple TV?

2. Surfshark - Best Value VPN for Apple TV

Surfshark ranks high due to its affordable yet feature-rich VPN. Feature-wise, Surfshark offers split tunneling, a kill switch, multi-hop, 256-bit AES encryption, and multiple VPN protocols. These features are similar to what we've seen from our top VPNs. What sets Surfshark apart is that it's very affordable, with plans starting at just over $2 a month. Plus, Surfshark frequently goes on sale, so it's possible to get a subscription for even less.

What We Like

Unlimited simultaneous connections
Multiple ways to connect Apple TVs
Servers with 1 Gigabit ports
Seven-day free trial with a 30-day money-back guarantee

What We Don't Like

Doesn't have streaming-optimized servers (but can still stream)
Not all routers can be configured with Surfshark
Finding a server that works with streaming platforms require trial-and-error
Smart DNS is for U.S. streaming only

Surfshark Connected to VPN

Connect In Multiple Ways

Like other VPNs on this list, Surfshark offers multiple ways to connect your Apple TV to its VPN. You can set up Surfshark on compatible routers, create a virtual router using your Windows PC, or use smart DNS. Having this many options allows users to choose the best connection type for their Apple TV. If you want a more permanent connection, the router setup works best. If you want to change your VPN server frequently, setting up a virtual router with your computer is most ideal. And if you want the easiest but less secure option, smart DNS is for you.

No Limit on Simultaneous Connections

Our tests focused on finding the best VPNs for Apple TVs, but at the same time, we looked for VPNs that can do more than just stream Emily in Paris. We found Surfshark a very solid option due to the fact that it has no limits on simultaneous connections, meaning, you could connect as many devices as you own to the VPN at once. We were thrilled to be able to protect our laptops, smartphones, tablets, and even gaming consoles with just one Surfshark subscription.

Customer-Friendly Policies

Surfshark has one of the most customer-friendly billing policies among the VPNs we tested. We started with a seven-day free trial, during which we didn't have to put in our credit card details. It was completely free. After that, once our subscription switched over to a paid plan, we discovered that we had 30 more days to try the VPN, or get our money back. This money-back guarantee extended our time to test Surfshark, a testament to how much the company believes in its product.

3. Private Internet Access VPN - Best Apple TV VPN with Smart DNS

Private Internet Access, or PIA for short, is an easy-to-use yet feature-rich VPN with lots of useful functionalities to offer. Like all the VPNs on this list, PIA doesn't work with AppleTVs directly, but has numerous ways to let Apple TV users benefit from a VPN. Among those ways is Smart DNS, and we've found PIA the best VPN with this feature.

What We Like

Highly-detailed tutorials on how to use VPN with Apple TVs
Easy to use on any device
No-logs policy
Great speeds for streaming

What We Don't Like

No native Apple TV app
Many of its servers are in the U.S.
Setting up PIA on a router can be too difficult for beginners
Smart DNS does not include encryption

Connecting to Private Internet Access

Easy To Set Up Smart DNS

We've tested many VPNs that offer Smart DNS, and while they were all able to unblock content restrictions for our Apple TV, PIA stood out. For one, the setup process was easy. We got our Smart DNS settings directly from our PIA account dashboard, and it worked the first time we tried it out. Secondly, PIA was one of the few VPNs with Smart DNS that allowed us to choose a country for our DNS settings. PIA has quite a list of Smart DNS locations that changes every time depending on availability. The availability of different Smart DNS locations allowed for a much wider selection of content to unblock.

Tutorials

It's often the little things that count most, and in the case of PIA, we appreciated the helpful tutorials posted on its website. Setting up a VPN on an Apple TV is never as easy as doing the same on a computer or mobile device, and when we tested PIA, we turned to its online help articles a lot. Whether you're a novice with regards to VPNs or an expert like us, you'll find Private Internet Access' support page extremely useful.

No-Logs Policy

At the end of the day, though, privacy is the number one reason that many of us use VPNs. With Private Internet Access, we didn't worry about our privacy because of its strict no-logs policy, which assured us that whatever we did online remained within the confines of the VPN tunnel. PIA doesn't record its users IP addresses and web activities, so even if the government subpoenas PIA's records (they can do that because PIA is in the US, under Five Eyes jurisdiction), the company has nothing to show.

4. ExpressVPN - Best Router VPN for Apple TV

If you've read any of our other best VPN lists, then you might already be familiar with ExpressVPN, but far fewer people have used it for Apple TV. To do so, we used MediaStreamer, but if you want more privacy, we recommend simply using ExpressVPN on your router. Once your Apple TV is connected to your router's network, it'll be covered in their encrypted tunnel.

What We Like

Easy connection to Apple TV through the router
Five Eyes non-member
More than 2,000 servers in 148 locations
AES-256 encryption

What We Don't Like

No multi-hop
Only five simultaneous connections
No phone support
Not the most affordable option

Fast on Windows and Macs

Aside from using ExpressVPN purely for entertainment purposes on Apple TV, you can also use it, as we did, on Mac and Windows laptops. And in our experience, it didn't slow down our computers' browsing speeds too much, with only a 43 percent increase in latency on the Macbook Pro and a 36 percent increase on the Windows Vivobook. These numbers may sound like a lot, but trust us, we've tested out dozens of VPNs and these are some of the better numbers we've gotten.

ExpressVPN App

Good for Gaming

Once you're done watching Apple TV, you might want to use a VPN for gaming, but the good news is that you can keep ExpressVPN connected! That's because it works not only with Apple TV but also with PlayStations 3 or 4 or Xbox One. And with the lack of latency, you'll be sure to win…well, nine times out of 10, anyway.

Solid Logging Policy

No matter whether we were using their VPN on our Apple TV or another device, and no matter what we did online, ExpressVPN didn't keep track of any of it. Rather, the only information they tracked were the dates we connected, the app version we used, the server we connected to and our total amount of data transferred while connected. Combining that with their non-membership to Five Eyes and ExpressVPN is a great pick for the privacy-minded.

5. CyberGhost - Most Affordable VPN for Apple TV

Most people want to keep their money in their pockets, not spend exorbitant amounts on a VPN. Meet Cyberghost, which offers a three-year plan for only $2.25 a month, with three months added for free! That's a discount of over 80 percent off their monthly package, which costs $12.99. You can also choose from discounted one year or two-year plans, which all benefit from their 45-day, money-back guarantee.

What We Like

Plans start at $2.25 a month with a three-year package
Fast on Macbook Pro
OpenVPN protocol
Split tunneling

What We Don't Like

Servers in 50 countries only
Netflix has prerequisites depending on the country
Static IP addresses
Simultaneous connections limited to seven devices

Watch Apple TV in a Flash

To connect to CyberGhost on our Apple TV, we simply went into the VPN's DNS settings and activated our Apple TV's IP address. The process only took a few minutes, and before we knew it we were watching The Morning Show. God, how we missed seeing Jennifer Aniston on the regular!

Note: No VPN can connect directly to Apple TV; typically, you'll have to go through another device like a router, phone or computer.

High-Quality Encryption

To encrypt our Apple TV-watching, and any other ways we used the Internet, CyberGhost used AES-256, which is the industry standard when it comes to encryption. In fact, it's so strong that even the National Security Agency uses it to encrypt government systems,1 so it's more than good enough to make sure that our ISP isn't snooping around our browser history.

CyberGhost Data Logging Policy

Romania Headquarters

Since CyberGhost is based in Bucharest, Romania, they can never be forced to hand the government any of our information, as Romania isn't a member of Five Eyes, Nine Eyes, or 14 Eyes. This isn't always the case for VPN companies; some companies, based in countries like the United States and United Kingdom, could be legally forced to give the government this type of data, so if privacy is a concern, CyberGhost is also a top choice.

6. HMA VPN - Best Apple TV VPN for Families

While you may love nothing more than plopping down in front of your Apple TV with your family, with more people comes more devices aside from an Apple TV. Let's face it: these days, the average household in the U.S has over 10 devices,2 and 10 VPN subscriptions can get real expensive, real fast. But that's not the case with HMA, which has a plan that covers up to 10 devices for one, two or three years, ranging from $5.99 to $7.99 a month. We recommend you go with the three-year plan to save 54 percent, but of course, feel free to learn more about HMA's pricing before you pick your subscription.

What We Like

Easy Apple TV setup through router
Plans for families, individuals and businesses
Low prices
Great iOS and Android apps

What We Don't Like

Five Eyes member
Collects days of connections for 35 days
Split tunneling on Android app
Kill switch only on Windows, macOS and Android devices

Connect To Apple TV Through Router

Again, it was simple to connect to HMA through our router, configuring our router to the VPN and then connecting our Apple TV to the router directly. Just make sure that the devices' IP address is in the same IP subnet as the router and you'll be streaming in minutes. Another option is to get a pre-configured router from FlashRouters, sold in a combination with HMA for $25 off if you spend more than $200. That'll save you the trouble of configuring, for those with more money and less patience for tech.

Plans for Business Use

If you use Apple TV in your work life (lucky you!) then HMA is a fantastic option. That's because the more simultaneous connections you buy, the bigger discount you unlock.

| Maximum Simultaneous Connections | Monthly Cost | Monthly Cost with Annual Plan | Total Amount Billed with Annual Plan |
| --- | --- | --- | --- |
| 10 | $23 | $12.99 | $155.88 |
| 20 | $46 | $23.99 | $287.88 |
| 30 | $69 | $32.99 | $395.88 |
| Custom | Custom | Custom | Custom |

And if you want more than 30 simultaneous connections, HMA will create a custom plan for you, ideal for someone that loves to negotiate. With prices as lower than $3 a month per connection per month, this is a cost-effective solution to protecting your sensitive business data.

HMA Windows Speed Test With VPN

Dynamic IP Addresses

While there's some debate on this topic in the VPN space, personally, we prefer dynamic versus static IP addresses, meaning that we get a new IP address everytime we connect to a VPN server. But HMA took this to a whole new level, with new IP addresses available anywhere from once a day to every 10 minutes (yes, you read that right). This took our privacy from zero to hero.

7. KeepSolid VPN Unlimited - Best Apple TV VPN with Dedicated IP Address

Although we personally prefer dynamic IP addresses, some people might want a static IP address, and not only that but an IP address that only they're on. If you want a dedicated IP address for your Apple TV VPN, there's no better choice than the VPN Unlimited from KeepSolid. Why wouldn't someone want a shared IP address? Well, some websites or countries block them, like China. However, if you're the only one on the IP address, your risk of being blocked goes way down. You can see their exact costs on our KeepSolid VPN Unlimited pricing page, but just know that dedicated IP addresses are anywhere from $12.50 to $14.99 a month.

What We Like

Solid Android and iOS apps
Prices start at $2.78 per month
30-day money-back guarantee
Dynamic IP addresses with dedicated option available

What We Don't Like

Based in New York so Five Eyes member
Logs IP address during session
Netflix and torrenting don't work on all servers
No split tunneling

Using AirPlay Mirroring for Apple TV

Connecting VPN Unlimited to our Apple TV worked a little bit differently than the other VPNs on this list. Instead of connecting it to our router or configuring our DNS settings, we used AirPlay Mirroring, playing streaming websites on our Macbook Pro and then mirroring it to our Apple TV. This would also work on iOS devices or Windows devices, but if you prefer changing your DNS settings, that's an option as well. Personally, we found mirroring from our iPhones to be a bit easier, but whatever floats your boat!

Private Servers Available

If a dedicated IP address isn't enough for you, KeepSolid also offers personal servers, ideal for the most privacy. With maximums of one, two or three TB of data per month, monthly costs range from $24.99 to $49.99 with the monthly plan, $18.33 to $41.67 for the annual plan, or, if you want to buy a private server for life, a flat fee of $499.99. Private servers have many advantages, especially for businesses. We recommend taking advantage of the lifetime package for the most reliability and the fastest at the lowest possible cost, when you depreciate it over time.

Severs in Over 80 Locations

One of the most convenient things about the Apple TV is that it's not actually a TV, but a plastic box that we can plug in to our actual televisions via an HDMI cable. That makes it super convenient for traveling, as we can simply plug it into our hotels' TVs and access our familiar old streaming services. If you're a frequent traveler like us (pre-pandemic, at least), then you'll appreciate the fact that VPN Unlimited has servers in over 80 different locations around the world. With a total of more than 500 servers, you'll be able to get fast speeds just as we did with nearby servers.

FYI: The closer the server is to you, the faster your browsing speed will be.
Methodology
That concludes our list of the best VPNs for Apple TV, but you're probably wondering exactly how we came to these decisions. Of course, the main considerations were if the VPNs worked on Apple TV and how easy they were to set up. We figured this out by actually connecting our VPNs to Apple TV and watching some shows, seeing how the VPN affected our streaming speed. In streaming, fast speeds are essential to avoid lag, but Apple TV-compatibility and usability weren't the only factors that we considered. We also looked at the VPNs as a whole to make sure that they satisfied our standard in terms of privacy, security, and general usability. Let's take a closer look at our testing and research process.
Is The VPN Truly Private?
If you look on their websites, most VPNs claim they have "no logging" policies, but after reading tens of privacy policies, we found that to be an impossibility, technically speaking. In order to uphold our accounts, all VPNs need to keep some of our information, at least our username and password at minimum. But what VPNs don't need to keep are our domain names, a.k.a the websites we've visited, our devices' IP addresses, our connection timestamps, and other information about our VPN usage. That's why we check every VPN's privacy policy to make sure that they only collect the minimal amount of information.
Another factor into a VPN's privacy is where their headquarters are located, in other words, their privacy jurisdiction. We prefer VPNs based in non-member countries to the surveillance alliances Five Eyes, Nine Eyes and 14 Eyes so that they won't share our data with the government. We gave less points to the VPNs, like VPN Unlimited, that are headquartered in the U.S, a founding member of Five Eyes.
Finally, we look into a VPN's encryption methods to make sure that they're up to date, prioritizing VPNs that use AES-256 encryption. We also perform DNS and WebRTC leak tests to ensure that our web traffic and IP addresses are truly hidden.
What Features Does the VPN Have?
Once we've considered if the VPN is truly private, we look into its features, preferring VPNs with:
Kill switch: A kill switch would shut down our web activity, be it browsers or apps, in case the VPN failed. Think of it as a backup plan, like having sprinklers installed in case you miss the smoke alarm.
Torrenting: If Apple TV doesn't provide enough appealing content, we want a VPN that doesn't block torrenting sites like uTorrent or BitTorrent so we can download movies to our hearts' desire.
Netflix: Once we got out VPNs connected to our Apple TV, we made sure that we could still watch Netflix, which is compatible with Apple TV 2 or later. While Apple TV+ has a good amount of shows and movies to choose from, in our world, Netflix still reigns supreme.
Split tunneling: Although it's not a dealbreaker, we prefer VPNs that let us route some of our web activity to their VPN and some directly on the Wi-Fi network for faster speeds.
Multi-hop: Even better if they encrypt our web traffic and IP addresses multiple times through more than one server.
Dynamic IP addresses: We like VPNs that get us a new IP address every time we connect, but we also like options, if shared or dedicated IP addresses are available.
How Fast is the VPN?
We acknowledge that no VPN can create faster speeds, but we want to limit the slowdowns as much as possible. To test this out, we use a speed test from Ookla and test our download speed, upload speed and latency with and without the VPN connected. We do so on a private Wi-Fi network to limit interference, connecting to the nearest server. Once we find out these numbers, we calculate their differences in terms of percentages, which we use to compare different VPNs. We perform these tests on a Mac and a Windows computer to provide users with more information relevant to their desktop devices.
How Much Does the VPN Cost?
Depending on whether we signed up for a month, six months, a year or more, we expect to pay anywhere from $5 to $12 a month for our VPNs, with lower prices for long term-lengths, typically. We look for VPNs with a wide variety of contract lengths and even free trial periods. We also look into exactly what each subscription covers in terms of the numbers of:
Server switches
Data used in GB
Simultaneous connections
Total devices connected
Of course, we prefer VPNs with no limits on any of the above, although many limit simultaneous connections to maintain fast speeds.
How Well Did the VPN's Apps Work?
In general, we look for VPNs that are easy enough for anyone to use, particularly on iOS and Android devices as many people will be connecting to public Wi-Fi networks on mobile. Aside from testing these apps out ourselves to assess usability, we also take a look at the customer ratings on the Google Play and App store. Typically, we consider VPN apps with ratings of three stars or higher to be sufficient. However, app ratings change on the daily, so we try to update our reviews as frequently as possible to test out the latest software updates and improvements.
FAQs
Millions of people have read and watched our reviews of the best VPNs, and with those views come a ton of questions. We've narrowed down the questions we get most frequently about the best VPNs for Apple TV.